Searching for the most reliable French door refrigerator has become quite easy as there are several reputable brands out there. Think of a French door fridge and brands like Whirlpool, Samsung, Frigidaire, Kenmore, KitchenAid, and LG come to mind. These are all producers of high-quality appliances. These brands are also known for excellent after-sales service.
But why a French door refrigerator? While a side-by-side or standard refrigerator may work just as well, you might want to consider a French door refrigerator. This consideration is ideal, especially if you and your family use a lot of fresh and frozen food. The advantage of using a French door refrigerator compared with other standard fridges is the convenience of storing larger sized containers or trays of food in both the fridge compartment and the freezer section. The space in this type of refrigerator is incredible.
In general, fridges are known to fail for one reason or another, so it is essential to get the most reliable appliance you can. The French door refrigerator made by top-rated manufacturers is a good start.
Editors' Picks: Most Reliable French Door Refrigerators
So, if you expect a reliable French door refrigerator from these suppliers, you shouldn't be disappointed.
Top 5 Most Reliable French Door Refrigerator Reviews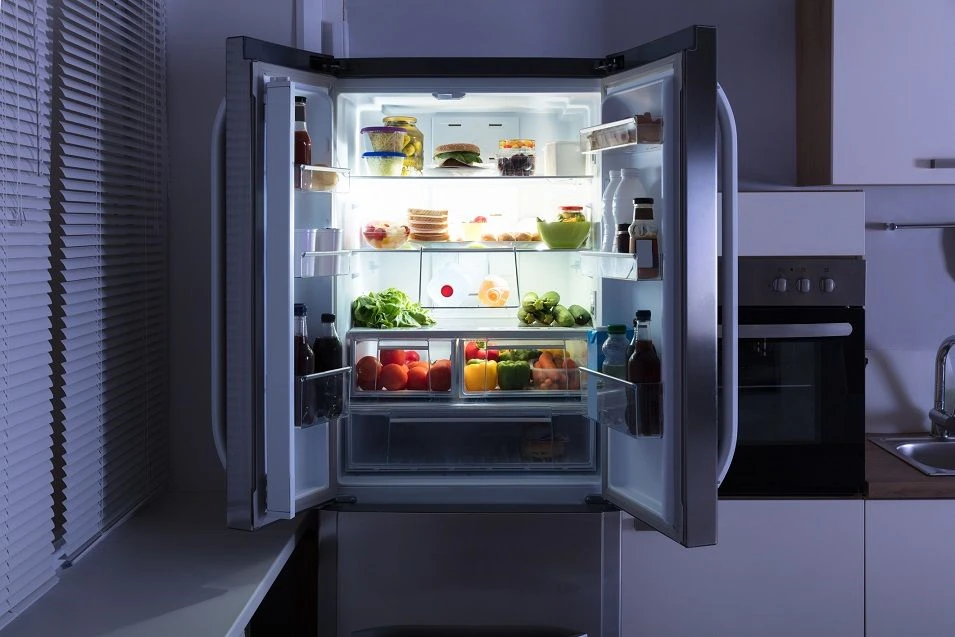 1. Samsung French Door Refrigerator Review
When it comes to safely keeping the food that your family eats at a consistent temperature, finding the right refrigerator to do the job is key. It goes without saying that Samsung knows what they're doing when it comes to making high quality products, and this refrigerator is certainly no exception to that. With its sleek stainless steel appearance, this refrigerator certainly speaks class and efficiency. Boasting that the doors on this refrigerator are smudge-free, Samsung has delivered a refrigerator that not only keeps the food cold, but it does so while looking like a pro. With the see-through "Food Showcase Doors", this refrigerator can potentially save you money. Depending on how often you typically leave the refrigerator wide open, the see-through door will allow you to decide what you want to eat before opening the door. If you're looking for a fridge large enough to hold all of your leftovers to feed an army, then this impressive refrigerator from Samsung would be a great purchase for you to make!
Pros
Smudge-free doors
LED lighting
Water dispenser
Cons
May be too large for some households
Instructions may be difficult to follow
The top two drawers are not adjustable

2. LG Stainless Steel Counter Depth French Door Refrigerator Review
Needless to say, it can be quite the chore to find a refrigerator that is capable of keeping your family happy for the long haul. This is especially true if your family is on the larger side and requires the use of a large refrigerator. Considering that there are so many products on the offer that boasts of top of the line features, finding the right refrigerator for your home takes patience and plenty of research. Luckily, LG took this into consideration when they made this refrigerator. Despite the fact that this appliance has four Split Spill Protector glass shelves and a Glide N' Serve Drawer, this refrigerator is simple to use for the family on the go. Also, if you're the type of person who finds themselves digging around in the dark for something to eat in the middle of the night, then the LED interior light included with this refrigerator will surely prove to be an added benefit to your life. If you're looking for a reliable, yet simple refrigerator, then this appliance from LG would make a great purchase for you!
Pros
Internal ice maker
Large capacity
Bright LED interior
Cons
May not have a long life
Warranty does not include labor
Bottom drawer can't be filled up all of the way

3. Frigidaire French Door Refrigerator Review
Frigidaire has been in the market of making high quality refrigerators for over 100 years, and this appliance is sure proof of their dedication to their customers. There's not one person on Earth who wants to buy a refrigerator that doesn't keep food cold, and there's certainly no one who wants to spend thousands of dollars on a refrigerator that breaks after only a few years of use. Luckily, Frigidaire understands this about their customers, which is why they came out with this product. With its adjustable storage units and automatic ice maker, this sleek stainless steel refrigerator is not only efficient, but it's extremely convenient, as well. When it comes to food safety, making sure that your food is stored at the right temperature is extremely important. With that being said, it's important to understand that different foods need to be stored at different temperatures. Fortunately, this refrigerator has a Cool Zone Drawer, which is perfect for that exact situation. If you're looking for a reliable refrigerator that will last for quite some time, then this appliance would be the right one for you!
Pros
Spacious
LED interior lighting
Cool Zone Drawer
Cons
Fingerprints show up easily
May need to replace the water filter
Ice maker may be too slow for some

4. Kitchen Aid French Door Refrigerator Review
There are some manufacturers out there who make
household appliances
, and then there are some manufacturers who make household appliances the right way. Kitchen Aid is well-known for the products that they put on to the market, and this french door refrigerator is most certainly one of those products. When it comes to picking out the features that you want on a refrigerator, it's important to know what you're looking for. If you're the type of person who drinks a lot of water, then you would look for a refrigerator that has an ice/
water dispenser
built right in. And if you find yourself looking for a midnight snack on most nights, then you would look for a refrigerator that has great interior lighting. Luckily, this refrigerator from Kitchen Aid fits the bill. If you're looking for a new refrigerator that will add a bit of convenience to your life, then this one's it!
Pros
Internal icemaker
LED lighting
ExtendFresh Temperature Management System
Cons
Water may have a plastic taste
Warranty is only for one year
Ice may accumulate at the bottom of the door
5. Haier French-Door Refrigerator Review
It's undeniably extremely important to find a refrigerator that can efficiently keep your food at the temperature that it needs to be. This isn't only important to keep your food from spoiling, it's also important to ensure that you don't sick from food-borne illnesses. Haier understands that keeping food cool is important, which is why they made a refrigerator that has electronic temperature controls that allow you to precisely set the temperature settings in one-degree increments. This allows you to set your refrigerator to the exact temperature that you need it to be, instead of just choosing the "coldest" setting. Thanks to the adjustable glass shelves, you're able to see throughout the bottom, which is great when you're looking for food at night. If you're looking for a refrigerator with plenty of storage that you can rely on, then this sleek french door refrigerator from Haier would make a great refrigerator for you.
Pros
Easy to use
Easy to install
Adjustable temperature controls
Cons
Food may freeze
May be too big for some

What Is A French Door Refrigerator?
A French door refrigerator is one that has the freezer compartment at the bottom rather than at the top like other fridges. You might wonder what would have inspired the design of the French door fridge. The primary consideration for this design is that persons do not use the freezer as often as the fridge compartment. It is, therefore, more convenient to place the more frequently used fridge compartment above the freezer section. Not only is this configuration suitable, but it adds to the energy efficiency of this appliance. The freezer keeps its temperature because it is not always opened and closed.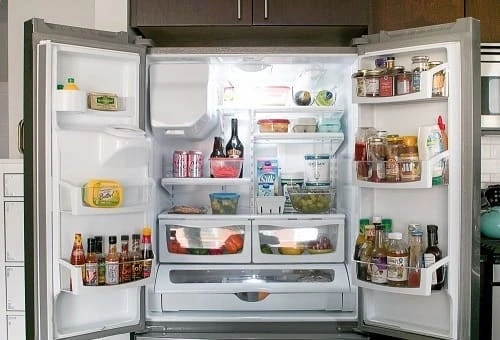 Also, the French door fridge allows users to see their food at eye level. Furthermore, the French door refrigerator features doors that are side by side. So, you open the door outward and away from each other. You do not need to open both doors at once, though. This double door is a convenient and energy-saving feature of the French door refrigerator. You also get much more out of your French door refrigerator because of its higher space capacity. If your kitchen is large enough to accommodate the French door fridge, then it is the right choice.
You will be impressed with the look and size of the French door refrigerator. These fridges usually come in black or grey stainless-steel finishes.
The French door refrigerator is also convenient to use as it has a large storage capacity, and some come equipped with an ice-making machine that is built-in. The cost might, however, be a little steep, especially for those on a budget. Price, however, should not be the deal-breaker once you are satisfied with the quality of this fridge.
That said, buying a French door refrigerator is like investing in a long-term asset. This fridge is durable and can last as long as a lifetime. Depending on the brand, you can still find a reliable French door refrigerator for a reasonable price. Check customer reviews or comparative reviews to find the fridge that will suit your purposes.
What To Consider When Buying A French Door Refrigerator
Here are a few things you need to consider before buying a French door refrigerator.
The French door refrigerator has features that other fridges do not have. For one thing, it is a convenient fridge to use. You can easily access contents from the top section of your fridge without hassle. You and your family can easily reach the fresh foods from the top compartment of your French door refrigerator. The freezer section remains secure at the bottom, and you use it only as needed.
The larger storage capacity makes the French door refrigerator a little more expensive than other fridges. However, it is a good purchase if you need more space for whatever you need to put in it. You can even put large trays and bulky food in the compartment without much problems.
Durability is another consideration for fridges. A French door fridge made by the top manufacturers is usually durable and long-lasting. Check with your supplier for a French door fridge made by any of the more recognized and popular brands.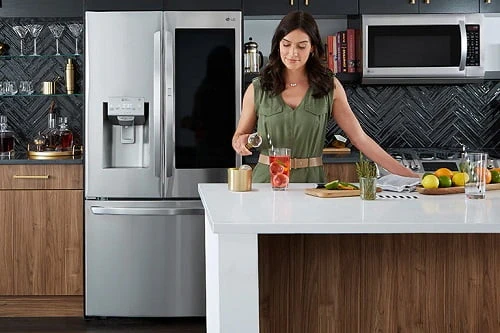 Dimension is also what you should consider before buying a French door refrigerator. These fridges are of similar size as the side by side fridge. The difference is that with the French Door fridge, the space configuration allows for the secure storage of oversized containers both in the fresh food and freezer compartments. They also fit well in more substantial kitchens. So, if your kitchen is small, you might not be able to fit the French door fridge easily.
The ice maker may be a feature that you prefer in the French door fridge. Not all brands come with a built-in icemaker, though. You would need to confirm with the supplier that the brand of French door refrigerator you are looking to buy has an icemaker.
A reliable French door refrigerator is usually quiet and not noisy. Thankfully, most of the French door fridges, like most fridges nowadays, are made to operate quietly. Your entire household will not be disturbed by these silent appliances.
Energy efficiency has become a standard for all types of refrigerators. The French door fridge is no exception. Fridges are made to be compliant with strict new energy efficiency standards. So, you can save quite a bit on your annual energy costs with modern and reliable French door refrigerators.
Conclusion for French Door Refrigerator Buyers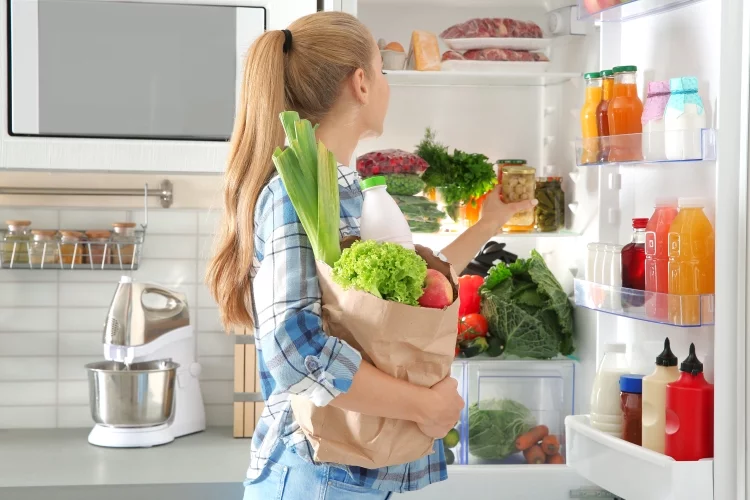 It is not hard to find the most reliable French door refrigerator that will satisfy your needs. The most popular brands of this fridge are also reliable. They have stood up to the demands of the market. These fridges are durable, energy-efficient, and spacious. The distinctive feature that sets a French door fridge apart from other refrigerators is the freezer compartment located at the bottom.
Along with this feature are the double doors located at the top compartment. There is no mistaking the distinctive features of the French door refrigerator. A reliable fridge is also one that lasts as long as possible; some brands might last a lifetime. To dispel any doubt about the longevity of your French door fridge, consult your supplier for the warranty they offer. You will find among the top brands a reliable French door refrigerator that will last for years. Buying one would be well worth it.