Do you want to Keep your new-made soup hot or warm for 12 hours or more? A good thermos can be a lifesaver when it comes to packing a healthy school lunch.
When winter comes round, nothing warms you up better than hot soup, so a thermos for soup is a must if you are traveling or if you simply fancy something warm for lunch.
But which is the best soup thermos flask available? This page aims to answer that question.
Top Soup Thermos Containers by Editors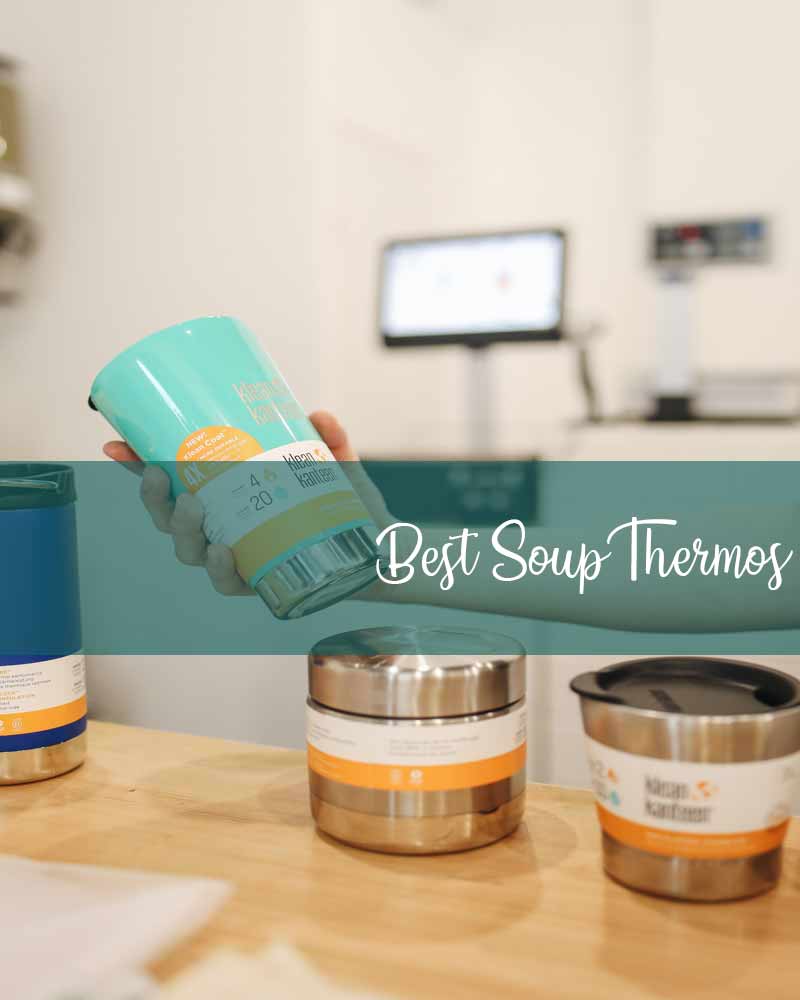 Our 9 Best Soup Thermos Reviews
1. Thermos Stainless Steel Food Jar
They've dubbed this a food jar instead of a thermos flask because of the wide mouth, which means that in addition to hot soup, you can safely store hot foods like stews, curries, spaghetti bolognese, chilli con carne, and so on.
Because the inside and outside of this thermos flask is stainless steel, it's unbreakable. It keeps hot food warm for 7 hours and cold drinks cold for 9 hours. It is cool to touch regardless of how hot the contents are, and remains condensation free if you are storing cold foods.
It comes with a telescoping stainless steel spoon included, which is stored in the lid. The lid itself can be used as a serving bowl if you are sharing the contents of the flask. Note that you need to hand wash this flask. The study construction, the wide mouth combined with the telescoping spoon make this my top recommendation for a thermos for soup – I think this is the best one.
Key Features :
Thermos vacuum insulation technology
keeps liquids hot for 7 hours and cold for 9 hours
Stainless steel made
Durable
Sweat proof
Compact sized
Insulated serving bowl
Wide mouth
Easy-to-clean
2. Stanley Classic Vacuum Food Jar

Stanley are the chief rivals to Thermos, and this is the original design from 96 years ago. The squat shape was originally designed to fit in a tool box and can now fit into modern lunch boxes. This vacuum insulated flask is made from stainless steel (these jars are tough and durable – they've even been said to have survived a drop from a plane without breaking ) and has a 24-ounce capacity.
The mouth is wide, so you can store other types of warm food meals in this flask instead of soup if you want, and it's easy to spoon food out of it when in use. The Stanley hot food thermos keeps food warm for 15 hours and comes with a lifetime warranty.
Key Features :
18/8 stainless steel
BPA-free
Double-wall vacuum insulation
12-oz. stainless insulated lid
Wide mouth opening
Leak-proof
Packable
Dishwasher safe
Weight: 1.36
Dimensions: 4.00L x 4.00W x 8.70H in
3. Zojirushi Stainless Steel Vacuum Food Jar

This beautifully made modernist food jar makes the perfect hot food container for soup and other hot meals. It is made of polished stainless steel both inside and out, with double-wall vacuum insulation built into the flask.
They've designed the lid with dimples to make it easy to open, and the mouth of the vacuum flask is wide, making it easy to eat your soup out of the thermos with a spoon. You need to pre-heat it with boiling water to get the best out of it. It has a 16.9 ounce capacity. Zojirushi are a Japanese firm that have been making vacuum insulated flasks since 1918. This particular flask is made in Thailand.
Key Features :
Grabbing and opening the lid is easy due to dimples
Clear-coated finish
BPA free container
Can be used as a microwave or refrigerator
Easy to clean
Easy to open
Wide mouth
4. Thermos Foogo Stainless Steel Food Jar
This thermos food jar is slightly smaller with a 10 ounce capacity, which makes it perfect for children's lunchboxes. The thermos flask is made from stainless steel and has a child friendly rubber grip on the lid to make it easier to open (even five year olds will manage it), and a rubber grip at the bottom to prevent it slipping.
The rubber and plastic components are all BPA free. Unusually, this thermos is dishwasher safe. It keeps food warm for five hours and cold drinks cold for seven hours. This thermos also has a wide mouth, which makes it easy to fill and easy to eat out of, but unfortunately does not come with foldable spoon, so you'll have to remember to pack one to take with you.
The stainless steel construction makes this durable and your child will have a hard time breaking it. Please note that you should hand wash your soup vacuum insulated flask. The vacuum insulation gets destroyed in a dishwasher (the only exception is the Thermos Foogo).
Key Features :
Keep meals deliciously hot or refreshingly cold for a long time
Non-slip & scratch-resistant base
Offer superior insulation technology
10 ounces vacuum insulated food jar
Access easy eating directly from jar
Stainless steel made
Wide-mouth design
Kid-friendly jar
Compact sized
Portable
Washable
5. Thermos Food Jar For Hot Food and Soup
We absolutely adore this wide mouth lunch container. Effortless to fill, this container is perfect to eat from and when it comes to cleaning, it demands no serious hard work on your part. And while you'll be carrying this thermos food jar, unlike any other models existing out there, its outward surface would neither sweat nor let you feel the high or freezing temperature from the outside, thanks to its improved and shiny double-walled construction!
Equally impressive is its interior copper lining that boosts the thermal insulation of this Blue Canyon product. Apart from its aesthetic appeal, it also occupies the long term temperature holding feature. Besides, it never leaks causing your soup or other liquid food-substances to spill inside your backpack. Hence, a perfect travel partner!
One thing to keep in mind though – before you put the soup on the container, manage to hold some hot water on the jar for like 10 to 15 minutes so to make the thermos hot itself. Then empty the pot and store your food items inside. This conscious preheating process will ensure you a hot lunch even after around 5 hours.
A life saving tip- never tighten its lid too forcefully as the metal lid stretches naturally in touch of increased heat leading the lid to stiffer closure. A snug close will assure a more realistic experience, however. And finally, it's safe to say, you can dispose this BPA free once you're done with this eco friendly food jar.
Key Features :
Premium quality & sweat-proof
304 stainless steel
BPA,phthalates lead and PVC free
Durable stainless steel interior and exterior
Double wall vacuum insulation technology keeps food hot or cold for up to 6 hours
27 oz. (800ml) capacity
Lid with built-in hand
Non-slip and scratch resistant base
Wide mouth
Air button on the inner lid
6. Thermos Stainless King 24-Ounce Food Jar w/ Foldable Spoon (Pink)
Most people only need the 14 oz Thermos Food Jar we reviewed above, but the Thermos Stainless King 24-Ounce Food Jar is a logical upgrade if you want something a bit larger for carrying meal for two or a single large meal. This roomier thermos can retain the maximum temperature of both hot and cold foods up to 9 and 12 hours respectively, cheers to the thermos vacuum insulation technology!
Both the inner and outer surface of the container has got stainless steel, meaning that zero durability concern is involved with this unit. And like the previous model, its outer surface won't produce sweat while carrying a cold coffee or such.
Besides, you won't feel the high temperature even when the pot will contain hot liquid inside it. Best of all, it comes with a foldable stainless steel spoon that can accommodate itself into the lid. Turns out, from now on, you will never forget having your own spoon to have your soup.
Again, whenever you'll be sharing your soup with someone else, you can always use its insulated stainless steel lid as a serving bowl. The wide mouth of the thermos is just another grace. It also helps you gulp down the residue of your meal direct from the container. Overall, it's a compact, portable and handy unit.
Key Features :
Thermos vacuum insulation technology for maximum temperature retention
Keep food hot for 9 hours and cold for 12 hours
Stainless steeled interior and exterior design
Sweat proof
Cool to the touch with hot liquids
Insulated serving bowl
Compact sized
Wide mouth
Easy to clean
7. AKS Vacuum Insulated Stainless Steel Food Jar, 16 Oz with a carrying bag (Yellow)
Searching for a great soup thermos container that won't blow your entire kitchen budget? The Vacuum Insulated Food Jar by AKS is a fantastic value. Featuring numerous powerful features, this food-grade 18/8 stainless steel thermos is one of our absolute favorites.
It does a great job of preserving the ideal temperature of your food items. More precisely, it keeps your meal hot for 8 hours, and the holding duration lengthens up to 12 hours when it comes to cold food items.
Constructed out of BPA-free and non-toxic PP components, this wide-mouthed jar is easy to fill, drink from, and clean. The inclusion of the carry bag makes the unit extremely portable friendly. In addition, it inspires a leakage and sweat free meal carrying during the travels. And the built-in vacuum insulation technology makes sure you can taste the genuine flavor as it would feel right after the meal is cooked.
Other features its users rave about are non-skid TPE bottom and scald-proof rim. While the former trait reduces the chance of getting slipped by mistake, the latter one allows easy drinking access direct from the jar. So, no wonder why the AKS Vacuum Insulated container is still reigning the heart of hundreds of consumers consistently since the day it is introduced in the kitchen industry.
Key Features :
Ultra-durable double wall enablewell insulation
18/8 stainless steel interior and exterior
Food maintains the ideal temperature
Easy-to-fill due to wide mouth
A bag is given for convenient carrying
Easy-to-clean
BPA free, non-toxic PP materials were used to made
Leak-proof
Scald-proof rim for drinking
Non-skid TPE bottom for steady standing
8. Thermos Funtainer 16 Ounce Food Jar, Charcoal
Years go by, and the Thermos Funtainer remains unbeatable. It is ideal for carrying individual meal of every member of your family, cheers to the master combination of double-wall stainless steel construction and vacuum insulation technology! In fact, your wish to serve your kiddo fresh, hot meals on his lunch break will no longer remain unfulfilled when you've got this charcoal food jar in your kitchen collection. Because simply by preheating (or prechilling), you can use this 16-ounce food jar for holding hot meals for 5 and cold for 7 to 10 hours.
Like the other models we reviewed, it also features a wide mouth that is convenient for taking out the soup quickly, and you'll find the same trait handy while cleaning the appliance with hands. And though it's not mentioned in the product description, a spoon comes under the lid of this roomy jar.
Different color and theme variations (purple, pink, blue, and minnie mouse) are also available. And surprisingly enough, all these come at a price that leaves you some money left over to buy another kitchen stuff. So, it's suffice to say, perfect for daily use, this sturdy jar competes head to head with the other top performers in this review.
Key Features :
Thermos vacuum insulation technology is used
Well temperature retention keeps food hot or cold for ling time
Stainless steel interior and exterior
Durable
Easy-to-fill & serve from due to wide mouth
Easy-to-clean
16 ounce capacity
9. MIRA Lunch, Food Jar, Vacuum Insulated Stainless Steel Lunch Thermos, 13.5 Oz, Rose Pink
Soup thermos containers aren't the best-looking addition to a lunch box; we get it. And while none looks great atop, we along with over a half thousand Amazon customers agree that the MIRA Lunch, Food Jar is the slickest of the bunch.
Its vacuum insulation goes a long way to keep your office meal or your kid's lunch in proper temperature. Besides, this BPA, phthalates, lead, and PVC free double-wall stainless steel container is compact, yet it manages to house 13.5 oz (400 ml) meal including pasta, fresh fruit, hot soups, or cold snacks.
This multi-purpose thermos will keep your healthy homemade meal hot for about 5 hours, and cold for around 10 hours. It also answers the pesky question of how reliable the customer service is when the customer(s) isn't satisfied with the quality or features of this lunch container.
That is, MIRA Brands claims that upon dissatisfaction, they will have your back with a FULL refund within 30 days of purchase. However, we weren't thrilled to hear that this food jar is neither dishwasher safe nor microwavable. However, the easy cleaning feature of this leak-proof, reusable and eco-friendly thermos will grant you sufficient peace of mind.
Key Features :
Perfectly Portable
Fit for full family
Sweat-proof and leak-proof food jar
Highly rated insulated food jar keeps food hot for 5 hours and cold for 10 hours
Constructed from durable 18/8 food-grade stainless steel
Matte finishprovides a slip-free grip
Easy-to-clean
Wide mouth
BPA-free
Conclusion
Throughout the guide, you've met the best soup thermos containers with all their merits and demerits. Most of them are leakage-proof, wide mouthed and contain vacuum insulation technology. Now, it's time to consider other important traits like your budget, color choice, and duration of temperature holding feature. Finally, choose the one that meets your criteria best and won't let you down in either looks or performance departments.