Japanese lunch boxes are also known as Bento Boxes and are the traditional Japanese way of carrying food to work or school. They've now been modernised - some are microwavable, and others have thermos insulation, which keeps food warm.
Editors' Picks: Top Japanese Lunch Box
Here are the 8 Best Japanese Lunch Boxes on the Market Today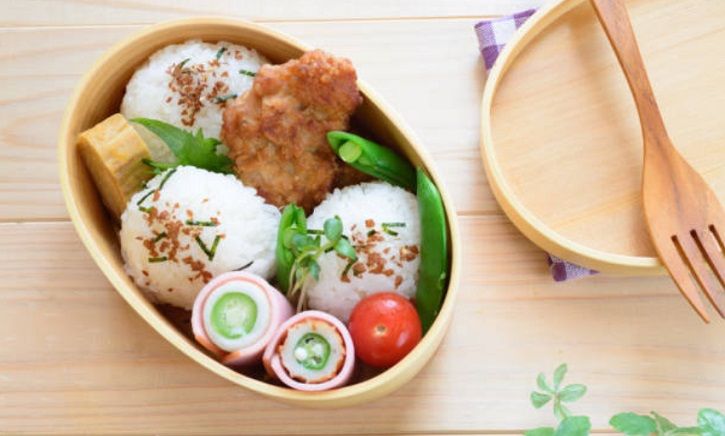 1. Original BentoHeaven Bento Box Bundle with FREE Lunch Bag
A common issue with Japanese lunch boxes is mobility. Because they are rather large and usually contain a lot of different compartments that stack together, there is a demand for something to make the Japanese lunch box a little more mobile. The BentoHeaven Japanese lunch box has solved this issue by containing a bag that the box can be carried around in.
This makes carrying around not only the BentoHeaven lunch box easier, but also makes any other Japanese lunch box much easier to carry. The lunch box as well as the utensils in it is also dishwasher safe, which is nice as hand washing all of the compartments of a Japanese lunch box can be rather tedious.
The BentoHeaven lunch box contains dividers. While these were obviously made with good intentions, the execution of it leaves something to be desired. The BentoHeaven lunch box already comes with two food trays and a utensil tray. While it is probably necessary to have exactly one divider for the two food trays, having multiple dividers just crowds the box and does not really add much to the value of the lunch box.
2. Tuliptown Wooden Lunch Box, Japanese Wooden Lunch Containers,Bento Boxes with 3 Containers for Kids Girls Boys Adult At School Work
Some lunch boxes try way too hard when it comes to having different compartments for the meals that are stored in them. This results in very complicated design that can defeat the purpose of a lunch box. This can even be true with Japanese lunch boxes.
The Tuliptown Japanese lunch box marries simplicity with organization, as the inside of it is divided in three ways, which separates whatever food is placed in it. It is a very simple oval shaped box as well, with its only compartment being a cover. This speaks to the simplicity of the Tuliptown lunch box.
There are two things that take away from the total value of the Tuliptown lunch box. While the design is simple enough, there is no reliable way to carry it. It does not have any kind of handle, and does not come with a bag to put it in, so the only real way to carry it is with the cover facing upward. This would be much improved if it came with a bag to carry it in. The fact that it is made of wood is innovative.
And while it does make the Tuliptown lunch box easy to clean and eco-friendly, it also means it is subject to chipping and even catching fire. This turns an innovative design into a detrimental one.
3. Alazla Use4 Japanese Landscape Cherry Blossom Mountain Sun Insulated Lunch Bag Tote Bag Cooler Lunchbox for Picnic School Women Men Kids
It is quite difficult for any given lunch box to achieve any sustainable form of insulation. Whether a lunch box is made of metal, plastic, or even wood, it is quite difficult for anything in them to stay cold for long. This is even difficult for most coolers to do, as they usually need to be filled with ice in order to keep anything cool. The Alazla lunch box has insulated walls and is very compact and easy to carry around.
Anything that is cooled that is placed inside of it will probably stay cool for much longer than it would in most other lunch boxes. This is a very rare and nice feature that sets it apart.
The Alazla lunch box is perhaps too simple in its design. It has no compartments or anything; it is the exact same thing as a traditional lunch box, only it has insulated walls. While this is innovative, and in many ways useful, it lacks the features that most modern lunch boxes currently possess. The Alazla lunch box would benefit greatly from at least a divider within the box or some other feature, negligible as they may appear.
4. Hakoya Japanese Mini Bento Lunch Box
Something that should be recognized about Japanese Bento lunch boxes is that some of them are designed to carry Japanese themed meals. The Hakoya Japanese lunch box is no exception to this, as it is extremely small, meaning that it is designed to carry small meals that make up most of Japanese cuisine.
For example, some of the people who own it eat sushi, and they do say that the Hakoya lunch box can carry a good amount of sushi. The petite design of this lunch box makes it ideal for carrying small snacks or meals.
The size of the Hakoya lunch box is also very detrimental as well. It is only 5 and ½'' tall by 4'' long, which means that not much can fit inside of it. As mentioned previously, the design of the Hakoya lunch box is almost created for a niched set of buyers, and those niched set of buyers are those who eat very small meals. Anybody who is expecting to carry any meal of any significant size will need to look elsewhere.
5. Japanese Lunch Box Bento Boxes - Jay + Gray Traditional Minimalist Insulated Lunch Container and Bento Lunch Bag
Carrying Japanese Bento boxes can be rather awkward. This is because they are designed in almost the complete opposite of traditional lunch boxes. Carrying them without a bag is not recommended, as the covers on them usually do not clamp, meaning they can only be held with the cover facing upward; if they are carried on the side or under an arm, the cover may fall off.
The Jay & Gray Bento box comes with a bag and eliminates the issue involving its transportation. Another very nice thing about the Jay & Gray Bento box is that it has a divider inside of it which is adjustable. This makes it very easy to organize anything you put in it.
Anyone who wants to put any food item with a significant amount of juice in the Jay & Gray Bento box runs the risk of having the juices leak out. One unfortunate fact about the Jay & Gray Bento box is that it is not perfectly leakproof, and this can limit the kinds of food items that a person can put in it.
The contents of it are plastic, which is fine for the box itself, but the adjustable divider inside the box is also plastic, which is rather flimsy. Because of this, there is a chance of it breaking.
6. Zojirushi Mr. Bento Stainless Steel Lunch Jar
This bento box is made from vacuum insulated stainless steel, which keeps the food warm. In addition, the three food bowls included are all microwavable - so you can heat them at any time if the food gets cold.
Here's what you get in this set:
* stainless steel vacuum outer container with locking lid
* 15.2-ounce main bowl with lid
* 10.1-ounce large bowl with lid
* 6.8-ounce small bowl with lid
* 9.5-ounce soup bowl with gasket valve and lid
* forked spoon with cover and holder
* zippered carrying bag with strap
As you can see - everything you need for carrying a nice tasty lunch!
The soup bowl sits right at the bottom of the jar, and the 6.8 ounce small bowl sits inside of the lid of the food jar. The bag has pockets where you can store napkins and sauce packets.
7. Japanese Compartmented Bento Box
This is a traditional style bento box, made with removable compartments, all of which are made from bpa-free plastic and are safe in the microwave (remove lid before microwaving).
This stores 870 ml of food, and can be washed in the dishwasher. This bento box is made in Japan, and come with chopsticks which are stored in the lid.
8. 2 Tier Bento Box Picnic Lunchbox Kids Microwave Portable Bento Food Container
Both tiers of this Bento box are microwavable (remove lids first) and one of the tiers has a divider, which means you can put three different food into it.
It comes with a belt (to hold the stacked boxes together), chopsticks, and a draw-string bag to carry it in. It is all safe in the dishwasher and is made in Japan. The total capacity is 630ml which makes it a bit smaller than the bento box above.
Buy on Walmart
Premium Bento Lunch Box in 8 Modern Colors - 2 Compartments, Leak-proof - Includes Sauce - Walmart Link
Bentgo Kids Children's Lunch Box - Leak-Proof, 5-Compartment Bento-Style Kids Lunch Box - - Walmart Link
THE ORIGINAL Japanese Bento Box (Upgraded 2020 Black & Bamboo Design) w/ 2 Dividers + - Walmart Link
Ecolunchbox Three-in-One Stainless Steel Bento Box (1, Regular) - Walmart Link
Bentgo Salad - Stackable Lunch Container with Large 54-oz Salad Bowl, 4-Compartment - Walmart Link
Modetro Bento Lunch Box for Kids & Adults - Ultra Slim Food Container w/ 3 Separate Leak - Walmart Link
Freshware Meal Prep Containers [15 Pack] 2 Compartment with Lids, Food Storage - Walmart Link
Bento Box for Adults Lunch Containers for Kids 3 Compartment Lunch Box Food Containers - Walmart Link
monbento - MB Original Graphic Jungle bento box - 2 tier leakproof lunch box for - Walmart Link
Buy on eBay
Premium Bento Lunch Box in 8 Modern Colors - 2 Compartments, Leak-proof - Includes Sauce - eBay Link
Bentgo Kids Children's Lunch Box - Leak-Proof, 5-Compartment Bento-Style Kids Lunch Box - - eBay Link
THE ORIGINAL Japanese Bento Box (Upgraded 2020 Black & Bamboo Design) w/ 2 Dividers + - eBay Link
Ecolunchbox Three-in-One Stainless Steel Bento Box (1, Regular) - eBay Link
Bentgo Salad - Stackable Lunch Container with Large 54-oz Salad Bowl, 4-Compartment - eBay Link
Modetro Bento Lunch Box for Kids & Adults - Ultra Slim Food Container w/ 3 Separate Leak - eBay Link
Freshware Meal Prep Containers [15 Pack] 2 Compartment with Lids, Food Storage - eBay Link
Bento Box for Adults Lunch Containers for Kids 3 Compartment Lunch Box Food Containers - eBay Link
monbento - MB Original Graphic Jungle bento box - 2 tier leakproof lunch box for - eBay Link