Who doesn't love milky beverages like coffee, cappuccino, latte, hot chocolates, etc? People go to local cafes to drink these beverages.
But, do you know you can make restaurant-quality foamy and smooth beverages on your own with the help of the right steamer?
We all know how important well-steamed milk is to make coffee or other milky beverages. Only a quality steamer can provide you with the best-steamed milk for your beverage. So, a good steamer is surely needed.
Now you may think, you don't know much about milk steamer or really can you make coffee, cappuccino, latte like your local restaurants.
Here I can assure you that it is not that kind of hard task actually. Because all the steamers listed below are great for home use and have already in-built features for a pure taste like restaurants.
So let's go and see the top 10 best milk steamers to use in 2021.
Top Milk Steamer by Editors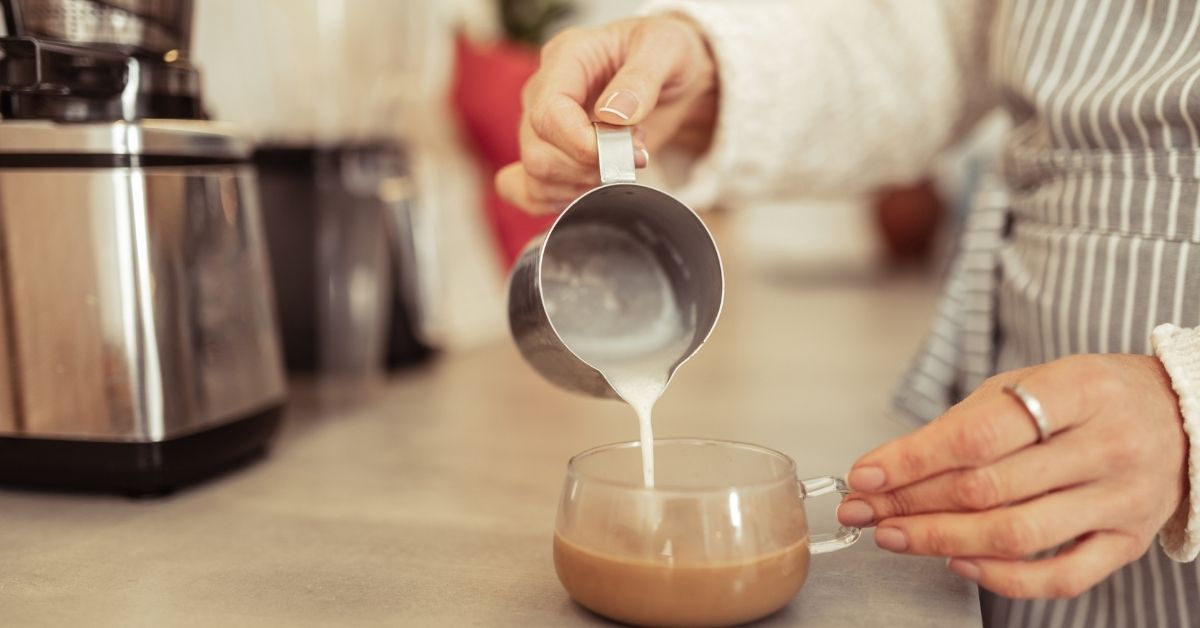 10 Best Milk Steamer with Buying Guide in 2021

1. Breville BMF600XL Milk Cafe Milk Steamer
Breville is a well-known brand of a Milk frother. And this one is the best milk streamer on market currently. Let me tell you why?
It has a variable temperature control system that automates the process to create smooth velvety for milk. So, you can take a deep shower while steaming milk.
Its jug can sense the amount of milk you put in it. If it's too much this won't run. Just put enough ingredients, select the temperature, hit the dial, and boom. Your milk will be ready within a moment and when it's done it will notify you.
There is a measuring cup with a lid so you can measure ingredients easily for the size of your jug. You can also use cold stirrer settings for iced beverages.
The jug, lid, measuring cup, and frothing disks are all safe for quick cleaning in the dishwasher. This is an ideal choice for home use.
Key features:
The variable temperature control system
On-board disk storage
Notification system
Durable and easy to use
Dishwasher safe
2. Nestle Nespresso Aeroccino3 Milk Steamer
Everybody knows about Nestle. This Nespresso Aerocchino 3 is really amazing. Its smart-looking shape will surely catch your eyes. Also, this is handy for quick use.
The jug is really nice to grip. Inside the jug, there is a max fill line that differs from the whisk you using. It has a little whisk container in its base. You can put the whisk here which one you currently not using.
You can do both hot and cold milk with this one. It has only a single button to operate. If you want hot milk then just press it and the button will become red. And if you want cold milk just press and hold the button for 2 seconds, the button will become blue and the coil used to heat up milk won't on.
The advantage of this steamer is it's quiet. It doesn't make any noise. You can hardly hear what's happening inside.
It's not safe with a dishwasher cause it has electric bits bottom of the jug. So you have to wash it manually.
Key features:
Durable stylish and smart design
Handy for home use
Extremely quiet
Ideal for gifting
3. Miroco Milk Frother, Electric Milk Steamer Stainless Steel
This one is so simple and easy to use. Its food-grade stainless steel body looks great and also scratch proof.
Using this machine is super easy; just connect the base with electricity. Put the jug on top of the base. Use a dedicated whisk for hot milk and froth milk. Add ingredients. Don't go up the fill level. Push the blue button and wait till it's done.
When the temperature will reach 65°c it will turn off and a red indicator will start blinking to notify you that it's done. And for making cold milk it will also automatically turned off when the milk foam is ready.
You can do multiple tasks during using this one. You need not worry about food quality or about overheating.
The cleaning process is also simple. Just wash the jug randomly and it's clean. Be cautioned, it's not dishwasher safe.
Key features:
Home use
Durable & nice design
Automatic temperature control
4. VAVA Milk Frother Electric Liquid Heater
VAVA Milk Frother is nice, easy to use. It has a stainless steel body that looks so premium. Also, it's food-grade steel is safe for health.
Inside the milk steamer, there is two couple of whisk. One of them is for frothing and another for steaming. Inside the jug, you will find markings for the minimum and maximum amount of milk. So you don't need to worry about blowing off your milk.
It will automatically stop when frothing milk or steaming milk is done. It can froth up to 115ml and steam up to 240ml.
This one is not dishwasher safe. You have to wash it by hand. Its nonstick jug won't be so much bothering for cleaning.
Key features:
Home use
Durable & nice design
Automatic temperature control
5. Secura Automatic Electric Milk Frother and Warmer
The Secura Automatic Electric Milk Frother is something different among the above.
It is made of stainless steel and pretty well sized. It can froth up to 125ml and prepare hot milk up to 250ml.
It has only one whisk to make froth milk or hot milk. Can you guess how it is done? Ok, let me say.
There's a black switch in the middle of its lid. You want only hot milk, switch it to hot. Or you want to froth milk then leave the switch in the froth. Pretty easy!
Again if you want hot milk with froth to tap the switch once, you want cold milk with froth just tap and holt the only switch for 3 seconds.
This machine has a detachable power cable. You can detach it any time from its base.
It provides a cleaning brush with it which easier the process of cleaning the bottom of Whisk. It is also not dishwasher safe. So be cautious while cleaning it.
Key features:
Smart design
Detachable power cable
Lid switch for froth and stream
6. Miroco Electric Milk Steamer and Foam Maker
If you want a large capacity to make hot milk for your whole family, then this one is for you. It has a massive 720ml of milk heating and 350ml of milk frothing jug.
Its high-quality food-grade stainless steel is safe for your health and totally scratch proof. The jug can be removed from its base.
Its cleaning process is super easy because it's totally dishwasher safe. You can clean this one with any suitable dishwasher.
You don't need to worry about overheating, because it has smart heating technology. Also, it makes lower noise and provides smoother foam. (Cause is a conversational word; use because)
This machine can let you froth milk only or heat the milk only. And also let you heat and froth milk at the same time.
If your priority is family use, and you want a large capacity then this one is definitely recommended.
Key features:
Large capacity
Dishwasher safe jug
Smart heating technology
Family use
7. Chinya Milk Steamer
Chinya milk frother is a fast, easy, and silent machine that can provide you dense froth in less than 60 seconds. It's an awesome machine.
Its high-quality stainless steel looks so premium. You will just fall in love with it.
The jug can froth your milk up to 150ml and heat your milk up to 300ml. It also has automatic temperature control, so it will turn off when it's done with its job.
It has a switch on its lid to froth or only heat like Secura Automatic Electric Milk Frother And Warmer. You can make hot or cold milk by pressing the button.
It is not dishwasher safe. So you have to wash it manually. A cleaning brush is provided with it for easy cleaning. So, it will not cut your nerves.
Key features:
Fast and easy operation
Premium looking
Lid switch for different operations
8. HadinEEon Milk Frother, Electric Milk Steamer Foam Maker
This HadinEEon Milk Steamer has the best outlook among all of these. It has a really great design. I'm sure anybody will love this on the first look.
You can froth milk up to 150ml and steam milk up to 300ml like most of the machines.
The machine provides two whisks. One for frothing, and another for steaming. There are two buttons to prepare hot and cold milk. The one with snowflake symbol for cold and another one is for hot.
It's an automatic machine. It will turn off automatically when it's done frothing or heating. The machine is quiet and safe to use.
It is not dishwasher safe. There's a handy sponge cleaner to clean the jug.
Key features:
Smart look
Durable
Automatic temperature control
9. Miroco Stainless Steel Milk Steamer
Miroco stainless steel milk steamer is smart looking, durable, and made of nonstick, safe, food-grade stainless steel. And this one is so easy to use.
It can steam the milk up to 240ml and froth milk up to 115ml. It is really a quite machine. It'll complete your work without making any noise. It can make your milk foamy in less than 2 minutes.
This machine is equipped with Strix temperature control. It will automatically turn off when the milk reaches its temperature limit. So, you need not worry about controlling temperature. Just put the limited amount of milk and let the machine do the work.
It contains electric coils in its jug. So you can not wash it with a dishwasher. But you can clean it manually. Use extra precautions while cleaning it.
Key features:
Home use
Durable and nice design
Automatic temperature control
10. iTeknic Milk Frother, Electric Milk Steamer, and Frother
iTeknic Milk Frother, Electric Milk Steamer, and Frother is a budget-friendly milk steamer and frother.
Compared to its price it really performs great. It looks alike Miroco Milk Frother. Same build design and the same button position. Its stainless steel looks more premium than it's the price. Its maximum capacity is 240ml.
It provides two whisks for frothing and heating. Tap the operating button for hot milk, tap, and hold two seconds for cold milk. And change the whisk for froth or no froth. Its automatic temperature control will turn off your device after steaming your milk.
You have to wash it manually because it's not dishwasher safe. So, wash it with caution. Its nonstick stainless steel jug won't bother much when you wash.
Key features:
Budget-friendly
Durable
Scratch-proof stainless steel
Automatic temperature control
Home use
Buying Guide
There are countless steamers you can find on market. But if you want the perfect milk steamer for you then you have to consider some important facts. Here are some of them listed below. Make sure to have a look.
Dishwasher safe
You don't want to waste your precious time cleaning your milk frother when many of them offer quick cleaning with a dishwasher. If you own a dishwasher and time and convenience are so important to you, then you must buy a dishwasher safe milk steamer.
Capacity
While you don't want to overload your milk frother, you would like it to own the capacity to heat up an inexpensive amount of milk in one go. Always consider what proportion of milk the machine can froth in one go, and don't opt for too small a variety.
Frothing disks
Many machines provide multiple frothing disks to make various kinds of drinks. These give different froth consistencies for drinks. Confirm the machine isn't specific to only one drink if you wish to own multiple options.
Size and weight
If your kitchen is small in size or your machine shelf is high from the ground then you must consider your milk steamer's size and weight. Again if your machine is light then it will be handy to use and feel more comfortable.
Outlook
In order to beautify your kitchen, the importance of well-looking kitchen elements are huge. So surely you want smart, stylish, and cool stuff in your kitchen. That's why your steamer is important to be good looking.
Heating option
You can make hot drinks like coffees, lattes, chocolates, etc with most of the milk steamers. Sometimes you could need to make icy drinks. So your steamer better has multiple heating options.
Frequently asked questions
What's the difference between milk streamer and milk frother?
The easiest way to differ milk frother and streamer is milk frother froth milk and makes milk foam and a steamer steams milk and makes hot milk with a silky texture. With frother, you can make hot and cold both milk froth. But with the steamer, you are unable to make cold milk. This is a major difference. Most of the milk frother on market provides milk-steaming options. But only milk steamers don't provide milk frothing option.
Is frothing milk the same as steaming milk?
No, frothing and steaming are completely two different operations. Steaming milk is quite easy compared to frothing milk. You can steam and heat milk with just a wand. But milk frother injects the air to make tiny bubbles into milk to make froth. So, frothing milk is a bit complicated task and needs dedicated parts.
Do handheld milk frother heats up the milk?
Yes, handheld or not, milk frother avowedly heats up the milk. Frothers slightly increase the heat and inject the air into the milk to create milk foam. So, yes handheld milk frother surely does heat the milk.
Some steamer comes with built-in frother, is there any problem in terms of technical issue?
Basically, these types of steamers are built in such a way so that they can withstand performing both the task. Besides, except for some ignorable claims, customers are satisfied with these types of steamer. Again technical issue depends on the quality of the brand. You must choose a well-established brand, and to do it, our picks could be a very good choice for you.
What is the difference between milk steamer and electric kettle?
An electric kettle is used for boiling water or tea or similar types of hot drinks, whereas, the milk steamer is especially used for boiling milk. If you Google these two, you wouldn't find any basic technical difference indeed. You may find minor technical differences, these are, however, very insignificant for the general user. It seems like; you can cut an apple with your vegetable cutting knife but for better and perfect performance you use a fruit cutting knife instead.
Conclusion
Now that you know making milky beverages is super easy if you own the best milk steamer. Also, you don't have to wait for your favorite coffee, cappuccino, or latte in a local Cafe. It saves time and gives a lot of comfort.
A right size machine can make a full cup of happiness for you, and also none of them will take no longer than five minutes to froth or steam your milk.
So, who is stopping you now from making the best coffee, cappuccino, latte, and more? With the perfect machine for you, you can enjoy whatever you want.