The importance of vacuum cleaners cannot be overstated. I mean, a good vacuum cleaner can make the difference between having a clean house and a house people don't want to visit.
As a result, it is not so surprising that there are different types of vacuums, each with its unique functions, features, and operating model. For instance, some vacuums are upright and can be held as a stick while others are simply robotic. That is, they would carry out the cleaning on their own with little to no supervision needed once you complete the machine's first-time programming.
In this post, we would be talking about Vacuum cleaners for furniture. Furniture in this case includes anything from your couches to the sofa to bed. Most of the vacuum cleaners on this review of the best vacuum for Furniture would also easily clean your room floor and carpet.
Top Vacuums for Furniture by Editors' Picks
NOTE: As you probably already gleaned from the post title, this write-up would include a review as well as buying guide. The purpose of having a buying in here is to ensure that you know what to look for in a vacuum cleaner other than its pricing. Pricing, of course, is what most people look at when they try to buy a gadget which is but one of the important things to consider when buying anything!
Best Vacuum for Furniture: Review 2021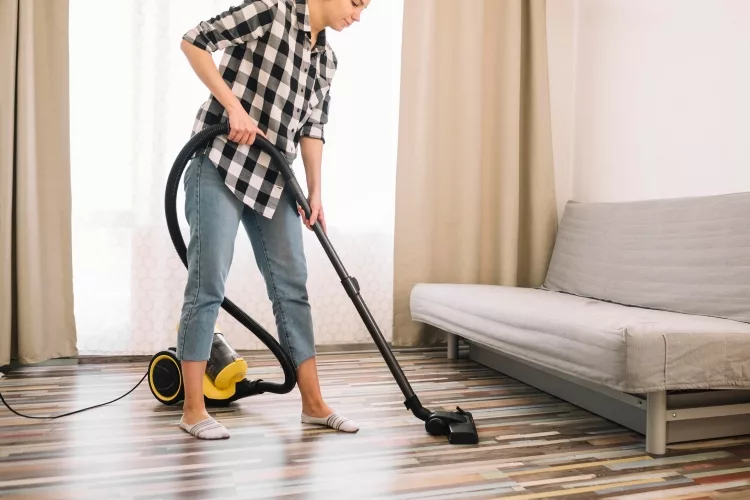 To give you a quick heads up, handheld vacuums are the best vacuums for couch cleaning. However, they are not so useful when trying to clean the area under furniture. However, a robotic vacuum is more suitable for cleaning mess under the sofa, bed, and other related furniture.
Without further ado, here are our top 5 picks of the best vacuum for furniture"
1. Bissell Multi-Purpose Portable Carpet and Upholstery Cleaner (1400B) - Link
Pros
Can remove stains and tough spots on rugs, couches, carpeted floors, and stairs, etc.
Comes with a year limited warranty.
Easy to use and store,
Comes with a hose and cord housing compartment.
Cons
The hose is a bit short.
It is loud when operated.
While it would remove pet hair from your bed, it can be a hassle to clean the machine because some hair can get stuck in it.
This compact portable carpet and upholstery vacuum is only available in dull green color. It comes with a powerful suction that helps tackle stains and spots on upholstery and carpet. It can also remove dust on the floor and inside vehicles.
One thing we do love about this vacuum is that the manufacturers donate $10 to its pet foundation (Bissell Pet Foundation) every time someone purchases this product. So, if you are feeling generous and want to help outs abandoned pets while also getting a capable vacuum cleaner for your home furniture, you can't go wrong with this.

2. Bissell Pet Hair Eraser Handheld vacuum - Link
Pros
Reasonably Priced
Carrying out maintenance on the vacuum cleaner is easy
It does not have a brush roller so you don't have to worry about tangled brush hair when cleaning
Suitable for removing particles on bed and sofa such as pet hair, dust, etc.
Cons
Because it has pretty powerful suction, it can sometimes cause a mess if there is too much dust in a particular area. This makes the vacuum not suitable for tight area dust and dirt cleaning.
Does not allow additional attachments, for instance, it does not come with a crevice/hose tool.
Pretty loud
This is one of the best handheld vacuums on the market right now. It is best for cleaning dirt and debris off furniture, other upholsteries, and stairs. It is not capable of deep cleaning but it does a good quick cleaning job. It has a power cable that is long enough to make cleaning easy without you being inconvenienced.
It is lightweight, comes in a compact design, and is a bagless vacuum. This means you can easily empty it after using it.
One big drawback about this handheld vacuum is that is majorly only suitable for pet hair cleaning. It does a messy job when it comes to cleaning dust. Also, to use the vacuum, there needs to be a power socket close by. Otherwise, there is no power in the machine.
It comes with a year warranty starting from the purchase date. The warranty gives you access to a free consultation, repair, or replacement if there is a defect or fault in the vacuum.
There is also an online manual in case you run into difficulties while using it.

3. Eureka NEU182A PowerSpeed Upright Vacuum cleaner (Bagless) - Link
Pros
Best for extensive cleaning.
Lightweight even though it appears bulky as most Upright Vacuums do.
Adjustable handle to reach longer distances while cleaning.
The power cable that comes with the vacuum is long (25 ft.)
Cons
Storage can be a hassle. It does not have an automatic cord rewind system like the newer model which means you have to manually wind and unwind the cord every time you need to use it.
So what do we particularly love about this bagless Vacuum cleaner? Well, For starters, it is an upright vacuum which means you can rest assured knowing it would do a good job in cleaning every dirt in the room. It is a budget vacuum that not only removes dirt and debris from your floor, carpeted stairs, and rug. It also removes pet hair from upholstery.
It comes with a couple of features such as a flip button to easily empty the bin compartment with one touch. It comes with a powerful suction but is still easy to handle. You can adjust the height of the vacuum itself which makes it super convenient for cleaning areas you can't easily reach.
It comes with multiple accessories which you can attach or detach depending on where you need to reach while cleaning with the vacuum. Although it has a dusting brush, it is well made so much that pet hair would rarely get tangled in the brush.
Although there is a newer model of this vacuum which is slightly more expensive, this vacuum is well worth every dollar you pay for it!

4. ILIFE V3s Pro Robot Vacuum cleaner - Link
Pros
Best for Carpet cleaning
Self-charging after each cleaning schedule is complete
Smart anti-fall sensors for easy maneuvering while cleaning close to stairs.
It comes with about 10 infrared sensors to map put all the obstacles in the room
Comes with a lithium-ion battery that has a 90 to 100 minutes runtime.
Supports the use of a remote controller
Comes with a 12-month warranty. The warranty gives you access to their customer service in case of any faults you might have detected from your vacuum.
Cons
Not suitable for deep cleaning
It can be a bit of a hassle to empty the robot vacuum's dirt bin
Right off the bat, you should note that this is not one of the default vacuums for furniture on the market. It is a robotic vacuum which means it is more suitable for general dust and debris cleaning than any other thing. However, if you want to, you can always place it on your furniture to clean them. Also, you can dust any furniture with a clean cloth then leave the ILIFE V3s Pro to clean up the mess and dirt on the floor.
It comes with a lithium-ion battery and you can control it with the use of a remote after programming it with a cleaning schedule.
It works like any other robotic vacuum works. You program a cleaning schedule onto the robot. The robot scans your room with its smart sensors and maps out a route to clean the length and breathe of the room. Once cleaning is done or if the battery is low, the ILIFE V3s Pro automatically scans for its charging dock where it will return and self-charge without you having to plug it in.
It is also perfect for removing pet urine, vomit, muddy paws, and hair from carpeted floors, stairs, and upholstery. It does not come with a brush or any motorized roller brush. This means you are less at risk of having to untangle the vacuum brush when it becomes packed with pet hair. This thus makes it a perfect choice compared to many other dry vacuums.

5. Shark Rocket Corded Hand Vacuum - Link
Pros
Comes with a lot of attachments that help make cleaning easier. Even better, one can easily change the attachments depending on the situation.
Since it is bagless, it is easy to empty dirt gathered by the vacuum.
Comes with a reusable filter that you only need to wash when dirty.
Compact design.
Cons
The suction power could be better.
The cord isn't long enough. It only comes with a 15ft cable.
Rounding up this review of the best vacuum for cleaning furniture, we have the Shark Rocket Corded hand vacuum HV292.
Safe to say if you are in the market for a lightweight, value for money vacuum, then this is for you!
It comes with a motorized mini brush with which you can vacuum carpet floors, furniture as well as the interior of your car. The mini brush also makes it a good pet hair removal handheld vacuum.
It comes with a 15ft power cord which, although is pretty long, can still cause certain restraints while cleaning. It does come with an extended reach stretch hose attachment to fix this problem but that is about where the solution ends. You will have to figure out how best to use the vacuum when using it to reach as much area as possible. It also has a 12-inch crevice tool which can always come in handy.
Although it is a bagless handheld vacuum, it comes with washable filters. This means you can wash and reuse them after use. This helps reduce the cost of purchasing new filters every time the one in the vacuum becomes dirty.
The only drawback we noticed with this vacuum is that you cannot use if thick rug floors. While it would handle carpeted floors and stairs as well as beds and other furniture, your best bet to cleaning a thick rug floor would be a canister vacuum.
One thing we particularly love about this vacuum is that it comes with a 5-year warranty.
Buying Guide: Everything to know about Vacuum Cleaners before buying one
Simply jumping into a store to pick up a vacuum cleaner based on the way a sales rep markets it won't get you the best value for money. The same goes for trying to pick up a vacuum in an online store. As a result, even though we already provided a list of our top picks, we would also love to provide a buying guide to help you make informed decisions on the right vacuum for you.
Vacuum Type
As we already established, vacuum cleaners come in different types. Each of them has a different performance in terms of how fast they can clean and what type of surface they can clean.
Hence, the first thing you need to determine is what type of cleaning you will use your vacuum for. In the case of this post, you want to consider that can primarily clean upholstery and furniture. However, if a vacuum you select can also clean other surfaces such as rugs, carpets, and even tiled floor, then, by all means, it is a welcome add-on.
For instance, there are robotic vacuums that can easily maneuver their way on stairs but do not do well on rug surfaces. And of course, with robotic vacuums, yes, you do get a hands-off experience since you can just schedule them and forget about getting any cleaning done. But then, you will also have to periodically empty their dust bin or they won't function properly.
Below is a comparison table to help you understand the different types of vacuums you can buy.
Type
Pro
Con
1. Upright Vacuums

- They cost less compared to other types of vacuums.
- They have a large cleaning capacity and are better used for deep cleaning carpets.
- Easy to store since they are upright in build, as the name implies.

- They weigh a ton. This can make pushing them around to clean the carpet and floor a hard task.
- They are also noisier than most types of vacuum cleaners.

2. Canister Vacuums

- Canister Vacuums offers some of the best performance when cleaning hard floors, stairs, upholstery, drapes, and under furniture areas. Some premium canister vacuums are even perfect for cleaning carpets.
- They are very quiet when in use.
- They also seem light when handled.

- They appear bulky but are otherwise light when handled. This is mostly due to the powerhead not being part of the whole vacuum as it uses a hose and wand configuration.
- Since they appear bulky, they can sometimes be difficult to store.

3. Corded Stick Vacuums

- They are pretty similar to upright vacuums in terms of build.
- They are very light and perfect for quick cleaning
- They are mostly reasonably priced i.e. cheap.

- Cleaning with a Corded Stick vacuum is not as thorough as you might want since they are only suitable for quick cleaning.
- They come with a small dirt and dust bin since they do not work as a conventional vacuum cleaner.
- Since they have a cord, convenience while using them quickly becomes an issue.

4. Cordless Stick Vacuums

- They are Corded Stick Vacuums except they work on batteries.
- They are capable of deep cleaning depending on how premium the vacuum you buy is.
- They are easy to use and storing them is not a hassle since there is no cord to worry about.

- Usually overpriced.
- Batteries can easily develop a fault and need to be replaced. Although this type of issue only occurs after using the vacuum for a minimum of 3 years in which case, there is no warranty to change the battery at the manufacturer's factory. This in turn means extra maintenance costs.

5. Robotic Vacuums

- As the name implies, these types of vacuums can work on their own while you simply relax.
- Most of them come with technology with which they can map the room they are in and maneuver around obstacles.
- Some come with extension cords while others operate on batteries after being charged.
- You can control most robotic vacuums with the use of a dedicated app right from your smartphone.

- Robotic vacuums are incapable of deep cleaning that you will get from Upright or Canister vacuums.
- They do not work well if you have rugs on the floor.

6. Handheld Vacuums

- They come as corded and cordless. They are best for quick surface cleaning of carpeted and bare floors, upholstery, etc.
- You can also use them to clean the interior of your car.

- Do not have the performance and power capacity you can expect in a Canister or Upright vacuum
7. Central Vacuums

- Almost similar to a Canister vacuum except that Central vacuums are easier to handle. This is because you have to carry both the hose and powerhead when cleaning.
- Produce almost no sound when in use and comes with a super large dirt chamber.

- Mostly overpriced
- You need to employ a professional technician to help with the installation.
- The hose can sometimes hog space if not properly stored.
Features
When shopping for a vacuum, the features it comes with is important to note. You want to check the type of brush the carpet uses while cleaning. For instance, some use a motorized brush to clean while others use a suction-powered brush.
For the most part, motorized brushes are more efficient than their suction-powered counterparts.
Some come with buttons for everything you want to do with the vacuum such as deep clean, quick clean, emptying dirt chamber, suction control, etc.
To be honest, all you have to do is understand what you want to use your vacuum cleaner for. Then, you can proceed to understand which features are worth having in your vacuum.
Connectivity
This indicates whether the vacuum has WiFi connectivity or not. Most of the vacuums support Wi-Fi so they can record your cleaning data for proper monitoring. Some require Wi-Fi connectivity so they can function - for instance, robotic vacuums.
FAQs for Best Vacuum for Furniture Buyers
Can I Clean the Sofa with my vacuum cleaner?
The answer is a bit technical. For the most part, you can clean your sofa with a vacuum. However, you run the risk of damaging the surface of the sofa or related upholstery.
The main thing to note is that there are different types of materials used in making sofa and other related furniture. Different vacuums react differently to a different surfaces. For sensitive materials, you can easily cause crazy scratches on them when you vacuum them.
However, sofas and upholstery made with microfiber sofa are okay to clean with a vacuum.
Will my Vacuum clear animal hair from my bed?
Yes, they can. However, you have to be sure that the vacuum you are using is suitable for clearing animal fur. Recommended vacuums for such include handheld vacuums.
What is the best vacuum for furniture and upholstery?
Well, the answer is relative. Every type of vacuum can clean furniture and upholstery except Robotic and Canister Vacuum. The main reason is that Robotic vacuums are programmed for floor cleaning. They work on their own without the need for supervision.
As a result, it cannot climb onto furniture to clean them. Canister Vacuums are usually heavy and therefore would do more harm than good when used for furniture.
Is a robotic vacuum good for cleaning upholstery?
No, and the answer is not so hard to understand. They use certain technology to map out the floor and then proceed to clean all the area of the floor.
In this case, it would map out furniture as an obstacle and instead avoid it. That asides, Robotic vacuums have a hard time cleaning carpet.
Conclusion on Best Vacuum for Furniture Reviews
That said, hopefully, you have learned everything you need to know about Vacuum cleaners. They are key to having a clean home and are pretty efficient. Most of them are energy efficient and take little to no hassle to operate. While a good number of them are manually operated, some are also automated.
Happy Shopping!