When it comes to a working environment, precision, comfort, and protection are all you need. Whether working as a professional chef or at home, you need practical and functional kitchen shoes to get you through the time spent in the kitchen. Working as a chef doesn't include sitting and relaxing time.
More often than ever, it involves standing for up to sixteen hours trying to perfect your craft; thus choosing the right kitchen shoes can make a significant difference. It is essential that a chef should wear the best kitchen shoes, not only for comfort but also for safety purposes.
So let's dig deep into it.
Editors' Picks for Top Best Kitchen Shoes
Things to Consider Before Buying Kitchen Shoes
Not every shoe advertised in the market is the best choice for kitchen activities. A chef needs to choose the right kitchen shoe designed for every purpose. An attribute of being a good chef is being comfortable enough to withstand long hours at your feet. Whether you are looking for comfort, hardened toes, or an extra grip, there are shoes out there to suit your kitchen needs. Here is a guide to some of the things you should consider :
1. Laces
Most of the chefs prefer to wear clogs over laced-up shoes for one reason; without laces, there is no chance that your shoes may become untied in the middle of your kitchen activities and trip you over during the crucial moment. Clogs are unique, and you don't need to tie or untie them. Thus they do not possess any danger to you or your colleagues.
2. Anti-Slip Sole
Kitchen floors are slippery, and one of the essential factors as a chef is to look for a kitchen shoe that will provide grip to the surface of the kitchen. Things such as oil, water, food, and soap may spill on the floor and may easily send the chef slipping in different corners of the kitchen. The proper shoes are advertised with 'slip-resistant sole' and spill guard.
3. Comfort
Not only are the shifts long but with the wrong type of shoes, you can develop problems at your joints, back, and even feet. Pick a shoe that provides extra cushioning and will keep your feet comfortable even during tiring shifts.
Some chefs may need shoes that offer additional protection to their feet. In some instances, some chefs prefer strengthened shoes that protect them from incidences such as falling knives, stubbing toes on the hard corners, or dropping cast-iron pots.
5. Cleaning Ease
As a chef, you will experience all sort of foods and squash dirt from the floor. It also includes oil spills, water, food ingredients, or even food itself. With the above reason, a kitchen shoe can get dirtier more quickly compared to a daily wear shoe. Thus, it is essential to consider the ease of cleaning your kitchen shoes. Choose a shoe that makes the cleaning process effortless.
Top 10 Best Kitchen Shoes Available in The Market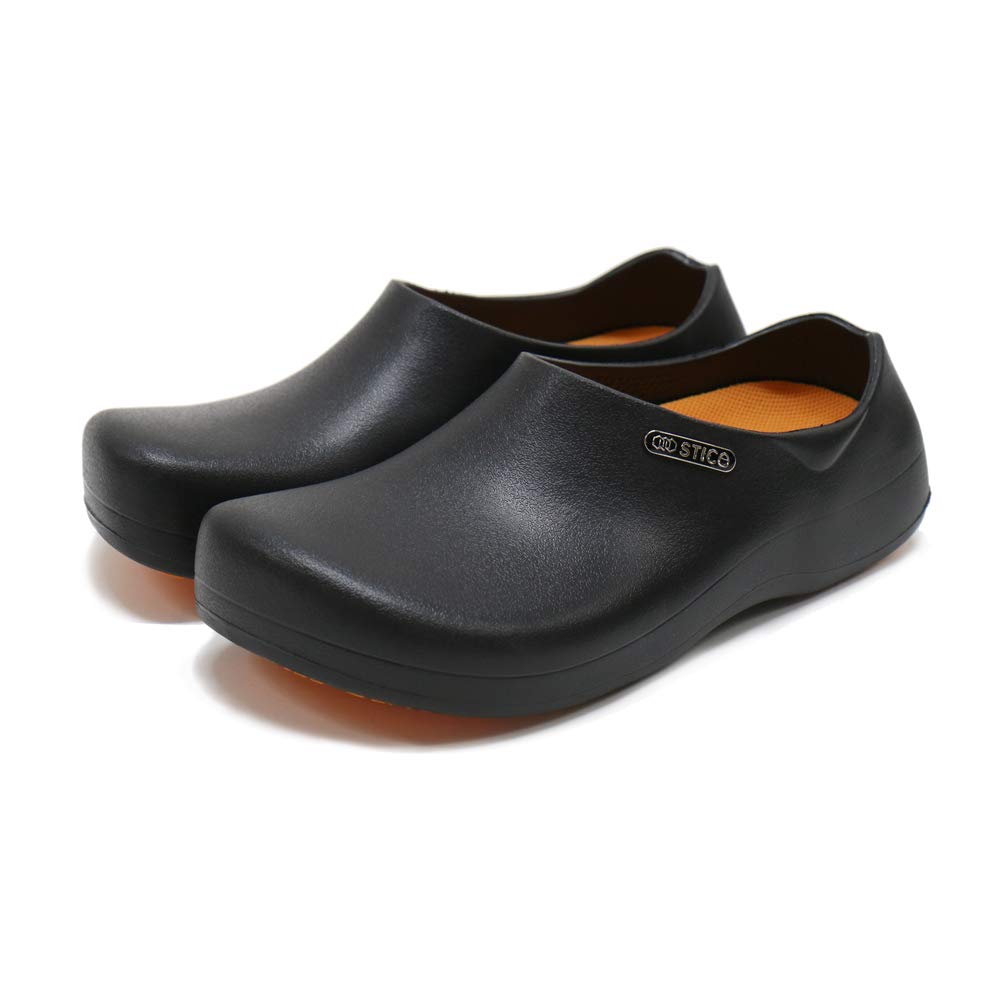 SensFoot's Slip Resistant Chef Clogs is one of the most trusted kitchen clogs available in the market. They are great shoes if you are working for long hours in the kitchen. They are lightweight, comfortable, and durable. The clogs are designed with eco-friendly EVA material, rubber sole, and breathable top grade insoles that allow maximum support without sacrificing the comfort of your feet. They also feature breathable insoles that not only make it easy for washing and drying but also relieve feet stress even when upright for long periods.
Additionally, it has an approved rubberized outsole that offers maximum traction, preventing slipping on an oily or wet floor. People who work on busy jobs such as nurses, chefs, doctors, or gardeners prefer these types of shoes.
2. Own Shoe Men's and Women's Chef's or Nursing Slip Resistant Clog Shoes
These shoes are great for the kitchen! They come with a removable insole that provide comfort and support if standing for long hours. The shoes are unisex, suitable for chefs, nurses, restaurants, and factory workers. Own shoes adhere to the quality of their products, and the products undergo thorough testing including slip resistance, color, and quality.
The footwear incorporates an innovative technology that prevents slipping on oily and watery surfaces. It has a high anti-slip sole and grid pattern that improve the shoes high skid resistance and increases elasticity. If you spend the majority of your time standing, it is recommended that you choose Own Shoe Men anti-slip work shoes as it has a specially designed shoe to protect your feet. Furthermore, they are enclosed and uniquely designed to meet workplace standards. They provide enough room for arch support and for individuals who wear a brace.
When it comes to protecting your feet while in the kitchen, SensFoot Non-Slip has got all of it covered. The shoes have been carefully adjusted to fit long standing hours at these environments. The non-slip shoe has EVA material on its upper sole, which makes it lightweight and pressure resistant. It has thick protrudes around the top, which makes it easy to slip into and provide arch support. It has an outer body enclosing the toes, and the region allows them to splay naturally. The shoe is designed with removable insoles, which are breathable and designed from foam, making them comfortable when upright for long hours.
Additionally, the shoe has rubberized out soles that help keep the pressure off and maintain proper stamina while walking. It has a gripping square which helps create separation between your feet and the surface keeping smooth movement. The material used in design makes it resistant to dripping oil, water, and it is easy to clean and dry. They have been designed to be slip resistant and ever waterproof. The outsold has been made with environmentally friendly EVA materials which reduce shock felt by the user while working.
4. VANGELO Professional Slip Resistant Clog Unisex Work Shoe Chef Shoe Nurse Shoe Carlisle
This is another favorite chef's clog available in the market. Not only has the VANGELO Professional Slip Resistant Clog Unisex Work Shoe been recommended by the famous chef, Mr. Gut Mitchell, but the footwear has also consistently gained favor and positive reviews from the customers. It is designed with an Eva Foam body that makes the shoe lightweight and comfortable to wear for long hours. It is equipped with an Ortholite removable insole that guarantees the chefs comfort, efficiency, and safety during work.
VANGELO offers complete protection from dropped hot water and oil. It has been recommended by the American Podiatric Medical Association (APMA) due to resistance to letting in microbes and easily washable inside and outside. If you are looking for a cushioned, warmed shoe to help you stay safe in a dangerous, and slippery surfaces, VANGELO professional footwear is the best choice for you.
5. Crocs Men's and Women's On The Clock Work Slip Resistant Work Shoe | Great Nursing or Chef Shoe
There isn't much left to say about crocs that you haven't heard already, most likely. The crocs are designed for your comfort and happiness. The model and design offer comfortable, roomy shoes that molds to your feet. The materials are soft, lightweight, and durable. They are molded from plastic, which makes them easy to clean with water and detergent. They have an enclosed toe design, and the material on the front of the clog is thick to protect the toe from falling objects.
Besides, a feature that makes it irresistible is that it drips and dries quickly. The shoe is designed with chefs, healthcare, and hospitality professionals in mind.
6. Skechers for Work Men's Balder Slip Resistant Work Clog
Skechers for Work Men's Balder Slip Resistant Work Clog is useful shoe that most workers will appreciate. The clog work shoe has been designed to comfort and warmth to the users. They are easy to slip in or off, but only when you want them to. They are designed with Slip Resistant rubber which guarantees you that they will stay on.
This design is 100 percent synthetic, explicitly made for wet or oily surfaces that protect you and those surrounding you in the kitchen. The synthetic nature makes them waterproof, and thus, they are easy to clean. The toes are enclosed that prevent spills such as hot water and oil from entering the shoe. Unlike many other clogs, the features contribute to the durability of the shoe.
When it comes to cushioning and comfort, these work shoes are the best. They are lightweight and flexible, which makes them suitable in the work world. The rubber soles make them perfect for long-duration workday. They are designed with a contoured arch which ensures comfort.
7. DDTX Slip Oil Resistant Slip-on Mens Work Shoes Black/White
This is another affordable shoe option for those looking to remain safe in a slippery condition. It's available with different colors, black and white. It is a comfortable, lightweight men shoe which makes them easy to work around with. DDTX Men's is easy to slip on shoe and fit in almost every environment, including chefs and health profession.
The outer upper area is designed with nano PU leather material making it water and oil resistant. They feature a removable insole and have open foam soft cushioning that provides superb comfort to your foot. To ensure that you enjoy maximum comfort, DDTX Men's shoes have a textile lining with breathable mesh that prevents feet sweating by allowing air circulation. It is designed with EVA plus rubber soles increasing traction, thus saving yours from slipping accidents.
HMAIBO Garden Clogs Shoes are easier to step into but comfy on your feet better than slippers. They are uniquely designed to suit the various occasion, including beach visit, pool activities, house activities, cleaning, traveling, cruising, among other activity.
They are easy to clean and dry quickly. It goes without saying that these waterproof shoes are the best suited for garden activities. They are unisex meaning that you can easily buy them for your husband or wife. The shoes are available in various sizes and different stylish colors.
9. New Women's Fashion Flats Casual Comfortable Slip-On Shoes Black White Ladies Flat Platform Loafers
These casual slip-on shoes have been a worker-favorite for a while now, and for a good reason as it provides arch support and designed with high-quality materials. The loafers are easy to slip on and off when necessary. Not only are they suitable for kitchen purposes, but they can be part of your casual wear or essential when undergoing outdoor activities.
These loafers may have a sporty and keep the feet comfy through hours of walking or standings for long hours. They look more polish than any other sneaker.
10. Sticky Shoes - Women's Cute Nursing Shoes - Waterproof Slip-Resistant - Keep Nursing
When it comes to applying the correct design chef shoe, sticky shoes does play it part. Its model is designed with synthetic material, allowing the shoe to be lightweight and fit perfectly. The Sticky Shoes Women's Cute Nursing Shoes are waterproof, which makes them very essential whether working in the kitchen or as a nurse. It prevents oil spills, water, food ingredients, or even food itself from entering the shoe.
Apart from protecting your feet, these women shoes can keep your feet dry all day. The footbed is designed with an absorbent that keeps giving it that feature.
The shoes are light designed with the anti-torsion system, which helps absorb shock. It can give you the support and comfort needed to support you through harsh shifts. The shoes are available in different color and give you a lot of options when it comes to sizes. Just like the upper sole, the non-slip outsole is waterproof, which ensure that you won't sweat when wearing them.
Why Do You Need to Buy Kitchen Shoes?
A chef always needs to be in proper attire from top to bottom. He or she needs to wear a hat, an apron, and even kitchen shoes. Yes, you got it right! There are shoes made specifically for chefs and they are not like the regular ones that you prefer to wear outside.
In order to be a successful chef, along with dedication and skill, proper support for your foot is also mandatory. If you are in this cooking sector, you are already aware of its importance when you have to move from one place to the other at a fast pace.
So, the main curiosity that might run in your mind is the reasons behind buying kitchen shoes. For your benefit, explanations are provided below.
It will Prevent You from Accidents Like Slipping and Falling
Research has been done about this kind of accident in the past and the result came out that slipping and falling in the kitchen puts around a million people to the hospital per year. Unfortunately, some even go straight to the emergency room.
So, if an employee faces this uncertain situation, he or she will miss their work for a couple of weeks or even months. The overall team will be affected by it as well and it is not an easy task to hire another one within an instant.
On the other hand, severe accidents that can occur from slipping and falling are fractures, brain or spinal cord injuries. This can even ruin your career for life if you don't take precautions in advance. Hence, the way you can be a step ahead from this kind of trouble is simply to go for the right kind of kitchen shoes.
While you are cooking, some liquids, oils, or grease might spill onto the floor. If you have huge orders, there is a huge chance that you will forget to clean them immediately. Not only that, but all the kitchens also are not so big, some are quite small and tough to move.
Smaller areas are more dangerous than the larger ones because you won't get that extra space to maneuver if things go south. The spilled area remains vulnerable and the only thing that can save you from it is the shoes.
This kitchen footwear is slip-resistant and it will prevent you from slipping or falling. You will get that instant experience of friction if you just landed yourself in the target area.
Your Neck, Back Portion and Knees will Always Be Supported
The career as a chef is always challenging because you will always be in demand. However, the schedule varies from country to country. Some work for 10 hours for five days per week while some go up to 12 hours.
They usually spend the majority of the day walking here and there in the kitchen and also standing constantly. In this situation, your knees, neck, or even back might give up, but proper footwear can help you overcome that.
Accordingly, you can't just go to the shop, buy the shoes and hop right into the kitchen. That will be a wrong approach because there are various models present and you should try all of them beforehand. The perfect one will fit properly and it will level up your comfort and physical health as well.
Take some time out from your busy schedule before you went out to buy. If possible, consult with experienced people who are currently using it. After all, you will never prefer your investment to go to waste.
It Gives You a Peace of Mind
There are various accidents other than slipping and falling. As you know, the kitchen is filled with different sharp objects and fragile stuff. You might drop a knife or break the glass out of the blue and in that critical situation, you can see your wiper far away from your reach.
To grab it, you have to cross the dangerous spot and what can save you in this gruesome condition? Kitchen shoes indeed. Thus, wearing it during your work is the most relaxing experience that you can get along with your beautiful cooking.
Likewise, you will be able to maintain a regular presence in your job and successfully furnish your career. So, complete your armor for your kitchen by wearing the right shoes and giving yourself the protection that you deserve.
Most Popular Kitchen Shoes for Sore Feet and Flat Feet
These shoes are perfect if you normally work for a long time in the kitchen. They are not heavy, highly comfortable, and long-lasting.
The clogs are made of the rubber sole, good quality insoles, and EVA (Ethylene Vinyl Acetate) material. When you will walk, you won't feel any pressure on your feet. Breathable insoles are very easier to wash and you can put it to dry and start wearing again.
Finally, there is an out-sole made of rubber that will give you an awesome grip and prevent you from slipping whether the floor is wet or oily. SensFoot Slip Resistant Chef Clogs for Kitchen is very much famous among chefs. Apart from that, doctors, nurses, and even gardeners love wearing it either.
2. Vangelo Shoes
This model has got many positive reviews from the customer because of its lightweight and wearing flexibility. The body is designed with EVA foam which makes it comfortable to use.
An Ortholite removable insole is used in it that will provide you the utmost safety and efficiency when you are working. You won't slip or fall and if you even drop hot water onto it, you will get full protection.
3. Crocs Kitchen Shoes
Crocs are always designed in a way that can provide you the comfort and joy. These are quite soft and long-lasting. It also looks attractive and can easily blend with your feet.
At the same time, you can easily clean it with water and detergent. The front part is strong enough to protect your toes from getting injured. Along with the chefs, doctors and nurses can also use it.
4. Ddtx Chef Shoes
This one is quite affordable if you are not looking to spend large cash. It is lightweight and very comfortable to wear.
The upper portion in the outer part is made with nano PU (PolyUrthenae) leather material that makes it highly powerful in resisting oil as well as water. Due to that, you won't slip or fall. Chefs and health professionals can use this in any situation.
5. Sticky Shoes
The synthetic material designed in these shoes makes it lightweight and comfortable. These are waterproof so it can be used in a kitchen or hospital.
Besides, no food, oil, or water can enter the shoe. There is an anti-torsion system designed in it that absorbs shock. You will find it in different colors and sizes as well.
Kitchen Shoes Frequently Asked Questions (FAQ)
1. How can I take care of my kitchen shoes?
Answer: Always keep them in good condition. It is better that you keep them out of the sun and other high-temperature areas.
2. How can I wash it?
Answer: Some models are washable using a machine (up to 40 degrees Celsius) and some are not. You have to spray and clean the latter one. Consult with the supplier if you are not sure about your choice.
3. What makes the kitchen shoes highly slip-resistant?
Answer: The rubber soles are the main reason that the whole shoe can easily resist oil or water. This helps the person to avoid slip or fall.
4. What is the reason behind some soles being more slip-resistant than the others?
Answer: This is due to the various sole compounds and walking designs of different models. This difference determines the strength of grip onto the floor.
5. Are oil-resistant and slip-resistant the same?
Answer: Oil-resistant is related to the top part of the shoe and the kind of material that is used. On the other hand, slip-resistant is based on soles that help you in preventing slipping on wet or oily floors.
Final Words for Kitchen Shoes Buyers

When deciding which kitchen shoe to choose while preparing to work in a kitchen environment, ensure that you decide practical, functional, and to add on stylish shoes. The best kitchen shoes should help you avoid accidents to you and other people surrounding you in the kitchen.
To sum up, non-slip, breathable, water-resistant, and lightweights are popular shoe choices while working in a kitchen environment. The qualities will not only ensure that you are comfortable, but will avoid unnecessary slipping and accidents that may contribute to accidents and injury at the workplace.
Buy on Walmart
Birkenstock Unisex London SFB Leather Mule,Hunter Black,44 EU/M11 M US - Walmart Link
Birkenstock Professional Women's Tokyo Super Grip Leather, Black, 6-6.5 Narrow - Walmart Link
Crocs Unisex Men's and Women's On The Clock Clog | Slip Resistant Work Shoes, Black, 12 US - Walmart Link
Shoes for Crews Freestyle II, Mens, Black, Size 10.5 - Walmart Link
Skechers Womens Ghenter - Bronaugh Work Shoe, Black Mesh/Water/Stain Repellent Treatment, - Walmart Link
Dansko Men's Walker Black Smooth 44 M - Walmart Link
Dansko Women's Pro XP Black Cabrio Clog 9.5-10 M US - Walmart Link
Dr. Martens Women's Polley Mary Jane Flat, Black Smooth, 7 Medium UK (9 US) - Walmart Link
Dr. Martens mens Tevin Oxford, Black Overdrive, 9 US - Walmart Link
MOZO Women's Mavi Food Service Shoe, Black, 10 B US - Walmart Link
MOZO Men's Grind Food Service Shoe, Black, 11 - Walmart Link
Skechers for Work Men's Soft Stride Mavin Athletic Oxford, Black, 10 M US - Walmart Link
Skechers for Work Women's Eldred Work Shoe, Black, 7 M US - Walmart Link
KEEN Utility Women's KANTEEN Clog Non Slip Food Service Chef Shoe, Black/Black, 9.5 - Walmart Link
KEEN Utility Men's PTC Oxford Low Height Non Slip Food Service Chef Shoe, Black/Black, 13 - Walmart Link
KLOGS FOOTWEAR Women's Naples Leather Closed-Back Nursing Clog - Walmart Link
Klogs Men's Bistro Lightweight Black Casual Clog 11 M - Walmart Link
Blundstone Men's Work Series 179,Black,10 UK/11 M US - Walmart Link
Buy on eBay
Birkenstock Unisex London SFB Leather Mule,Hunter Black,44 EU/M11 M US - eBay Link
Birkenstock Professional Women's Tokyo Super Grip Leather, Black, 6-6.5 Narrow - eBay Link
Crocs Unisex Men's and Women's On The Clock Clog | Slip Resistant Work Shoes, Black, 12 US - eBay Link
Shoes for Crews Freestyle II, Mens, Black, Size 10.5 - eBay Link
Skechers Womens Ghenter - Bronaugh Work Shoe, Black Mesh/Water/Stain Repellent Treatment, - eBay Link
Dansko Men's Walker Black Smooth 44 M - eBay Link
Dansko Women's Pro XP Black Cabrio Clog 9.5-10 M US - eBay Link
Dr. Martens Women's Polley Mary Jane Flat, Black Smooth, 7 Medium UK (9 US) - eBay Link
Dr. Martens mens Tevin Oxford, Black Overdrive, 9 US - eBay Link
MOZO Women's Mavi Food Service Shoe, Black, 10 B US - eBay Link
MOZO Men's Grind Food Service Shoe, Black, 11 - eBay Link
Skechers for Work Men's Soft Stride Mavin Athletic Oxford, Black, 10 M US - eBay Link
Skechers for Work Women's Eldred Work Shoe, Black, 7 M US - eBay Link
KEEN Utility Women's KANTEEN Clog Non Slip Food Service Chef Shoe, Black/Black, 9.5 - eBay Link
KEEN Utility Men's PTC Oxford Low Height Non Slip Food Service Chef Shoe, Black/Black, 13 - eBay Link
KLOGS FOOTWEAR Women's Naples Leather Closed-Back Nursing Clog - eBay Link
Klogs Men's Bistro Lightweight Black Casual Clog 11 M - eBay Link
Blundstone Men's Work Series 179,Black,10 UK/11 M US - eBay Link