While we are looking for utensils, we tend to try to get the best one possible. Whether we need to replace the old ones or looking for a whole set, which we can wrap up with fancy paper as a gift, we like to have the best one always.
Even if you can cook or not, you should at least know that the best pot and pan set can make cooking easier and hassle-free. It can make cooking much more convenient without any doubt. A good pot and pan set do not only offer enhanced functionality but also makes your collection look unique and beautiful.
There is a plethora of good pot and pan set available in the market, but you can not just try them all, can you? That is why we have huddled up the best ten pots and pan sets that you will be able to find easily.
Editors' Picks: Top Pots and Pan Sets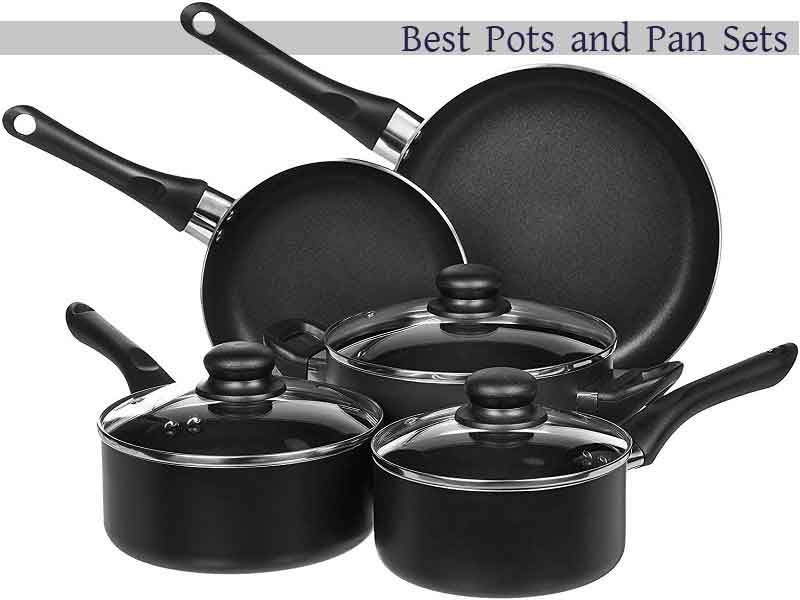 Our 10 Best Pots and Pan Sets in Affordable Price Point
Just like we have stated before, there are a wide variety of pot and pan sets that are available in the market right now. But not every one of them will offer you the best functionality and outlooks.
So, to make your decision a little convenient, we have sorted out the best ten sets of pot and pan that your money can buy. These are:
1. Amazon Basics 8-Piece Non-Stick Kitchen Cookware Set, Pots and Pans

Even though the name might have "basics" in it, they are not just basic at all. Amazon has succeeded in offering a dazzling set of kitchen cookware at a very affordable price point.
The whole set comes with everything that you will need in case of cooking. It includes two individual nonstick fry pans, an eight-inched and a ten-inched, two different saucepans that come with their lids, two quarts, and a one and half quarts, and finally a three-quart casserole pan with lid.
The utensils are sturdy as they have aluminum body construction. Along with that, they have a nonstick layer coating, which is BPA free. This coating ensures the low use of oil or butter. You can cook on them without using excess oil and fat, and cleaning them is hassle-free.
Likewise, you can hold the pots and pans without any cooking gloves as well. They come with soft-touch handles that offer comfort and remain cool throughout the whole cooking process. The vented glass lids will allow the steam to escape quickly.
The spiral bottom of the pots and pans distributes the heat evenly throughout the entire body. They are compatible with gas, electric stoves, and glass stovetops. However, if you have an induction stove, you might have to look for something else on this list.
Highlighted Features :
Two different pans and pots along with a casserole pan
Extraordinarily durable
BPA-free nonstick coating
Comfortable and cool to the touch handles
Even heat distribution
2. Rachael Ray 16344 Cucina Nonstick Cookware Pots and Pans Set, 12 Piece
Are you looking to buy an entire set of cooking materials? Want to replace the age-old cookwares? Or you want to start your cooking life with a cookware set that will include enough stuff to get yourself started? Look no further; you might have stumbled upon the perfect set of cooking utensils.
This particular set from Rachel Ray includes two different saucepans, two individual skillets, a stockpot, a saute pan, and finally a slotted turner along with a spoon. What else would you need to get yourself started in the cooking scenario? These are plenty for any type of dish that you would want to prepare.
The saucepans are 1 quart, and 3 quarts each, both of them comes with their covers. The skillets are 8.5 inches and 10 inches. The saute pan that is in the set comes with a lid too, and it is 3 quarts in measurement.
Each of the cookware boasts high quality. The pots and the pans are enhanced PFOA-free nonstick, crafted with durable aluminum and sturdy hard enamel porcelain exteriors.
The handles are of stainless steel with rubber covering and the glass lids of the pots are shatter resistant as well. You will be able to cook conveniently without being worried about durability.
Highlighted Features :
Extraordinarily durable
PFOA-free nonstick coating
Oven safe
Modern design with different rustic color options
Comfortable handles
Included turner and a spoon
3. T-fal E765SC Ultimate Hard Anodized Nonstick 12 Piece Cookware Set
Are you looking to outfit your kitchen with the "ultimate" set of nonstick cooking utensils? Looking for something that is as durable as cast iron but comes at a fraction of weight? Then the T-fal E765SC cookware set might be a suitable pick for you.
The whole set comes with two different fry pans, three units of saucepans, a dutch oven, and two cooking utensils. Each of the pots, along with the dutch oven, comes with their lids. The appliances that are included are a spoon and a slotted turner.
All the cookware is a solid performer. With the construction of hard-anodized aluminum, they all retain heat exceptionally well. They also boast durability and each of them has an extra protective layer to make them rust-free and corrosion-free. They are scratch-proof and will not react with acidic foods as well.
Besides, these cooking pots and pans come with a patented thermal spot technology. Along with that, the anti-wrapping base evenly heats all around, and the nonstick coating will ensure the perfect outcome after every cooking session.
Accordingly, thermo spot indicator will let you immediately know when the pans are perfectly preheated, resulting in perfect sealing of flavors in your dishes. The riveted silicone handles will offer you exceptional comfort and control.
Highlighted Features :
Vented tempered glass lids
Oven safe up to 400-degree Fahrenheit
Silicone riveted handle offer enhanced safety and comfort
Exceptionally durable
Thermo spot indicator
Strong protective layer
4. T-fal B208SA64 Initiatives Nonstick Inside and Out Dishwasher Safe Oven Safe Cookware Set, 10-Piece
T-fal B208SA64 set is the ultimate nonstick of cooking wares that you will ever need. They are not only oven safe but also dishwasher safe. This feature alone will offer you superior convenience when compared with most of the other sets of cookware in the market.
The entire set comes along with two individual saucepans and three different saute pans, one dutch oven, and finally a steamer. You can cook any dish that your heart desires using any of the suitable cookware from this set.
Each of the saucepans and the oven come with their respectable lid. The pans are one and two quarts each in measurement. It included a dutch oven that is five quarts, and the three saute pans measure from 8, 9.5, and finally 11 inches.
Likewise, these cookwares are incredibly durable and are dishwasher safe. You will not have to train your muscles to clean this set. The durable nonstick coating is on both sides. So, forget the days when your food used to stick to the surface of the pots and pans relentlessly.
You can cook comfortably as the handles are ergonomic and are comfortable to hold on to while cooking. The base of the pans and pots heats up evenly, resulting in perfect preheating as well.
Highlighted Features :
Two individual saucepans and three pots
One large dutch oven
Included steamer
Dishwasher safe
Nonstick coating on both surface with ceramic coating
Exceptionally durable
Ergonomic and comfortable handles
5. All-Clad E785S264/E785S263 HA1 Hard Anodized Nonstick Dishwasher Safe PFOA Free 8 and 10-Inch Fry Pan Cookware Set, 2-Piece
Getting an exceptional set of fry pans out of any cookware set can be a little troublesome in some situations. Most of the cookware set cheaps out in this particular area. For this reason, you might have to buy fry pans individually.
The All-clad E785S264/E785S263 set of frypans is a decent choice in this scenario. They offer incomparable quality along with proper functionality, which is hardly found in the case of frypans from a set.
These frypans are of low-profile shape, and they are versatile enough to be packed into small and tight spaces. They are also broad enough such as 8 inches and 10 inches each, so you can cook in large quantities.
With the construction of Hard-anodized aluminum, they heat up evenly and faster than most of the other frypans. The base is stainless steel bonded along with an anti-wrap feature, optimized for induction.
You can effortlessly cook on them using a minimum oil as they have PFOA free scratch-resistant coating. The contoured stainless steel handle gives you a comfortable grip and offers optimal control.
Similarly, the set comes featured with being compatible with dishwasher and oven. You can clean them in a dishwasher and cook them in an oven without being worried too much. They are also compatible with gas, induction, electric, ceramic, and halogen stoves as well.
Highlighted Features :
Low profile design
Durable
Anti-wrap evenly heating base
Hard anodized construction
Stainless steel contoured handles
Oven safe
Dishwasher safe
PFOA-free Scratch Resistant nonstick coating
6. T-fal E765SH Ultimate Hard Anodized Nonstick 17 Piece Cookware Set
Are you looking for a set of cookware that will include more than the bare necessary materials? If you are, the T-fal E765SH might be the one for you. With this particular set, T-fal goes beyond essentials and offers you to have a full 17 piece of cookware set.
Additionally, the entire cooking set does not only come with just a few essentials but also throws in a lot of other kinds of stuff. It comes with twelve different cooking utensils. You will not ever feel the need to buy anything more after getting this cookware set.
The set includes three different sized frypans that come along with their lids. For example, a large square griddle, three individual saucepans with covers, a deep sautee pot, a dutch oven with lid, one steamer insert with handles on both sides, and finally an egg wonder fry pan.
At the same time, hard-anodized construction is exceptionally durable and retains heat for a more extended period. With a durable protective layer that protects the cookware from rust and corrosion, you will not have to worry about its endurance.
The cooking pans and pots come with a scratch-resistant nonstick coating. Riveted silicone handles will offer you optimum comfort and will enhance your cooking experience. Evenly heating base along with Thermo spot indicator will let you know when the surface is perfectly preheated, allowing you to cook dishes at its perfection.
Highlighted Features :
Twelve different cooking materials
Scratch-resistant and toxin-free nonstick coating
Oven and Dishwasher safe
PFOA, cadmium and lead-free
Riveted comfortable handles
Outstandingly durable
Thermo spot indicator along with even heating base
7. Rachael Ray 87641 Cucina Hard-Anodized Nonstick Cookware Pots and Pans Set, 12 Piece
If you are tired of all the boring looking sets of cookware available in the market and want to give your kitchen a collection of a little dazzle of colors, Rachel Ray should be your go-to for kitchen cookware pots and pans.
Kitchenware are mostly bland and have a usual basic design, but Rachel Ray goes beyond and gives all the cookware pots and pans in this set with a touch of colors. Each of the ware is complemented with an accent of the color of your choice. You can bring a little life in all your kitchen collection with this set.
The entire set contains two saucepans with covers along with two different skillets, a stockpot, and a saute pan as well. The included accessories are a slotted turner and spoon. They are sturdy and flexible and match with the accent of the pots and pans.
Sporting a hard-anodized body, the pans, and the pots heat up fast and evenly. The surface of them has a PFOA free nonstick coating. You can effortlessly cook your preferred dish without being worried about the food sticking while cooking, and cleaning them is just a walk in the park.
On the other hand, the handles are dual riveted and covered with silicone for maximum comfort. Shatter-resistant glass lids have wide stainless steel rims. The pots and pans are oven and dishwasher safe as well.
Highlighted Features :
Exceptionally durable
Notably comfortable
Stylish color profiles
Oven safe
Dishwasher safe
PFOA free nonstick coating
8. Cook N Home NC-00250 12-Piece Stainless Steel Cookware Set
You do not need a whole lot of cookwares to get your cooking journey started. If your criteria match with having the essential pieces of stuff, Cook N Home might have the perfect cookware set for you.
The entire set comes with a 1.5-quart saucepan, three different casserole pans, a 5.5-quart stockpot, and a frying pan. These are the essentials of any kitchen, and you might not even feel the need for anything else.
With the mirror-polished construction, you might not even need a mirror to have a look at yourself and the 18/10 stainless steel body will offer decent durability as well. The aluminum disc on the bottom in between the stainless steel layers will let the base heat equally and quickly.
Besides, the reflective body, along with appearance, will also allow easy cleaning. Its flat base makes the pots easily stackable and will sit on top of cooktops evenly.
Similarly, the tempered glass lids come with steam vent, allowing you to monitor your food carefully. Thus, its handles are easily greppable as they are riveted and offers maximum comfort and durability.
The pots and pans are compatible with gas, electric stove, ceramic stove, halogen, and along with that, they are oven-safe as well.
Highlighted Features :
Polished mirror finish
The base features quick and even heat distribution
Easily stackable
Stainless steel offers exceptional durability
Durable and comfortable handle
Tempered glass lids with steam vents
9. BulbHead (10824) Red Copper 10 PC Copper-Infused Ceramic Non-Stick Cookware Set
Are you out in the market looking for a set of cookware that is both durable and looks unique? Then Bulbhead's 10824 sets of cooking wares might be the one you were looking for all this time.
The unique feature of all the wares in this specific set is fused with high-grade copper. Along with the ceramic body, this infusion of copper will extend the durability to the next level. You can expect a prolonged lifespan from these cooking pans and pots.
Nonstick coating will allow you to cook on them conveniently without being worried about your food sticking on the surface. You will be able to prepare meals using comparatively less cooking oils as well.
The coating is PFOA and PFTE free, which removes all the health concerns issues related to nonstick coatings. The surface allows easy cleaning as well and you will not have to go to the gym to scrub off the excess food from the surface.
However, the whole set includes two frying pans: eight and ten inches, three individual sauce pots: 1.5 quarts, 2.5 quarts, and 6 quarts. The sauce pots come with their respectable glass lids and the last thing that comes with the set is an aluminum insert.
Highlighted Features :
Copper-infused ceramic body
Exceptionally durable
Nonstick and scratch-resistant cooking surface
Oven safe
PFOA free
PETE free
10. Paula Deen 16986 Riverbend Nonstick Cookware Pots and Pans Set, 12 Piece
We all want to work with utensils that do not require much heavy lifting. Cooking with pans and pots that are heavy can lead to muscle fatigue as well. So, we need something lighter and have decent durability as well. Thankfully, Paula Deen 16986 Cookware pots and pans are here to satisfy our demands.
These pots and pans are of heavy-duty aluminum, which makes them incredibly light and does not sacrifice in case of durability. You can conveniently cook for a prolonged period with this set of pots and pans.
The base of the pots and pans heats up evenly and quickly. Its a nonstick coating of the cooking surface is top quality that allows you to cook and clean them with a breeze. Also, the outer surface of the pans and pots is drizzle dazzled with porcelain enamel exterior. This exterior adds a dash of color and makes the whole set stand out.
Apart from that, the shatterproof glass lids allow heat retention and maximize the flavor of the meals. And the dual riveted handles are oven safe as well. As a result, you will not have to worry about burning your hands when cooking.
Accordingly, the set includes two individual saucepans, two different sized frying pans, a stockpot, and a slotted nylon turner, and a spoon. They all match along the porcelain exterior and keeps the whole theme the same.
Highlighted Features :
Lightweight aluminum construction
Porcelain enamel colored exterior
Durable
Dual riveted oven-safe handles
Shatterproof glass lids
Easy to clean
Stain-resistant
Conclusion
Cooking is an essential part of our everyday life and picking the right cooking set for your kitchen is not an easy task. However, after going through our recommended list of cookware sets, you have probably gained enough knowledge about what a typical cookware set might offer.
These are the few things that you should keep in mind when you are choosing a suitable pick: the material, the coating, the sizes, the shape, the lids, and finally, the handles. Scrutinizing through each of these factors will get you the perfect cookware set that you will be able to use comfortably.
Having the perfect set of cookware will not only let you cook conveniently but also will enhance your cooking experience. We need food to survive, so we should pick the best utensils that make preparing our food easy.
In that sense, we have thoroughly described the ten best pots and pan sets and all the features that they offer. You will not go wrong choosing any of the cookware sets from the recommended list that you find suitable for yourself.
Check all the factors and features and pick the one that seems the best for your daily cooking needs. We wish you good luck and hope that all your dishes turn out to be delicious and mouth-watering.