The first thing to note about cacao powder is that it is not the same as the cocoa powder. Consumers often get these two powders mixed up and are confused when they shop.
Cacao powder producers use cold-pressed, unroasted cacao beans in their milling process. This procedure keeps the enzymes in the cacao intact while taking the fat out.
Cocoa powder, on the other hand, is made from roasted cacao beans. Roasting cacao beans changes the molecular state of the beans and reduces the nutritional properties.
So, next time you hear how healthy eating chocolates is, it may be in reference to the chocolate made from cacao powder.
Editors' Picks for Best Organic Cocoa Powder
Let's Check Top 5 Best Organic Cacao Powder Reviews
1. Valrhona Pure Cocoa Powder Review
If you love pastries and other treats, then the Valrhona Pure Cacao Powder is just the thing to get your taste buds stimulated. This brand is the powder that you can use to make delightful chocolates. There are so many subtle flavors within the Valrhona Pure Cacao Powder that you won't get tired of the many ways you can use this ingredient in your kitchen.
The powder is incredibly fine, and you can tell by its rich mahogany color that the Valrhona Pure Cacao Powder is the right ingredient for your chocolate treat. It does not contain sugar, and it is a great thing for your health that it didn't. Its flavor is distinctive and pure. Take this versatile powder and make truffles, hot chocolate, mousse, and other mouth-watering treats.
Pros
You have a wide range of flavors to choose from;
Cacao beans are milled into a fine powder that is distinctive in high-quality cacao powder;
This cacao powder is entirely free of sugar;
The flavor is 100% pure and strong;
You can make mousse, truffles, and hot chocolate with this cacao powder.
Cons
Less dark in color or flavor
The taste may not be impressive compared to other raw cocoas

Related: Best Turmeric Powder Reviews
2. Navitas Organics Cacao Powder Review
Your shakes and smoothies are even tastier with the Navitas Organics Cacao Powder as an ingredient. Made with organic cacao beans that are fermented naturally and cold-pressed, the Navitas Cacao Powder is high in nutrients and flavorful. Long regarded by the Ancient Mayans as the "Food of the Gods," cacao powder is a welcome addition to the modern diet. Indeed, cacao beans are among nature's superfoods that are nutritionally complex and powerful.
Your body receives plenty of antioxidants (flavanols), vitamins, minerals, and fiber from the Navitas Organics Cacao Powder. It is no wonder that the Navitas Cacao Powder is called a superfood - the pure cacao beans are found only on small native farms in Peru. Consider the cacao powder a healthy substitute to the cocoa powder that you see in the supermarket. You can bake mouth-watering pastries, make nutritious shakes and smoothies, create hot chocolate desserts, and other healthy treats with this USDA approved organic, gluten-free and non-genetically modified cacao powder.
Pros
The Navitas Organics Cacao is produced from cold-pressed, low-heat dried cacao beans (a food eaten by the Ancient Mayans);
This organic cacao is a nutritional substitute to conventional "cocoa" as each serving offers 25% DV magnesium, 18% DV fiber, and 10% DV iron;
Navitas Organics Cacao is loaded with antioxidants that also include flavanols;
This cacao powder is perfect for shakes, smoothies, raw meals, oatmeal, and pastries;
Navitas Organics cacao is USDA certified as Organic, not genetically modified, free of gluten, and is suitable for Kosher and vegan diets.
Cons
It appears from lab reports produced recently that Navitas Organics cacao has a higher than recommended level of toxic metals including Cadmium (0.95 mcg/gram (0.95 ppm) instead of the 0.3 mcg/gram (0.3 ppm) recommended. It is reported that the makers of this brand of cacao powder are making changes to lower the toxin content. You need to keep abreast of what is happening.

3. Anthony's Organic Cocoa Powder Review
If you are keen to have a dark, rich, chocolaty ingredient in your kitchen, then the Antony's Organic Cacao Powder may be your best bet. Here is a cacao powder that is not only delicious to use in your smoothies, shakes, or baked products, but is also free of gluten and is organically grown (no pesticides!). Direct from South America, the beans that make it into Anthony's Organic Cacao Powder are carefully processed to meet strict health standards.
Incredibly flavorful and tasty, Antony's cacao powder is also not alkalinized so that the natural flavor is preserved and unspoiled. For those who are avid bakers and chocolatiers, Anthony's Organic Cacao Powder is an excellent product to choose. This cacao powder is miles ahead of the usual powders found in the supermarket or store. Once you experience the potent aroma and taste of Anthony's Cacao powder, you won't want to bake with regular cocoa powder again.
Pros
Anthony's Cacao Powder is certified as Organic by the USDA and CCOF;
This product does not contain artificial ingredients and preservatives;
It is completely free of Gluten;
Magnesium and Antioxidants are found naturally in Anthony's Cacao Powder;
This brand of cacao powder is not Alkalized
Cons
If you have strict expectations for the quality of your chocolate products, you may need to choose another brand as Anthony's Cacao Powder is not the highest quality for chocolate making.

4. Organic Raw Cocoa Powder, Wild Dark Chocolate Powder Review
The authentic flavor of wild chocolate is present in the Organic Raw Cacao Powder for you to savor. Not only is this an authentic flavor of the wild chocolate grown in high altitudes, but it is also organically grown, that is without chemical fertilizers and sprays. The cacao beans that are used for this cacao powder are carefully handpicked and processed on small family farms in native South American countries. No alkaline is put into the final powder during the harvesting and grinding process.
This organic raw cacao powder does not contain eight of the major allergens, and it is chock full of Antioxidants that help fight free radicals in the body. It also contains Fiber, Vitamins, Chromium, Protein, Minerals, Phosphorus, Calcium, Potassium, Copper, Iron, Magnesium, and Zinc. All your baked products, blended smoothies and shakes, and meat rubs are enriched with this incredibly healthy ingredient. With this fresh wild dark chocolate powder in your kitchen, you can only have healthy home prepared meals.
Pros
The natural Wild Chocolate is a perfect addition to your diet if you are concerned about eating healthy without the guilt of indulging in sweet treats; Wild Chocolate is known as a superfood used by the Ancient Mayan people;
This flavorful wild chocolate cacao powder is versatile in the kitchen; you can cook, bake, or blend smoothies and shakes with this ingredient;
It is nutritionally rich as it contains Antioxidants, Flavonoids, and other minerals and vitamins to fight disease and maintain good health;
This wild chocolate cacao powder is a superior alternative to the commonly available cocoa powders found on the supermarket shelves;
It is not genetically modified, is grown organically without harmful chemicals, and is suitable for Paleo and vegan diets.
Cons
Tastes very green
Too chalky and not sweet enough

5. Healthworks Certified Organic Cacao Powder Review
How can you get away with eating chocolate and still be healthy? By having Healthworks Cacao Powder. With this powder made from organically grown cacao beans, you can satisfy your love for chocolate while maintaining a healthy diet. Rich in Minerals, Vitamins, and Antioxidants, this pure cacao powder offers a strong defense against free radicals and other threats to the body. Furthermore, every care is taken by the small organic farms in Peru to grow and harvest the cacao beans under strict traditional conditions.
The cacao beans that are used to make the Healthworks Cacao Powder are carefully handpicked and dried by sunlight then converted into a fine powder using traditional processes. As a result, your cacao powder retains its flavor that is rich and authentic. It also keeps its high nutritional properties.
Pros
Enjoy Healthworks Cacao Powder which has the taste of chocolate yet is healthy for you and your family;
This cacao powder is versatile in that you can use it in various ways including in baked products, shakes, and smoothies, and sprinkled on fruit;
It is also rich in nutrients and provides a significant boost to your energy levels; it contains many compounds including antioxidants and flavonols that benefit your good health;
The cacao beans are handpicked and sun-dried by small producers in Peru,
Cons
Recent tests have shown that the Healthworks Cacao Powder contains a higher than World Health Organization recommended amount of heavy metals like Cadmium - above three mcg/g. If this is not a bother to you, it's still possible to enjoy the health benefits of Healthworks Cacao Powder.

Best Organic Cacao Powder : Buying Guide
Here are a few things you need to know when choosing the best cacao powder off the shelf.
It takes genuine cacao powder to make the purest form of chocolate. So, the most refined chocolate is made from natural, unadulterated cacao powder. Experience a pure, less processed treat with chocolate made from raw cacao, using techniques that do not include roasting the cacao beans.
If healthy eating is your priority, then the cacao powder is your best solution to counteract any sugar cravings and bad eating habits. Cacao contains a high concentration of antioxidants that help your body fight disease. The authentic cacao powder also contains loads of minerals, vitamins, fiber, and other healthy compounds that boost your body's natural defenses. On the other hand, the cocoa powder is not so potent with health benefits, so you need to examine the powders carefully to spot the differences. Or get trusted advice.
Authentic raw cacao powder is 100% cacao and it used to make chocolate. The cacao can, however, be very bitter. But the bitter taste is one way of knowing you are getting the genuine cacao powder. The overall flavor of the cacao powder, however, depends on the soil in which it was grown, the temperature, sunlight, and rain it receives while it grows. Much of the potent cacao powder on the market is known to come from regions like Central and South America, where native small farmers grow and process the raw cacao beans using traditional techniques.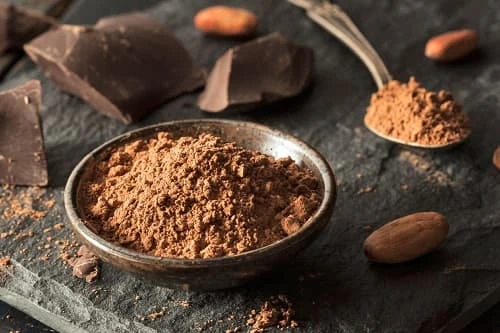 Most health food suppliers stock cacao powder, and you can also get high-quality cacao powder from a few leading supermarkets. High-quality cacao beans are those with around 18 - 22 percent of fat. Check the labels to ensure you are getting the pure cacao powder then check the nutritional facts for more information on what the cacao powder packet contains. Cacao powder can also be purchased online (but make sure to use reputable suppliers). However, pay close attention to the stated sugar content as well as the percent of cacao contained in the product you are looking to buy.
The natural cacao powder is versatile as you can use it in various ways, including baking pastries, making chocolate, using in smoothies, shakes, and sprinkled on fruits or vegetables. The only limit is your imagination when using cacao powder in the kitchen. You might also find that cacao powder does not go well with dairy (which inhibits the absorption of essential compounds found in the cacao powder).
For the best results, go for cacao powder that has been organically grown. Not only are cacao beans that have been grown organically much healthier, but they are also more expensive. Cacao powder derived from genuine, organically grown cacao beans costs more than the regular cocoa powder that you find on the supermarket shelf.
Now that you know a little about what you need to look for when buying the best cacao powder.
Conclusion for Organic Cocoa Powder Buyers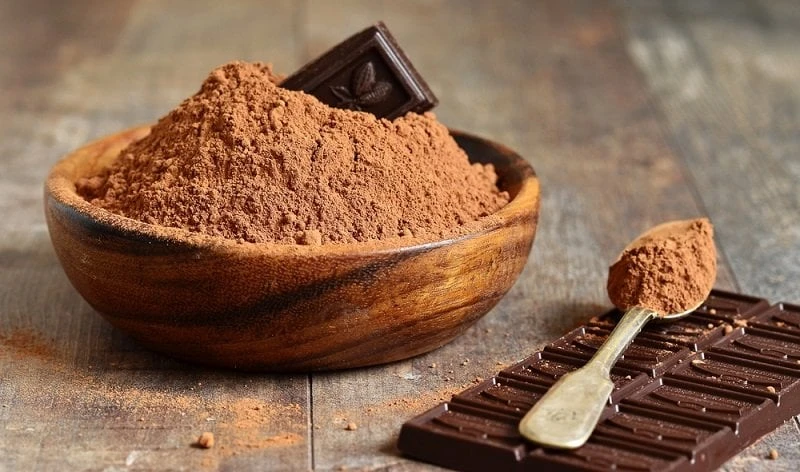 The best cacao powder is yours when you take the time to understand and choose the brand that is most beneficial to you. Whether you love to make incredible smoothies, shakes, and other blended meals with cacao powder as an ingredient, or you have different ways of incorporating this flavorful powder in your meals, you will be satisfied. Crucial health benefits are provided by the cacao powder - ensure that you're getting pure organic powder though. This quick review has given you five varieties of cacao powder made to satisfy your needs. You won't regret choosing one of the best cacao powder products on the market.