Today I'm going to review the HealthPro Plus air purifier from IQAir. It's cleaning efficiency and features are on par with other high-end air purifiers in the market. But, when it comes to dealing with VOCs and other trace chemical gases, this purifier is clearly the leader of the pack.
Before starting my review, I know that most of us (including me until a few years back) are unaware of what VOCs are? So, let me enlighten you on that part.
VOC stands for Volatile Organic Compounds. There can be categorized as petrochemical substances and many-a-times get leaked by off-gassing from some of our home appliances. These VOCs are very harmful to our lungs.
VOCs are a grey area for many air purifiers, but IQAir's HealthPro actually specializes in eliminating these chemical compounds. Let's see how this is done.

IQAir HealthPro Plus Features and Performance
4-Stage Filtration Process
The multi-stage purification process used in the HealthPro Plus cleans the air in a much efficient manner. The removal of pollutants is not just limited to pet dander, mold spores, dust and other allergens but in fact, this purifier also effectively deals with VOCs (read Volatile Organic Compounds) and such harmful chemical agents.
Let's have a look at the different air filtration stages,
1.Micro Particle Filter
Here the pollutants of bigger size like pet dander, pollen grains, mold spores are caught. So, the air containing impurities of much smaller size is sent to the next stage.
2.Granular Activated Carbon Filter
This is where the IQAir HealthPro 250 aces! It uses the V5-Cell Gas and Odor Filter which is exclusive to this particular model. This carbon filter works towards eliminating the VOCs and other chemical agents in the air by using the principle of adsorption. In layman terms, the harmful gases are trapped by the Activated Carbon Filter.
3.Pelletized Chemisorption
Even after the removal of the majority of VOCs by the carbon filter, the air may contain traces of dangerous chemicals like Formaldehyde. Such chemicals are destroyed by this filter which uses chemisorption technology.
4.HyperHEPA Filter
This is much more than your normal HEPA filter in terms of cleaning efficiency. The HyperHEPA filtration ensures that even the ultrafine particles like viruses and bacteria are eliminated.
When it comes to HyperHEPA filter vs HEPA filter, as you can see from the image; the former clearly outperforms the HEPA filters
Better Noise Suppression Design
Often times many air purifiers produce a lot of noise while operating at high fan speeds. But, that's not an issue with this particular product. The HealthPro Plus has been designed to produce very less noise while operating at high speeds. As a benchmark, the sounds produced are 7% less when compared to the other air purifiers in the market.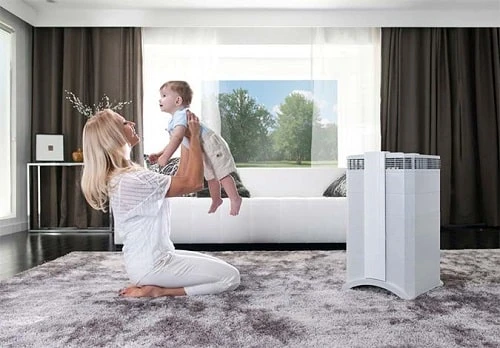 This product has a very unique "Fan-in-Center" design, in which the motor is actually surrounded by sound attenuating filters. So much of the motor noise would be suppressed by these filters. The HealthPro 250 also has the double-walled housing for superior noise suppression and has rubber suspension pads to reduce the vibration sounds. As a result, this purifier operates silently even at high fan speeds.
This makes it a perfect choice for your bedroom!
320-degree Air Flow
The IQAir HealthPro Plus is designed to distribute air in all the directions. It has an 'EvenFlow Diffuser' vent through which the clean air is pumped around the room.
So, this purifier can be placed at the center of the room and rest assured, clean air would reach all corners of the living space.
Energy Efficient
This product is great on the energy consumption end. It uses just as much energy as your regular light bulb would consume. But in my opinion, the energy consumption increases when you crank up the fan speeds.
Final Call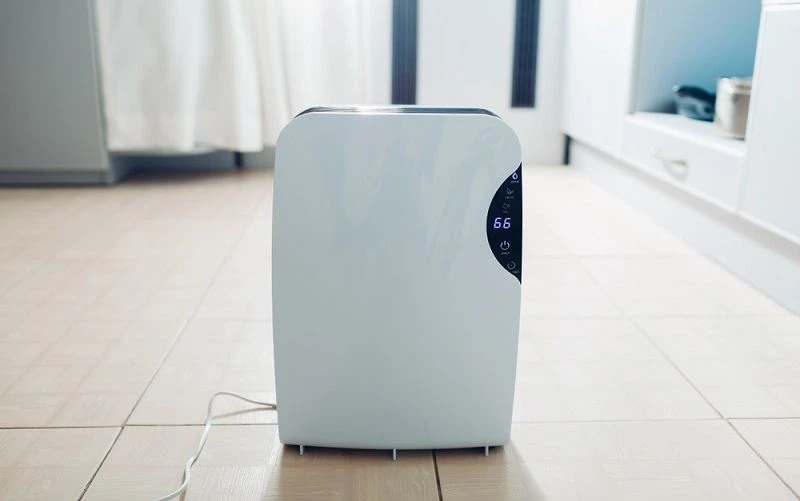 The IQAir HealthPro New Edition Plus is totally a bang for the buck! This air purifier has some features like efficient VOC removal which are exclusive to this product. Honestly, HealthPro Plus has a very steep price tag but I feel that it is really worth the money spent.
Other IQAir Products