Good dough is the first step in making any fresh pasta. after many experiments and research, I am happy to reveal the best pasta dough recipe I found. This is a simple formula but there are crucial parts in order to get make it successfully.
The ingredient for making fresh pasta dough are very basic, as pasta is a simple dish yet a very versatile one. all it takes to make fresh pasta is eggs, flour, salt and olive oil.
Warning: Not all eggs are created equal!
Eggs: If you made fresh pasta before you already know that not all eggs are created equal, and when it comes to pasta if your eggs are not as flavorful you'll most likely need to come up with a different strategy. First you'll need to identify the quality of your eggs. This is the pasta maker official take on eggs in one word: FRESH. what makes a good egg is its freshness and where it came from, make sure you are using organic or at least cage free eggs, if you can get eggs directly from a chicken you know and trust that is the best you can do, but like most of us you'll have to compromise on using fresh (check the date) organic egg.
Half & Half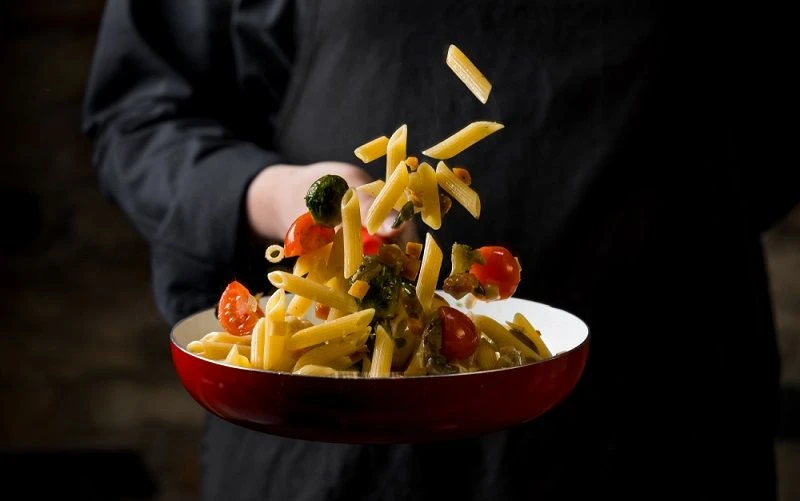 Flour: You can use regular all purpose flour, though to maximize the flavor I recommend using a mix of semolina and all purpose flour for pasta. The core formula is actually very simple, for what ever amount you are making use half semolina and half all purpose flour.
This is pretty much it to know about the ingredients, as for the equipment, you can use the old school technique of making a mountain of flour on a big table and slowly mixing the eggs in, but to be honest with you even the oldest grandmother had already switched to something more advance – using a food processor. While you will finish your dough with a good hand job with a rolling pin, using the food processor will save you around 15-20 min of hard work. any food processor with a dough hook will do the work, If you do not have a food processor I recommend looking into getting the kitchenaid one, I find it to be an amazing food processor which does great work making doughs not only for pasta but for breads and many other type of pastries.
The Concept:
So this is the core concept of how the fresh pasta recipe goes: for every 100g of flour you'll have to use one fresh egg, but as we said before – since we don't really know the chicken we got the egg form we'll cover for the luck of flavor with one extra egg yolk for every 224g of flour. This will result with very rich and flavorful pasta dough.
Fresh Pasta (Dough) Recipe
Ingredients
150g All-Propose flour
3 Fresh Eggs
1 Egg Yolk
dash Salt
2 teaspoons Olive Oil (Extra Virgin)
150g Semolina flour
Directions
Step 1
Whisk the eggs, egg yolk and olive oil together.
Step 2
In a food processor combine the semolina, all purpose flour and salt until mixed.
Step 3
Slowly incorporate the eggs into the flour mix while letting the food processor run on a low speed.
Step 4
Let the food processor run till the mixture evolve into a nice ball.
Step 5
Take the dough out of the food processor and work it by hand or with a rolling pin on a board with extra flour for another 5-10 min, make sure to stretch the dough so it obtain air inside.
Step 6
Collect the dough into a ball wrap with plastic wrap and let it sit in a glass/metal bowl in a dark place for 30 min (you can also cover the bowl with extra kitchen towel to keep it in the dark).
Step 7
Using your pasta maker flat and cut the dough into your favorite pasta shape, cook and eat!
FRESH PASTA DIY
Fresh Pasta DIY, Master the secrets of making fresh pasta at home, with this simple yet sophisticated formula for fresh pasta recipe. Warning: this is a great pasta once you had it, you can't really go back!
Making fresh pasta at home is an easy and fun thing, but there are a few things you got to get right, first being your pasta dough, at this point when you have your dough ready to be made into pasta you basicly have two options:
You can flat it with a rolling pin and cut it, something which will take much effort and will be very challenging to get a consistence level of thickness.
You can roll out your pasta maker, set it up to the desire thickness and cut it to your favorite shape
The process is very easy, simply take a little piece of the dough, roll it with some flower, and set it up on the entrance of the pasta maker, first run it through the thickest size (if you are using the marcato pasta maker this should be 1), then change the thickness level to 3 and run it again, repeat the same process with increments of 2-3 levels till you get to your desire thickness.
Warning: you may have to cut your flat dough in half at some point, since it will become too long to hold by hand. specially if you are planing on making an angle hair pasta this is a common thing, I recommend using a pastry cutter to simply cut it in half (and trim the edges if you feel like it).
Once you got your dough to the right thickness level, you have to options again:
You can use a pastry wheel or a pasta bike to cut your dough into your favorite shape.
You can use your pasta maker cutter or mixer attachment to cut your dough into perfectly cut sizes.
There is no right or wrong here, while many people believe that hand cut pasta is superior in flavor, I am here to testify that this is a myth, its the quality of the dough and the thickness that makes the main difference in my opinion. I enjoy the consistency of pasta the been cut with a pasta maker, but at the same time know to appreciate the beauty and edge of pasta that been cut with a pastry wheel and has a nice edge to it.
This is pretty much it, let your pasta dry for a bit on your pasta drying rack (this is important so it wont stick and become a dough again) and its ready to be cooked.
Cooking fresh pasta is also very easy, as usual you want to have a large pasta pot with a lot of water and a lot of salt in it. Note that fresh pasta need to be cooked for around 3 min or so uncovered.
Another thing that you should know about fresh pasta and specially this dough recipe it is very flavorful to begin with, which means that you don't need to add a lot to it in order to build flavor, simple butter truffle oil and garlic sauce will work great with it and will enable the pasta to show its true character.