It's great having a small food processor and enjoying all the benefits it can bring to your kitchen and meal plans, however many people find that the effort of cleaning up afterwards can be daunting. In fact, it can stop you from using the food processor if you are not able to factor in a process which can take the sting out of it. Not only will you find the cleaning up process easier, you will also be extending the life of your food processor. There are so many excellent food processor recipes available, that it would be a shame not to use your processor to its full capacity, just because cleaning it is a chore.
Know Where To Begin When Cleaning A Food Processor
The first thing you need to do it that you need to build in the cleaning process to your food processor usage. That is to say, don't leave it until later when food is dried and stuck onto the removable parts. Not only will it be harder and more time consuming to clean off, it can shorten the life of your processor.
Say for example you are using a small food processor to dice up onions and garlic and you happily do this because the chopper of course, does it in literally seconds. Your next step might be to fry up those ingredients in preparation for a bolognaise sauce for example. If you stop right there before you start in with the frying, you could have that chopper rinsed off in a lovely bowl of soapy warm water you have already prepared.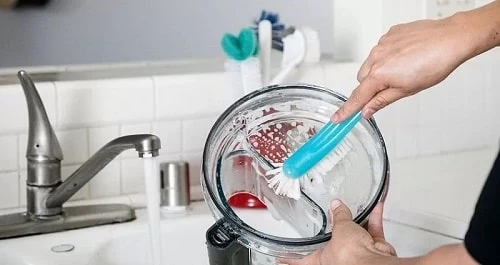 This simply means you are cleaning up as you go and saving yourself the problem of fishing out tiny pieces of dried onion and garlic from your chopper later on. You can have it washed and dried in about 30 seconds if you do it now and be ready to use it for something else a little later on. This is probably the biggest favor you can do for yourself when it comes to cleaning your food processor and it is a necessary process with even the top rated food processors on the planet.
Best Practice To Cleaning A Food Processor This Way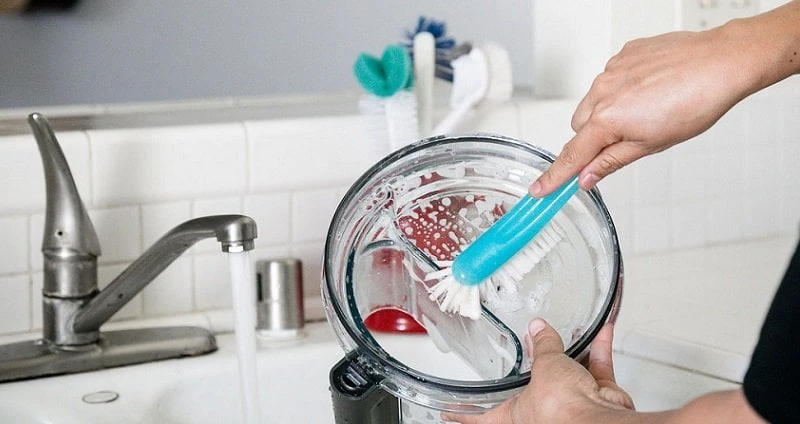 Even a large food processor is a compact food processor when you consider its design. The base and motor is generally on the bottom and you add work bowls with attachments over the top. This little routine, which is also easy to follow, will make the process painless regardless of the size of your food processor. Once you have unplugged your food processor from its power source, quickly pull down the removable parts. This is usually the bowl and its lid, as well as the blades and attachments you have used. Simply wash them in some warm water and mild detergent to remove all the tiny pieces of food, then rinse and dry them.
The blades are always sharp, however they require more care than other removable parts because you want them to remain sharp and in tip top condition. Please don't use anything abrasive to clean your food processor and it will last a lot longer. A great tip is to keep a small nylon bristled vegetable brush specifically for this purpose because it provides a quick an easy way of removing food particles without an abrasive effect.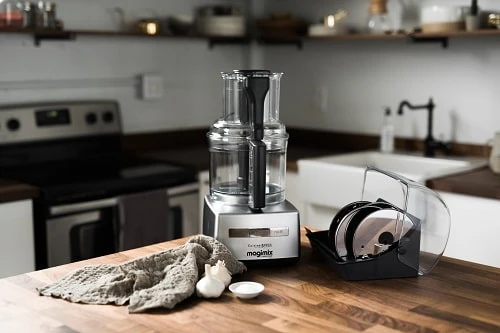 Most dishwasher removable parts are also dishwasher safe so a quick rinse to remove food particles and onto the top shelf for washing is another way to accomplish the task. That just leaves the base to take care of and it only requires a quick wipe down. On the off chance there are food stains on the base, a wipe with mild detergent or perhaps a baking soda past will generally remove them. You never put this into water of course, but you probably know that.
If you are cleaning the parts by hand, keep a kitchen dishtowel close by the lay the parts on after you have rinsed them under hot water. All that remains is to dry all the parts and this is important in terms of doing everything in your power to ensure your food processor has a long and useful life. After everything is completely dried, you can put it all back together again. Store you food processor on your kitchen counter if possible because this will make it easy for you to use it often.
How To Get Rid Of Stubborn Stains On Food Processors
Sometimes you will need to remove these from your kitchen appliance however food processor reviews don't typically cover this. Mild detergent, a baking soda paste and a nylon bristled small brush will remove them. Sometimes a wipe over with vegetable oil will also be effective.
Conclusion
If you can follow these steps, your food processor will not only be easy to clean, but the care and attention you provide will ensure it lasts longer.