It goes without saying that pasta is one of the most popular foods in the world. While most people buy their pasta premade from the grocery store, others choose to handle the situation all on their own. Instead of buying premade boxed pasta from the nearest grocery store, you can choose to make your own pasta from scratch using a pasta machine. If you've never used a pasta machine, but you're interested in making your own pasta to impress your friends and family at your next get-together, then keep reading to discover how to use this convenient machine.
Preparing the Dough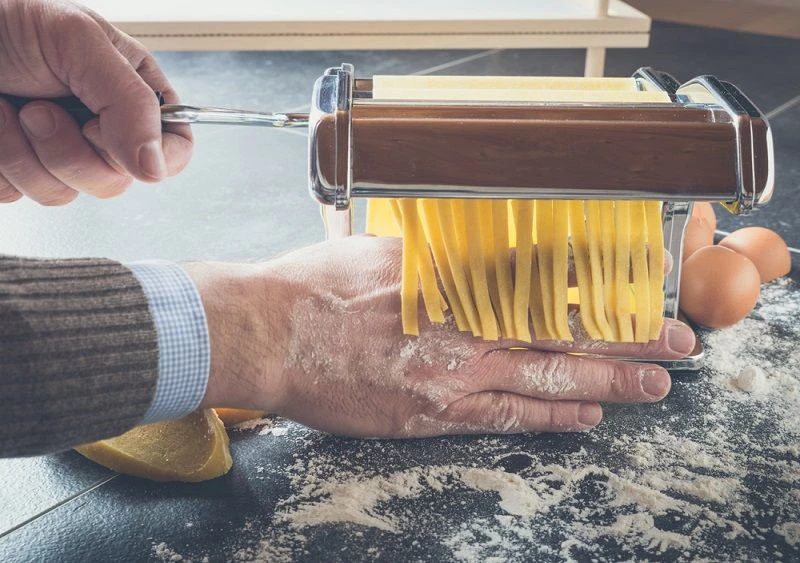 1. Divide your dough into four even pieces.
Your dough should be freshly made and immediately wrapped in plastic wrap at room temperature for approximately 20 minutes. Also, since you'll be working with one section of dough at a time, the rest should stay in the plastic wrap until they're ready to be used. In order to fit the dough into the pasta machine, the pieces should be roughly the size of a handful.
2. Flatten Your Dough Into a Rectangle Shape to Prepare It
– Spread out your piece of dough into a rectangle shape that's about as wide as the opening on your pasta machine.
– Using the heel of your palm, knead the dough into shape.
– Make sure to keep your dough about 1.3 centimeters thick and don't spread it out too much. Your goal is to get the dough into the machine, not to stretch it out.
– It would be best to use your hands for this part of the process. A rolling pin would just flatten it out, which is what you want to avoid.
3. Dust Your Piece of Dough with Flour
Flouring your dough makes it easier to work with, and it makes it less sticky, as well. This means that you'll want to sprinkle flour onto your dough every time you feed it into your machine. Don't be afraid to get a little messy with the flour! The more the merrier!
Using Your Machine
1. Clamp Your Machine to Your Counter, Table or Cutting Board
– The first thing you need to do is make sure that your pasta machine is securely attached to a reliable surface. You also want to make sure that you have enough room to turn the crank while using the machine.
– Set the opening of the machine to the widest setting. This is usually marked as 1 on most pasta machines.
– Of course, you'll want to make sure that you carefully read the manual of your pasta maker if you've never used it before.
2. Feed the First Piece of Dough Through the Roller
– Starting with one of the shorter sides of the rectangle dough that you made, it's time to feed the pasta into the machine.
– While turning the crank, slowly insert the dough into the pasta maker.
– In order to make sure that your dough spreads evenly, use the crank slowly and steadily. You also want to avoid turning the crank too fast because this can cause damage to your machine.
– Make sure that you catch the dough before it falls onto the hard surface. This will allow you to help the pasta keep its shape while it makes its way through.
3. Fold Your Dough into Thirds to Make it Shorter
– Take each end of your dough and fold it toward the middle. This will create a smaller rectangle that looks similar to an envelope.
– Lightly press on top of the dough to make each layer stick together. Avoid pressing too hard because this can change the shape of the dough.
4. Sprinkle Flour on Your Dough Each Time it Comes Out of the Machine
To keep the dough from sticking to the machine or your hands, dust the dough in flour each time it comes out of the machine. You don't really need to use too much, though. A light coating should be sufficient enough to keep it from tearing or sticking.
5. Put the Dough into the Machine A Few More Times
– You'll want to fold your dough into thirds to put it through the machine again. Make sure to add more flour every time you feed it through your machine to prevent it from sticking.
– This process will make your dough thinner every time you put it through your machine.
– Pay attention to the settings you use because you will need to change it depending on the thickness of your dough.
6. Create the Noodles with Your Pasta Maker's Attachment
– If your pasta machine comes with a noodle attachment, then you'll want to take that out now.
– Attach the part to your machine according to the instructions in the manual.
– Feed your dough into the machine, making sure to catch the noodles before they hit the counter.
– If you plan on making stuffed noodles, you'll want to cut your dough by hand using a knife, rather than having the pasta machine do your work. This will allow you to have pieces that are large enough to put filling into.
7. Repeat These Steps with Each Piece of Dough That You Have
– Once you have successfully made one piece of noodle, repeat the process with the rest of your dough.
– As soon as all of your noodles are made, immediately cook them so they don't dry up and become hard.
– You can keep your already made noodles on a drying rack covered in parchment paper. You should also sprinkle your noodles with cornmeal to keep them from sticking to each other.
As you can see, there are quite a few steps that go into the pasta-making process. The first thing you need to do is take out the manual that came with your pasta machine. Closely follow the instructions and figure out what kind of pasta you'd like to make. You should have no problems making the actual noodles as long as you follow these instructions carefully. If you have any issues, you can always turn to the internet for advice!
you can also read about the best pasta maker, best pasta pot and what are the best flour for pasta.