Tea is a very serious business but teapots take tea to another level. How often is it that you visit a cafe and you're served with tea in a teapot which is unbelievably aesthetic and uplifts your mood right away! Teapots have always been the real deal, and they age back to the 17th century, and because of originating from China, the term given to attractive pottery and teapots especially was "china." Along with aesthetics, you'll want a good pouring vessel that maintains heat for as long as possible.
Editor's Recommendation: Top Glass Teapots 2021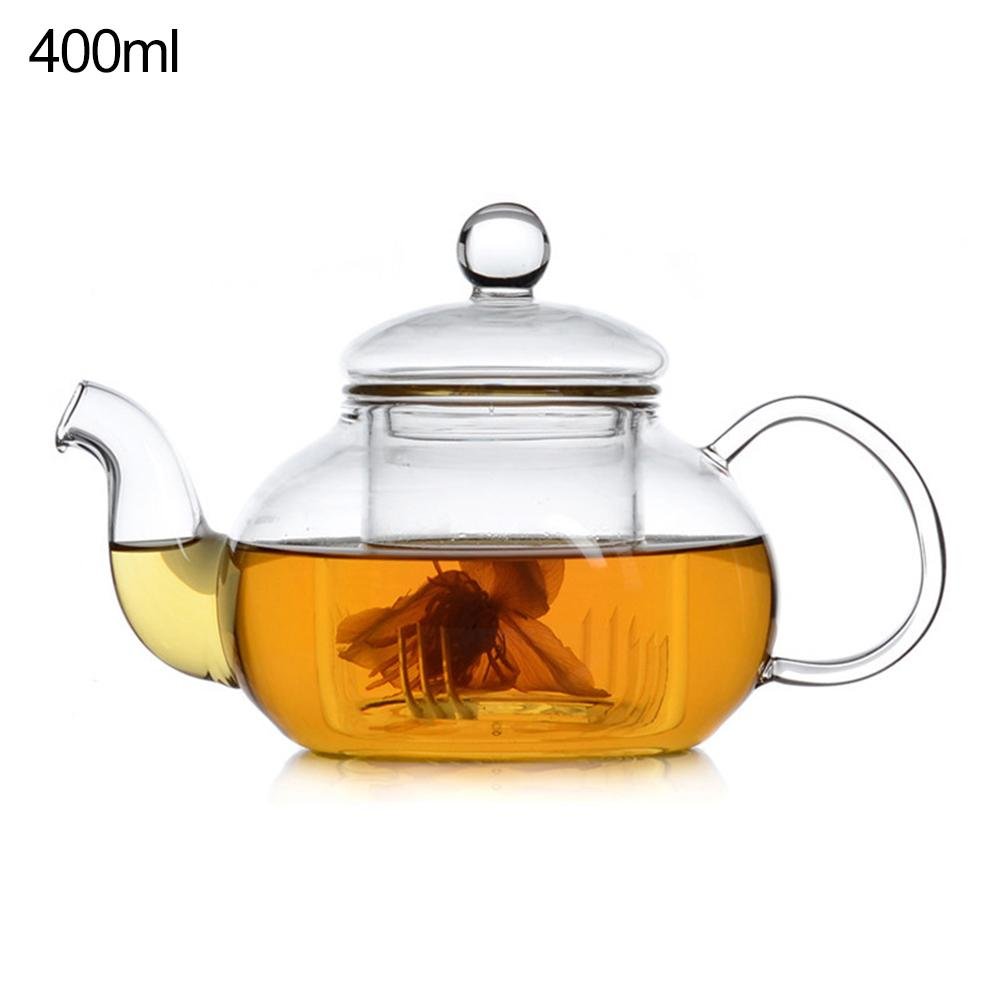 Things to Consider Before Buying a Teapot
1. Size
Like every other cookware, size is the most important thing to take into consideration. Whether you should buy a big teapot or a small one depends on the number of people you usually make tea for. A teapot over thirty ounces is sufficient for a family of four to six, so buy one according to your requirements. However, teapots that are smaller in size are used for making green tea, since it is served in mini cups mostly. Although normal black tea is served in mugs in most cases, hence a bigger pot is required.
2. Infuser/Brewer Basket
A teapot may have a non-removable or removable infuser; however, the removal option is better because it allows you to remove the steeped leaves by just lifting it out of the teapot. This infuser is necessary because it allows the tea leaves to come in contact with the hot water, without allowing them to disperse freely in the water. This makes separating easier and prevents excess steeping.
3. Aesthetics
At every tea session, you're going to be looking at your teapot, so you want to buy something that pleases the eye, besides brewing the perfect tea. Glass teapots are amazing visually, especially if you brew blooming teas that unfold gloriously in the pot of hot water as they steep. Watching them spread their color and flavor into the water can be nothing less than a magical experience. Even if you purchase the ceramic, clay, or cast-iron ones, there are various elegant and vibrant teapots available to suit your liking. The ceramic ones come in exceptionally good styles, designs, and colors.
4. Functionality
When it comes to the functionality of the teapot, we ensure that the spout is always higher than the lid, to avoid tea dripping from it.
5. Temperature
The other thing that needs to be kept in mind is whether the teapot can be used for both hot and cold teas. Any teapot that is friendly to use either on the stove or can be refrigerated at the same time is very handy to use.
6. Easy to Use
Teapots should be easy to use and maintain. Since most of these days people are busy, they usually never get time to do the dishes by hand and require utensils that can be washed in the dishwasher. Hence, the teapot should also be dishwasher friendly to avoid the hassle of cleaning it after making tea. This is a handy feature for those who make tea on a regular basis.
Our 10 Best Glass Teapots Review
1. Hiware Glass Teapot Kettle with Infuser
The most unique feature about this teapot is the fact that its hand crafted. The bulging shape, with the opportunity to look at the tea leaves infusing with the water is an absolute delight. The shape of the teapot enables it to be used on not only special occasions but also everyday use. Although the teapot has a very simple design the transparent glass and the silver lid and handle brings the teapot to life. The removable mesh infuser filter is made up of stainless steel and is easy to clean. Molded with care, the ergonomically designed handle of the teapot gives a comfortable feeling to the holder and a strong grip. The spout is sleek and pointed which prevents any sort of careless dripping of your tea.
Materials of the highest quality are used in the making of this tea pot, in order to make sure that you get the perfectly brewed tea for your daily requirements. The borosilicate is made using a thick material, which gives it durability and strength. It is mixed with stainless steel, making it an elegant tea pot that can be used for any occasion required.
Key Features :
Can be used on a daily basis
Easy to clean
Stainless steel
Strong grip
2. Hiware Good Glass Teapot with Stainless Steel Infuser & Lid
Hiware is committed to providing that ensure the safety and the quality of the products at the same time. Hence, it makes them sure that their product is durable, easy to use, and efficient as well. They have a list of happy customers and if you too want to be a part of it, you will be welcomed warmly, without any complaints from your end regarding this teapot.
Hiware is resistant to heat and safe to use on the stove top. So, with the help of this teapot, you can brew tea, without the need to use a separate boiler due to the fear of the glass cracking in the process. It is very easy and safe to use. The design is such, that you can even use it even in the microwave.
The second most concerning thing when it comes to teapots is washing it, which will not be a problem with this one, because you can easily wash it in the dishwasher. Moreover, you can also create custom cold brews with this, by putting it in the fridge without causing damage to it.
Key Features :
Heat proof
Dishwasher friendly
Refrigerator friendly
3. Hiware 1000ml Glass Teapot with Removable Infuser
Made using heat resistant borosilicate glass, this teapot is crafted purely by hand. The sprout of this teapot does not drip, which prevents any mess while pouring the tea. The handle is also sturdy enough for a proper grip. Moreover, this teapot is microwave friendly and heat friendly. Hence, you can use it to make tea on the stove as well, without causing any damage to it.
The glass body is thick enough, which can be used on a daily basis, and cleaning it also very easy. It can be washed in a dishwasher or by hand. They are very confident when it comes to their teapot that it is of the best quality and worth every penny spent. They even offer a two year guarantee and if under any circumstances, you think the product is not good enough, they will make a refund of your money.
Key Features :
Non dripping sprout
Microwave friendly
Can be used on the stove top
Can be cleaned using a dishwasher
4. Stovetop Safe Tea Kettle, Tea Strainer, Glass Teapot with Infuser Set
This elegant glass tea infuser is both aesthetically and quality promising. You can use it at parties and dinners as well, because it is worth the presentation. It can serve up to six cups of tea because it holds thirty-five ounce. It can be used on the stove top and microwave, whatever you find better. Furthermore, if you are an ice-tea fan, you can refrigerate it as well, without fearing to cause damage to it.
The teapot is rust free and it comes with a teabag to hold the tea, which can be removed after steeping your tea. You don't need to fill it all the way either, thanks to the deep infuser that can go all the way to the bottom.
Quality is their top most priority, so if anyone goes back with dissatisfaction, they will get a refund. But the catch is that it should be done within ninety days of the made purchase. The intention behind this teapot is that you can have an improved experience with every tea you make. Hence, purchasing this would be risk-free, because you can give it back in case you do not find it worth it.
Key Features :
High quality
Durable
Can be refrigerated
Dishwasher friendly
5. Teapot Kettle with Warmer – Tea Pot and Tea Infuser Set
If you have a big family that loves tea, or you prefer inviting people for tea parties a lot, this kitchen accessory is worth the buy. It holds up to three to four cups of tea. Moreover, the design of the teapot is such, that it can be used as a gift purpose as well. Coming to the basics, this glass based stainless steel infuser pot is microwave friendly because it can be removed as well. The stainless-steel infuser is rust free, so you don't have to worry about it getting ruined due to the steam and water. You can also brew your tea according to your desired strength with this teapot. The best part about this product is customer satisfaction, so you don't have to worry about that at least because they have a ninety days money back guarantee.
They are confident about the fact that their teapot will be loved by every individual who will purchase it. However, in case you think it is not worth it, you will get a refund within ninety days. The customers are their top priority, so be sure of not having a bad experience.
Key Features :
Can make up to four cups of tea
Aesthetic design
Brews tea at any strength
Money back guarantee
6. Glass Tea Pot Set – Loose Leaf Tea Pot with Infuser and Lid
This eco-friendly teapot is used making a very high-quality borosilicate glass and stainless steel. It is free of lead and is biocompatible because it does not consist of any sort of toxic materials that can be harmful while brewing tea in it. The glass infuser is removable, and it also has a filter at the bottom that will enable you to enjoy delicious tea without the particles coming in your cup. Other than that, the filter can be removed for easy and convenient cleaning.
The handle is ergonomic, which helps you in holding it with ease and to pour the tea without any excessive efforts. Moreover, while you pour the tea, you can use it with the filters or even without it as per your choice.
This glass teapot can be used as a kettle and a boiler both at the same time. You can also gift it to people. It is beautiful to look at and makes the best tea!
Key Features :
Eco-friendly and biocompatible
Stainless steel
Easy and convenient to clean
Removable filter
7. Toyo Hofu Small Clear High Borosilicate Glass Teapot
Made using heat-resistant borosilicate, this hand-crafted teapot is designed with non-dripping spouts, which are perfect for a sturdy grip. The tea basket fits the lid, whether it is removed or inserted. Another benefit of this teapot is that it can be used on the stove top, either gas or electric ones. It will not cause any damage to the pot. Using a medium-level source of heat, you can make delicious tea with ease using this pot. if you are a cold tea lover, you can also keep it in the refrigerator. The thick body also enables you to use it in the dishwasher whenever you have to clean it.
Key Features :
Easy to wash
Dishwasher friendly
Non-dripping spouts
Refrigerator and dishwasher friendly
8.
Tealyra – Glass Teapot 60-ounce
This beautiful looking tea infuser is worth the buy due to a lot of reason. Firstly, because it is usable and aesthetic both. Secondly because it has several usage benefits. It can hold up to six cups of tea as required by you.
Moreover, this glass-infused teapot is heat and cold-friendly, so you can make tea however you like it. Whether it is just a normal tea in the evening or if you are in the mood of an iced tea, you can use the same teapot. You can use this on both glass and gas stove tops. Other than that, it can be washed in the dishwasher as well.
Key Features :
Can be used to make both cold and hot tea
Aesthetically appealing
Holds four to six cups of tea
Can be used to make both hot and cold tea
Dishwasher friendly
9. Teabloom Stovetop Safe Glass Teapot with 2 Blooming Teas & Removable Glass Infuser
The glass teapot is elegant and user-friendly. It is crafted using crystal clear borosilicate glass. Making a cup of tea was never easier because you can fill it with water and put it in the microwave to warm the water. It prevents you from boiling the water separately making it hassle-free. It can also be used without the loose tea glass infuser because the lid has a small hole that can release the pressure of air. It is also easy to clean and wipe. So, don't worry about it being a mess.
Key Features :
Easy to clean
Releases air pressure
Can be used without the infuser
One-year warranty
10. Glass Teapots with Infuser PluieSoleil
This is one of the best teapots that one can invest in. the glass is super transparent, and the infuser is made out of stainless steel. The micro-mesh filter makes it perfect for loose tea. The filter will prevent harmful toxins from entering your tea. Moreover, the glass of the teapot, which is made out of borosilicate has the ability to withstand any temperature change. Whether it is hot or cold. However, all-metal parts need to be removed while using it in the microwave.
Key Features :
Crack resistant
Hot and cold temperature resistant
Bio-compatible
Dishwasher and Microwave friendly
Benefits of Having Glass Teapots
Glass teapots will be a great investment for you if you drink tea regularly. Besides, there are various benefits you can enjoy by having a glass teapot at home. Check them out below.
Easy to Clean
Many people prefer to have it because they are very easy to clean. The surface of the glass is completely smooth which will make your work even more effortless. If strong residue forms inside while you are making something, it won't be a challenge to wipe them off after you are done drinking.
Moreover, the best thing about it is that no rust will form on it if water comes in contact for a longer period of time.
Very Flexible to Use
As it can be used very easily, it is very much on demand among tea lovers. These people prefer to have tea with zero hassle all the time. If you have guests, it is obvious that you need to make a large batch of teas to give everyone a refreshing experience. So, you can easily fill it up and refill it whenever you prefer to.
Not Expensive
You don't need to have a huge budget to get teapots since they are quite affordable. There are different price ranges according to the design and other criteria. If something happens to your teapot, you can get another one without any problem. The quality is actually similar in all the designs so it won't be a headache for you when you will go to buy.
Stylish
The designs and the outlook of glass teapots are very stylish and modern. Not only that, but you can also even use it in your company, and it will look very stylish in a meeting room.
Likewise, it suits perfectly in any furniture you put around it and not only that, the beauty of the room will increase to a new extent for sure. You will definitely get compliments from people when they get to look at it.
Microwave Safe
You can place the glass teapots directly into the microwave when you have to boil water or reheat the tea. Just make sure you remove the steel infusers and other parts that are made of metal before you put it into the microwave. As metals are a good conductor of heat, this can cause an accident if you forgot to remove parts in the first place.
Safe for Health
Glass is safe to use in case of hygiene. When you have to prepare your tea, no harmful chemicals from the glass will reach your drink. This shows that glass doesn't release any chemicals and due to that, the taste of your tea will remain the same.
Benefits of Drinking Tea
There are multiple benefits of drinking tea and many doctors recommend it to patients and other people around the world. Let's have a look at some of them.
Decreases the Risk of Heart Problems
Drinking tea will expand the prime arteries and decrease the risk of blood clots. This will improve the flow of blood around your body. There are antioxidants named 'Flavonoids' which are present in tea and these help in reducing the risk of heart diseases.
Good for Hydration
Yes, water is the prime source of hydration when you are done working out or just got done with stressful office work. But some scientists said that drinking tea possesses the same benefits as water. It will hydrate you and on top of that, the liquid will be flavorful.
Stops Tooth Decay
If you drink tea regularly, your teeth will get stronger with time and it will reduce the chance of tooth decay. There are fluorides present inside the tea which help in strengthening the enamel of your teeth. The antioxidants are very effective in killing bacterial and other gum diseases as well.
Keeps Your Body Fit
Lots of researches are done about the consumption of tea and it came out that drinking tea will help in reducing body fat. If you drink it every day, your calories will get burned in a faster way. So, this can be a strategic approach if you are looking for ways to get slim.
Your Memory Power will Increase
We tend to forget lots of things when we are overwhelmed with lots of work. Scientists recommend everyone to drink tea because it strengthens the memory cells present in your brain. Other critical health problems like dementia, Alzheimer's disease, etc. can be eliminated with the daily consumption of this beneficial liquid.
Cancer Can be Defeated
Studies revealed that drinking tea can eliminate the chances of cancer from generating in your body. The research is still going on around the world because it is still a mystery.
Frequently Asked Questions ( FAQ )
1. What is the purpose of the infuser unit in a glass teapot?
Answer: You have to put the loose tea leaf in the infuser unit. When you are done preparing the tea, you can take the unit out or keep it in the pot. It will prevent any leaves from coming out into your teacup when you are pouring.
2. How much tea do I need to put in the infuser?
Answer: There are various sizes of teapots. The teaspoon will vary along with that. For example, use one teaspoon of tea for 600 ml pot, but for 1200 ml, you have to use a couple of teaspoons for that.
3. Will it break if I put in the microwave oven?
Answer: No, glass teapots are completely microwave-safe. You can either use it to reheat your tea or boil water.
4. Will I burn myself when I touch the handle?
Answer: No, the handle is burn-free because it is designed in that way. Consult with your supplier regarding this concern. They will clear out all your confusion and give you some advice as a bonus.
5. Can I put them on a stove burner?
Answer: No, these teapots are not made in that way. You should use kettles or pans on the stove burner and avoid using the pot in this situation.
Conclusion
With the function and unique features that all of these teapots have, it may be hard to pick the best one. But the reviews that we have provided above will enable you to pick the one that is best for your need. If you are a tea lover, and enthusiastic about the tea you drink, you should definitely invest in one of these teapots.