Making simple pasta from scratch can be done with almost any machine.
There are plenty of pasta makers that allow you to do this without much effort.
However, you'll need a completely different machine when it comes to making pasta that follows a specific pattern, such as cavatelli, sea shells, or gnocchi.
Regular pasta makers usually cannot get the job done when it comes to pasta that follows these specific patterns.
When it comes to pasta makers that specialize in particular pasta patterns, you'll want a machine that is not only easy to use, but also does what you need it to do.
The following cavatelli makers do just that.
Editor's Recommendation: Cavatelli Makers
9 Best Cavatelli Makers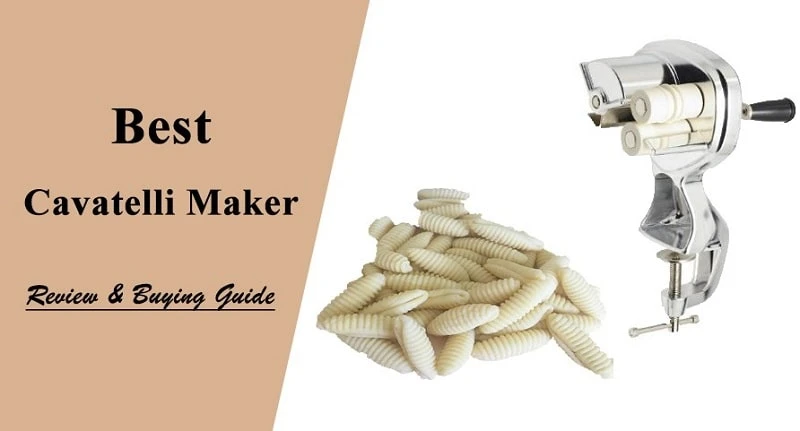 1. Cavatelli maker machine with easy clean rollers by CucinaPro
Highlighted features:
Easy to clean synthetic rollers
2 inch counter depth
Comes with a recipe book
Makes seashells and gnocchi as well as cavatelli
Completely manual operation
One of the biggest issues about any given cavatelli maker is that they are often completely one-dimensional. Most of them only allow you to use cavatelli pasta and only cavatelli pasta, making them extremely limited in how they are used. This is one thing that turns most away from them, electing instead to purchase pre-made pasta that isn't from scratch.
CucinaPro has solved this by allowing you to make more than one pattern of pasta with its maker. You'll be able to make seashells and even gnocchi with it without any real issues, provided you can make these pasta items by yourself from scratch.
It can be difficult to clean the rollers of any kind of pasta maker, but this is not so with CucinaPro's pasta maker. Its rollers are made of a synthetic material that resembles wood, which allows you to clean the dough that you use for it much easier than with other cavatelli makers.
The only thing about CucinaPro's cavatelli maker that you might need to watch out for is how you use it. It operates completely manually, meaning you'll need to use both hands to make sure your dough gets formed into pasta properly. This can pose quite a challenge if you are new to using pasta machines.
2. 1 piece manual pasta maker by Xxz
Highlighted features:
One piece design
Dishwasher safe
Completely manual operation
Double cutting blades
Long and easy to grip handle
One major reason why many are turned off by any manual pasta maker is that most of them require almost superhuman feats of strength to operate properly to where you can actually finish making pasta from scratch with them. Their handles are either too small or they aren't easy to grip, thereby putting an unnecessary amount of pressure on your wrist.
Xxz has solved this with its manual pasta maker. Not only is its handle long, reducing the pressure you need to apply when turning, the handle is also much easier to grip compared to other pasta makers, allowing you to turn it much easier. You'll want it if you know you will be using a pasta maker for very long term projects.
Another nice thing about Xxz's pasta maker is that it is dishwasher safe. Most pasta makers are not dishwasher safe since they contain more than one piece in their design. Because Xxz's pasta maker has a one piece design, you'll be able to clean it much easier either by yourself or by dropping it in the dishwasher.
You need to be very experienced to use Xxz's pasta maker. Its simple design is perhaps too simple, as you'll need to form the patterns of the pasta that you want to make all by yourself. It operates completely manually as well, meaning you'll need to remove the dough as you put it in. choose something else if you are not experienced.
3. Cavatelli maker with wooden rollers and non-stick coating by BakeDeco
Highlighted features:
Able to clamp to the edge of a table
Wooden rollers
Non-stick plastic coating
Manual operation
One-piece construction
Cavatelli or any kind of pasta makers tend to have a tough time staying on the counter or table when you are rolling dough in and out of them. Seeing as most of them are completely manual in their operation anyways, you'll often find yourself wasting a lot of time as you attempt to balance your pasta maker while using both hands to operate it.
BakeDeco's pasta maker solves this in a very simple way. It contains a tightening clamp that you can use to secure it to the edge of any table, keeping it completely balanced as you roll out dough with it to make any kind of pasta. This one feature will streamline any pasta making project you take on to the point where you will be surprised at how fast you can work
Containing completely wooden rollers, cleaning the dough off of BakeDeco's pasta maker has never been easier. Because you are using raw dough, you won't even need to clean it with soap or water. Literally all you need to do is wipe off whatever dough sticks to the rollers, if any dough sticks to it.
The one thing about BakeDeco's pasta maker that you might want to watch for is what it is made of. It contains non-stick plastic coating, which is not nearly as durable as you might want it to be. Because of this, you will not be able to be as aggressive as you usually are when rolling out the dough.
4. Cavatelli and gnocchi maker by Cuci
Highlighted features:
Stainless steel coating
One-piece construction
Clamps to the edge of a table
Plastic rollers
Sturdy winder handle
Making any kind of pasta product from scratch takes a painfully long time, and this is especially true when it comes to cavatelli and gnocchi. Prepare to spend much more time than you might want feeding the dough into the machine and waiting for what seems like hours for the machine to shape it into what you want.
Your preparation times will be cut drastically when you use Cuci's cavatelli and gnocchi maker. It contains everything that is synonymous to a fast operating cavatelli maker: Plastic rollers, a winder handle that moves really quickly, and a durable exterior that stands up to extended use.
The same things that allow Cuci's cavatelli and gnocchi maker to operate quickly are the same things you might want to watch for, however. The winder handle does not grip well, and the probability of dough getting stuck in the rollers is very high, given that said rollers are made of plastic.
5. Handheld cavatelli maker by Bethany Housewares
Highlighted features:
Handheld design
One-piece construction
Includes a clamp
Includes instructions and recipes
Possible to form any kind of shape or texture
Most cavatelli makers are not very ideal for travelling. While they are not overwhelmingly large devices, most of the time you will need to set it on a table or counter for you to use them properly.
This concern is a thing of the past when using Bethany Housewares' cavatelli maker. Taking the form of a handheld design but also containing a clamp, you can literally use it anywhere and take it anywhere. This makes it stand out above other cavatelli makers in a big way.
The handheld design and one-piece construction of Bethany Housewares' cavatelli maker also allow you to form any kind of pasta shape or texture with it. The limitations that you usually face with most cavatelli makers are a thing of the past once you use Bethany Housewares' maker.
It is without question that you will need to be very experienced to use Bethany Housewares' cavatelli maker. This is because of how compact its design is. Make one mistake when feeding the dough through it, and you'll need to replace said dough.
6. Cavatelli maker with countertop clamp by Harold Import Company
Highlighted features:
Clamp fits countertops up to 1 and ⅜ inches
Wooden rollers
One-piece design
Stainless steel exterior
Fast-acting winder
While most cavatelli and gnocchi makers are able to fit countertops, the majority of them only fit certain sizes of countertops or tabletops. You'll be out of luck if your personal countertop or tabletop does not fit the cavatelli maker.
You will not need to worry about this at all when using Harold Import's cavatelli maker. Being able to fit countertops up to 1 and ⅜ inches, you are given a lot of range and it will fit where other cavatelli makers may not be able to fit.
Cavatelli makers that possess plastic or metallic rollers are very difficult to clean. You will not need to worry about this at all with Harold Import's cavatelli maker, which uses wooden rollers. Cleaning the dough off of these rollers is very easy to do compared to other rollers.
The one thing you might need to watch for with Harold Import's cavatelli maker is that while the winder pushes dough through really quickly, it is not easy to operate for extended periods of time. You'll need to take breaks when using it so that you can give your wrist a rest.
7. Handheld and countertop cavatelli press by HnF
Highlighted features:
Dishwasher safe
Clamps onto countertops
Small enough to be handheld
Long handle with soft grip, removes pressure
One-piece stainless steel construction
Most cavatelli makers simply cannot be used for long term projects without taking breaks. In most cases, you'll need wrist surgery if you are tasked with making a lot of pasta. This can transform something that should take minutes into something that takes hours.
You will not need to worry about this at all when using HnF's cavatelli press. The handle on its winder is much longer than others and the grip is also much softer than others. This removes a lot of pressure when processing the dough, allowing you to use it for longer periods of time without needing to back off to give your wrist a rest.
Although the idea of travelling with a cavatelli maker might not seem novel, you will be able to do this with HnF's cavatelli maker. You will be able to use it in any kitchen and you can take it with you anywhere because of how small it is.
The rollers of HnF's cavatelli maker are made of plastic. While this makes it much faster than others when it comes to processing the necessary dough, it also makes it that much more difficult to clean. While HnF's cavatelli press is dishwasher safe, it is almost impossible to clean completely.
8. Aluminum alloy pasta press by Tbrand
Highlighted features:
Improved durability because of the aluminum exterior
Corrosion resistant
Long handle, reducing necessary effort
Adjustable clamps
Plastic rollers
Surprising as this may sound, most cavatelli makers are prone to corrosion. This corrosion can affect your pasta maker itself and obviously the overall quality of the pasta that it makes. It is very frustrating to need to replace your cavatelli maker after discovering this kind of corrosion.
One of the best things about Tbrand's pasta press is that it has an aluminum exterior. Aluminum contains properties that resist corrosion and this makes Tbrand's pasta press built to last. You will not need to worry about replacing it because of corrosion for a very long time because of this.
While most cavatelli makers possess adjustable clamps, many of them do not fit what they need to fit. This is also not an issue with Tbrand's pasta press. You'll be able to clamp it to the edge of nearly any chair or table without any problems at all, making it a little more versatile than other cavatelli makers.
Although Tbrand's pasta press resists corrosion, the plastic rollers that it contains can be a little more difficult to clean than you might want it to be. It is not dishwasher safe, meaning you'll need to clean it by hand, making things even more frustrating.
9. Aluminum alloy noodle press by Qazxsw
Highlighted features:
Contains an aluminum alloy, improving its durability
Serrated rollers make it possible to make juices as well as pasta
Dishwasher safe
Longer handle eliminates pressure
Both handheld and can connect to a countertop
Most cavatelli makers are not nearly as durable as they need to be, especially if you know that you need to use it very frequently. You would be surprised at what kinds of wear and tear these kinds of pasta presses develop and how it actually affects the kinds of pasta that you want to make.
You will not need to worry about durability when using Qazxsw's noodle press. Its aluminum press will ensure that it remains in good shape no matter how much or how little you use it. This makes it very useful for restaurants or other establishments where you know you will be making a lot of pasta from scratch.
Another nice thing about Qazxsw's noodle press is that although the rollers are made of plastic, it is still easy to clean. Not only is it dishwasher safe, you can easily clean the serrations on the rollers. These serrations also allow you to make certain juices with it.
Although Qazxsw's noodle press can be placed on a countertop, doing so is not as easy to do as it is with other cavatelli makers. This is probably the only thing about it that you may not like.
Cavatelli Makers (A Buying Guide)
Although they all look very familiar, not all cavatelli makers are the exact same.
You'll want to consider a number of things before you make a decision on one.
Doing this will ensure that you have the right cavatelli maker in your hands for whatever you are tasked to do.
Will you be using your cavatelli maker for yourself or for an establishment?
This is the first thing you need to consider because it is the most important.
The cavatelli maker that you use at your home when you just can't help but make pasta from scratch is going to be held to a completely different standard compared to the one you use to prepare pasta for the public.
How experienced are you with cavatelli makers?
This is the second most important thing you need to consider.
Some cavatelli makers are more "forgiving" than others in that you don't necessarily need to form the dough you want to use for pasta perfectly in order to properly feed it into the maker.
Others require you to have cracker jack precision but can be used to create more than one variation of cavatelli.
Knowing which one of these is better for you will allow you to make a better decision.
Do you prefer wooden or plastic rollers?
The rollers of your cavatelli maker plays a big role in what you can actually create with it as well as how easily certain things can be created.
Wooden rollers and plastic rollers of a cavatelli maker have different properties and knowing this will ensure you have the right one in your possession.
What kinds of pasta do you intend to make other than cavatelli?
Something you should know about cavatelli makers is that most of them can make more than just cavatelli.
You'll usually be able to make other kinds of pasta with your maker and this is definitely something you should know and be familiarized with.
Cavatelli Machine Maintenance Tips
Remove any loose dough from your cavatelli machine after every session; loose dough can get stuck inside the rollers and this can lead to problems in the future.
Try not to use too much water when cleaning cavatelli makers with wooden rollers, since dough can get stuck in the rollers if they aren't completely dry.
Make sure the rollers of your cavatelli machine can move smoothly, if they don't, you might need to work with the inner gears that connect your winder and the rollers.
Cavatelli Maker Frequently Asked Questions
How do you make cavatelli from scratch?
A: To make cavatelli from scratch, you'll need dough and semolina flour. Mix both of these in a bowl until the dough starts to take shape. Stir salt into the flour as it begins to take shape. After that, you can then either use a cavatelli making machine to form it into your desired shape or you can roll it yourself onto a gnocchi board if you possess one.
How do you shape cavatelli?
A: In order to shape cavatelli properly, you will need to roll it. To do this the right way, you'll need to separate the dough that you are working with so that you can better micromanage the formation. There is an indentation that you will need to make after doing this, so do not forget about doing this afterwards.
What does cavatelli look like?
A: There are similarities between cavatelli and rigatoni, but the main difference between the two is that cavatelli contains an indentation after it is rolled up. From this you can either form it into pasta that resembles rigatoni by using a gnocchi board or you can create a shell with it. Most pasta shells that you come across are actually cavatelli products.
Conclusion for Best Cavatelli Maker Buyers

There are two ways that you can make cavatelli.
The first way is to waste a lot of time and effort and make it yourself.
If you want to do this, go right ahead. Waste all kinds of time and effort rolling up the dough, making sure the indentations are perfect, and hope that everything comes out perfectly afterwards.
The other way is to simply use a cavatelli maker.
Cavatelli makers take all the work out of making cavatelli, saving you time, energy, and effort by allowing you to just wind the dough you put into it to fit the size of cavatelli that you desire.
You'll want a cavatelli maker if you know you will be making cavatelli regularly. You will not believe how much time, energy, and effort you can save with one.