Indoor air pollutants are not just limited to your bedroom or living room. They are probably spread all across your home. So, if you are suffering from allergies, asthma or even if your aim is just to breathe fresh air, then getting a separate air purifier for each room might sound like a good idea. But have you considered the additional costs in terms of time and money spent in maintaining multiple cleaners?
Editors' Picks for Alen Breathesmart 75i Air Purifier
Features and Specifications of Alen BreatheSmart 75i Air Purifier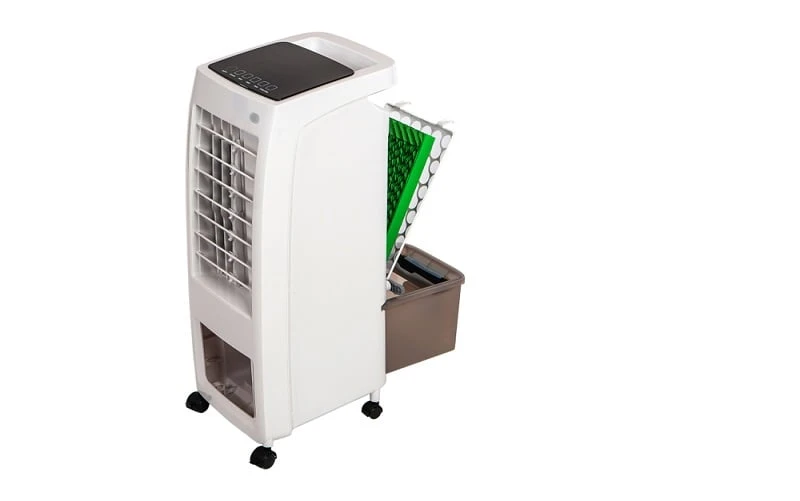 1. Design and Customization
Alen BreatheSmart can be tailored and custom-designed both internally and externally as per your needs.
Panel Colors : External customization includes a wide choice of panel colors. By default, the stock purifier comes with a white colored front panel. For the creative ones out there, Alen offers 15 different color options for the front panel. You can choose the best one depending on the interior decor of your home.

Filter Types : Alen offers 4 different filter types, each of which is meant for a specific purpose and can be chosen based on your need. The stock model comes with an HEPA-Pure filter which is best for getting rid of dust and allergens. You can choose HEPA-Silver if your prime concern is bacteria and germs; HEPA-OdorCell for smoke, odors and HEPA-FreshPlus if you are having trouble with chemical and VOC pollutants.
2. Effective HEPA-Pure Filtration
Alen BreatheSmart uses a three stage air filtration process to purify the contaminated indoor air. Unlike other products in the market which pull in dirty air through the front panel, this air cleaner has a unique design wherein the polluted air is pulled in through the air intake grilles present on the sides and the bottom.
The polluted air initially passes through a washable black foam layer which acts as a pre-filter. Most of the large sized particles like dust and hair are captured here. This pre-filter can be either washed or vacuumed regularly to ensure proper filtration.
In the next stage of purification, Alen's HEPA-Pure filter does most of the grunt work by capturing 99.9% of all airborne impurities and pollutants. This HEPA-Pure air filter special because it is made of electrostatically charged material which is more effective in capturing pollen, pet dander, mold and other such particles.
Then comes an optional Ozone-safe Ionization stage, which can be activated by pressing the Ion button on the top panel. Most of you might be skeptical about the using an ionizer because it might generate ozone as a by-product. But that's not the case with Alen BreatheSmart; their innovative ionization technology does not produce harmful ozone.
Finally, the pollutant-free clean air is sent out through the top output grill. A powerful fan ensures that the pure air which is delivered through the top grill hits the ceiling and then spreads evenly across the room.
3. Performance
This purifier from Alen can be dubbed as a top performer when it comes to filtering efficiency which is measured in terms of CADR. It has a decent Clean Air Delivery Rate of 300 according to the Energy Star Test. This product also has the Energy Star certification and is known to consume lesser power for delivering clean air.
4. Superior Sensors and Indicators
Alen BreatheSmart uses the latest technology to improve the ease of operation.
An optimal airflow speed is much necessary for maintaining the low level of indoor contaminants. With Breathesmart you have the option of either manually adjusting the fan speeds or setting it on AUTO. When set in auto mode, Alen's SmartSensor uses infrared technology to constantly check the indoor air quality by monitoring the level of airborne pollutants and disease-causing microbes.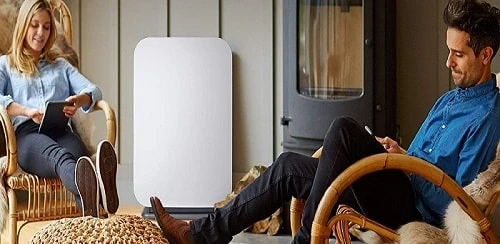 The smart sensors then automatically adjust the airflow speed based on the level of indoor pollutants. The light around the power button gives you a feedback about the level of airborne particles. So, basically blue light implies low particles while yellow and red light indicate the moderate and high pollutant levels respectively.
This feature reminds when your purifier filters need to be replaced. BreatheSmart's Filter life indicator does this by displaying three different led lights. A green light (which indicates good filter life) shows up for the better part of the year, while the yellow light and red light show up right before the filters get exhausted.
5. WhisperMax Technology
The Breathesmart uses a trademark WhisperMax technology to prevent airflow noise. The inner chamber and the airflow vents are precisely designed according to the aerodynamic laws. This ensures maximum filtering capacity along with low noise production.
6. Large Coverage
Most of the purifying products from Alen are meant for large spaces and BreatheSmart is no exception to this. Alen BreatheSmart is capable of filtering impure air within an area of up to 1100 sq ft. Unlike most other products, this purifier is best suited for large living spaces, offices. I believe it can easily accommodate an entire apartment if positioned properly.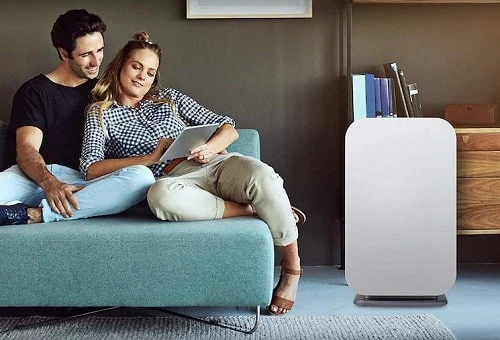 This prevents the hassle of purchasing a purifying device for each room; for good!
7. Additional Advantages
One thing that I personally like about Alen is the way they build up a long-lasting relation with their customers. Their products come with many bonus advantages which you can signup for.
AutoShip Filter Plan - Under this plan, Alen will deliver your replacement filters with no additional shipping cost. In short, it's Free shipping!
Lifetime Limited Warranty - Alen is probably the only manufacturer who offers such warranty. But this can only be applicable if you use the product as per the manual. That includes yearly filter replacement among other things.
My Take
Woah! That was a lengthy one - there is really so much about this air cleaner. Right from the design to purifying efficiency; it is a complete package. I haven't observed any issues that stand out