It's been over a year of San Diego living, yet I haven't crossed off all the things on my bucket list!
It's not my fault- San Diego is huge! It's so hard to get to know every detail of the city because it has sooooo much to offer!
So today, I'm sharing my San Diego bucket list with you all- to help you plan out unique, not always touristy experiences when you visit!
Because it's mine, it's affordable for the average US person*. It's also more targeted to things to do that aren't what people first think of when they come to San Diego**. Technically, I have done a few of these since staring this list, but the rest are on my bucket list still after hearing about them from friends who have lived here longer!
*Well, I mean I don't talk about $100 mediocre 4 oz steaks, like all the other San Diego bucket lists. I do talk about ~$50 all-you-can-eat food
**So don't worry, I'm not going to say "visit the zoo", even though the zoo is awesome and you should visit.
San Diego bucket list activities for foodies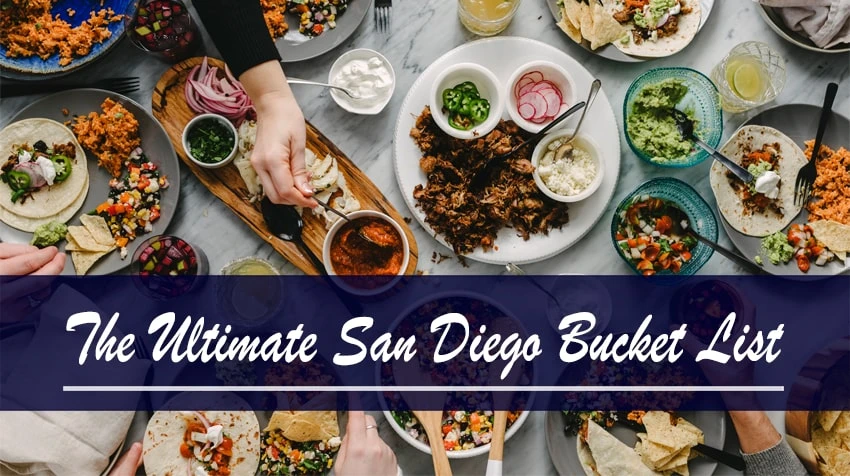 Get AYCE Sunday Polynesian brunch and champagne at Bali Hai
On Shelter Island lies Bali Hai, an iconic Polynesian fusion restaurant. On Sundays, they have an all you can eat and drink brunch with champagne, huli huli chicken, pho, and Korean short ribs- and standard US brunch staples like eggs benedict and pancakes. The only thing is it's $44.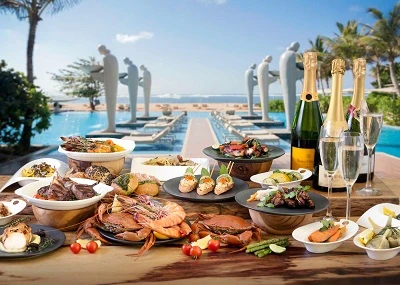 Get AYCE brunch on a cruise ship (with your dogs)
Hornblower Cruises regularly does all you can eat/drink champagne brunch cruises along San Diego Bay- which sounds like a unique concept on its own (do other cities do this regularly??). But sometimes, they throw ones where you can bring your dogs! Mimosas, eggs benedict, and puppies?? UMMMM yes.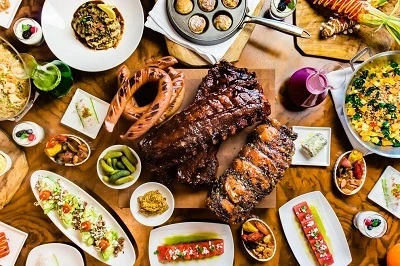 Get themed dinners on a cruise ship (like a Nightmare Before Christmas one)
These are by Flagship Cruises and include a prime rib dinner one, and a brunch one like above (see here for the full list of upcoming themes). But most bucket list-y is their (seasonal?) NIGHTMARE BEFORE CHRISTMAS AND BEER THEMED CRUISE. I'm telling you, I've really never heard of these cruise on the bay things until San Diego- are they a thing where you are?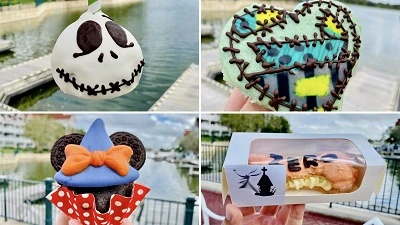 Try authentic & tasty Mexican food
It's really easy to find "San Diego California Mexican food" in San Diego- not necessarily "authentic Mexican food". Not to say it's bad (like I eat at these taco shops three times a week), but I've always wanted to try "authentic" Mexican food (for some reason, I always get ramen or poke in Tijuana). Many people recommended Super Cocina to me as the legit, homestyle place- plus they allegedly give you samples to help decide what to try!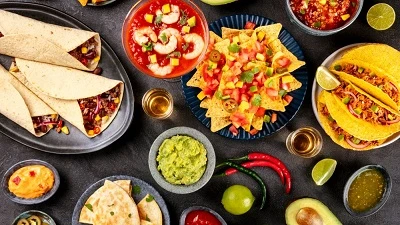 Try all of San Diego's local foods while actually in San Diego
Okay, this one is not hard to do. And it's what people will probably end up doing without this list, but you can't go to San Diego without trying California burritos, carne asada fries, fish tacos, etc! For more info, check out this post.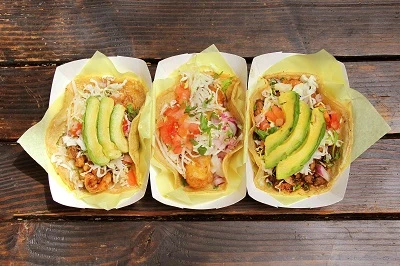 Have potentially the best pastries in San Diego
At Wayfarer. This place was really talked up at least to me, after I complained to a bunch of people that I couldn't find the high quality pastries everywhere in Seattle here. UPDATE: I've finally been there, and I personally think that the potentially best pastries in San Diego are at The French Gourmet. Well they're both awesome, but the French Gourmet is cheaper!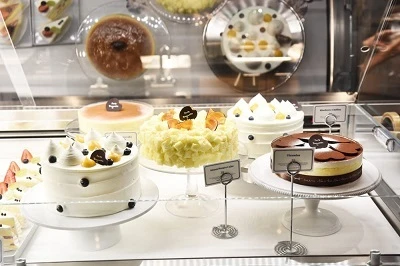 Visit every single brewery
Saying "there are a lot of craft beers in San Diego" is an understatement. I thought I lived in craft beer holdouts in the Pacific Northwest, but there are so much more here. Trying to visit them all as they crop up is probably an entire bucket list in itself- here's a complete list of San Diego breweries.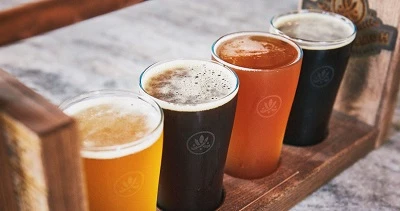 Go to a themed beer festival
There are so many beer festivals here! Is this a thing in other places too? Eventbrite may have the most current list of upcoming beer festivals, but I've seen Harry Potter beer festivals, ice cream and beer festivals, empanadas and beer festivals, and beer festivals at the San Diego Zoo! Some of these are all you can drink, and some are all you can eat and drink! Just remember- it's a marathon, not a sprint.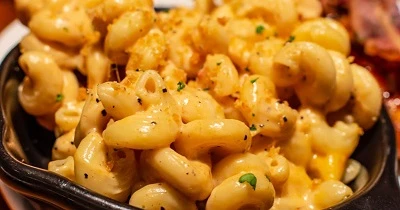 Find secret tiki bars
Is tiki culture as big in other cities? Is the trend where bars are inside bars or restaurants a thing? Either way, in San Diego there are a ton of tiki bars with the best cocktails and Polynesian fusion food.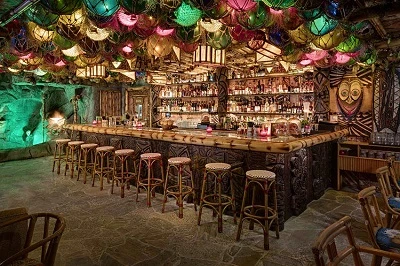 Take pictures at an Instagrammable cafe
So some of these actually have really good drinks, but that's not why everyone else goes there!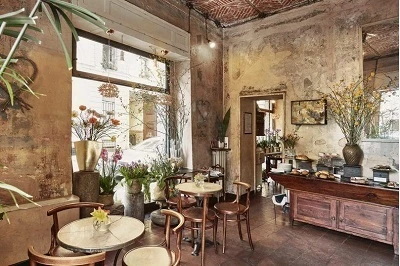 Do a coffee flight
We've all heard of beer flights, right? San Diego has a ton of unique other flights- my favorite being coffee! For example- at Communal Coffee which has latte flights, or Second Nature, which has a coffee flight of differently brewed coffee (ex. nitro cold brew vs cold brew).\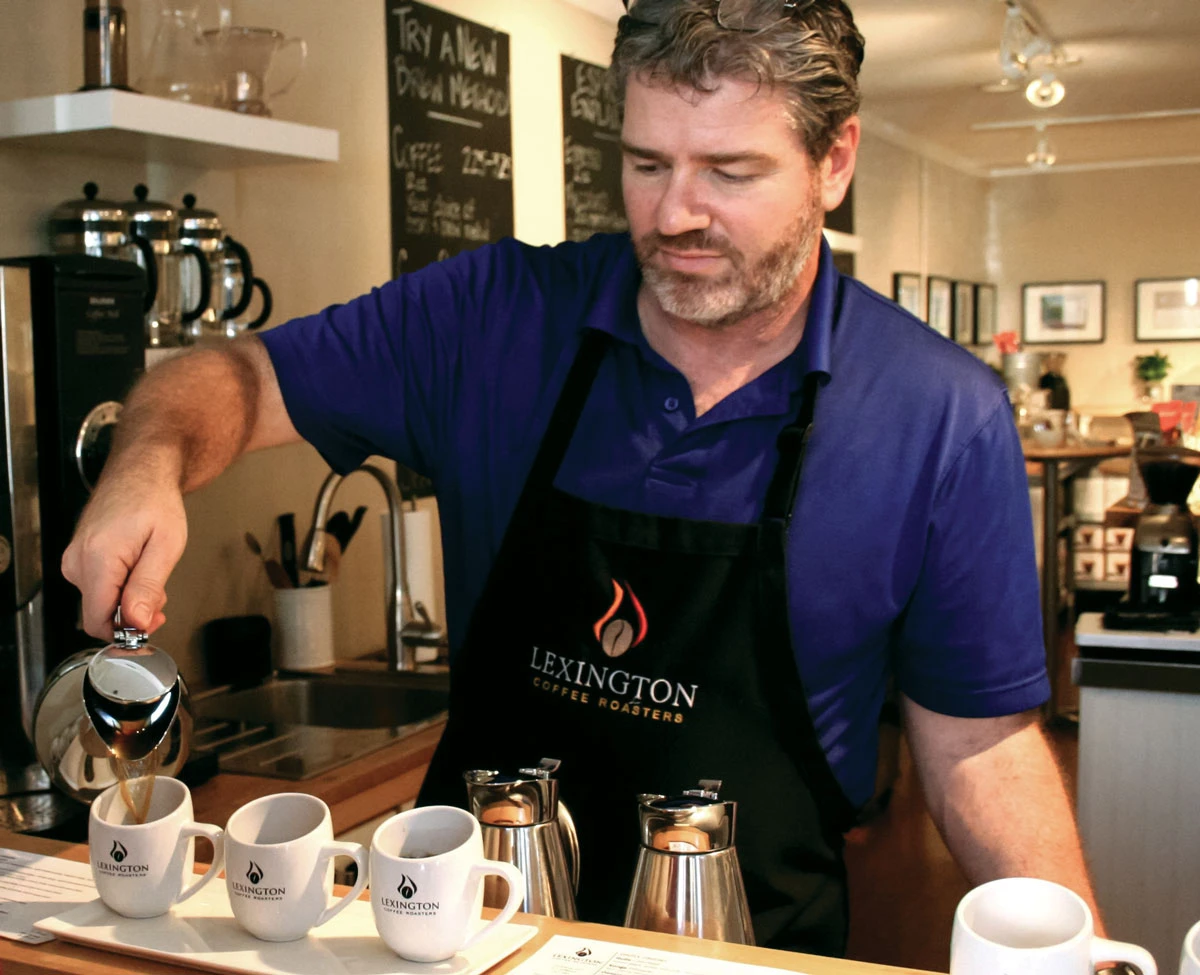 Do a vodka flight
Like harder alcohol experiences with your dinner? If so, check out the Russian restaurant Pushkin's for their vodka flights (and pierogis!).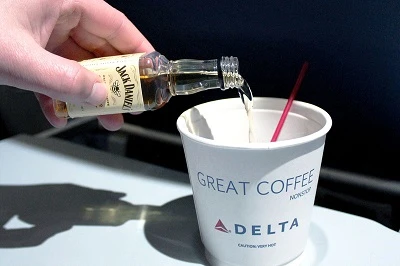 Do a margarita or tequila flight
Margaritas are essential to a true San Diego experience. Why not try as many flavors as you can (including a spicy one) with a margarita flight? Or, if you just want the tequila, with a tequila flight Many bars and restaurants in San Diego offer these.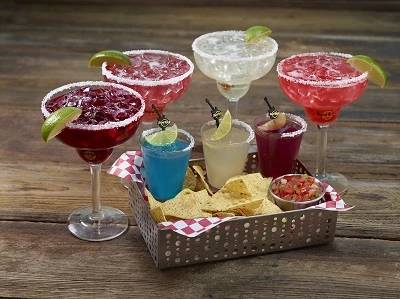 Do all you can drink margaritas
f you have a higher tolerance, all you can drink margaritas might be a better fit. Other cities just have all you can drink mimosas or maybe bloody mary's- but San Diego has those all over the city AND all you can drink margaritas on Tuesday happy hour at the Blind Burro.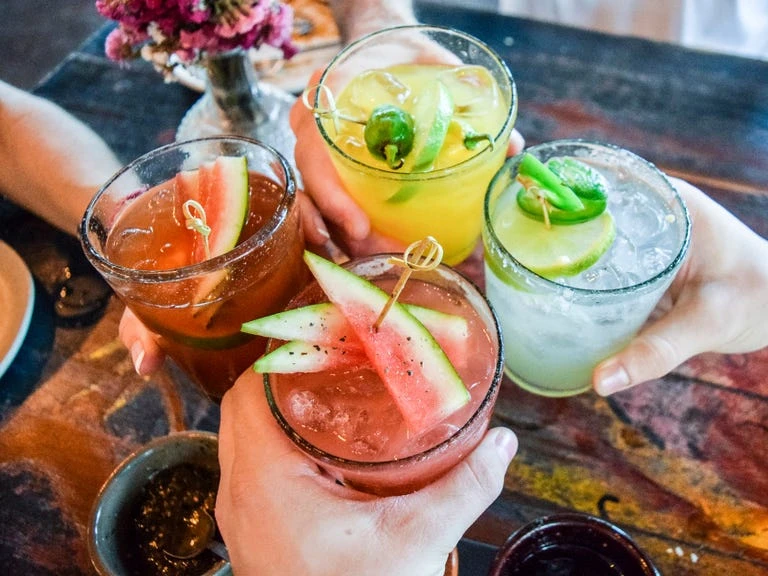 Play arcade games with adults in bars
There are a couple of bars that also double as arcades in San Diego – which is the perfect way to spend the night going out, while feeling like you're still able to play video gams inside.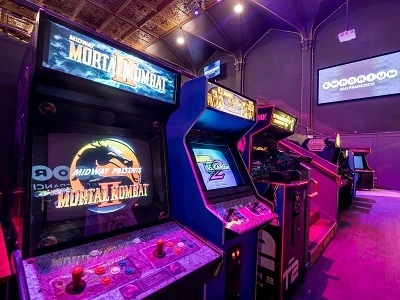 Eat the food that you only see on Instagram
Freakshakes, phorritos, unicorn lattes, mermaid bowls- I had never lived in a place that actually sold these things, until I moved to San Diego. And I thought they were all gimmicky and terrible, but in San Diego- they're actually really good (and cute). For example, for the best unicorn latte/hot chocolate/milkshake, check out Creme and Sugar.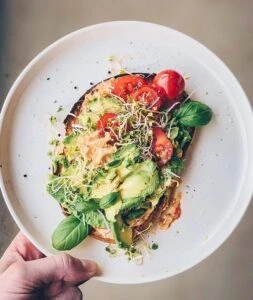 Also proof that just because you're in an Instagrammable cafe, doesn't mean you know how to take Instagrammable pictures
Drink the best Japanese tea in Balboa Park
The Tea Pavilion in the Japanese Garden at Balboa Park has the best teas. You need to check this place out if you want good tea in San Diego!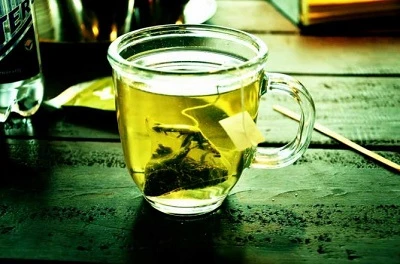 Pretend you're in the UK with afternoon tea
Yes you can get tea time in the UK, and inside of US hotels, but San Diego has places that exist only for tea time.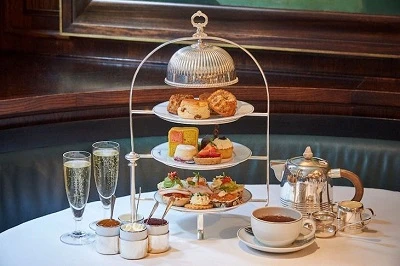 Road trip to Ensenada for the original fish tacos
Though Baja style fish tacos are everywhere and tasty here, Ensenada is their birthplace. Wouldn't it be awesome try them in the homeland? Which brings me to…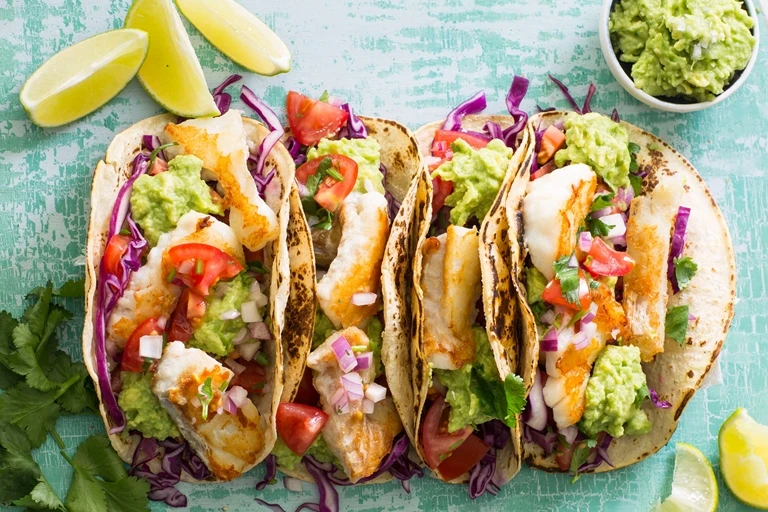 Outdoor/active San Diego bucket list activities
Road trip to Baja California
Yes San Diego's coast looks gorgeous, but so do the pictures of Baja California! Can you drive even all the way to Cabo? Only one way to find out.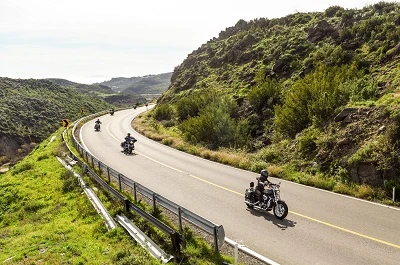 Do the 5-Peak Hiking Challenge
The actual challenge where you could win a thing is over, but you can still try to hike all five peaks in San Diego's Mission Trails Regional Park! This was on my bucket list before traveling to Ecuador and doing 13ers daily. I think I'm more than ready for these peaks now.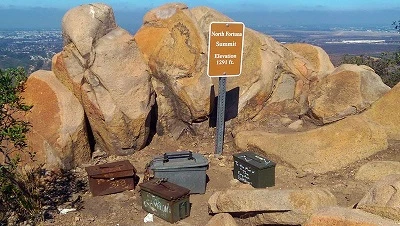 Hike in Anza Borrego State Park
Anza Borrego is the biggest state park in California, but it often gets overshadowed by places like Joshua Tree or Death Valley. Take a road trip over here and go on some unique desert hikes- just make sure you stay prepared with these desert hiking tips.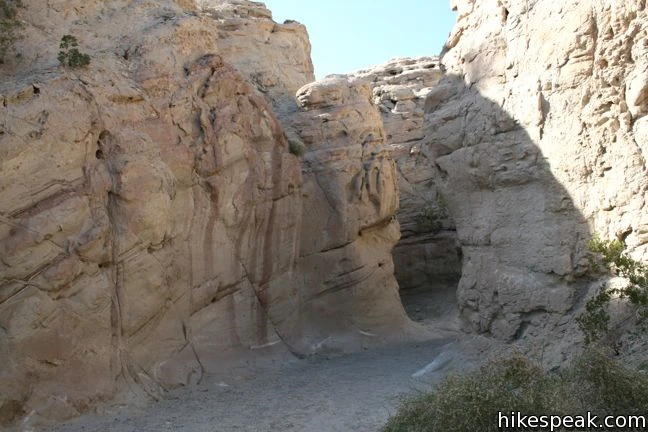 Off-road in Ocotillo Wells
If you like off-roading, you've got to check out Ocotillo Wells outside of San Diego.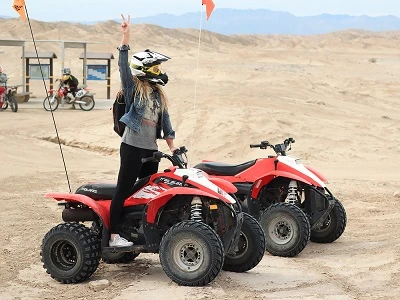 Go outdoor bouldering at the Santee Boulders
Usually when people think of Southern California and bouldering, Joshua Tree comes to mind. But this is closer to San Diego, a popular spot, and has beginner areas so even if you're just learning, you can check it out!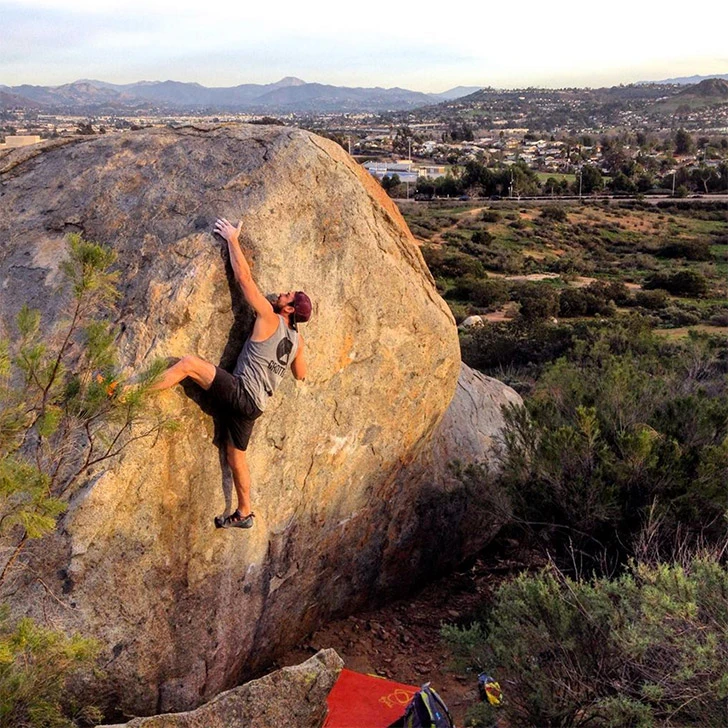 Learn how to longboard surf
Not sure what this is actually called, but for a surfing alternative, try learning how to surf on a longer surfboard. Perhaps it's like longboarding, but in the ocean. For me personally, I still need to learn how to swim, but eh.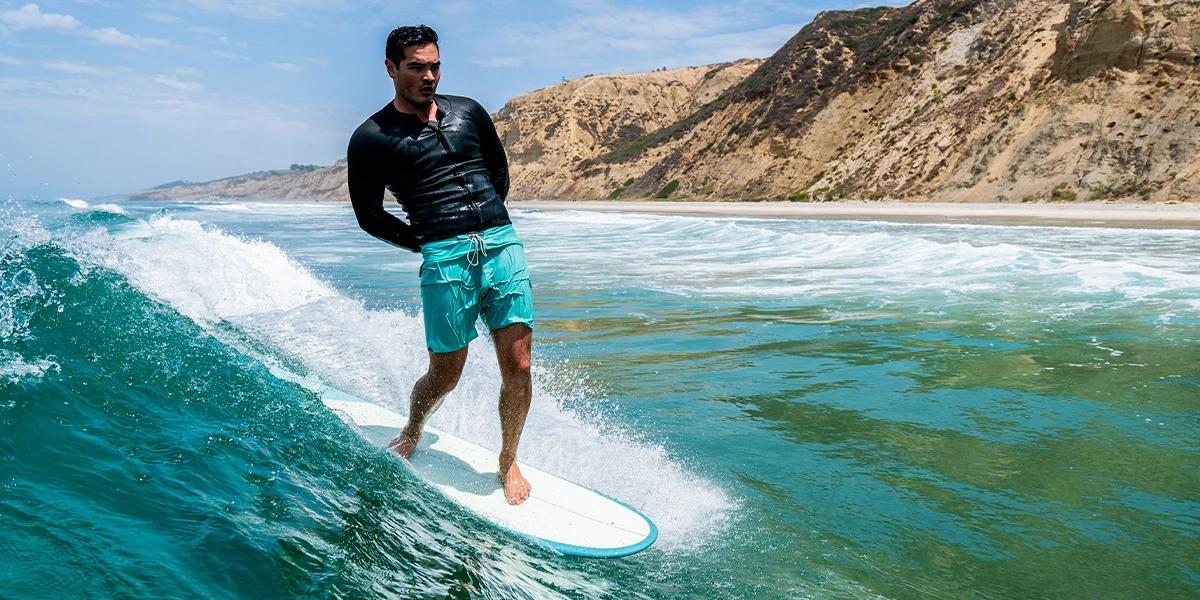 Hike Potato Chip Rock
Okay, yeah this is like one of the most sought after hikes because of Instagram in San Diego (though technically is far from the city center) probably after Torrey Pines, but I'm just making sure you do it, ya know?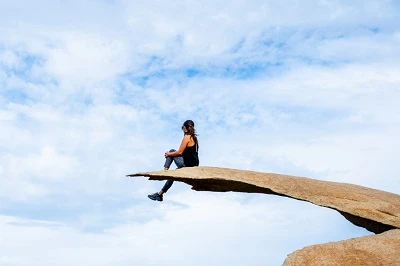 Cliff jump legally
People have told me there are areas where you can do this… technically in Sunset Cliffs it's illegal though.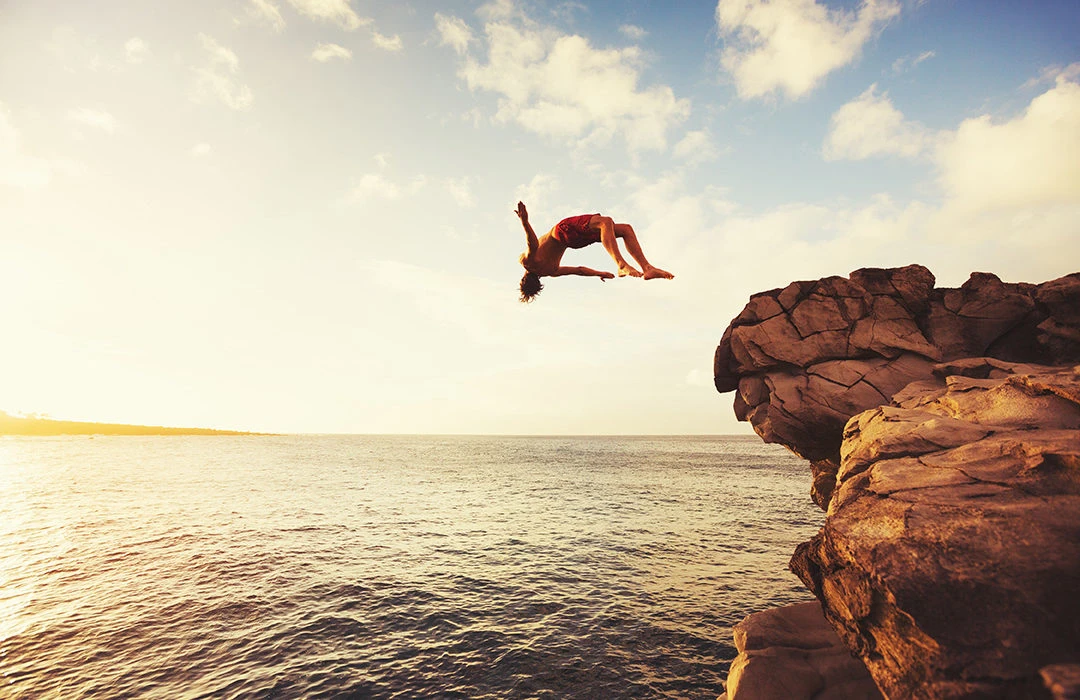 Do adrenaline water activities in Mission Bay
Like jet skiing, intertubing, jetpacking (!)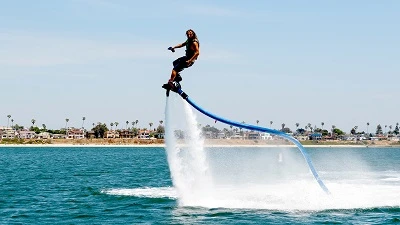 Do lowkey water activities in Mission Bay
Like paddleboarding, kayaking, seaboating. The water here is really calm, which makes all the above even more relaxing.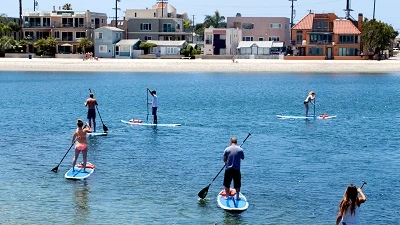 Rave under the starry desert sky
I don't know how I found out about this particular rave (or what it was called… #drugs), but keep your eye open for these events – like said about, the desert has some gorgeous views of the stars. That plus your favorite trance music means a really psychedelic experience.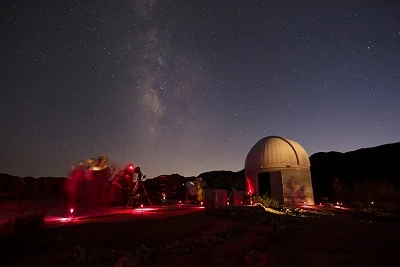 Paint by the Sea
If you're anything like me, doing stuff on the beach makes it 100x better. So Painting by the Sea hosted by the iconic Hotel del Coronado is basically a Paint Nite- but on the beach!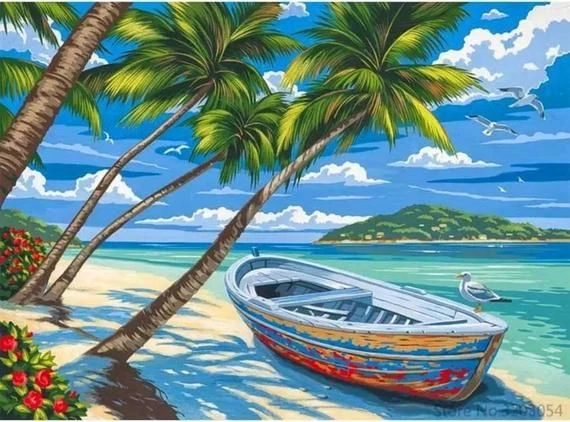 Yoga at the Beach
Again, if you love the beach and if you love yoga, this is the perfect zen relaxing moment that you can only do year round in places like San Diego!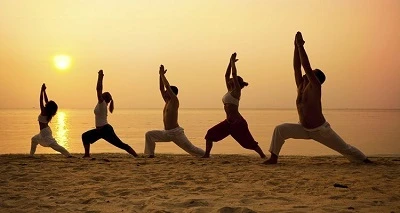 Yoga with a wine
If you're not thinking "OMG this sounds amazing" or "wait, no I don't drink", then I know what you're thinking- "that sounds like something I don't want to do, even though I love wine and yoga." Actually- it's really relaxing, and you should check it out! And I've really only seen this in San Diego (#alcohol). You know what's actually overrated though? Paddleboard yoga. Too difficult…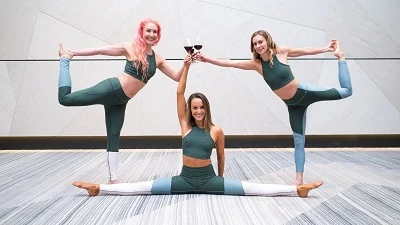 Salsa on the Beach
Hopefully I don't have to explain why this sounds awesome.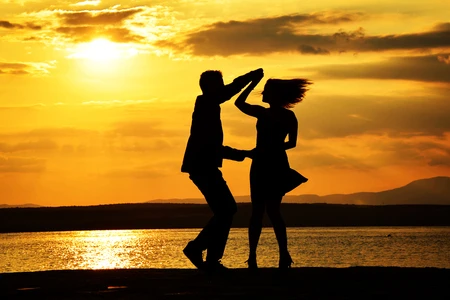 Throw axes for fun
Is crossfit dying down and being replaced by axe throwing? Or is it just coincidence that old crossfit buildings are turning into axe throwing buildings? This is what it sounds like – you can throw axes for fun at a few places in San Diego including with Bad Axe Throwing.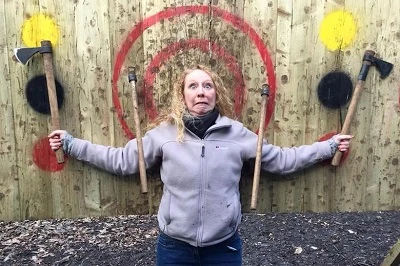 Hot air balloon in North County
North County has so many rich people experiences- like hot air ballooning!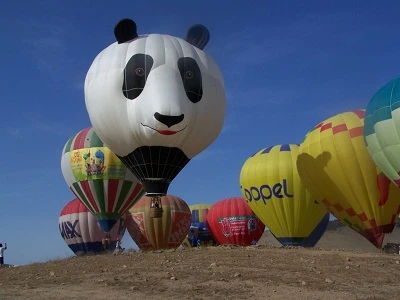 Play frisbee golf
San Diego is home to famous golf courses, but that can feel a little pretentious if you don't know anything about golf. So why not try a funky alternative with frisbee golf- which also has a few courses in San Diego!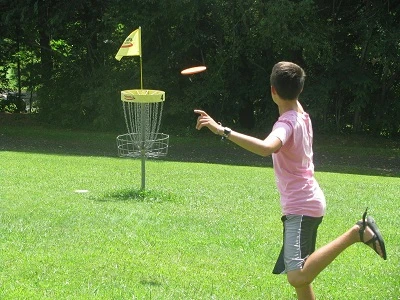 Bike around Coronado
Sure many people say the Hotel del Coronado is what you should check out here, and yes- it's a gorgeous, historical hotel. But if you're not so into art or history, it's not that exciting. A better way to spend the day in Coronado is to bike around the island.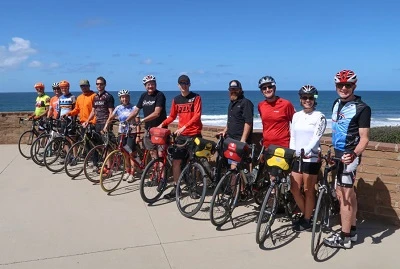 Urban hiking in Balboa Park
Sure everyone comes here for the museums and zoo, but there are also some trails in Balboa Park if you want something more active! It's unique because you don't have to go far from the city to go on a quick hike, and you have gorgeous nature views in addition to gorgeous Spanish architecture views.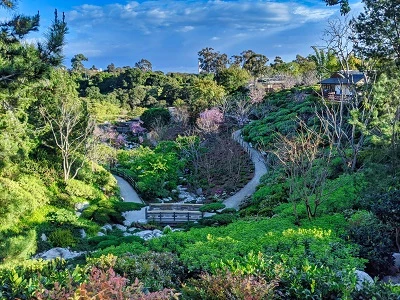 Seasonal things you could try to check out
See desert cacti bloom after a rainy winter
Who knew that cacti bloom?? In the Anza Borrego Desert especially, the spring after a rainy winter the desert is filled with beautiful, blooming cacti. To see reports of whether they're blooming or not, check out this site.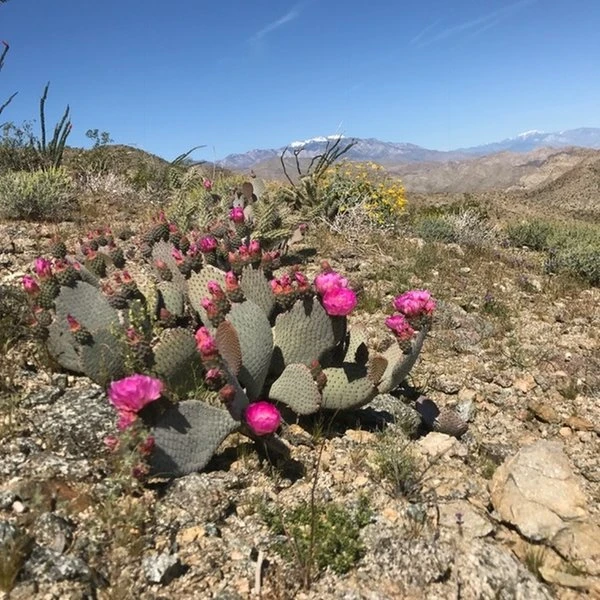 Attend "two scientists walk into a bar"
This happens at some frequency (check their website for the latest information), but this is basically an event where two scientists will hang out at a local San Diego bar and answer your science questions! Each bar has a different science field theme. It's perfect for all the nerdy drinkers out there.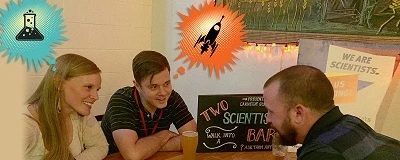 Eat pumpkin apple pie in Julian
We've all heard about Julian's amazing apple pies (if not – you need to add this to your San Diego bucket list!), but in the fall, many bakeries also have a pumpkin apple pie! We need to make this a thing! They are amazing!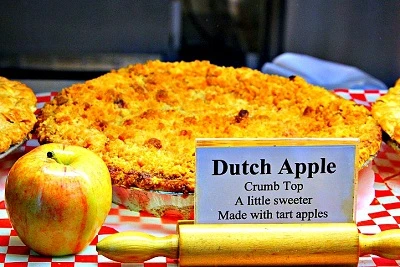 See the bioluminescent waves caused by red tides
This happens once in a while (earlier this year and before that 2013) but sounds absolutely beautiful. Sometimes when the red tide comes in in San Diego, plankton are in the waves that cause the water to glow. You can read more here. If it happens while you're in San Diego, you've got to check it out!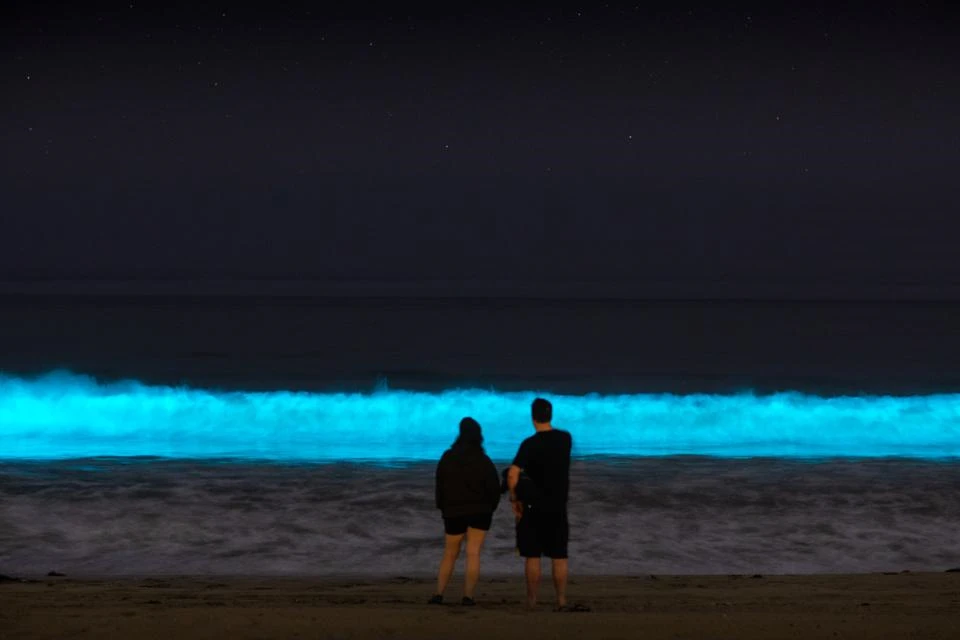 Visit Balboa Park at night in December for December Lights
December Lights is an annual event in Balboa Park where the whole park is filled with beautiful Christmas lights, Christmas carolers, Christmas food, and other fun Christmas activities. Plus, if you don't mind crowds, the museums are free on this night!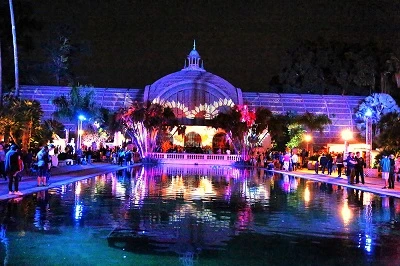 Visit Balboa Park At Night In December For December Lights
And there you have it- my San Diego bucket list! What are you most excited for? I've only been here for a year- what would you add? Are the $100 steaks in other lists really worth it? Let me know in the comments
!