These are air purification products which clean the air by using HEPA filters or High Efficiency Particulate Air filters. These filters in general, are high-efficiency filters capable of filtering particles up to 0.3 microns in size at 99.97% efficiency. This includes large allergens like pollen and visible dust as well as smaller allergens in the range of 0.3-5 micron, such as pet dander, dust mite, mold spores, some bacteria, smaller dust, and fumes.
In addition, they also can filter particles smaller than 0.3 microns, such as some smokes, tiny germs, and so forth, but at reduced efficiency.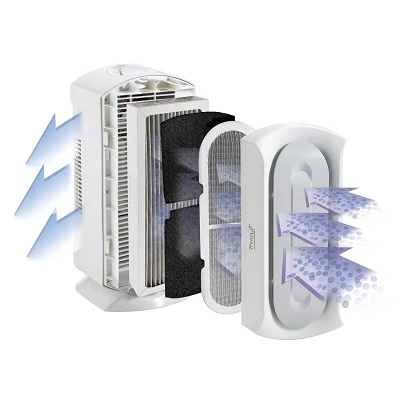 Advantage of Choosing Air Cleaners With HEPA filter
Safe.
It works and has a high efficiency in curbing out lung-penetrating air particles.
If you get a premium quality True-HEPA filter air purifier, there is a big chance that it will help your health problem.
Possible Drawbacks in Owning an Air Purifier with HEPA filter
Maintenance cost can be expensive because of the need to replace the filter periodically.
Possible hassle of installing the HEPA filter. You may need tools for changing this filter, but there are some air purifiers which are very easy to change. If you are DIY-challenged, make sure you get the one which has an easy-to-replace HEPA filter.
Noisy. A HEPA filter air purifier needs a fan to draw air into the unit and to the filter. The higher the speed, the noisier it gets.
Is a Purifier using HEPA filter really worth it ?
So, is air purifier with HEPA filter worth it, considering the high cost of HEPA filter replacement, especially those that came from the top purifiers ?
To answer that question, and whether you really need the high-end HEPA air purifiers, you have to consider what your needs are. For instance, if you want to buy a HEPA-type air purifier for addressing a health problem, then you should know how severe the problem is, and what exactly the trigger for your health problem is. Only then you can get a HEPA air purifier which matches your needs.