Rice noodles and other Asian noodles are only made with flour and water. Rice flour is gotten from rice which is a plant so yeah, rice noodles are considered vegan. However, there are other types of noodles that aren't considered vegan because they contain animal products such as eggs. If you're vegan, you should find out what ingredients are used to make up the noodles before consuming them. This applies especially to ready-to-eat dishes that are prepared in restaurants. When you go shopping for packaged noodles, check the ingredient list first.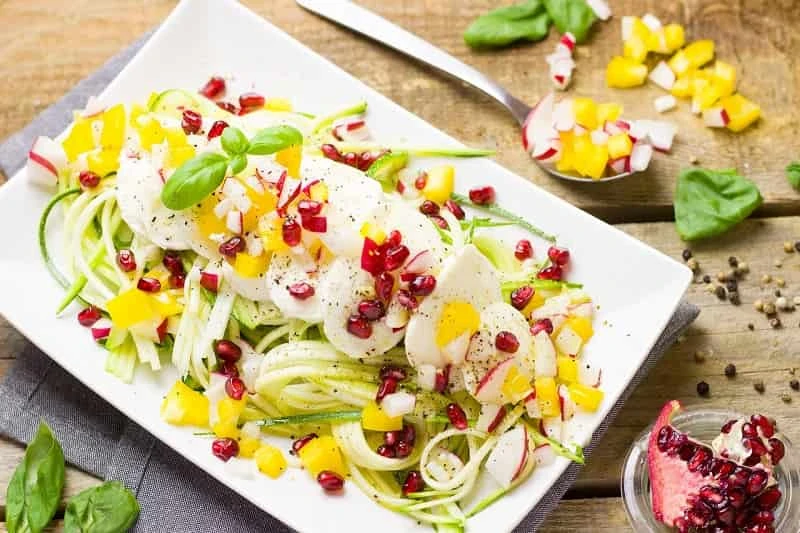 What are some common ingredients that you assume to be vegan but aren't?
It quite hard to adhere to a strictly vegan diet especially because today there are so many processed foods with lots of additives. You might be strictly avoiding all items that are gotten from animals such as eggs and meat but could be accidentally consuming products whose ingredients are secretly non-vegan. Some common ingredients that you might think are vegan but aren't and shouldn't be used in your recipes include:
Pasta noodles
Pasta noodles of all types have eggs as a major ingredient. Instead, you should work with elbow noodles, fettuccine, and whole-wheat spaghetti.
Wine
Wine fining agents may include albumin, casein, gelatin, and isinglass. Somehow, it's highly likely that traces of these products may end up in the wine. However, some wine manufacturers are now using activated charcoal and bentonite which are vegan wine fining agents.
Always check the wine labels for a vegan demarcation
As surprising as this may seem, not all sugar is okay to be consumed by vegans. Most of the white sugar you see gets filtered via animal bones that have been charred to bleach it. Although some manufacturers are now using granular carbon, one can't be 100% sure.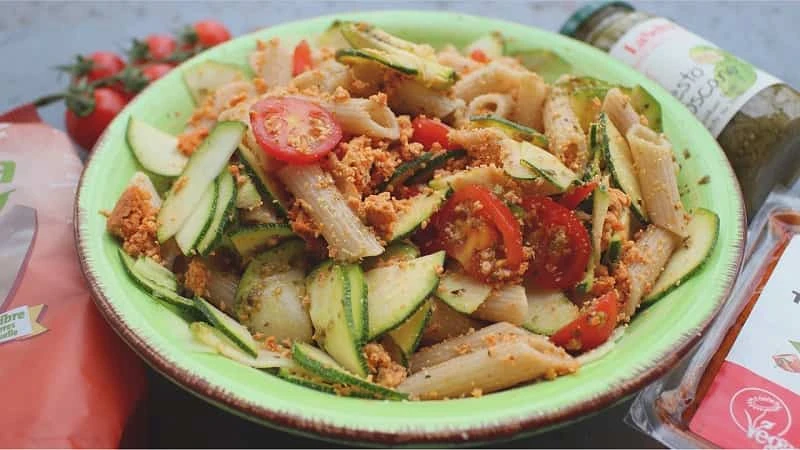 Brown sugar is out for vegans as well as it's formed when molasses are added to regular white sugar. If you are strict about your diet, you shouldn't use sugar when cooking. Some alternatives that you may use include granulated sugar because it isn't processed using bone char.
Others
Other non-vegan ingredients that you should avoid if you're a strict vegan include:
Chocolate, jams, and jellies. These have lots of added sugar and preservatives
Albumin. This protein is usually found in eggs; it's used as a binding agent especially when baking
Casein. This is present in milk and cheese
Gelatin. This thickener is derived from animals and is used in desserts
Lactose. This is a sugar that's found in milk and is used in many sweets and candy
You should also be careful with foods that contain coloring. A lot of dyes are derived from crushed insects.
Is ketchup vegan?
Ketchup is a universally loved tomato-based sauce that seems to be everywhere from packets at fast-food restaurants to people's homes. It's loved and eaten around the world and most dishes cannot be considered complete without dressing them up with mountains of ketchup. But if you're vegan can you still enjoy this sweet and tangy tomato goodness with your rice noodles?
Just because ketchup is a tomato-based sauce, we still can't decide conclusively whether it's vegan or not. Let's have a look at the basic ingredients found in ketchup:
Tomatoes
Vinegar
Spices
Salt
Onion powder
Garlic powder
Sweetener; usually it's fructose from corn syrup
As you can see, there's no animal-based ingredient mentioned above so yes. Ketchup is vegan and you can use it in your recipes.
Rice noodle vegan recipes
A lot of people love rice noodles for their short cook time. If you're vegan, you can still make healthy and flavorful dishes using rice noodles. Here are two vegan recipes that you can prepare quickly and easily: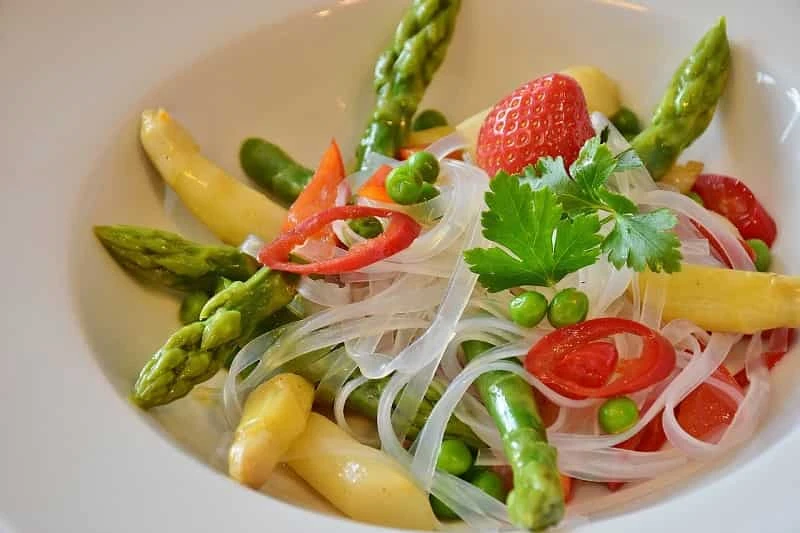 Snow peas garlic rice noodles
This is one dish that's easy to make and you're going to love all the veggies and flavors in it. The sauce isn't too spicy but it does have a little kick.
Some of the ingredients you'll need include:
½ pound of rice noodles
Scallions
Salt to taste
1 tablespoon of olive oil
I red pepper cut into strips
3 cloves of minced garlic
½ tablespoon grated ginger
7 ounces small mushrooms halved
7 ounces of snow peas
Juice of ½ lime
I tablespoon rice vinegar
I tablespoon soy sauce
Instructions
Boil salted water in a pot and add the noodles. Allow ample time until they become tender – just as instructed on the packaging
Prepare the other ingredients for making the sauce by adding them in a bowl and whisk together.
Add the olive oil to a pan over medium heat. Once the oil gets hot, add the mushrooms and sauté. Continue stirring for about 5 minutes until they've softened and taken color
Add the red pepper and snow peas and keep stirring until they become tender
Add the sauce ingredients and allow to cook for about two minutes
Drain the noodles and toss with the rest of the stir fry. Add seasoning if you like
Serve immediately
Garnish with scallions
Rice noodles with broccoli and bell peppers garnished with roasted peanuts
It's very easy to make rice noodles into a warm homey meal. You can either break the noodles into pieces or leave them as long threads.
Some of the ingredients you'll need include:
¾ cup of rice noodles broken down into 1-inch pieces
1 tablespoon of chile sauce
1 tablespoon of rice vinegar
2 tablespoons of low sodium salt
2 tablespoons of canola oil
I tablespoon soy sauce
¼ cup of water
¼ cup finely chopped onions
1 clove of garlic
½ thinly sliced red bell pepper
½ cup broccoli florets
1 tablespoon of chopped roasted peanuts (optional)
Some other vegetables that you may throw into the stir fry along with or in place of the broccoli are chopped carrots, sliced mushrooms, or yellow squash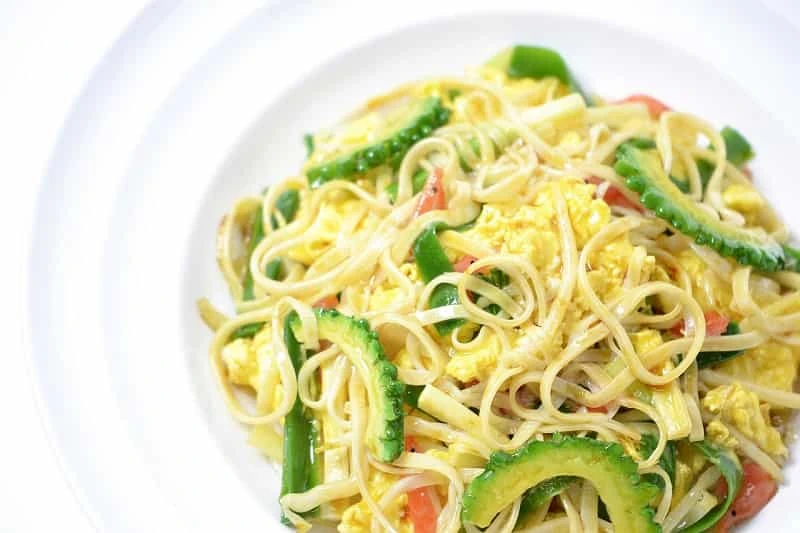 Instructions
Boil enough water in a saucepot and once it comes to a boil add the noodles. Turn off the heat and let the pot sit for about 5 minutes until the noodles become soft then drain the water.
Whisk the soy sauce, rice vinegar, chile sauce, and water in a small bowl.
Heat oil in a pan over medium-high heat and then add the onions and garlic.
Stir the onions and garlic for about 1 minute and then add the bell pepper and broccoli. Let it cook for another minute
Add the mixture made in step 2. Allow the dish to come to a boil until the bell peppers and broccoli become tender
Stir in the noodles
Serve immediately
Garnish with the roasted peanuts
Conclusion
As you can see, rice noodles are adaptable and easy to make into delicious vegan dishes fast. All you need is a big bowl of noodles, a couple of veggies of your choice, herbs, lots of sauce, a fork, a hungry tummy, and your eyes will show huge heart-eye emojis from the goodness and satisfaction.
This just goes on to prove to you that you can eat anything in this life in a fun way.