If you're a fan of cooking Italian dishes, then you've most likely used pizza sauce or marinara sauce at one time or another. While many people think that these two sauces are as interchangeable as they come, they're actually more different than people realize. If you're someone who doesn't understand the difference between pizza sauce and marinara sauce, then you've come to the right place. Keep reading to learn the differences between the two so that you're able to properly use them while cooking your favorite Italian dishes.
What is Marinara Sauce?
When sailors returned to their home in Naples, Italy during the 19th century, they were given marinara sauce on their pasta. So the naming of marinara sauce actually makes perfect sense, considering the fact that the Italian word for sailor is marinaro. When the southern Italians moved to the United States in the 1900s, the infamous sauce was introduced as an Italian classic. Tomatoes, herbs, and olive oil are all you need to make this classic sauce, so it's considered to be the easiest red sauce to create. Of course, the quality of the sauce can be affected by the tomatoes you use, so it's recommended that Marzano tomatoes are to be used whenever possible.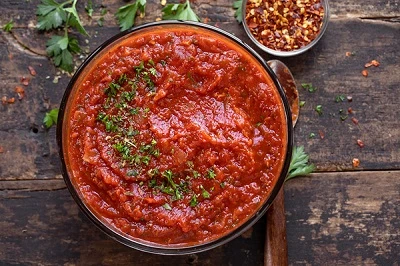 What is Pizza Sauce?
Using tomato sauce, garlic, and olive oil, pizza sauce is easy to make and it's most commonly used as a base ingredient for pizza. Traditionally, pizza sauce is made with as few seasonings as possible, but this type of sauce can differ greatly depending on who is making it.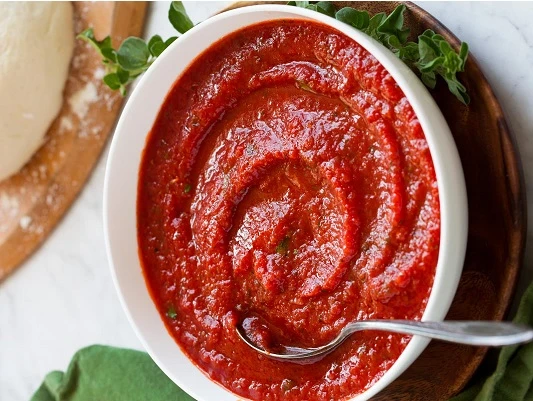 the Differences Between Pizza Sauce and Marinara Sauce?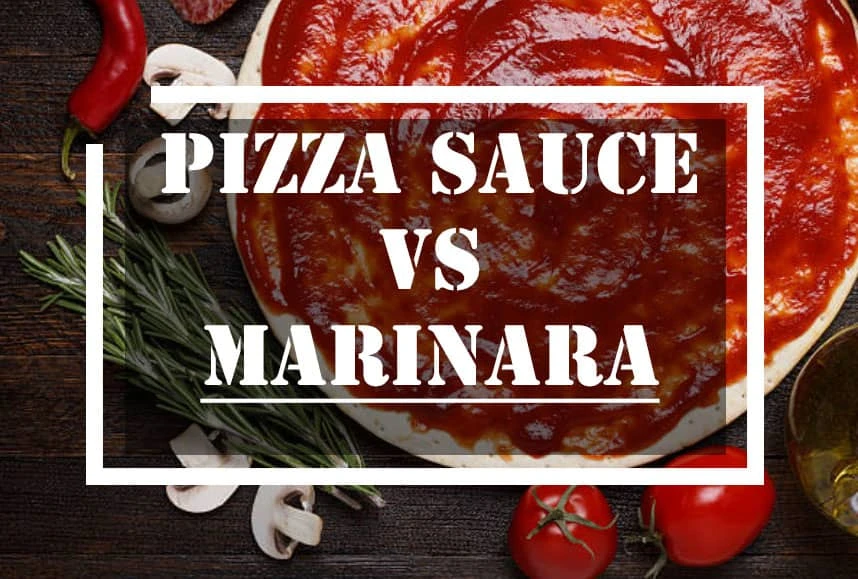 Now that you have a better understanding of what each sauce is, let's take a few moments to discuss the main differences between the two.
Consistency
Marinara sauce is typically put on top of pasta, so it's usually chunkier and thicker than pizza sauce. On the other hand, pizza sauce is used as a layer on pizza, so it needs to be thinner in order for it can be spread a lot easier.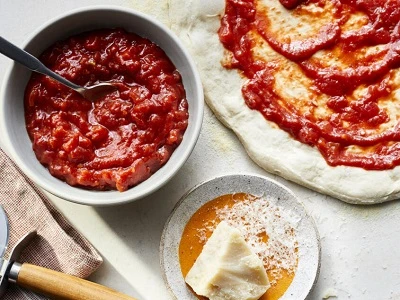 Strength
Considering the fact that marinara sauce is used to enhance the flavor of pasta, you'll find that this type of sauce has a more robust flavor than pizza sauce. In comparison, you don't want to take away from the taste of the ingredients on the pizza, so pizza sauce typically doesn't have a whole lot of flavor.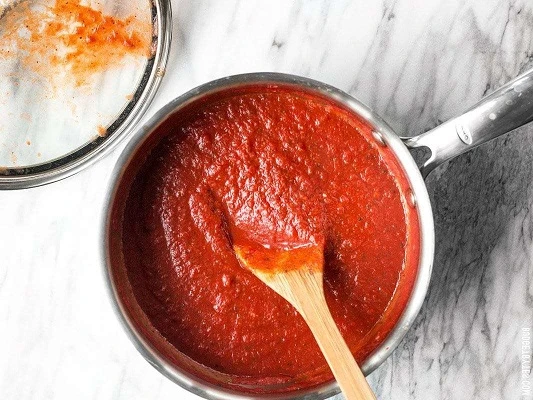 Flavor
Pizza sauce and marinara sauce may use some of the same ingredients, but they certainly have their own unique taste. While marinara sauce can have plenty of seasonings and herbs, giving it plenty of flavor, pizza sauce typically tastes salty.
Cooking Process
These two sauces are mostly prepared the same way, but there is one significant difference between the two. While marinara uses tomatoes that have been cooked ahead of time, pizza sauce is typically made using raw tomatoes.
As you can plainly see, there are some major differences between marinara sauce and pizza sauce. Now that you know how each sauce is used, let's take a look at some recipes so that you can make your own delicious sauce at home.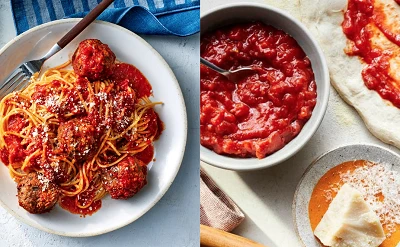 A Simple Marinara Recipe
Before we get to this simple marinara recipe, there are a few tips that you should take into consideration before you get started.
Use Whole Tomatoes
If you like a chunkier sauce, it's recommended that you use whole tomatoes, breaking them up as they cook. If you like a smoother sauce, use crushed tomatoes instead.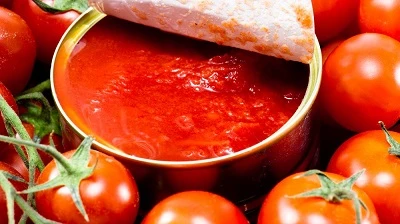 The Type of Tomatoes You Use Matters
San Marzano tomatoes are the best tomatoes to use because they are sweeter and they have a cleaner tomato taste. Luckily, these tomatoes can be found in just about any grocery store.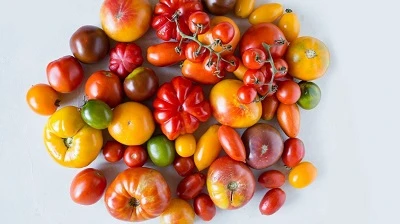 Unnecessary Simmering
Marinara sauce doesn't need to simmer for long periods of time. People enjoy marinara sauce for its bright taste, so it doesn't need to be rich and complex.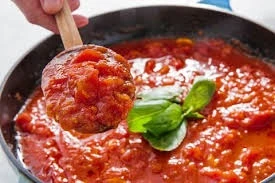 Add a Bit of Water
If you just use the sauce from the tomatoes, your sauce will bubble and splash all over the place. Adding a little bit of water will loosen the tomato mixture, allowing it to be more sauce-like.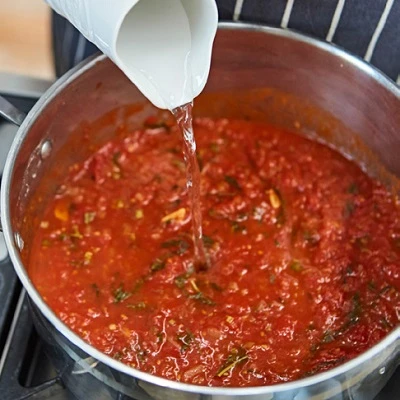 You Don't Need to Add Sugar
There are a lot of recipes out there that tell you to add sugar to cut the acidity of the tomatoes. This isn't really necessary, especially when you add the proper ingredients and allow it to simmer for the appropriate amount of time.
Use Some Basil
Basil is an extremely fragrant herb, which is why it's commonly used as a garnish. Instead of using it to garnish your plate, add it to your sauce while simmering to give your marinara a great taste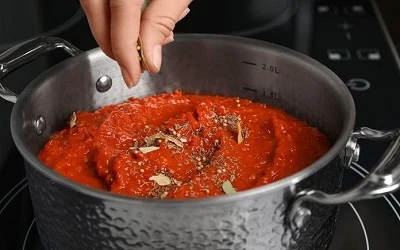 Ingredients
1/4 c. extra-virgin olive oil
1/2 medium onion, minced
4 cloves garlic, thinly sliced
1 (28-oz.) can whole tomatoes
1 tsp. dried oregano
Pinch red pepper flakes
Salt
Freshly ground black pepper
2 large sprigs fresh basil
Directions
1. Using a large, deep skillet, heat the oil over medium heat. Add the onion to the oil and cook until it's soft, which will take approximately five minutes. Stir in the garlic and cook until fragrant.
Pour in the tomatoes and using a wooden spoon, break the tomatoes into chunks. Fill the tomato can almost halfway with water and add it to the skillet. Season the sauce with oregano, red pepper flakes, pepper, and salt. Stir in the basil and bring the mixture to simmer.
Reduce the heat to love and simmer until the liquid has slightly reduced, which should take about 20 minutes. Make sure to discard the basil before serving.
Simple Recipe for Pizza Sauce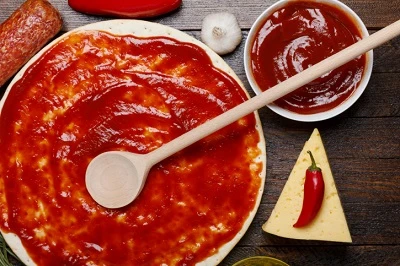 Ingredients
2 tbsp olive oil
1 Clove minced garlic
28 oz. can crushed tomatoes
6 oz. can tomato paste
½ tbsp sugar
¾ tsp salt
1 tsp basil
½ tsp dried oregano
Freshly cracked pepper
Pinch crushed red pepper (optional)
Directions
1.Add olive oil and garlic to a sauce pot and cook over medium heat for approximately two minutes. The garlic should be soft and fragrant.
2. Add the crushed tomatoes, tomato paste, sugar, salt, oregano, basil, and some pepper to the mix. Also add just a pinch of the red pepper flakes if you choose to use them. Stir to combine the ingredients.
3. Cover the pot. Allow the mixture to come to a simmer, then reduce the heat to love. Let the mixture simmer for at least 15 minutes, and up to 30 minutes.
As you can see, making a simple marinara or pizza sauce is an easy feat. Make sure to use the right tomatoes, season to fit your own taste, and you'll have a delicious sauce for your entire family to enjoy!