A shake blender is a must-have for every fitness junky or healthy eater. It can come quite handy, and a great mixer should make it easy for you to make a milkshake, smoothie, freshly ground coffee, and more. However, it can be quite the task to find the best shake blender for oneself, especially since the options are endless today.
Editors' Picks for Top Shake Blender
That is why I have reviewed my top 10 picks below, each unique and superb on its own. These will be an excellent addition to your list of kitchen appliances and last you a long time.
Top 10 Best Shake Blender Reviews
The best protein shake blender is one that does not leave any lumps in your drink. Bringing ease of use and aesthetics to your kitchen, the following products are worth taking a look at.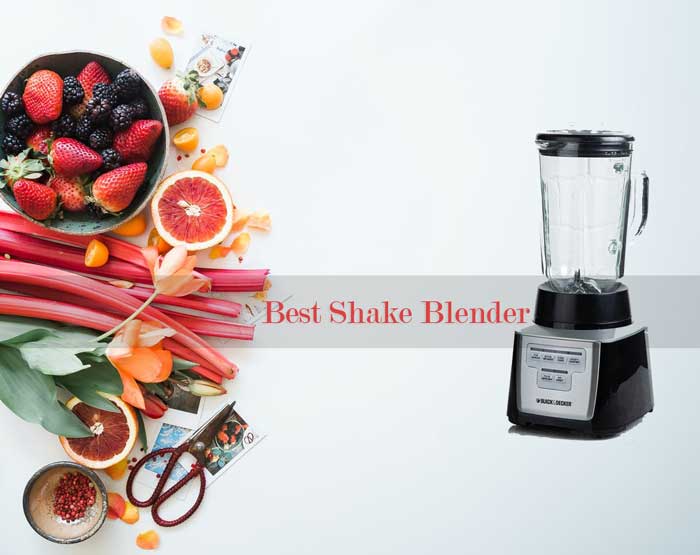 1. Hamilton Beach Personal Blender for Shakes
This little personal mixer from Hamilton Beach is a killer when it comes to compact blenders. If you cannot live without shakes and smoothies, this little guy is just for you. The item comes with a travel lid that you can put on.
Besides, with the lid on, you can even run with your smoothie and you will not have to worry about spilling. You do not need to go and search for a separate cup as the blending jar is a mug itself. This item offers portability and incredible versatility.
When it is on blending mode, it serves as a blending jar. But when the base has been taken off, it immediately becomes an easy-to-carry mug. The jar is only 14 oz so you can probably imagine how small and compact it is. It serves an individual perfectly. Also, it fits in most modern cars' cup holders.
Similarly, the jar comes with measuring lines marked on it that let you measure the amounts of what you put into your smoothies. It has a one-touch blend feature that allows you to crush ice and fruits in a few seconds.
This product allows you to make incredibly smooth shakes with perfect consistency. The stainless steel blades of the mixer make it easy to crush ice and frozen fruits. You can whip up some tasty smoothies, shakes, dressings, or marinades with the help of this machine in a matter of minutes.
The small 175W motor may seem underpowered at first, but you do not need more for the size of this. The motor makes it extremely power efficient.
Pros
The compact size makes it portable
The motor in it makes it power efficient
Sharp stainless steel blades cut through fruits
14 oz jar serves one person perfectly
BPA-free materials
Easy to clean
Comes with travel lid
Cons
Some users say the cups crack over time
2. Oster BLSTPB-WPK My Blend 250-Watt Blender
This is a smoothie mixer from the company Oster. If you are a person who lives a fast-paced and active lifestyle, this item is for you. This perfectly fits your needs if you blend your drink and take it to the gym with you. The product features a one-touch blending system.
You can whip up your favorite shakes, smoothies or those delicious protein shakes in a few minutes with this product. The "My Blend" allows you to control the ingredients of your drink and personalize the contents in it.
Likewise, fill the sports bottle up with the fruits or ingredients of your favorite drink and take it with you to enjoy it on a run or in the gym. You can easily reuse the bottle to carry water for the rest of your day. This product is said to be perfect for on-the-go smoothie drinkers.
However, the 250W motor inside the machine may not sound like much on paper, but it delivers what it promises. Frozen fruit pieces and ice cubes will be crushed and blended into a creamy texture with its blades.
The good thing about blending in the bottle itself is that you do not have to worry about cleaning the jug out separately. The lid even comes with a carry hook so you can take it anywhere. The bottle is a tiny 20 oz container and it is perfect for one-time consumption. It will even fit most of the cup holders of your vehicles.
Pros
Compact in size
Portable - you can take it anywhere
BPA-free sport bottle
Dishwasher safe
Can store it in tight spaces
Perfect for an individual
Cons
Some say it stops working overtime
3. Ninja Professional 72 oz Countertop Blenders
When it comes to brands that make personal mixers, Ninja needs no introduction. This professional item from Ninja supports a sleek design and offers you unrivaled performance. The motor that comes inside is a whopping 1000 watts! So you can imagine how powerful this item really is. This item is perfect for making shakes and smoothies.
The machine's container is large too. The XL sized, 72 oz container is big enough to serve your entire family in one go. This item is perfect for crushing ice, pureeing, blending, and food processing. The powerful motor can crush ice and turn it into snow-like consistency. It will cut demolish the fruits and veggies in seconds.
Also, the item includes four manual blending controls so you can control which setting you want. Make frozen drinks like daiquiris, margaritas, or smoothies by blending ice, frozen fruits, and dairy. This item can also be used to make ice cream or snow cones. Do not forget sauces and dips for chips as well!
The blades that come with the mixer lets you crush the ingredients and make a creamy texture. It features a six-blade assembly that easily allows you to crush ice quickly. You can also blend the fruits smoother than competitor ones. This is hassle-free to clean as all you have to do to clean the base is to use a damp cloth to wipe it clean.
Pros
Extremely powerful with a 1000W motor
Huge 72 oz container
Can serve the whole family
4 manual settings
Turns ice into snow
Easy-to-clean
Cons
Some users say it cracks over time
4. Ninja BL456 Blender
This is another product from Nutri Ninja. The product offers a special powerful "Nutrient and Vitamin Extraction" feature. This allows the mixer to extract the essential nutrients from the cell walls of the fruits and veggies.
It has a high power 900W motor that runs the operations from within. You can use this to blend up veggies and fruits and make incredibly nutritious drinks. This item features extremely sharp blades. So you might not want to get your fingers stuck in there.
Accordingly, this mixer easily cuts through seeds, skins, stems, and fruits and generates a smooth creamy outcome. All you have to do is twist the sip and seal lids to take your drinks with you on-the-go.
It is made from materials that are all free from BPA so that you do not have to worry about your health damage from the plastic used. The item is also dishwasher safe so throw it in there for an easy clean.
Pros
Powerful 900W motor
BPA-free materials
Easy to carry anywhere
Sharp blades that cut fruits well
The special feature helps to extract nutrition
Cons
Supposedly, the motor breaks down gradually
5. Cincred Professional Personal Countertop Blenders
This item is the updated version of last year's top pick from Cincred. The mixer is a professional one and is made to sit on your countertop and stand out. It makes use of a high-speed mixing and blending system. The item offers portability and durability, effortlessly doing its job and making smoothies as smooth as they can get.
The patented blade design from Cincred and the famous cyclonic action ensures that all the necessary nutrients are well-extracted from the fruits. This allows you to drink the healthiest drinks. If you consume these extracted nutrients, you will get multiple benefits.
Moreover, the extracted foods are predigested for your body to absorb all the nutrition and utilize them for good use. This product offers best-in-class nutrition extraction and delivers you the healthiest drinks. Drinking healthy allows promotion of younger-looking skin, weight loss and you can add years to your age.
All you got to do is load up the cup with the content and press the bin. Juicing up ingredients takes just a few seconds. You can make anything ranging from smoothies to dips for chips in this machine.
The product comes with a double-duty cup that you can easily carry with you anywhere. The material used to make this is usually used for infant toys. The cup is spill-proof so you do not have to worry about spilling your drink while you are on a run.
Consequently, the machine is equipped with a powerful motor and has 4 stainless steel blades that can make smooth textured drinks. The ice you crush with this mixer also delivers a consistent texture. You can easily clean it and as it has a suspended base, it cools down quickly after use. Thus, Cincred ensures that the product went through strict quality control so you get the best quality.
Pros
Portable container - can be carried anywhere
4 stainless steel blades
Powerful motor
Extracts nutrition from food
Quality control checked
Cons
Users say it cannot accommodate large ice cubes
6. Oster Blender - Pro 1200
This personal mixer from Oster has a powerful 1200W motor inside. The Oster product is capable of crushing ice and making sorbets out of fruits. It has 7 different speeds to choose from and you can choose depending on what you wish to make. Also, the machine features three smart settings that help reduce work and you can make smoothies with ease.
The item comes with Boroglass jar that is quite durable and can serve 6 cups. So you can make a whole batch for your family. It is also dishwasher safe. You can throw it in there without worrying about it. Besides, there is an additional smoothie cup of 24-oz which you can take with you to work or the gym carrying your protein shake.
Apart from that, this product has pre-programmed settings for smoothies, milkshakes, and salsas too. The powerful motor of this Oster machine can impress you after the first use. It helps to create a perfectly smooth and creamy drink that you will love! The mixer has a wide base so that the food can easily flow down to the blades.
Likewise, the dual-direction spinning technology helps the 6 blades to work seamlessly. The reverse motion completely optimizes the mixer's powers to its fullest. All you have to do is throw in portions of frozen fruits or vegetables in it and watch it do its job.
Pros
Carry smoothies anywhere
Pulse feature adds precision
Fast blending due to the sharp blades
Dual direction spinning feature uses the full power
6 sharp blades that cut down fruits
Dishwasher safe
Cons
The cups may leak sometimes
7. Ninja Personal Blender for Shakes
This model from Nutri Ninja is one of our choices for the best shake blenders. It is not too powerful or too big, neither is it too small. This machine has an impressive blending speed and can easily whip up fruit. The final products come out as smooth as you can imagine.
Furthermore, the product features a seven hundred horsepower motor. Although this does not have the most powerful motor, it does not cause a ruckus while operating. The item features a silver and black base which makes it appear sleek in design. The whole package is small and lightweight. So you can store it away in a tight spot after use.
The containers that come with the mixer are 16 oz and are small and portable. They also feature lids so you can use them for storage too.
However, you need to hold the container down to start the blending process. You can also use the 'pulse' method to avoid burning out the motor. This increases the lifetime of the machine.
You can use this to make smoothies, shakes dips for chips, or even whip up a home-made salad dressing. You can also turn granulated sugar into powdered sugar with this product if you please to do so. Thus, if you are on the hunt for a multi-purpose personal mixer, this one is a great buy.
Pros
Fast operation
Dishwasher safe
Comes with multiple containers
Small and lightweight
Consumes less power
Cons
8. Sboly Personal Blenders
This machine from Sboly is indeed small but packs a punch. It is a quite reliable choice from the Italian brand. The fantastic processing speed of this product is remarkable. You can blend fruits fast and easily with this one. Additionally, it is extremely lightweight and comfortable to work with.
It can whip up shakes or smoothies in a matter of minutes. The security features of this product from Sboly is also notable. The mixer is hassle-free to clean. You can easily rinse the compact bottle or put it into the dishwasher.
Unlike other blenders, this mini-sized machine offers you 2 bottles so you can whip up two different drinks and store them. If you are on the hunt for a fast personal mixer that is also easy to carry around with you, this one might just be it. Make your favorite smoothie in a minute and take the bottles with you to enjoy.
However, do not be deceived by its size. This is one powerful machine. Even though it offers a meager 300w power, it can precisely cut into the fruits and make you a creamy and delicious shake. The four stainless steel blades held cut down the ice and fruits and mash them up quite fine. Although other mixers are large, this one is just the right size for two servings.
The two bottles can carry two different flavors of smoothies and you can choose which one to drink up. It has a safety feature where it will not start if you do not lock the container in it properly. It also comes with a built-in overheating protection system.
Pros
Easy to wash
Dishwasher safe
Compact size
Comes with two bottles
Two travel lids included
Cons
300W is considered low power
9. Sboly Personal Blender, Single Serve
When it comes to personal mixers, Sboly is a well-known brand. This single-serve shake maker certainly maintains Sboly's reputation. It is a fantastic choice for blending different kinds of food solely because of the processing speed. The item is lightweight and small enough compared to its competitors.
This machine can help you make smoothies and shakes in no time at all! It comes equipped with industry-standard security so you do not have to worry about your safety. If you have been looking for a personal mixer that quickly makes you shakes to refresh yourself or your family members, this one is a great choice.
Just with the touch of a button, you can make your favorite drinks in just a matter of seconds. When ready, pull out the portable cup and enjoy it! This little guy is compact but packs quite a punch. It has a small 300W motor and offers you a completely unique design. You can see your fruits get chopped and blended instantly.
It has four stainless steel blades. They are extremely sharp so you would not want to put your fingers against them. Most shake mixers tend to be large and heavy but this one is compact. Therefore, you can put this away into the smallest places after use.
Besides, the parts of this product are BPA free so you can assure yourself that you are drinking safely. Also, this machine will not start if you do not lock in the bottle perfectly, avoiding any sort of mishaps. The built-in overheating prevention system is a great blessing too.
Pros
Dishwasher safe
Extremely compact
Small 20 oz container
Easy to clean
Comes with an ice cube tray
Travel lid included
Portable, so you can take it anywhere
Cons
The motor is said to be underpowered by some
10. Homgeek Blender Smoothie Maker
Make chilled treats in seconds with this monster from Homgeek. All you have to do is add the frozen ingredients into the container and enjoy shakes, ice cream, sorbets, and smoothies in a matter of minutes. This product is highly popular for its BPA free rating and great performance.
It can break the cell walls of food so that more nutrition is released in seconds. This allows you to make healthy and nutritious shakes that also taste extremely good. Healthy protein shakes also promote younger-looking skin and help you lose a few pounds.
On the other hand, this item is highly powerful and it is made for professional use. The 1450W power of this machine makes the blades spin at 25000 RPM which is monstrously fast. You can crush the ice with this faster and blend all the ingredients together quickly. Thus, this product is quite easy-to-use and you can select from eight different blending speeds.
There are also four pre-programmed settings that make your blending easy to use. A large 68 oz container comes with this one so you can whip up drinks for your whole family at once.
Likewise, this machine allows you to stir, mix, or liquefy with just the right precision due to the programmed settings and variable speeds. The optimal ice-crushing pulse feature makes it a breeze to whip up smoothies.
With this product, you can make large batches of shakes and they turn out perfectly as they should. You can also whip up large batches of exquisite daiquiris, smoothies, and margaritas.
Pros
Professional blender
Easy to clean
The high-speed blending of 25000RPM
Can make large batches of 68 oz
Variable speed settings
Four pre-programmed settings
Built-in overheating protection
Very durable
Cons
Large size makes it hard to carry around
What to Look for Before Buying Shake Blender ?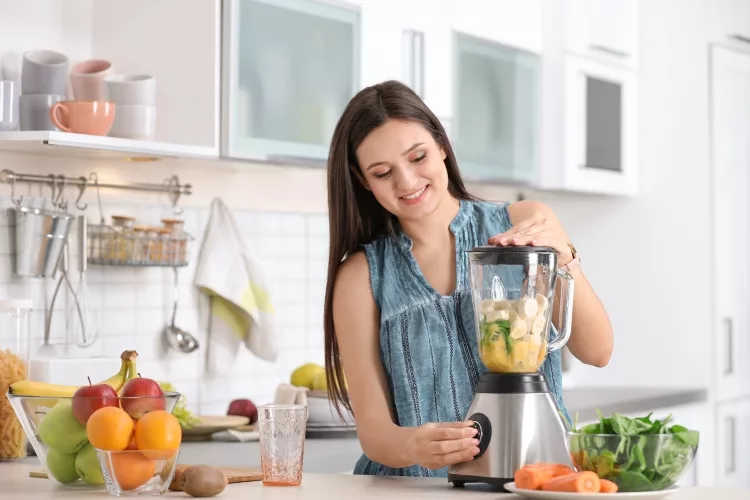 Buying a shake mixer is no tough feat, especially if you know what the factors are that make it worth the money spent. You must keep in mind that this is not just a regular item. This machine ensures that there are no lumps, unlike other regular blending products. Therefore, it is best to invest in a solid, top-notch product.
Here are a few factors explained to make your purchase hassle-free and worthwhile:
Choice Between Plastic and Glass
The choice should be according to your preference, but most products that are high-powered will tend to be made of plastic. That is because it operates at high speed, and there is a chance of it shattering. In that sense, if you are looking for a high-performing item, you can pick one that is made up of Tritan plastic and is BPA free.
One plus point of using glass products is that plastic ones have the chance of retaining odor, especially after long-term and regular use. Also, they will not stain easily. You should look for a product that is thermal shock tested. These allow you to smoothly blend ice using a canister.
Ideal Motor Power
The motor of a shake mixer must be able to do some heavy and serious grinding. And it needs to be reliable and efficient, especially if your lifestyle requires you to make several smoothies and shakes each week. The more the wattage of the machine, the faster it will go.
Similarly, if you like to use frozen fruits and veggies in your drink, a high-powered machine is a must. A blender that operates with 300 watts is perfect for fresh fruits, water, and/or milk. However, if you wish to add nuts, frozen fruits, and seeds, you will need to look for a product that uses at least a 1000 watts. Only then the drink will not be grainy or have any lumps.
Volume
The desired size of the mixer differs from person to person. If you are looking for a small drink, a big-sized product could be difficult to work with. You might add a couple of hundred of milliliters of water or milk, and find that the machine does not do the job well. In that case, you could add fruits, nuts, veggies, etc. That way, you should get a decent-sized, delicious shake.
Similarly, if you are someone who likes to make a big batch of shakes for yourself or a group of people, a big-sized mixer is necessary. If you want, you could also make a dip, margaritas, or even soups with this product. But be certain of the size that is just right for you.
Warranty
Although a lot of customers do not give this much importance, the warranty of your purchased item is important information. On rare occasions, you could receive a faulty product. Or you may have a mishap and the item might break down or have a malfunction. For both situations, a warranty would be the perfect way to sort things out.
Usually, you will see that a shake mixer comes with a year's warranty. Just make sure that there is a proper, sufficient warranty that comes with your item.
Lid
There are a number of mixers in the market right now that come with a lid. This means that right after prepping your protein shake, you can directly carry it with you outside to the gym, office, etc. The lid is super convenient, and you do not have to waste time transferring your shake to another bottle or container. This also means there will not be double the amount of washing or cleaning to do later.
Ease of Cleanup
Generally speaking, there are broadly two types of shake mixers - personal ones and stand-alone ones. Naturally, the latter type has more components. Although they are bigger in size, they take more time and energy to clean up after usage. Personal mixers, on the other hand, are convenient and simple to wash.
Depending on the size you prefer and the time you can dedicate behind keeping the item clean, you can buy one. The stand-alone products will certainly mean a longer cleaning time since they have more components to wash. Some machines come with detachable blades that make the entire cleanup process quicker and more efficient. Therefore, you can certainly look for one of such items.
Also, you must remember that keeping the machine properly clean means that it will last longer.
The Durability of the Product
Carefully pick out a durable mixer for yourself as you would want to make as many shakes as you can with it, and for as long as possible. Hence, the best way to do that is by reading up reviews online and maybe even checking out some products in physical stores.
Different Speed Option
Nowadays, most shake mixers offer multiple speeds at which they will blend your drink. Likewise, there is almost always a pulse action button too. This helps give you a variety in terms of the smoothness and chunkiness of your shakes, smoothies, etc. It is definitely worth investing in a product that gives these speed and pulses action options.
Pricing
Last but not least, the price of the mixer is a concern for everybody. You might have a budget, or maybe looking to spend just the right amount behind an excellent product. While there are exceptions, most cheap items do not live up to their promises. Therefore, it is better to invest in an expensive product instead.
The more expensive machines might cost you a penny right now, the greater in the long run. They will ensure a lot of shakes, margaritas, dips, and more. Also, they will last for years at a stretch; you will not have to purchase a new product every now and then.
Shake Blender Frequently Asked Questions
1. Are blenders noisy?
Answer: On average, one of these machines will run at about 80 to 90 decibels. Keep in mind that the cheaper products tend to make more noise than the more expensive ones. And if your item is a powerful machine, chances are that it will be noisier than its competitors.
2. Should I mix water or milk with my shake?
Answer: That is completely up to you. If it suits your palate, you can add one or even both! Personally, I like to add some milk as that makes my drink nice and creamy.
3. How do I get rid of the smell inside my appliance?
Answer: All you need to do is mix soap and water and leave that inside the product overnight. The next day, wash and rinse it well.
4. Can these machines crush both ice and nuts?
Answer: A powerful machine should do a good job with both. Just make sure that your product makes use of at least 1000 watts.
5. How do I make my drink thick?
Answer: The key is to add just enough vegetables and/or fruits. If you are worried that the final product will not be smooth, you can cut the fruits and vegetables into small sizes before adding them to your mixer.


Buy on Walmart
Vitamix E310 Explorian Blender, Professional-Grade, 48 oz. Container, Black - Walmart Link
Hamilton Beach Personal Blender for Shakes and Smoothies with 14 Oz Travel Cup and Lid, - Walmart Link
NutriBullet Pro - 13-Piece High-Speed Blender/Mixer System with Hardcover Recipe Book - Walmart Link
Vitamix 5200 Blender Professional-Grade, Self-Cleaning 64 oz Container, Black - 001372 - Walmart Link
Blendtec Professional 800 Blender with WildSide+ Jar (90 oz), Sealed Sound Enclosure, - Walmart Link
Tribest PB-250 Personal Blender and Grinder with Containers - Walmart Link
KitchenAid Diamond Vortex 5-Speed Blender, KSB1575 (Aqua Sky Blue) - Walmart Link
Ninja BL770 Mega Kitchen System, 1500W, 4 Functions for Smoothies, Processing, Dough, - Walmart Link
Buy on eBay
Vitamix E310 Explorian Blender, Professional-Grade, 48 oz. Container, Black - eBay Link
Hamilton Beach Personal Blender for Shakes and Smoothies with 14 Oz Travel Cup and Lid, - eBay Link
NutriBullet Pro - 13-Piece High-Speed Blender/Mixer System with Hardcover Recipe Book - eBay Link
Vitamix 5200 Blender Professional-Grade, Self-Cleaning 64 oz Container, Black - 001372 - eBay Link
Blendtec Professional 800 Blender with WildSide+ Jar (90 oz), Sealed Sound Enclosure, - eBay Link
Tribest PB-250 Personal Blender and Grinder with Containers - eBay Link
KitchenAid Diamond Vortex 5-Speed Blender, KSB1575 (Aqua Sky Blue) - eBay Link
Ninja BL770 Mega Kitchen System, 1500W, 4 Functions for Smoothies, Processing, Dough, - eBay Link
Conclusion for Shake Blender Buyers

Smoothies, shakes, smoothie bowls are all possible with the products mentioned above. As a matter of fact, all of the items on my list can easily be considered the best shake blender of the year. In just minutes, you can prepare a delicious and healthy drink to go with your diet and workout regime.