A carpet is a piece of home décor without which our feet would be cold and our home sweet home wouldn't look as grand as it does with one or two onboard.
Other than serving its primary purpose of offering a soft and comfortable area for us to walk on, carpets can also become a victim of a proper invasion of a wide variety of microscopic invaders such as dust, mite, those tiny bugs carried about by pets, as well as whatever we, in our clumsiness, manage to drop or spill.
Luckily, however, some clever folks way back in the day realized that using various brushes and brooms on carpets, although often a successful strategy to get the thing cleaned, isn't necessarily the best one, so nowadays we have that lovable, if somewhat noisy, contraption we call - vacuum cleaner.
These useful cleaning apparatuses come in all shapes and sizes these days. So, we've decided to concoct a list o' 12 that can help you out choose the best vacuum cleaner for your particular needs. All of the entries you're about to see represent the vacuum that cleans carpet, so to speak, so you can rest assured that whichever of these you venture to pick, you won't really make a mistake!
Top Best Carpet Vacuums by Editors
Top 12 Best Carpet Vacuum Cleaner Reviews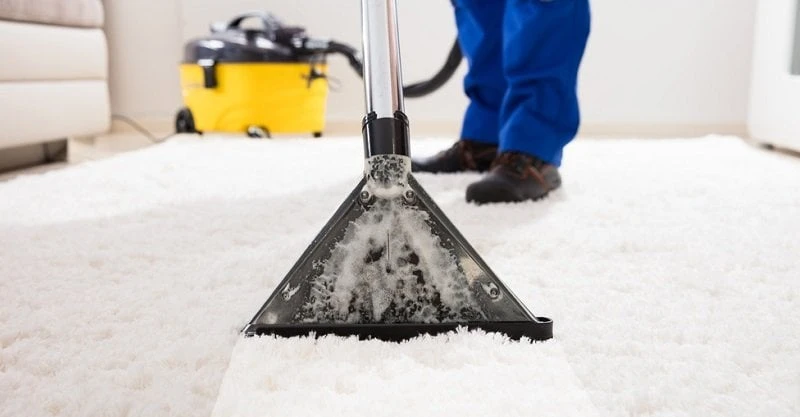 1. Shark Soft Carpet Navigator Upright Vacuum Cleaner Review
With a build reminiscent of some sort of sci-fi robot and a powerful motor for tackling all sorts of messes that transgress on your carpet, this Shark Navigator Upright Vacuum for Carpet is a perfect tool for a household in need of a simple and efficient way to clean their carpets.
Thanks to its advanced anti-allergen complete seal technology, this model from Shark is capable of trapping up to 99.9% of all allergens and dust particles inside its vacuum canister. What's more, this device has also got a potent HEPA filter onboard, so all the potentially-harmful bacteria and mite will remain trapped in there.
As this vacuum cleaner was predominantly made for personal use in homes and apartments, the folks at Shark have devised a clever steering system allowing you to easily maneuver around furniture and other obstacles.
Pros:
Lightweight and easy to handle
Comes with a special upholstery tool
Features anti-allergen complete seal technology
Traps up to 99.9% of dust and allergens in its vacuum
Cons:
The upholstery tool is not attachable
The intake head may be too narrow for some users

2. Bissell Pet Hair Eraser Vacuum Cleaner Review
If you're a proud owner of a dog, cat, or a piglet that sheds considerably, for that matter, obtaining one of these vacuum cleaners from Bissell might be a step in the right direction toward getting your carpet de-haired.
One of the biggest points of differentiation between a regular vacuum cleaner and one of these mean machines from Bissell would be the way it tackles pet hairs. (And human hairs, as well, by the way.) Namely, thanks to its cyclonic pet hair removal system, this vacuum cleaner is able to separate the hair waste from another sort of impurities such as dust, for example. This way, you can see exactly how much of the stuff you've gathered and more importantly, it means you can dispose of it without touching it.
This hair removal goodness is not only limited to carpets. Using this Bissell Pet Hair Eraser, you can vacuum other surfaces such as hard floors, linoleum, upholstery, and some other, as well! Also, if you decide to go for this product, you'll get a couple of attachments designed specifically for tackling pet-related messes.
Pros:
A specialized pet hair spooling system
Smart Seal Allergen System
Features swivel steering for easy, well, steering
Comes with a Febreze Pet Odor Eliminator
Quick release wand for reaching touch spots
5-year limited warranty
Cons:
Not all parts are covered by the warranty
A bit on the heavier side

3. iRobot Roomba Wi-Fi Connectivity Vacuum Cleaner Review
Shaped like a Frisbee or perhaps a bulky DVD-player, this vacuum cleaner from the cheekily-named iRobot company is a par excellence example of a modern cleaning device. Don't let its size fool you, because this little bugger can do wonders when it comes to tackling even the toughest of stains as well as, if not better, than its bulky counterparts.
To ensure your carpets are clean thoroughly, the folks at iRobot have equipped their robotic vacuum cleaner with an elaborate 3-stage cleaning system. When all of them work in concord, the result is a well-rounded cleaning engagement that can tackle everything from microscopic dust particles to the larger pieces of trash such as an old M&M or perhaps a stray button.
Now, you may be wondering 'how on Earth do you control this thing?', and the answer is quite simple. There's a specialized app you can download for your phone, and it is through this app that you'll be able to program your iRobot cleaner's 'activities'!
Pros:
Compact size and no hoses or cords to trip over
Features an advanced 3-stage cleaning system
Comes with a number of intelligent sensors to help you navigate
Schedule cleaning sessions via an app
Can run for 90 minutes non-stop
Comes back to its dock (base) and recharges on its own
Cons:
The sensors can mistake black areas for a cliff and won't go over them
It can climb stairs and other obstacles

4. Shark Navigator Lift-Away Professional Vacuum Cleaner Review
As our entry number 4, we've got another product from the well-known Shark company. In a way, this particular model can be considered an upgrade on the first one, as this one carries the label 'professional'. Similarly to the previous model, this one also functions based on the lift-away system, allowing you to assemble and disassemble it quickly and easily whenever you need.
It comes with the same anti-allergen seal technology that was installed in the model from spot number one. This means that this model also is capable of entrapping a wide variety of dust particles, mite, and allergens into its vacuuming compartment. This way, your carpets will be rid of the said impurities and you won't have to inhale them as you operate the cleaner around your room.
You can use this good housekeeping vacuum for carpet & rugs, carpets and also hard floor areas.
Pros:
Lightweight design
Easy assembly (Just click all the parts into their spot et voila)
Can be used to clean carpets AND hard floors
The lift-away mechanism allows you to quickly take it apart
Gets rid of 99.9% of allergens and dust particles
Cons:
Some users have reported problems with the roller brush
Other users have reported certain problems with the power head rotating brush

5. Bissell Cleanview Upright Bagless Vacuum Cleaner Review
Tough-looking and relatively lightweight, this Bissell Cleanview Upright Vacuum Cleaner is a product that's perfect for homes and apartments with plenty of carpeted areas. This here contraption's equipped with some pretty interesting technological advancements in the field of carpet cleaning, so to speak, so if you're looking for a product that's up a notch in comparison to your old vacuum cleaner, this product would definitely be interesting to look into.
First of all, this Cleanview vacuum cleaner from Bissell features One Pass technology enabling it to clean most of the debris on the surface of the carpet in, well, just one pass! This means that you won't have to go over a particular spot a hundred times before it's cleaned, which is bound to cut down the time you spend vacuuming.
Another interesting thing about this product is the multi-level filtration achieved through a washable filter. This particular part can help you get rid of the majority of allergens and dust particles in your carpets.
Pros:
Offers multi-level filtration
Comes with a long 25-foot power cord
Long reach thanks to the 6-foot cord
Unique One Pass technology
Works on a number of surfaces
A sizeable dirt bin
Cons:
The canister can be tricky to clean out
No automatic cord roll up

6. Eureka Quick-Up Bagless Stick Vacuum Cleaner Review
Featuring a simple design and a compact build, this model from Eureka is a vacuum cleaner perfect for smaller apartments and houses. To make the most of its wee build, the engineers at Eureka decided to make this contraption a 2-in-1 sort of deal.
The way this works is that you get to choose how you want to use it. You can either detach the lengthening stick and use it as a hand-held vacuum cleaner or leave the stick on and use it as you would use any conventional cleaner.
The thing is, if you do decide to lose the stick, you'll be able to also clean your furniture and upholstery. You shouldn't worry about its weight in this case, of course, because the body itself is quite small, so you don't really need to be a powerlifter in order to operate it.
Pros:
A clever 2-in-1 system
The stick is removable
Works well on a wide variety of floors and carpeted areas
Compact design guarantees easy storage
Comes with a washable filtration system
Cons:
The suction power can be too strong for smaller carpets
Awkwardly-positioned power button (you can accidentally turn it off)

7. Miele Complete Marine Canister Vacuum Cleaner Review
If you're on a lookout for a simple corded vacuum cleaner solution, this model from Miele can be just what you need. What sets this particular model apart from the rest of the vacuum cleaning world of gadgets would be the degree of control you can have on the power of the suction.
As you may have concluded from reading the cons of the product above, a powerful motor doesn't always mean easy use as trying to clean smaller carpets can be quite tricky when the vacuum cleaner keeps sucking them in.
You won't have these sorts of problems with this Miele product. All you need to do is set the degree of suction to which you'd like to see it work and then carry on vacuuming at your own pace.
Pros:
The motor has six speeds to choose between
Comes with some accessories
The parquet twister rotates 180°
Features a telescopic wand made out of stainless steel
Works well on all types of floor
Cons:
It can clog at the 90° bend (of the parquet twister)
Awkwardly-positioned cord rewinding thing (again, you can hit it accidentally)

8. Soniclean Soft Carpet Vacuum Cleaner Review
Featuring a stylish design and an interesting choice of colors which alternate between black and gold, this vacuum cleaner can be a great choice for a person in need of a cleaning apparatus, but who also cares deeply about style and fashion, let's say.
The good stuff isn't only skin-deep with this product, of course. First off, this thing's utilizing specialized sonic cleaning technology which gives it the ability to produce 200 vibrations per second. In this way, the fibers of the carpet itself are made to vibrate which means the dust and dirt particles will become loose and thus easier to pick up by the brushes. Quite clever, isn't it?
Other than using vibration to break up the dirt particles, this model from Soniclean also offers two different modes of cleaning - quiet mode and deep-cleaning mode. The first one is suitable for just a regular cleaning task for areas that aren't that dirty. The other one, as its name itself suggests, is there to tackle the high-traffic areas of your home.
Pros:
Comes with a digitally-controlled multi-speed motor
A long 35-feet power cord
An elegant and lightweight design
Jam protection feature
Fragrance-dispensing system
Cons:
Some users have experienced motor issues (can be taken care of by the manufacturer as a part of the warranty)
A bit pricey

9. Kenmore Bagged Canister Vacuum Cleaner Review
Boasting a powerful two-motor suction system as well as advanced HEPA filtration, this Kenmore Bagged Canister Vacuum with Pet Power Mate is a vacuum cleaner that can easily take care of all of your vacuuming needs, even if you have a large house.
As far as its primary, on-the-ground nozzle potentials are concerned, this model comes with two different attachments. Both of these offer you a reach of 10.5 feet, so you can rest assured you'll be able to reach every nook and cranny along the way.
The cord itself gives you further 28-feet for this purpose, so you won't have to worry about moving this vacuum cleaner about your house in order to reach certain areas. Also, the cord is retractable, so you won't have to gather it clumsily once you're done with your cleaning chores.
Pros:
A powerful two-motor system
Comes with a telescoping wand
Self-rewinding cord
HEPA filtration
Cons:
Pretty heavy
On the pricier end of the scale

10. Bissell Zing Canister Bagless Vacuum Cleaner Review
If it's one thing we've taken from the Bissell products we've seen so far on this list, it's that they certainly don't lack creativity. This Bissell Bagless vacuum is no different, really. The only thing that's advertised with this product is powerful suction and a complete lack of bags!
In order to make this product as versatile as possible, the folks at Bissell ensure that it can be used with equal success on a wide variety of surfaces. So, whether it's a carpet you need to clean or a completely bare naked floor, this particular vacuum cleaner will do the job for you.
Other than performing well on the ground, this apparatus can also do wonders when used on upholstery, furniture, etc. For this purpose, there are different attachments you can use to maximize your results.
Pros:
Lightweight design
No dirty bags to change
Comes with a specialized post-motor filter
Washable and reusable filters
Cons:
The telescopic hose extender doesn't click into place (it can detach randomly when in use)
The vacuum head is a tad thick (won't fit under some low-lying furniture)

11. Black And Decker Air Swivel Power Button Vacuum Cleaner Review
For all of ye folks who fancy getting yourself a vacuum cleaner that looks as though it just got imported from a Star Wars film, this lil puppy is the product for you. It's got the lot - swivel steering, steampunk-looking hose, a large tank, you name it!
First things first, for all its grandiose looks and elaborate build, this vacuum cleaner is actually fairly lightweight. This also makes it easy to store, as it won't take too much space even if you decide to keep it in a closet.
It's also got ergonomic handles and a swivel steering enabling you to maneuver with around your flat easily. The dust cup is removable, the filters are washable, what's not to love?
Pros:
Lightweight, weighing in at 9.1 lbs
Ergonomic handle
Comes with an easy-to-handle swivel steering
Washable filters
Cons:
No cord retraction
Quite loud

12. Hoover Linx Bagless Corded Vacuum Cleaner Review
Last but not least, we've got a simple, perhaps the most traditional vacuum cleaner-looking contraption on this list. It combines simple design with some pretty impressive technological advances in the area of suction.
First of all, let's mention its powered brush roll with cyclonic technology. Using this vacuum cleaner, you can easily transition from carpeted areas to the hard floor areas without changing the attachment or otherwise altering the 'configuration' of this vacuum cleaner.
Another interesting thing that can prove really helpful is the decision on the part of the Hoover folks to include a handle with a generous recline. This means you can stick this vacuum cleaner beneath pieces of furniture and other tough-to-reach places. So, you can clean up these areas without having to move your cupboards and beds about!
Pros:
Extreme recline handle for a big reach
A long, 20-foot power cord
Easy-to-handle swivel steering
Replaceable and washable filter
Cons:
Some users have reported troubles with the motor
The tube can get clogged sometimes

All things considered , getting your carpet as clean as a whistle every now and again is the best way to ensure your home is free from dust, allergens, dog hairs, you name it. Although chores are boring, as a rule, getting the right machine for the job can make it much more manageable. Hope you found this article helpful and wish you the best of luck in your cleaning pursuits!
Buy on Walmart
iRobot Roomba E5 (5150) Robot Vacuum - Wi-Fi Connected, Works with Alexa, Ideal for Pet - Walmart Link
Bissell Pet Hair Eraser Handheld Vacuum, Corded, 33A1 - Walmart Link
Bissell Symphony Pet Steam Mop and Steam Vacuum Cleaner for Hardwood and Tile Floors, - Walmart Link
Hoover Smartwash Automatic Carpet Cleaner, FH52000, Turquoise - Walmart Link
Shark NV356E S2 Navigator Lift-Away Professional Upright Vacuum with Pet Power Brush and - Walmart Link
Hoover MAXLife Pet Max Complete, Bagless Upright Vacuum Cleaner, For Carpet and Hard - Walmart Link
Shark IZ163H Pet Plus Cordless Stick Vacuum with Self-Cleaning Brushroll, PowerFins, - Walmart Link
BISSELL Pet Hair Eraser Turbo Plus Lightweight Upright Vacuum Cleaner, 24613 - Walmart Link
Bissell Pet Hair Eraser Lithium Ion Cordless Hand Vacuum, Purple - Walmart Link
Eureka PowerSpeed Bagless Upright Vacuum Cleaner, Pet Turbo, Black - Walmart Link
BISSELL 2252 CleanView Swivel Upright Bagless Vacuum Carpet Cleaner, Green Pet - Walmart Link
Hoover WindTunnel 2 Whole House Rewind Corded Bagless Upright Vacuum Cleaner with Hepa - Walmart Link
Dirt Devil Razor Pet Bagless Multi Floor Corded Upright Vacuum Cleaner with Swivel - Walmart Link
Buy on eBay
iRobot Roomba E5 (5150) Robot Vacuum - Wi-Fi Connected, Works with Alexa, Ideal for Pet - eBay Link
Bissell Pet Hair Eraser Handheld Vacuum, Corded, 33A1 - eBay Link
Bissell Symphony Pet Steam Mop and Steam Vacuum Cleaner for Hardwood and Tile Floors, - eBay Link
Hoover Smartwash Automatic Carpet Cleaner, FH52000, Turquoise - eBay Link
Shark NV356E S2 Navigator Lift-Away Professional Upright Vacuum with Pet Power Brush and - eBay Link
Hoover MAXLife Pet Max Complete, Bagless Upright Vacuum Cleaner, For Carpet and Hard - eBay Link
Shark IZ163H Pet Plus Cordless Stick Vacuum with Self-Cleaning Brushroll, PowerFins, - eBay Link
BISSELL Pet Hair Eraser Turbo Plus Lightweight Upright Vacuum Cleaner, 24613 - eBay Link
Bissell Pet Hair Eraser Lithium Ion Cordless Hand Vacuum, Purple - eBay Link
Eureka PowerSpeed Bagless Upright Vacuum Cleaner, Pet Turbo, Black - eBay Link
BISSELL 2252 CleanView Swivel Upright Bagless Vacuum Carpet Cleaner, Green Pet - eBay Link
Hoover WindTunnel 2 Whole House Rewind Corded Bagless Upright Vacuum Cleaner with Hepa - eBay Link
Dirt Devil Razor Pet Bagless Multi Floor Corded Upright Vacuum Cleaner with Swivel - eBay Link