Do you keep an inventory of your freezer? If not then I bet you're not using baskets to organize your freezer too . If so then let me help you organize your messy freezer and make it look cool. Here I have a list of the 5 best freezer baskets that will turn your freezer tidier in a breeze. You'll wonder how you lived without these cheap solutions that would have made your life less complicated.
Don't buy freezer baskets that don't feature:
Anti-rust coating
Integrated handle
Universal size
Durable, lightweight, and steel wire construction
Warranty (optional)
Editors' Picks for Freezer Baskets
Before you jump into the list, feel free to scroll through related accessories for your freezer.

Product
Description
1. iPEGTOP Deep refrigerator freezer basket

Built-in handle
PE coated anti-rust
Available in 2, 3, 4, 6 pack

2. Wire Storage Basket iSPECLE 4 Pack Metal Wire Basket

Durable steel wire grid construction breathable design
Portable grip
Available in 4 packs with 2 different sizes

3. Kitchen Basics 101 refrigerator freezer basket

1-year warranty
Replaceable baskets for Popular freezer brands like Haier, GE, Hotpoint, Kenmore.
Available in 1 pack
Portable basket with a high load capacity

4. Slipdeep refrigerator freezer storage basket

Perfect size for any freezer
Rust-proof PR coated open-grid wire breathable design
Available in 4 packs

5. Sanno Freezer Wire Baskets

Multipurpose farmhouse basket
White coated rust resistance durable steel wire construction
2- years guarantee
Available in 6 packs
How do I keep my inventory in the freezer? 6 easy steps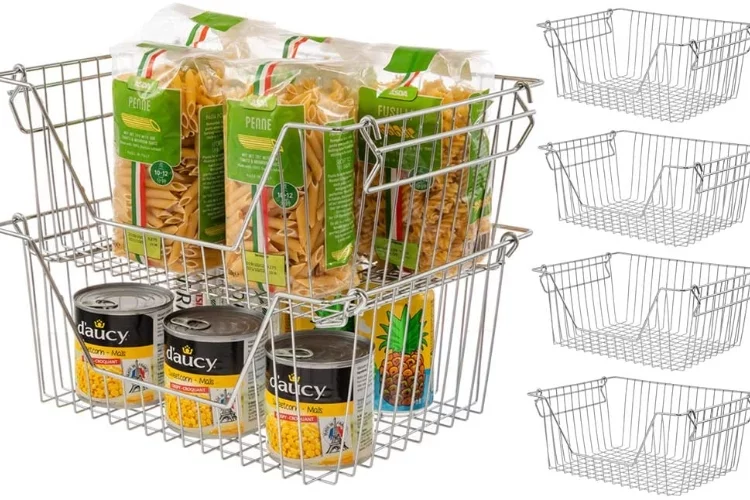 I know that you already have a freezer full of antique foods. And you are confused about what you have.
Time for a freezer clean-up and a food inventory list.
This isn't a one-time gig though. You have to do this at least once a year for the sake of hygiene and save money. Let's do this.
Step 1: Clean out your fridge to see what you've been stashing
Taking out all the frozen foods will give you a chance to clean the freezer. Just wipe it with soap water and a damp cloth. Keep the freezer open for 20 minutes to make it odorless.
Step 2: Make a list of the food you have
I know few bags will visit the trash right away. Now that leaves you with edible foods. Time to list them in a paper.
Replace old bags with new ones. Tag them with names and storage dates for future reference. I use handwritten label stickers. You will find them on any home decor store or website.
Please don't use paper and glue it to the bag. The chemical of the glue will pollute the food by mixing with ammonia evaporation. And the paper will absorb moisture and scrape away in no time.
Step 4: Keep similar good in a specific container
Once you start to put the bags back in, try to keep similar items together. Such as, the checked and pork bags will go into the same container.
Step 5: Now create a list of inventories
Now you need to organize those random food names into a list. In this way, you'll know what's in the freezer without scrambling around the bags twice a month.
Step 6: Maintain the food inventory
You can make the inventory in Excel sheets or download the sheet and pencil in it manually. Whatever works best for you.
Just take down the food you depleted off your list. Also, add the new food to the list so you don't buy the same thing twice.
You can color each section that resembles the name of the food for better comprehension.
Our 5 Best Freezer Baskets in 2021
1. iPEGTOP Deep refrigerator freezer basket
If you are on a budget but don't want to compromise quality, then IPEGTOP Deep freezer baskets are your best bet. Why choose the IPEGTOP DEEP refrigerator freezer basket?
Because It's a wired open design freezer basket. So you don't have to pull out to see what's in it. Also, it's a good freezer basket for chest freezer as well as any typical side-by-side freezer.
Key features :
Build material: Although it's affordable, that doesn't mean you'll have to compromise quality. The wire is coated with PE to prevent rust.
It's a steel construction site grid that is durable and long-lasting. The basket can take a heavy load without bending.
Effective design: The freezer works by evaporating ammonia. The IPEGTOP DEEP refrigerator freezer basket allows maximum airflow for its open grid pattern design.
Built-in handles: At first glance, you may not see it, but the iPEGTOP basket has cut-out space at each side that acts as a handle.
It's both cost-cutting and brilliant design sense from the manufacturer. You're getting an effective way to hold the basket without adding diameters. A cheap way to increase portability.
Diverse usage: You can use this basket for other storage solutions. Keep your soda bottles, pantry items, package foods, books, crafting, and other household items organized.
Make your storage space tidier with this cheap freezer basket.
Specifications
6 pack, 3 pack (white/black/rose gold), 2 pack, 4 pack.
Size: 11.8×11.8×7 inches (white)
Weight: 1.76 pounds (white)
What I liked
Fits well in the most chest, side by side and upright freezer as if it's an original basket
The integrated handle doesn't add additional diameter to the original size
Durable anti-rust coated construction
Affordable pricing
What I didn't like

The iSPECLE introduced their wire storage basket to make your home and your fridge tidier. It's an open view design which makes it easier to see what's inside.
Why choose the Wire Storage Basket?
Because they are affordable, stackable, and work in the chest, side by side, and upright freezer.
Key features:
Build material: The ISPECLE storage baskets are made from steel wire which makes them durable. It has more load capacity than any traditional wired basket.
The basket is anti-rust coated. So it won't corrode within the freezer or from sitting in your closet for a long time.
Integrated handle: The ISPECLE storage baskets are very easy to pick up. Thanks to its built-in handles at each side. The handle doesn't protrude out the basket dimension. An efficient design language.
Diverse usage: These are affordable hanging freezer baskets that you can also use on desktops, bookshelves, wardrobes.
It's an easy solution to keep your clothes, cosmetics, stationery items organized. Make your kitchen look elegant by keeping your pantry items separate.
It is also an excellent way to keep tabs on your entire kitchen inventory.
Functional sizing: You will get 4 baskets in a pack with 2 different sizes. These sizes are carefully put together to fit in nearly every freezer on the market.
These freezer baskets are also stackable so you can make the most of your freezer space. The days of a messy freezer are over.
Keep your veggies, meats, eggs, and soda bottles organized as well as hygienic.
Specifications
4 pack: 2 large= Top: 16″(L)×11.5″(W)
Bottom: 14″(L)×9.7″(W)- 5.9″ (H)
2 medium= Top: 15.1″(L)×10 8″(W)
Bottom: 13″(L)× 9″(W)- 5.5″(H)
Color: White
Item size: 16″×11.5″×5.5″
Item weight: 5.1 lbs
What I liked
Efficient design with integrated handles
Durable, portable, and easily transportable
Multi-purpose freezer baskets
Reasonable price tag
Anti-rust coated
What I didn't like

3. Kitchen Basic 101 refrigerator freezer baskets
If you are on the lookout for a heavy-duty storage solution for a bargain price, the Kitchen Basic 101 freezer storage basket should be your best bet.
Why choose the kitchen Basic 101 freezer storage Basket
Like other freezer baskets in our list, this basket will also fit in a standing freezer, side-by-side freezer, chest freezer, upright freezer, and even refrigerator.
Key features:
Build material: Yes, you guessed it right. This basket is constructed from durable steel wire. It's a square grid design that prevents objects like books, food packages from sticking out.
Multi-storage solution: The grid space of this basket is a bit bigger. So you have to keep small foods in bags. Since you are buying a freezer basket, I suggest you pick up some zipper bags as well.
Just make sure these bags are food grade rated. Now you can bag and tag meat, steaks, poultry, fish, fruits, and other food safely.
Apart from food, the basket will prove useful to organize your clothes, pantry items, stationary, and other household elements.
Warranty: There are some usual terms and conditions that apply for warranty reasons. But Kitchen Basics promises their customers a 1-year no hassle no question asked warranty service for all of their products.
If you have Kenmore, Hotpoint, GE, and Haier branded freezer, then the Kitchen Basics 101 freezer baskets will work as an original replacement.
Handles and portability: The basket features sturdy handles with a comfortable grip. You can use this protruding handle to hang the baskets in the chest freezer and standing freezer.
Specifications
Products dimension: 14.6″× 8″×6.5″
Weight: 10 ounces
Item quantity: 1 basket
Color: White
What I liked:
Durable and affordable
Heavy-duty freezer basket with adequate space
Easy-grip allows fluid movements
Can be used as a replacement for GE, HIER, HOTPOINT, and KENMORE brand freezer
A perfect hanging basket for your chest freezer
What I didn't like:
The design of the side wires are not square grid lines like the bottom
The protruding handle can create size issues in certain freezer models
There's no information on whether the paint is anti-rust coated or not

4. Slideep refrigerator freezer storage Basket
If you want the best stackable freezer basket, give Slideep storage organizer a try. I don't think you'll argue about the pricing because it comes with 4-pieces of baskets.
Why choose Slideep freezer baskets?
Despite their size, these baskets are surprisingly lightweight. And they will fit in almost any freezer, including a refrigerator.
Key features:
Build material: The wire construction is metal. It's a lightweight and durable grid design.
Don't worry about the load capacity. This basket is quite capable of handling heavy loads without bending.
Hygienic: The grid design also comes in handy for easy viewing of the content inside. It also ensures thorough washing so food odor and color can't cling to the freezer basket.
Integrated handle: I'm so glad that the Slideep freezer basket doesn't have a protruding handle like the Kitchen Basic 101. It means I can occupy my freezer more efficiently.
The handle may not offer the best grip, but it's sturdy enough to carry heavy loads without bending.
Versatility: Of course It's an affordable way to store, organize and make a list of inventory of your freezer content. But outside of the freezer, this basket is just as useful.
You can keep your crafting, stationery, pantry, utility, and other household items organized with style.
Anti-rust: Rusting is a major issue when it comes to steel wire freezer baskets. Fortunately, the Slideep freezer baskets are coated with an anti-rust PE compound that is also rated food grade. Save space and stay healthy.
Specification
Basket size: 11″(L)×10″(W)×5.5″(H)
Weight: 3.1 lbs
Color: White, Black
Package dimension: 11.14″×10.24″×7.17″
What I liked:
Durable, lightweight, rust-proof construction
Stackable to save space
Attractive pricing
Multi-purpose freezer baskets
Perfect size for all types of freezers and refrigerator
What I didn't like:

5. SANNO Freezer Wire Baskets
If you are fed up with the mess in your freezer, grab the SANNO freezer wire basket organizer. It's a cheap solution to keep your frozen food organized.
Why did we choose SANNO Freezer Wire Baskets?
Because it'll fit in your freezer and your refrigerator as well. From the freezer, in your house, and to the trunk of your car, you can always rely on this storage solution.
Key features:
Two years guarantee: For that affordable price tag, I was amazed to see this promise of two years guarantee. I also barely noticed anyone complaining about this particular basket.
Multipurpose organizer: Apart from your freezer, the SANNO freezer wire baskets are a perfect answer for your other stuff.
Keep your package foods, sodas, beers, wines, and other culinary items properly arranged.
Hey if you are yet to install the cabinet in your new house, why not keep your books, toys, cosmetics, and other trinkets safe in the basket?
It'd be an effective and economical way to avoid making a mess in your living room.
Compact and transportable: You can easily stack a couple of baskets on another to make the most of your closet, pantry, kitchen cabinet, and other storage spaces.
You can grab onto these baskets without issues. Thanks to its wire-style frame with integrated carry handles. Don't worry. These handles won't bend easily.
I know that because I carry a dozen sodas to my car every time I go fishing.
What I liked:
Reasonably priced
Excellent storage bins rack for all types of household items
Made from strong steel wire that bends under intense pressure without breaking. You can easily counter pressure the wire to straighten it out.
Coated with rust-resistant white color that won't corrode over time
It's a cage-like basket that makes it easy to clean with a damp cloth
What I didn't like:
A customer complained that the size of the baskets is a little bigger than advertised. Mines are fine by the way.
Since it's a cage-like storage bin, you can't keep anything smaller than the diameter of the cage like a pencil.

Best freezer basket buying guide
You will find different types of freezer storage containers on the market.
Steel wire basket
Plastic see-through bins
Plastic freezer bins
We've put together a few important factors for your consideration, so you can pick the best freezer baskets on your own.
Build material
You will find both plastic and steel wire freezer baskets on the market. Between the two, I'd go with the steel wire-made basket for their reliability.
But if you must buy a plastic basket, make sure it's BPA-free.
The problem with plastic baskets is their tendency to crack. Whereas the steel wire basket will bend under too much pressure.
But you can always put them into the original place by applying counter pressure.
Unlike plastic freezer baskets, steel baskets do not absorb odors and color stains from the food.
So the obvious choice should be a steel basket. But don't go too cheap.
Don't buy a steel wire freezer basket if it isn't coated with anti-rust food graded paint or components.
Size
Picking up the right size is very important. First, you'll have to know the compartment measurement of your freezer.
In this way, you'll know what size basket will make the most of your freezer space.
Here's a roughly estimated measurement of a freezer basket.
Large freezer basket: Top=16″(L)×11.5″(W), Bottom= 14″(L)×9.7″(W).
Medium freezer basket: Top= 15″(L)×10″(W), Bottom= 13″(L)× 9″(W).
Warranty
For the sake of saving a few bucks, don't give up branded baskets with a manufacturer's warranty.
Take Sanno Farmhouse wire baskets for example. They come with a 2-years guarantee. I've been using 6 of these baskets for over three years now. They all look good as new.
Price
The reason a manufacturer features a warranty is that they know their products are good enough to withstand more than their warrant time frame.
So don't waste your money but grabbing cheap freezer baskets. Not only they might not last, but at worst, they might rust and spill harmful chemicals into your food.
Built-in handle: Every freezer basket will have so in e sort of grip. For me, integrated handles are better than protruding handles.
Because baskets with built-in handles are easy to stack and space-efficient. But, protruding handles offer a more comfortable and secure grip.
Best Freezer Basket Frequently Asked Questions
1. How do I organize my freezer?
Most of us keeps foods in the freezer for long-term storage. Unlike refrigerators, the freezer lacks shelves to keep foods organized.
5 simple steps to organize your freeze.
Sort out specific items in individual categories.
If your freezer doesn't come with a separate compartment, then you need to buy large freezer bins to keep certain foods self-contained. You shouldn't keep raw meat and vegetables together even if these are in its zip-top freezer bags .
Use labels with food names and dates on each bin, bags, and plastic box so you can identify them later.
You must use freezer-safe containers . And it wouldn't hurt if these containers are usable with a dishwasher and microwave.
You'll need different types of freezer bins to organize depending on the type of freezer you have.
2. How do you install a chest freezer?
It's easy to install a chest freezer. Just do the following step by step.
You'll need compatible wiring and a circuit breaker that supports the freezer input voltage. For a 220V freezer, use 12×3 and 12×2 electrical wiring for a 110V freezer. For circuit breaker- 110V= 15 to 20 AMP & 220V= 30 AMP
Place the freezer at least one foot away from the wall so it can dissipate heat more effectively.
For the wooden wall, cut a hole using a saw. Before you cut, place the electric box on the wall and draw all four sides with a pencil. Make sure to turn off the mainline before cutting into the wall.
Make sure you buy a circuit panel with holes to insert the wire.
White wire to the hot port, copper wire to the ground port, and the black wire runs to the neutral port. Connect the red wire to the secondary hot port if you're installing a 220V breaker and outlet.
After finishing the outlet and breaker, turn on the mainline and the new breaker.
Plugin the freezer.
3. Can you put IKEA glass containers in the freezer?
IKEA glass containers are tempered and safe for refrigeration because it's lead-free. IKEA glass containers are also dishwashable, microwavable. Just leave the lid out before putting it in the oven. IKEA glass doesn't absorb odor or become discolored from food. It's also easy to clean. Just make sure not to stash food in any glass container. Leave at least ¾ inch space on top of the container to prevent cracks.
4. What basket fits in IKEA Billy?
If you recently got an IKEA Billy bookshelf and wondering about grabbing a basket to organize, get a Byholma Woven Basket. Or any other woven basket.
The reason I'm suggesting a woven basket over a hard-wired basket is simple. The risk of scratching the shelf.
If you use a freezer basket, plastic, or steel wire, long-term rubbing will spot your shelf.
5. Can you put plastic baskets in the freezer?
It's better to use a plastic basket than disposable freezer bags and wraps. Because it's cheaper. But there's a catch. Make sure you pick a plastic basket that is rated as food-grade polycarbonate. A normal plastic basket could contain polyvinyl chloride which is harmful to food.
Grab those stackable plastic basket containers so you can maximize the efficiency of your freezer space.
Conclusion for Freezer Basket Buyers

I remember how I created a mess in my freezer when I moved to my new apartment. I bought so many things twice just because I wasn't using any freezer basket. To make matters worse, I didn't even make any freezer inventory.
That's why I put together a list of the 5 best freezer baskets and a little suggestion on how to manage inventory in the freezer.
The baskets on my list are equally effective inside and outside my freezer. From your pantry to your pool, keep organized and cool.
Stay frosty pals.