Knives blades are made from a variety of materials. However, the performance of a knife highly depends on the material of the knife. And this is why checking for the best materials is essential while getting a piece.
One of the most popular and highly appreciated blade materials is Sandvik 14C28N stainless steel. But ever wondered why this steel is so well-known? We thought that too.
And this is why we've come up with a 14C28N Steel Review. In this review you will look closely at what makes this steel so special and why companies a lot of knife manufacturers are using this blade material. Let's see, whether you should pick a knife with a 14C28N stainless blade.
Editors' Picks: Top 14c28n Steel knives
What is 14C28N Steel?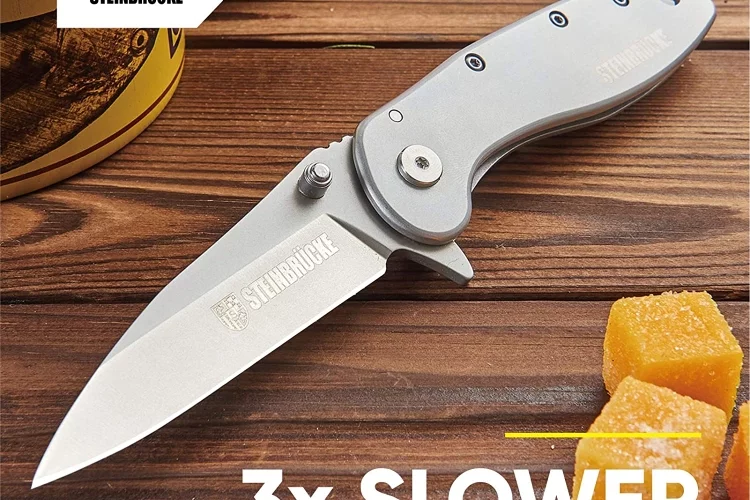 After a lot of research and development, the invention of 14C28N Steel saw the light. One of the most renowned engineering companies, Sandvik has brought this fine steel with such remarkable features. This steel holds excellent chemistry of the compound which makes it no just hardness, but also exceptionally good at keeping the edge razor-sharp while being resistant to the likes of scratch and rust.
Moreover, it is just too simple to sharp. How? Despite the high hardness of this material, the integrity of its structure can be preserved on a micro-level. Although hardness can differ if the range is within 55-62 HRC, this can be a fine piece of knife blade.
Is 14C28N Steel Good for Knives?
In general, the answer will be yes, it is. However, situation-wise, the answer may differ, so will purpose-wise. Therefore, in this 14C28N Steel review , we are going to explain when it's great and when it's just not good enough.
Before jumping to any conclusion, keep in mind, this steel is tough. However, not the toughest. If you're looking for something that will serve your need for survival, this is not the ideal option, just being honest. But for kitchen or any EDC requirements? This is absolutely stellar.
A quick glimpse of some pros and cons can ease your understandings;
Pros:
Comparatively less hard steel, which means much easier to sharp.
Flex is quite noticeable while being quite hard.
Can be sharpened to a very high level
Edge retention ability is quite remarkable
Does an excellent job at being resistant against any rust or corrosion
Cons :
When it comes to price, it can be noticed a bit pricier compared to other materials
Not quite hard enough for most daunting tasks.
Top 5 Best 14C28N Stainless Steel Knives Reviews- 2022
1. Kershaw Leek Pocket Knife
A dominating blade, the Kershaw Leek Pocket Knife is synonymous with high quality. It is a no wonder to anyone in the community about the popularity of this knife. Why is it so popular? Its durability, thanks to the Sandvik 14C28N Steel along with versatility, modified drop point as well as performance which is so good that everyone just loves it.
Features:
Build: AS mentioned before, the blade is used in this blade is nothing else but Sandvik 14C28N Steel. Sandvik steels are always been praised for their excellent edge retention and hardness. The Kershaw Leek Pocket Knife offers exactly that along with remarkable sharpness and corrosion resistance.
Besides, its aesthetically pleasing Bead-Blasted finish and chromium-infused 410 stainless steel handle is just too good to refuse. A smooth and matte surface while maintaining exceptional durability, this knife makes everything fun.
Convenience : Pocket knives are mostly used for their convenience as this is what they offer the most. Nothing is different with the Leek Pocket Knife. Fast deployment? Sturdy Pocket Clip? One-handed operation? All are available in this small handy knife. Immensely convenient, isn't it?
Assisted Opening : Not all the pocket knives out there offer assisted opening, but this knife does. SpeedSafe Assisted Opening, yes, this is the name of the system which will help you to open this pocket knife. If you ever wondered how much you need to put to open this, just be sure, very minimum. Opening a pocket knife was never this simple before.
Specification :
Material: Sandvik 14C28N Steel
Finish: Bead-Blasted
Handle Material: 410 Stainless Steel
Assisted Opening: SpeedSafe
Blade Length: 3 Inches
Weight: 3 oz.
Pros :
Beautiful design
Value for money
Features assisted opening
Robust handle
Very portable
Cons :

2. Kershaw Knockout Olive Black Pocket Knife
A combination of attractive design as well as exceptional external features that what the Kershaw Knockout Olive Black Pocket Knife is. A subtle input of Sub-Frame Lock from Kershaw, this machined aluminum knife makes every operation easy. Besides, its magnificent 14C28N stainless steel blade cuts everything flawlessly.
Features :
Build : Blade made from Sandvik 14C28N steel which has increased nitrogen, not just ensures durability but also has excellent corrosion resistance. If you're someone who has high expectations with the edge retention of your knife, this surely will satisfy you.
Furthermore, to enhance the durability to be addressed as indestructible, this also features a Cerakote coating. Moreover, the anodized aluminum handle will surely enhance grip performance.
Convenience : This knife is just extremely convenient, from deployment to use for any activities. It has a torsion bar, which you can easily use to deploy the blade. A pocket clip is also there to make this knife easy and securely carry. By the way, the pocket clip also features 3-positions so that you can carry the knife properly. It also has a flipper which makes it very easy for one-handed operations.
Locking System : A sub-Frame lock is used in this knife. For this reason, the knife is extremely lightweight while maintaining quick and secured deployment. One of the key inventions from Kershaw, this locking system is nothing like any traditional kind, rather a modern one. Also, its SpeedSafe assisted opening will ensure a much secured, yet easy opening action.
Specifications :
Blade Material: Sandvik 14C28N Steel
Blade Coating: Cerakote
Blade Length: 3.25 Inches
Assisted Opening: SpeedSafe
Locking System: Sub-Frame Lock
Handle Material: 6061-T6 Aluminum
Weight: 3.4 oz.
Pros :
High-Quality Blade
Cerakote coating offers excellent corrosion resistance
Lightweight, yet durable
Secured locking system
Features assisted opening
Cons :
Handle is prone to slip in wet conditions

3. Kershaw Leek Orange Pocket Knife
Bring back the splash of color with the Kershaw Leek Orange Pocket Knife. This funky-looking knife is excellent at cutting and penetrating while maintaining an aesthetically pleasing look. With a much-secured lock as well as a robust handle, this knife is a great performer.
Features :
Design : Just look at this beautiful piece of metal and you'll feel attracted for sure. With a bright orange color scheme, this knife's aluminum handle has an engraving of white. If you want to put your name on the knife, you can certainly do that. A simple laser engraving will do the trick.
Build : Its build is just excellent. The blade is made from Sandvik 14C28N Steel which is a top-of-the-line material. Besides, the steel is also stainless. This 3-inch blade also features a bead-blasted finish to bring a very smooth and matte surface. The material and the finish of the blade makes the knife so sharp that, it can cut through item very easily and effortlessly. Even though it's tough, it's very lightweight, only at 2.4 ounces.
Convenience : Unlike the other two knives, this comes with a glass breaker tip at the end of the handle. You can use this tip to break the glass of your car, in any emergency situation. Besides, the pocket clip of this knife is excellent. With versatile carrying options, this clip can be used in several ways which will give you the most comfort while carrying.
Specification :
Blade Material: Sandvik 14C28N Steel
Blade Finish: Bead-Blast
Blade Length: 3 Inches
Opener: Flipper/ Thumb Stud
Assisted Opening: SpeedSafe
Locking System: Liner
Handle Material: 6061-T6 Aluminum
Weight: 2.4 oz.
Pros :
Extremely lightweight
Razor-sharp blade
Handle is ergonomic and attractive
Easy deployment
Comes with a glass breaker
Cons :
The sliding lock is not very convenient

4. Ruike P801-SF Pocket Knife
A beautiful craft from nothing but stainless steel, the Ruike P801-SF is just remarkable. Finished with stonewash, based on a metallic body, calling this knife good-looking is yet an understatement. Apart from a very high-quality blade, this excellent cutting equipment is filled with such is ready to make your experience sublime.
Features :
Build : Though only two words you can summarize the quality of this knife, which is "Well-Made". Blade made from nothing but 14C28N Sandvik steel, this knife is excellent at keeping edge sharpness, being durable, and strong. Also, it can resist corrosion like a pro.
Additionally, it has an anodized aluminum handle which is easy to grip and very durable in nature. Besides, its stone-wash finished gives it a catchier look.
Sharpness : This knife is sharp, really sharp. Just use it once, and you will be in awe of the quality of its blade. Not just that, the edge of this sharp blade will retain a longer period of time. This means, less sharpening needs to keep the blade functional.
Locking System: It uses a frame lock system that is much secured and exceptionally tough. The lock will keep you content and free from worries. You will notice almost no play when the lock is activated. Besides, the lock makes the knife look sleek too.
Specification :
Blade Material: Sandvik 14C28N Steel
Blade Finish: Stone-Wash
Blade Length: 3.39 Inches
Opener: Flipper and Thumb Stud
Locking System: Frame Lock
Handle Material: 420 Stainless Steel
Weight: 4.23 oz.
Pros :
Excellent sharpness and edge retention
Good value for money
Has an elegant design
The flipping action is sublime
Secured locking mechanism
Cons :
Locking mechanism is too tough for some

5. Cangshan TN1 Series 1021950 Swedish Sandvik 14C28N Steel
An elegant mix of performance and beauty, the Cangshan TN1 Series is a set of gracefully made knives. Comes in an 8-piece set, these knives are forged with high-quality materials. Furthermore, the matte finish which is noticed on each of the knives enhances strength. Plus, the heat treatment ensures quality to the finest level.
Features :
Handcraft : Handcrafted knives are quite rare these days as they take a longer period to make. However, these knives are made by hand which will assure you the quality they have. Designed to give you the most responsive experiences, these knives are made precisely and perfectly.
Build : Well-known Sandvik 12C28N Stainless Steel is used to forge these cutting masterpieces. You will never understand how sharp they are until you take these to your kitchen. Besides, edge-retention? Its ice-hardened blade will make sure it remains for a long period. Also, the all-metal ergonomic handle is what you need for a firm grip.
Convenience : This set comes with 8 different pieces for your all kitchen convenience. The set includes a 20 cm cook's, a 20 cm horning steel, and a 20 cm bread along with an 18 cm santoku with additions like a 12 cm serrated utility knife as well as a 9 cm paring and a 23 cm shears. Also, to incorporate all there's a Walnut block to keep it all tidy.
Specification :
Blade Material: Sandvik 14C28N Steel
Blade Finish: Hand Polished
Paring Knife Blade Length: 9 cm / 3.54 Inches
Serrated Utility Knife Blade Length: 12 cm / 4.72 Inches
Santoku Knife Blade Length: 18 cm / 7 Inches
Cook's Knife Blade Length: 7.87 Inches
Bread Knife Blade Length: 20 cm / 7.87 Inches
Horning Steel Knife Blade Length: 20 cm / 7.87 Inches
Opener: Flipper and Thumb Stud
Locking System: Frame Lock
Handle Material: 420 Stainless Steel
Weight: 4.23 oz.
Pros :
Extremely beautiful design
Set includes everything you need
High-quality blade material
Exceptional sharpness and edge retention
Ergonomic all-metal handle
Cons :
Amount of knives can be overwhelming for some

14c28n Steel Buying Guide
Knives come in all shapes and sizes, and of course, for different purposes. This may sound compelling as there are a plethora of options to choose from, which also comes with a problem. Which one to buy? And, which is right for you? Well, we've enlisted few consideration factors that you may pay attention to while buying your preferred piece.
Blade Material
If you're looking for a knife to last long, the most important thing you should be considering is the blade material. Blades can be made from several types of metal, however, not all are ideal.
Any knife that has a blade made from Sandvik 12C28N Stainless Steel, is undoubtedly an excellent knife. This material is durable, corrosion-resistant, and remains extremely sharp for an extended period of time. Also, look for any knife with stainless steel construction. It's because carbon steel gets rusty easily. If you have a higher budget, go for ceramic knives.
Convenience : A knife must be comfortable to use. A knife that is very sharp and has a great design, but terribly uncomfortable, is not the ideal knife. A better knife will come with an ergonomic handle and good weight balance, which makes it easier to cut.
Handle Material : Handle materials can be found in different ways. Wooden handles, plastic handles, all-metal handles, forged aluminum handles, there are a lot of choices available. However, better to go for all metal or aluminum handles as they are extremely durable. However, they are not as comfortable as the likes of wooden or plastic ones.
Weight : Weight should be always considered while looking for a knife. If you are looking for something to carry every day, go for something extremely light. If you're in search of something that will help you to survive, a much heavier full tang knife is suggested. If you're seeking something for your kitchen, the weight will not play a significant part there.
14c28n Steels Alternatives
Although the 14C28N steel is an excellent material for creating a blade, there are other options as well. So, to give you an enhanced 14C28N steel review , we compared this steel with some of the most popular blade materials options that are currently available in the market. This way, you will understand how this material competes with other contenders.
14C28N VS VG10
In comparison to VG10 steel, the 14C28N is tougher. However, this toughness does not help 14C28N in any way when we checked the edge retention of both steels. VG10 is slightly better in this category, which means less sharpening, longer usage.
Furthermore, similarities are also noticed between both. Both quite easy to sharp, no differences were noticed there. Also, both of the steels do a fantastic job at being resistant to corrosion. So, when it comes to convenience in sharpening as well as resistance, rather similar performances were recorded.
14C28N vs S30V
Both the 14C28N and S30V are quite excellent at being corrosion resistant. There were no differences were noticed in that certain category between both. Also, when it comes to toughness, the 14C28N is as tough as S30V, no differences here either.
However, we did notice a significant difference where we tested the edge retention of both steel. S30V did a better job at retaining the edge as compared to the 14C28N. This means if daunting tasks are your preference, you rather go for any knife that is made from S30V.
What about the sharpening? The 14C28N comes a little bit higher than the S30V.
14C28N vs 8CR1MOV
The 8CR1MOV is a popular steel material for knives, mostly because of its resistance and edge retention. However, as we compared to the 14C28N steel, we saw the 14C28N did a better job in this sector. Even the 14C28N was better at dealing with corrosion as well.
But if you care for toughness, both the steels rather have similar performance at being tough. Did you see any other differences? Yes! We did. Sharpening the knife was far easier with the 8CR1MOV blade. A little more effort was needed for the 14C28N steel. This may also be the reason for better edge retention.
14C28N vs 440C
440C steel contains the most carbon in the 400 series. Due to that, the highest strength and toughness are expected to be noticed. However, when we compared the 440C steel with the 14C28N steel, we noticed that the 14C28N a bit tougher. And hence, the edge retention was also better with the 14C28N steel.
Less tough materials are easier to sharpen as this was noticed here. As the 440C steel is comparatively less durable, it is rather easy to sharp. It's not like it took a lot of effort to sharp the 14C28N, but yes, was a bit harder. Although there are dissimilarities, both did an excellent job against corrosion. Rather same marks in this category.
14C28N vs N690
In most cases, people tend to prefer N690 steel blades compare to those which are made from the 14C28N. However, when it comes to tougher tasks, N690 falls behind as the 14C28N is comparatively tougher.
Also, due to the nitrogen is added to the compounds of 14C28N, the differences were noticed when we checked the ability to withstand corrosion. The 14C28N was much better at this.
Although the N690 is less tough, it did a better job at retaining the edge. The 14C28N did a great job too, just not as good as the other one. Besides, it may come as a surprise, but the 14C28N was easier to sharpen.
14C28N vs AUS-8
AUS is an up to mid-range steel, so are the knives made from this material. The 14C28N also falls in the same category. Both of them are stellar performers. Although, differences are present.
In our test, both of the steel did a good job while keeping the edge retained. Just the 14C28N performed slightly better here. This may be the reason for the 14C28N being a bit tougher than the AUS-8.
As AUS-8 is comparatively less hard than the 14C28N, it is far easier to sharp. By no means that the 14C28N takes a lot to sharp, it is rather easy too. But AUS-8 took way less time. Although, the 14C28N did a better job at being resistant to corrosion.
14C28N vs D2
The D2 steel is admired for its toughness and of course, edge retention. For this reason, in both of these cases, the D2 performed better than the 14C28N. Edge retention was quite similar, however, yes D2 did a slightly better job here.
As said before, D2 steel is tough and that rather became a problem when we tried to sharpen the steel. The 14C28N far easier to sharp. Also, the D2 steel wasn't very good against corrosion. The 14C28N performed far more superior at being resistant against corrosion. It can be said that the D2 steel knives won't be a good option if you're using them near water.
14c28n Steel FAQs
A highly optimized steel, the 14C28N is highly regarded. It is popular for its enhanced edge retention while maintaining high hardness as well as exceptional corrosion resistance.
The chemical composition of the 14C28N is;
| | | | | | | |
| --- | --- | --- | --- | --- | --- | --- |
| C | Si | Mn | P | S | Cr | N |
| 0.62 | 0.2 | 0.6 | ≤0.025 | ≤0.010 | 14 | 0.11 |
Where is Sandvik Steel made?
Sandvik AB, a Swedish multinational engineering company is the manufacturer of Sandvik Steel. The Sandvik steels are exclusively manufactured in Stockholm, Sweden. Sandvik AB is also responsible for making special alloys.
The company is exporting its steels worldwide. A recent statistic shows that the accumulated percentage of Sandvik AB sales are mostly in Europe, followed by North America. The company also exports to other continents as well.
There are a lot of steels available in the current market. The 14C28N has similarities and dissimilarities with all of them. However, the Japanese stainless steel AUS-8 is considered to be the closest one to resemble the 14C28N.
Both of the steels have a similar level of edge retention as well as toughness. Two of these steels are extremely good at being resistant to corrosion. This is the reason why both of these are mostly used for kitchen knives.
Sandvik 14C28N stainless steel has a recommended hardness range, which is 55-65 HRC. At this level of hardness, the steel can be used for any constructing knives. The hardness level of such will ensure you not only a tough and extremely sharp blade but also exceptional edge retention. Besides, the blade will also be resistant to corrosion.
This is the ideal hardness level for kitchen knives, EDC pocket knives as well as other more demanding knives for hunting and fishing.
What Steel holds the sharpest edge?
Different steels have a different level of sharp edges-retention. Although Sandvik 14C28N does a great job at retaining the edge properly, this is not the best one in this category.
Some other steel materials such as S30V and CPM-M4 have excellent edge retention capabilities. It is expected that the CPM-M4 has can hold the sharpest edge for the longest period.
Which type of steel used for knives will not rust?
The most rust-resistant steels are stainless steel. These steels are extremely durable, lightweight and yes, of course, won't get rust. Stainless steels are mostly popular for their corrosion resistance feature.
This is because the nitrogen compound is the material of the steel that keeps the rust away. Because of this, the blade becomes even more durable while boasting corrosion resistance, a few levels.
Final Verdict for 14c28n Steel Buyers

Despite being a bit expensive, the Sandvik 14C28N is excellent blade material. Due to its superb sharpness, enhanced edge retention capability, and of course, high durability and toughness, this material is worth the money. Any knife that has a Sandvik 14C28N stainless steel blade will give you the ultimate performance.
In this 14C28N steel review, we have covered the necessary topic to give you a solid understanding of the steel. We hope that now you will understand the features of the 14C28N steel and how it can enhance your experience. If you're in search ofa knife that you want to use for a long time, a 14C28N stainless steel knife will serve you excellent offerings.
Buy on Walmart
Cangshan TN1 Series 1020007 Sandvik 14C28N Swedish Steel Forged Chef Knife, 8-Inch - Walmart Link
TwoSun Knives Tepe Designs 14C28N Burl Wood Flipper Pocket Knife TS134-Wood - Walmart Link
Kershaw Blur, Navy Blue Stonewashed (1670NBSW) Pocket Knife, 3.4" Stonewashed 14C28N - Walmart Link
Ruike Tactical Folding Knife Small Pocket Knife with Clip EDC Camping Fishing hiking - Walmart Link
TwoSun EDC 14C28N Carbon Fiber Titanium Fast Open Flipper Folding Knife TS267-CF - Walmart Link
Joker Knife Mountaineer S CL135-P, 4.3 in. Blade Sandvik 14C28N, Curly Birch Handle, - Walmart Link
Benchmade - Griptilian 551 Knife with CPM-S30V Steel, Drop-Point Blade, Plain Edge, - Walmart Link
TUO Chef Knife 8" - Japanese Gyuto Knife Super Sharp Chefs Knives Black Titanium Coated - Walmart Link
Ccanku C1146 Fixed Blade Knife,440C Blade G10 Handle EDC Tool Knife for Outdoor, Camping, - Walmart Link
CIVIVI Knives Elementum Folding Pocket Knife 2.96" D2 Satin Blade,G-10 Handles C907E - Walmart Link
Sashimi Sushi Knife Japanese 9.5 inch Yanagiba Knife,Japanese VG10 Stainless steel Single - Walmart Link
Kershaw Clash Pocket Knife, Black Serrated (1605CKTST); 3.1" Stainless Steel Blade with - Walmart Link
Kershaw Select Fire (1920); Multifunction Pocketknife with 3.4-Inch 8Cr13MoV Stainless - Walmart Link
Kershaw Barricade (8650) Orange Multifunction Rescue Pocket Knife with 3.5 Inch Stainless - Walmart Link
Kershaw Oso Sweet (1830) Folding Pocketknife with Satin-Finished 3.1-Inch 8Cr13MoV - Walmart Link
Kershaw Misdirect Pocketknife; 2.9 in. 4Cr13 Black-Oxide Blackwash Finish Blade, - Walmart Link
Zero Tolerance 0350TS; Folding Pocket Knife; 3.25 in. S30V Stainless Steel Blade with - Walmart Link
Buy on eBay
Cangshan TN1 Series 1020007 Sandvik 14C28N Swedish Steel Forged Chef Knife, 8-Inch - eBay Link
TwoSun Knives Tepe Designs 14C28N Burl Wood Flipper Pocket Knife TS134-Wood - eBay Link
Kershaw Blur, Navy Blue Stonewashed (1670NBSW) Pocket Knife, 3.4" Stonewashed 14C28N - eBay Link
Ruike Tactical Folding Knife Small Pocket Knife with Clip EDC Camping Fishing hiking - eBay Link
TwoSun EDC 14C28N Carbon Fiber Titanium Fast Open Flipper Folding Knife TS267-CF - eBay Link
Joker Knife Mountaineer S CL135-P, 4.3 in. Blade Sandvik 14C28N, Curly Birch Handle, - eBay Link
Benchmade - Griptilian 551 Knife with CPM-S30V Steel, Drop-Point Blade, Plain Edge, - eBay Link
TUO Chef Knife 8" - Japanese Gyuto Knife Super Sharp Chefs Knives Black Titanium Coated - eBay Link
Ccanku C1146 Fixed Blade Knife,440C Blade G10 Handle EDC Tool Knife for Outdoor, Camping, - eBay Link
CIVIVI Knives Elementum Folding Pocket Knife 2.96" D2 Satin Blade,G-10 Handles C907E - eBay Link
Sashimi Sushi Knife Japanese 9.5 inch Yanagiba Knife,Japanese VG10 Stainless steel Single - eBay Link
Kershaw Clash Pocket Knife, Black Serrated (1605CKTST); 3.1" Stainless Steel Blade with - eBay Link
Kershaw Select Fire (1920); Multifunction Pocketknife with 3.4-Inch 8Cr13MoV Stainless - eBay Link
Kershaw Barricade (8650) Orange Multifunction Rescue Pocket Knife with 3.5 Inch Stainless - eBay Link
Kershaw Oso Sweet (1830) Folding Pocketknife with Satin-Finished 3.1-Inch 8Cr13MoV - eBay Link
Kershaw Misdirect Pocketknife; 2.9 in. 4Cr13 Black-Oxide Blackwash Finish Blade, - eBay Link
Zero Tolerance 0350TS; Folding Pocket Knife; 3.25 in. S30V Stainless Steel Blade with - eBay Link