Curry Powder has been used for centuries in cooking. While it has its origins in the Indian subcontinent, it has gained international recognition for not only its unique flavor profile but for its health benefits, being used often in popular caribbean cuisine and as a go to spice for many culinary professionals. Curry Powder is typically a combination of turmeric, chili powder, cumin,
coriander, ginger, and peppers and is often prepared with varying levels of spice from mild to rather hot. Choosing your level of spice is a matter of choice, and curry offers a wide range of options in this regard, so if you're not inclined to spicy foods, you can absolutely find a curry powder that will satisfy your palate.
You can even make your own curry powder at home but for our purposes we'll be reviewing some ready made curry variations that you can enjoy right out of your spice cabinet to add to your favorite vegetable and protein based dishes.
Editors' Picks: Curry Powder
Top 5 Best Curry Powder Reviews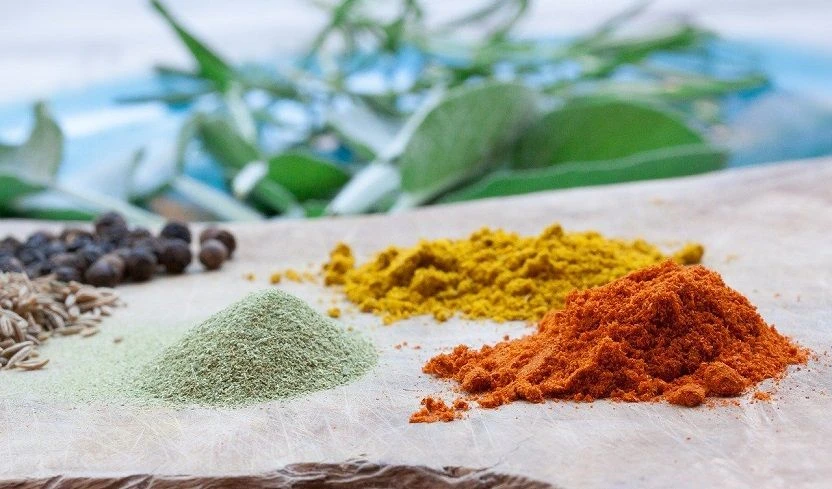 1. McCormick Curry Powder Review, 1 lb
McCormick's take on curry powder is a bit more of a one size fits all approach to curry powders, which means you'll still get all the taste you expect of a curry powder while being certain you won't get too much in the heat department. McCormick's curry powder is a typical combination of turmeric, coriander, black pepper, celery seed and other spices that give it a wide flavor profile that isn't hard on your taste buds. This is a good curry powder for anyone who may be new to using curry and is looking for an option that they can test out.
While McCormick isn't setting any standards with their version of curry powder the brand name offers the reliability of knowing you'll be getting what you ask for when it comes to the flavor profile that you're looking for in a curry powder. This curry powder goes great with vegetable based and protein based dishes that you enjoy and is a great place to start when looking for a curry powder that fits your needs and isn't too overbearing. This particular product comes with a recipe suggestion on the back for grilled curried chicken for you to try out for yourself to see if you indeed like what McCormick has to offer in the curry powder arena.

2. Simply Organic Curry Powder Review | Certified Organic | 3.00 oz. (3 Pack)
Simply Organic Curry Powder is another fully organic and kosher approach to the traditional Indian spice. Simply Organic makes it a point to note that their product is made for vegan and vegetarian based diets which make it unique in that regard as you'll likely want to use this product if you'll be cooking specifically with vegetables, tofu, or other vegan specific culinary options.
This curry powder comes with the typical turmeric, fenugreek and mustard combination as well as paprika and organic cayenne which gives it a mild to medium flavor profile, so it isn't unique where curry powder is concerned but it also isn't overbearing on the taste buds and still provides a strong curry flavor that will provide a distinct flavor. Simply Organic has a middle of the road take on curry powder that comes with all the typical ingredients found in the spice, without giving a particularly unique taste. As such this is a great option if you're testing out whether or not curry powder is the spice for you. This is a great option for anyone new to curry powder and its one of a kind flavor. Other products can give you a more specific and distinct flavor using a different blend of spices for this is a great product for newcomers to curry powder.

3. Spicy World Madras Curry Powder, 7 Ounce Pouch
Spicy World curry powder is a good option for curry powders but is specifically labeled 'Madras' because while it has many of the same ingredients as most curry spices it does come with some subtle differences from most of the powders you're likely to find at your local grocery store. Madras curry powder is known to have a bit more of a spicy or heat profile where curry spice is concerned so beware that depending on your tolerance it may be just a bit spicier than others while not too much more. It is still considered a rather mild version of curry powder.
Due to its ingredient combination, madras curry powder tends to be a bit darker than you will find with other curry powders but this doesn't change the flavor profile overall. While still tasty and distinctly curry flavored, madras curry powder offers a slightly different combination of spices that typically focuses on a bit more chili spice than others. This option comes in a 7 oz. package that will allow you several uses and is very reasonably priced compared to other curry powders. Its affordability is one of a few considerations you can take into account when looking for a curry powder that fits your needs.

4. International Spice Premium Gourmet Spices
International Spice ground curry powder while certainly not top of the line is one of many options you can consider when looking for a curry powder that fits your needs. This version of the product has decidedly less heat to it so it's safe for anyone who is looking for a very mild flavor. Most curry powders come with the traditional blend of turmeric, coriander, fenugreek, and black pepper and this product is no different, however it doesn't necessarily discern itself from other products and it is made with a good amount of cornstarch which takes much of the heat that other spices would convey.
The company claims that it goes well with chicken and other proteins and even includes pastas and potatoes to the list of possible foods you can use with their blend. International Spice does indicate that their ingredients are natural, but does not make the organic claim, while maintaining that the product is kosher certified, and contains no GMO products. Its 16 oz. size option means that you'll have plenty to use if you choose to go with this option, and as with some other products its lack of heat means that you can rest assured it has a mild flavor profile that isn't too hard on your palate.

5. HQOExpress | Organic Curry Powder | 19 oz. Chef Jar
HQO Express' organic curry powder is an organic twist on an already healthy food product found in curry powder. While High Quality Organics isn't solely dedicated to producing curry powder, there organic option gives an edge to an already healthy spice option. Their curry powder ingredients are sustainably farmed, as well as herbicide and pesticide free. If you're in the market for an organic option and are looking to try out a curry powder to fit your needs, this is a great place to start. In this particular product they offer a sweet and medium heat spice made from a combination of turmeric, mustard, and other organic spices, and comes in a 19 oz. option.
HQO Express' curry powder is 100% USDA certified organic, contains no GMO's, is pathogen free, and is a Kosher product, which means you're getting the absolute top standard to ingredients as well as a healthy product that comes with guaranteed quality. As far as affordability goes, High Quality Organics curry powder is among the higher priced items you will find however considering the level of quality this product offers you may well find it worth the extra expense to use this product versus others of the same kind.

Benefits of Curry Powder
Most of the health benefits that come from curry powder are found in the inclusion and primary base spice of turmeric. Turmeric is known for its anti-inflammatory effects, and is a strong antioxidant which helps fight free radicals that can damage the cells. Curry powder has been used for centuries and has its origins in India, but due to its healthy and unique aspects it has been accepted the world over as a staple in many kitchens.
Curry powder has also been known to aid in fighting the effects of Alzheimer's disease, many forms of cancer, as well as bacteria in the body. Curry powder is an anti-coagulate so if you're taking a blood thinner be sure to check with your doctor to make sure it is a healthy addition to your diet. It is great for the heart as well, as it has been noted as lowering blood pressure, and has also been known to aid with digestion, by easing indigestion as well as having ingredients such as coriander, cinnamon, and cumin that are great for efficient digestion.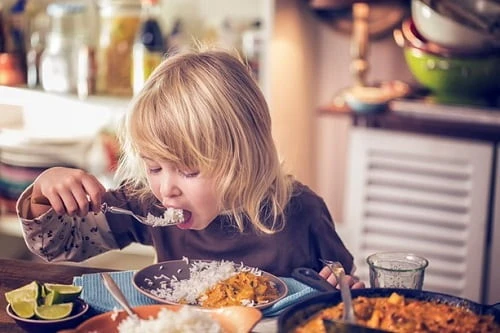 Frequently Asked Questions on Best Curry Powder
Q: What can you substitute for curry powder?
Answer : There are few substitutions for curry powder as its unique blend of spices means that it isn't easy to leave anything out, however, this is also an indication as to what you can use instead of the common curry powders you will find in your local grocery store. If you elect not to use curry in its powder form, there are also many curry paste options you can choose from.
Your best option for a powder form is your own blend of some of the ingredients found in many ready-made curry powders such as turmeric, cumin, and fenugreek. You can also include black pepper, cayenne and chili pepper to retain some of the same flavor profiles within curry powder while not including all the typical spice combinations found in many brands of curry powder.
Q: Are all curry powders the same?
Answer : While generally all curry powders do have the same base ingredients such as turmeric, cumin, cinnamon, black pepper, chili powder, and other varied spices not all curry powders are made equal. Several brands of curry powder use unique amounts of these and other spices to create their own unique flavor that is different from their competitors and other companies that produce the spice.
Q: Is curry powder bad?
Answer : Curry powder should not be considered bad for you, however if you aren't inclined to spice, be it mild, medium, or hot you may want to take the time to test whether or not curry powder and its unique flavors are for you. Curry powder is known the world over for its rather potent health benefits so there isn't too much to be said for it not agreeing with you. Curry powder is considered to have blood thinning properties so if you take a blood thinner it may be a good idea to consult your doctor to avoid any adverse reactions the spice may have, though this is generally not considered a concern with curry powder.
Q: What is the difference between curry powder and garam masala?
Answer : Garam masala and curry powder do have some of the same ingredients; however garam masala is known to have a much more potent flavor, and is made with a more wide variety of spices.
The flavor profiles, due to garam masala's more varied ingredient content means that you will likely have a different experience than you would with a normal everyday curry powder. The differences between the two become apparent when you taste them. Although on paper these two spices may contain many of the same ingredients, the addition of garam masala's unique spices also means that it has a tendency to be spicier than typical curry powder.
Q: Is five spice powder the same as garam masala?
Answer : Five spice powder and garam masala cannot be considered the same spice, and cannot be used interchangeably as they have vastly different flavor profiles, although they do share some of the same ingredients. This can be said of garam masala and curry powder too however, and the inclusion of related spices does not result in the same taste and culinary experience. Five spice powders also will sometimes include star anise, and Sichuan peppers which you will not find in most authentic spice blends of garam masala. While they both have their culinary upsides, these two unique spices combinations are not to be considered to have similar taste profiles.
Buy on Walmart
Sun Brands Madras Curry Powder, 4 oz - Walmart Link
McCormick Curry Powder, 1.75 oz - Walmart Link
Starwest Botanicals Organic Curry Powder Spice Blend, 1 Pound Bulk Bag - Walmart Link
Rani Curry Powder Hot Natural 11-Spice Blend 16oz (1lb) 454g PET Jar ~ Salt Free | Vegan - Walmart Link
Frontier Seasoning Blends Indian Curry, 1.87-Ounce Bottle - Walmart Link
Rani Curry Powder Mild Natural 10-Spice Blend 1lb (16oz) ~ Salt Free | Vegan | No Colors - Walmart Link
Amazon Brand - Happy Belly Curry Powder, 3 Ounces - Walmart Link
Madras Curry Powder Mild 7 oz | Authentic 12 spice blend - by Spicy World - Walmart Link
CHIEF CURRY POWDER 500G, 17.5 OZ MADE IN TRINIDAD & TOBAGO - Walmart Link
Jackie's Kitchen Curry Powder, 2 Ounce - Walmart Link
Yamees Garam Masala & Curry Powder Combo - Indian Spices and Seasoning - 24 Ounces ( 12 - Walmart Link
Blue Mountain Country Jamaican Curry and Hot Curry Powder, 6 ounce (Pack of 2) - Walmart Link
McCormick Gourmet Organic Hot Madras Curry Powder, 1.37 oz - Walmart Link
S&B Curry Powder, Oriental, 3 oz (85 g) (Pack of 2) - Walmart Link
Inner Flame Organic Indian Magic Masala - Best Curry Powder | Garam Masala - Perfect - Walmart Link
MADRAS CURRY SPICE BLEND - Walmart Link
La Boite Mini Spices Set. Includes 1oz each of N.1, N.33, N.38, N.35 and N.21 (5 items) - Walmart Link
Rumi Spice - Afghan Curry Braise Spice Blend | With Authentic Afghan Saffron (2.5 oz) - Walmart Link
Curry Madras Powder - Spiceology Indian Curry Seasoning - 16 ounces - Walmart Link
SUN BRAND Madras Curry Powder, 4 OZ (pack of 2) - Walmart Link
Buy on eBay
Sun Brands Madras Curry Powder, 4 oz - eBay Link
McCormick Curry Powder, 1.75 oz - eBay Link
Starwest Botanicals Organic Curry Powder Spice Blend, 1 Pound Bulk Bag - eBay Link
Rani Curry Powder Hot Natural 11-Spice Blend 16oz (1lb) 454g PET Jar ~ Salt Free | Vegan - eBay Link
Frontier Seasoning Blends Indian Curry, 1.87-Ounce Bottle - eBay Link
Rani Curry Powder Mild Natural 10-Spice Blend 1lb (16oz) ~ Salt Free | Vegan | No Colors - eBay Link
Amazon Brand - Happy Belly Curry Powder, 3 Ounces - eBay Link
Madras Curry Powder Mild 7 oz | Authentic 12 spice blend - by Spicy World - eBay Link
CHIEF CURRY POWDER 500G, 17.5 OZ MADE IN TRINIDAD & TOBAGO - eBay Link
Jackie's Kitchen Curry Powder, 2 Ounce - eBay Link
Yamees Garam Masala & Curry Powder Combo - Indian Spices and Seasoning - 24 Ounces ( 12 - eBay Link
Blue Mountain Country Jamaican Curry and Hot Curry Powder, 6 ounce (Pack of 2) - eBay Link
McCormick Gourmet Organic Hot Madras Curry Powder, 1.37 oz - eBay Link
S&B Curry Powder, Oriental, 3 oz (85 g) (Pack of 2) - eBay Link
Inner Flame Organic Indian Magic Masala - Best Curry Powder | Garam Masala - Perfect - eBay Link
MADRAS CURRY SPICE BLEND - eBay Link
La Boite Mini Spices Set. Includes 1oz each of N.1, N.33, N.38, N.35 and N.21 (5 items) - eBay Link
Rumi Spice - Afghan Curry Braise Spice Blend | With Authentic Afghan Saffron (2.5 oz) - eBay Link
Curry Madras Powder - Spiceology Indian Curry Seasoning - 16 ounces - eBay Link
SUN BRAND Madras Curry Powder, 4 OZ (pack of 2) - eBay Link