Unless you live next to a mountain lake in Japan or near a fresh spring somewhere in the Ardennes, chances are - your local water source isn't safe to drink from.
Whether it's a various foul matter that us humans keep throwing in the rivers and streams, or the fact that some water sources are naturally not potable, one thing is sure - we need to drink water, and that water needs to come from somewhere.
Now, there are many different solutions to this essential question - some people opt to perpetually buy bottled water en masse in the hope of saving some money and still being able to access high-quality water. On the other hand, you can simply move to a mountainous area somewhere in the world, and drink fresh water right out of the nearby stream.
Possibly the most convenient one of all water-related solutions, however, would certainly be to install a countertop water dispenser. These contraptions don't take up that much space, can be quite easily installed, and most importantly - they provide you with instant clear water you can drink or use in cleaning and cooking whenever you like.
Of course, these do represent a bit of an initial investment, and they do require their filters changed every 6 months or so, but if you do the maths, you'll see that installing one or more of these in your house can actually save you money - if you look at it in the long run.
In this article, we're going to talk about countertop water dispensers and why they represent one of the best solutions for providing yourself and your family with instant potable water devoid of various pollutants commonly found in other water sources. We've also prepared for you a list of five products, so you can find the best contraption for your particular needs. On top of that, we've organized a brief buyer's guide, as well as a Q&A section where we've ventured to answer some of the most frequently asked questions in this category.
Right then folks, without further ado, here's the deal.
Editors' Picks for Plumbed Countertop Water Dispensers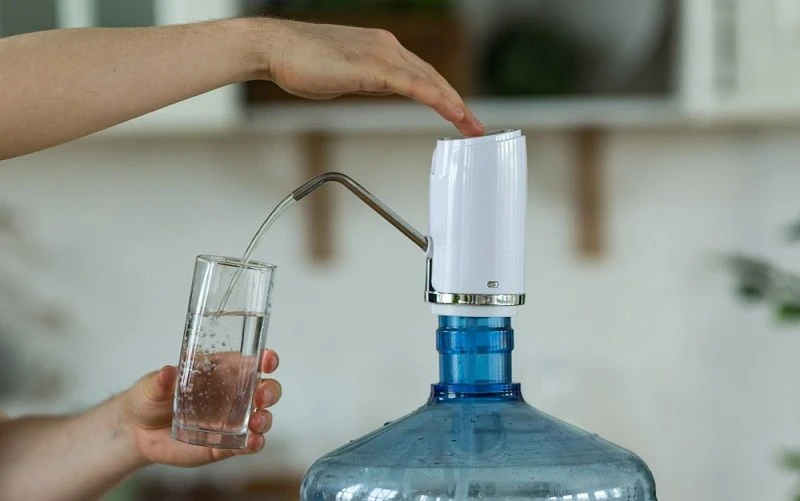 What is Countertop Water Dispenser?
As its name itself suggests, a countertop water dispenser represents a water-dispensing contraption that you can use to get water whenever you feel like it, and you can install it on your counter.
The idea here is to enable the user to access fresh and filtered water whenever he or she likes without the need to use any more space for it than necessary. In fact, all you need is a small square area on your countertop or the kitchen table, for example, to place this contraption, then connect some pipes, flick some switches et voila! - your very own countertop water dispenser is up-and-running.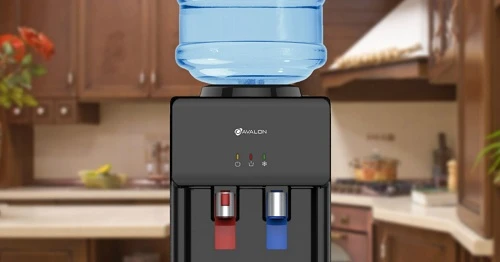 Usually, water dispensers have an inbuilt heater, so you can use either cold or hot water whenever you like. Also, many water dispenser manufacturers also include a self-cleaning button in their contraptions, but we'll talk more about it later on in this article.
Types of Countertop Water Dispensers
There are two main types of countertop water dispensers - 1) Bottled or 2) Plumbed-in models. ( Often called Point-of-Use POU models. ) Here's how they differ:
Bottled Countertop Water Dispensers - These water dispensers come with a large bottle that you flick upside down and stick it in the dispenser itself. This way, the gravity itself helps the flow of water toward your cup or whatever else you place beneath the water source. When the bottle of water you've placed is depleted, you'll need to replace it with another one, or there's no water. The most attractive prospect with these is that they're easily movable and require no installation.
Plumbed-in Countertop Water Dispensers - … work this way: There are some special pieces of equipment you need in order to attach this model to your local water pipe network. The way this work is that they filter and otherwise enhance the ordinary tap water that flows into them, so when you press the button or the lever to take some of the water, what comes out is not just the regular tap water, but its enhanced variant, instead. The good thing about these is that you don't need to change bottles or anything, but the installation can be a bit tough if you haven't done it before.
Top 5 Best Plumbed Countertop Water Dispensers Reviews
1. Avalon Countertop Self-Cleaning Bottleless Water Dispenser
As you can deduct from the name of this water dispenser coming from the Avalon company, this thing won't work with bottles. What you get with this model, however, is an installation kit that you can use to set it up in the room of your choice. Once the thing is up-and-running, you can rest assured that you'll be able to use it whenever you like with ease.
Since this thing doesn't come with a bottled with a prefilled clean water, the cleaning job is performed by the onboard filters, which pluck the pollutants out of the tap water on its way through this contraption. To be precise, this thing comes with two different sorts of filter - a sediment filter, and then a carbon block filter, each of which tackles a different sort of pollutant, as their names suggest.
Other than the standard hot 'n' cold water feature that most of these countertop water dispensers come with, this one also comes with the aforementioned self-cleaning feature that makes this contraption clean its 'innards'. This is essential, as, after prolonged use, the pipes and various components inside the dispenser will need a thorough cleaning.
Pros:
Comes with a full installation kit
There is an instruction sheet complete with illustrations
Two filters onboard - a sediment filter, and a carbon block filter
Gives out hot and cold water
Nightlight for easy orientation during the night or in low-visibility situations
Child safety lock
Cons:
Some users have reported a low hot water capacity
Hot water recovery time can be fairly inconsistent

2. Avalon Premium Hot/Cold Top-Loading Countertop Water Dispenser
In our spot number 2, we've got a contraption that can do wonders delivering fresh water to you and your family ( or colleagues, depending on where you place it ) quickly and easily - no pipes and installation required. What is required, of course, is the water bottle, without which this contraption wouldn't make much sense.
The important thing to remember here would be that you have to change the bottle every time you drink or otherwise use all the water from it. The trouble with this is that these bottles cost money, so you'll have to designate a special budget for these special bottle purchases in order to keep using this contraption.
On the other hand, if you're alright with this sort of arrangement, you can set this thing up wherever you like ( because there's no need to connect any pipes or install anything ), and start using it straight away. As with many other Avalon models, with this countertop water dispenser, you get hot and cold water, so you can use the water you extract from this machine for a variety of different tasks.
Pros:
No installation required
Can be placed anywhere and used straight away
Gives you both hot and cold water
Child safety lock
Slim design
Cons:
Adjusting the temperature on the thermostat can be a bit tricky
Some users have reported that the cold water is not cold enough

3. Brita Ultra Max Water Dispenser
If you're on a lookout for a simple and inexpensive water filtering solution, then this product coming from Brita can be just what you've been looking for. This thing is entirely BPA-free and is large enough to hold 18 cups worth of water when full. This may not seem as much, but it's certainly enough for a small to medium-sized family's water consumption needs on a daily basis.
What makes this thing so attractive and convenient, however, would mostly be its size and portability, because you can place this thing virtually anywhere without worrying about it taking up too much space. Whether it's your countertop, a fridge shelf, or even your kitchen table, this thing will sit there snugly and won't take more space than a larger pot, for example. ( Except that this thing is rectangular, of course. )
This thing consists of a simple but effective water filter, a plastic BPA-free body, and then also a convenient filter change indicator, which tells you when it is time to do away with your old filter and set up a new one.
Pros:
Space-efficient design
Small and simple to use
Comes with a filter change sticker indicator
The filter reduces the number of negative chemicals such as chlorine, zinc, copper, cadmium, and others
Easy installation
Cons:
The spigot is awkwardly placed
Removing the lid can be tricky

4. InSinkErator Wave Instant Hot and Cold Water Dispenser System
Looks like a regular tap, but it actually is able to produce both hot and cold clean water instantaneously. The way this thing works is fairly straightforward, as it only requires you to drill one wee hole in your countertop or wherever you decide to set it up and then you can use it straight away with little to no settings.
Probably the most important aspect of this contraption would be the fact that it can produce hot water whenever you fancy it with ease. On the special faucet that comes with this water dispenser, you can instantly get boiling-hot water, so you can make coffee or tea with it. Also, you can use this water for making noodles and cooking, in general.
Of course, other than its ability to quickly provide to you both hot and cold water, this InSinkErator contraption is also popular for its looks ( well, the tap part of it anyway ). The thing is, many water dispensers tend to look too ' plasticky ' and cheap, thus making your kitchen less attractive when you install one or more of these in. So, the tap part of this contraption more than makes up for this because it blends in well with the rest of your kitchen.
Pros:
Dispenses quickly both hot and cold water
Comes with a large 2/3-gallon stainless steel tank
Excellent water filtration
Adjustable water temperature
Easy installation
Cons:
Fairly expensive
Some users complained that the cold water is not that cold

5. Kenmore Water Dispenser Optimizer (White)
Featuring an intuitive touch screen display that makes this thing look as if it's been nicked off of a futuristic space ship, this contraption from Kenmore can be an excellent choice for a person looking for a good-looking and functional water-dispensing solution.
When it comes to the functionality of this water-dispensing contraption, you get three temperature modes to choose from. The two first modes are the standard hot and cold ones, while the third one represents the ambient mode, which will heat the water inside the tank to whatever temperature of the environment happens to be.
There's another interesting function to this machine. Namely, if you happen to possess also a coffee machine and an ice maker, you can connect them to this machine, and it will pump water into these two. This way, you can ensure your coffee will be made with some high-quality water and that the ice cubes you take out of your ice machine will be safe to drop in your whiskey or wherever you want.
Pros:
Comes with 3 temperature modes
Two additional port connectivity - for ice machines and coffee makers
Each filter set can process a rough equivalent of about 6,000 half-liter water bottles
Energy Star Certified
Attractive Design
Cons:
Some users complained that this kit doesn't include all the necessary installation pieces
Quite expensive
How to Choose Countertop Water Dispenser - A Brief Buyer's Guide
Filtration
Unless you're using a bottled type of a countertop water dispenser, the most important parameter of one of these contraptions would be the filtration system in place.
The thing is, the quality of the water, both hot and cold, directly depends on how thorough a job these filters can do for the water that passes through them. Usually, the kind of filtration a countertop water dispenser comes with will be already described in the product description, so you can tell if it's worth anything or not.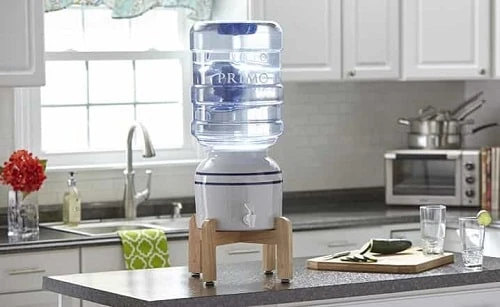 Generally speaking, you should look for keywords such as carbon filter, a sedimentation filter. Also, some manufacturers may even list the harmful chemicals these filters protect you against, so if you're having trouble with a specific kind of pollutant in your tap water ( for example chlorine ), you can buy a water dispenser with a special sort of filter that removes chlorine.
Safety
Any sort of object or contraption in your house that has a switch or a button on it can be a potential recipe for disaster if you have kids or pets. ( Or both. )
Water dispensers, with their several buttons on their control panel, would fall into this category. So, in order to protect these hot and cold water assets far from the reach of children and pets, many manufacturers of these contraptions have figured out a way to protect their water dispensers - child locks.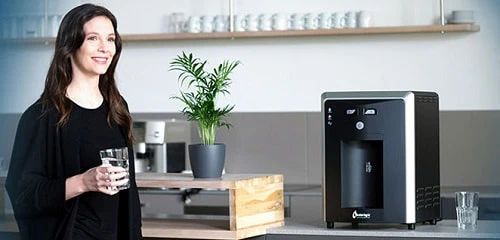 So, if you have kids or pets, you may want to look for water dispensers that have an inbuilt child lock, as these will prevent your little ones from both wasting water and potentially hurting themselves in the process, too.
Type of Dispenser
As we already mentioned above, there are two main types of water dispensers out there - the bottled water dispenser and the point-of-use models.
If you can afford to buy bottled water on a regular basis and don't want to do any installation, you may want to get yourself a bottled version of this contraption. Also, bottled water dispensers can be easily moved wherever you need them, so they can be a perfect solution if you're running a company.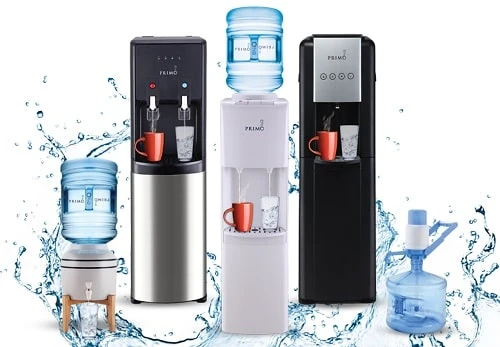 On the other hand, if you want to have a water dispenser in your home, you can get a point-of-use model instead. You will have to do the installation, but once you've done it, you have can start using the dispenser right away. Plus, filters on these contraptions tend to last a long time, so you needn't worry about filter changes too much.
Build
Water dispensers usually don't take up too much space, especially if they're of the countertop kind, but having a model that you can comfortably house in your fridge or on the top of your table can still be an attractive prospect. This especially goes for people who have smaller kitchens.
The thing about builds of these water dispensers is - they should not only be judged according to how much space they take up when placed on top of a table or some other surface, but also according to their height. Bottled water dispensers, in particular, can be quite tall when you place the bottle on top of the basic structure, so it's essential you check to see how much space the dispenser will take up once you've installed it.
Connectivity
Although this is not a feature you should expect to see in many water dispenser models, there are some models that do have it, and these can be useful for folks who also possess some other beverage-making contraptions.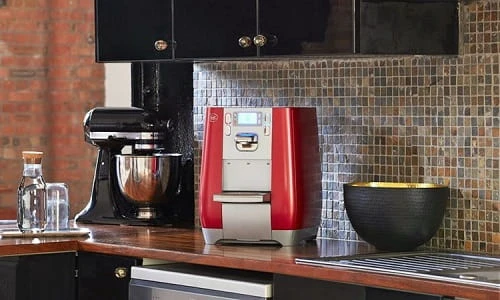 What we're talking about is the connectivity of the water dispenser to other apparatuses such as coffee makers and ice-making machines. Both of these machines require a constant stream of clean water ( hot and cold, respectively ), so if you can connect a hot 'n' cold water dispenser directly to either or both of these contraptions, you will in the position to save energy and to use these machines in accord with each other quickly and efficiently.
Frequently Asked Questions On Best Plumbed Countertop Water Dispenser:
Q: Why Should You Buy a Countertop Water Dispenser Instead of a Kettle?
Ans: The answer to this question would be twofold: 1) because of the speed of the heating, and 2) a broader spectrum of functions.
While kettles can only heat up your water, water dispensers can filter it ( if they're the point-of-use kind ), as well as provide you with both cold and hot water. Plus, many models also feature a self-cleaning option, so you don't even have to clean them after use.
Q: Are Water Dispensers Safe?
Ans: This all depends on the model.
The thing is, water dispensers are water-spewing contraptions that can get you water at the press of a button. While this is easy and convenient, it can become a problem if you have kids or pets who can mess with it.
So, if you want to ensure your water dispenser will be safe from these attacks, as well as that your kids and pets will be sure from hot water, what you want to do is get a water dispenser with a special child lock feature. This way, the water won't flow no matter how hard you're kids are pressing on it.
Q: What is the Benefit of a Water Dispenser?
Ans: Well, the main benefit is having instant access to fresh, potable water, without having to buy bottled water all the time. ( Of course, if you have a bottled version, you will have to buy bottles of water, but even that you won't have to do that often. )
Also, many water dispensers also heat up the water inside, so you can make coffee or tea easily.
Q: How Do Countertop Water Filters Work?
Ans: There are two main types of water filters - bottled and point-of-use models.
Bottled models work in a simple way, you get a bottle of water ( usually a very large one ), flip it upside down, press the lever and the water will flow from the bottle into your cup or whatever it is you're holding underneath it. You can see the little bubbles at the top as the water leaves the bottle.
On the other hand, the point-of-use models you need to connect to your pipes in the house, so they require some installation. Once you've set these up, you can use them as much as you like - no need to buy any bottles or anything. ( The only thing that these might require is an occasional filter change. )
Q: Is a Whole House Water Filter Worth It?
Ans: If you don't plan to keep buying bottled water all the time, then installing a filtration system that covers your entire system is recommendable.
So, if you're fetching your water from a nearby well or are getting it through the pipeline but aren't sure about its quality, getting a filtration system might be a good idea for you.
All things considered , getting a water dispenser can be a great way to secure instant and low-cost access to potable water inside your home or office. Whether you prefer the bottled option or the point-of-use one, installing a water dispenser can be a great way to save energy and have both hot and cold water whenever you like. We hope you found this article helpful and wish you a merry and hassle-free purchase.
Buy on Walmart
Aquverse Counter Top Water Dispenser with Filters, 1PH Bottleless water Cooler with - Walmart Link
AlcaPure Reverse Osmosis Countertop Water Filter by RKIN with Patented High Capacity 4 - Walmart Link
SimPure Y6 Countertop Reverse Osmosis Water Filtration Purification System, 3 Stage RO - Walmart Link
SimPure Y5 Countertop Water Filtration System, Reverse Osmosis Water Filter (Gray) - Walmart Link
Clover D1 Hot and Cold Countertop Bottleless Water Dispenser - Walmart Link
Avalon B8BLK Hot & Cold Water, NSF Certified Filter, UL/Energy Star, Black - Walmart Link
Brio Limited Edition Top Loading Countertop Water Cooler Dispenser with Hot Cold and Room - Walmart Link
Nutrichef Countertop Water Cooler Dispenser - Hot & Cold Water, with Child Safety Lock, - Walmart Link
Avalon A12-CTPOU bottleless Water Dispenser, Countertop, Stainless Steel - Walmart Link
Avalon B8WHT Hot & Cold Water, NSF Certified Filter, UL/Energy Star, White - Walmart Link
Premium Solid White Porcelain Water Crock Dispenser & Wood Counter Stand Set - Elegant - Walmart Link
Avalon A9 Electric Touch Countertop Bottleless Cooler Water Dispenser-3 Temperatures - Walmart Link
Brio Countertop Self Cleaning Bottleless Water Cooler Dispenser with Filtration - Hot - Walmart Link
Avalon A1CTWTRCLRBLK Water Dispenser, Black - Walmart Link
Brio Self-Cleaning Countertop Bottleless Water Cooler Dispenser - with 2-Stage Water - Walmart Link
Avalon A1CTWTRCLRWHT Water Dispenser, White - Walmart Link
Amay Desktop Water Cooler Dispenser Top Loading Water Dispenser Hot & Cold Water Coolers - Walmart Link
Vitapur Countertop Room Cold Water Dispenser, White - Walmart Link
Buy on eBay
Aquverse Counter Top Water Dispenser with Filters, 1PH Bottleless water Cooler with - eBay Link
AlcaPure Reverse Osmosis Countertop Water Filter by RKIN with Patented High Capacity 4 - eBay Link
SimPure Y6 Countertop Reverse Osmosis Water Filtration Purification System, 3 Stage RO - eBay Link
SimPure Y5 Countertop Water Filtration System, Reverse Osmosis Water Filter (Gray) - eBay Link
Clover D1 Hot and Cold Countertop Bottleless Water Dispenser - eBay Link
Avalon B8BLK Hot & Cold Water, NSF Certified Filter, UL/Energy Star, Black - eBay Link
Brio Limited Edition Top Loading Countertop Water Cooler Dispenser with Hot Cold and Room - eBay Link
Nutrichef Countertop Water Cooler Dispenser - Hot & Cold Water, with Child Safety Lock, - eBay Link
Avalon A12-CTPOU bottleless Water Dispenser, Countertop, Stainless Steel - eBay Link
Avalon B8WHT Hot & Cold Water, NSF Certified Filter, UL/Energy Star, White - eBay Link
Premium Solid White Porcelain Water Crock Dispenser & Wood Counter Stand Set - Elegant - eBay Link
Avalon A9 Electric Touch Countertop Bottleless Cooler Water Dispenser-3 Temperatures - eBay Link
Brio Countertop Self Cleaning Bottleless Water Cooler Dispenser with Filtration - Hot - eBay Link
Avalon A1CTWTRCLRBLK Water Dispenser, Black - eBay Link
Brio Self-Cleaning Countertop Bottleless Water Cooler Dispenser - with 2-Stage Water - eBay Link
Avalon A1CTWTRCLRWHT Water Dispenser, White - eBay Link
Amay Desktop Water Cooler Dispenser Top Loading Water Dispenser Hot & Cold Water Coolers - eBay Link
Vitapur Countertop Room Cold Water Dispenser, White - eBay Link