Basil leaf is considered an important ingredient in different Mediterranean cuisine. Whether you are making pasta sauce or need to do that decorative topping, this renowned herb will always play a striking role.
When you get to taste this leaf with your dishes, its initial taste will be a bit peppery. After a couple of seconds, you will be indulged with sweet and mint flavors. Due to this variation, it is highly in demand throughout the world.
However, what happens if you don't like this explosion of flavors? What will you do if these herbs are not available in your area? Instead of dwelling on the problem, you should divert your attention towards the solution, right! Hence, the perfect approach will be to look for the basil leaf substitute.
So, from the following article, you will get a complete list of all the alternatives that you can use in your dish without giving a second thought. Keep reading to find out more.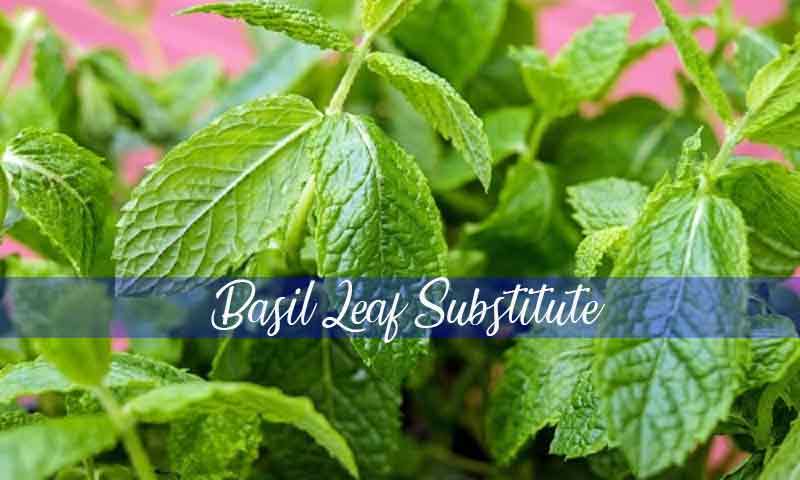 This 10 Basil Leaf Substitute Can Solve Your Problem
Oregano
As mentioned above, oregano is a very good substitute when it comes to Italian and Mediterranean cuisines. You will also get that peppery flavor from it and the aroma might lighten up your mood.
This herb works best in casseroles and pizza toppings. If you are looking to make your pasta sauce delicious among your loved ones, oregano can help you out easily.
Celery Leaf
Celery leaf can be a good choice in making pesto. If you are not interested in using basil, go for this beautiful leaf.
To get that identical taste, always use the same proportion that you might have used in the case of basil.
Parsley
When you are planning to do that eye-catching decoration, parsley fits very well instead of basil.
The taste won't be that much of a difference if you use it in salads. Although you might not get that intense flavor, it will be a good alternative for Basil; and it will provide the green texture if you use it in pizza or pasta toppings.
Italian Seasoning
Multiple dishes go very well with basil. Nevertheless, the good thing is that Italian seasonings like parsley, rosemary, pepper, thyme, and oregano can also give head to head competition with this herb. In that sense, the World-famous pasta sauce can be a perfect example.
To use this substitute, please check the other recipes that will make your dish a mouth-watering one and to be on the safer side, consult with a professional.
Cilantro
When you eat the dishes made from cilantro, you will get a variety of flavors. There will be a taste of lemon, pepper, and mint. You might get confused about the fact that which one of the flavors came first in your taste buds.
Although the overall taste won't be like basil, the decorations that you can include in your dishes are endless. You will get that greenish color in sauces and other dressings. For Thai foods, it can be a suitable choice if people prefer to have that intense flavor.
Spinach Leaf
If you have kids and they are not interested to have that flavorful kick in their foods, use spinach leaves. This won't only be tasty, but will also be healthier for their bodywell. If you are going to make pesto, use this substitute to increase the overall taste.
Besides, grownups will also provide you with good reviews for sure. The dishes will have the presence of greenish color like basil, so this won't be a problem if you prefer to display good outlooks in your food.
As you know, the majority of people can't deny Thai foods because of their unique dishes. Normally, basil becomes the first pick in this kind of cuisine, but it is not mandatory in all cases. You can still use spinach and can get that identical taste.
Arugula
This vegetable is very healthy and is a popular basil leaf substitute. The leaves are very tender and blend perfectlywith the dishes.
If you include it in your recipe, you will get that peppery kick within the first bite. Some people might like it and some don't. If you don't prefer to use it, there are other options available in this article.
Thyme
The flavor of it is a bit intense than basil. You will get a combination of lemon and mint taste. Due to the latter flavor, it works well in the absence of basil.
Use this in casseroles or pasta sauces and who knows, you might be a fan of it in the end. Just make sure that you don't use too much of it or else the overall flavor will degrade because of its intensity. Take some knowledge beforehand and then start making your food with it.
Kale
This renowned vegetable tastes delicious with most dishes and is a good alternative to basil leaf. It will go perfectly with pesto along with the combination of the pureed cheese, olive oil, and nuts.
The overall taste will be a bit different and you might get surprised when you will put it in your mouth. Thus, the good thing is that it will surely be delicious and you won't be left disappointed in the end.
Mint
Mint is a very powerful substitute for basil and also for sage. The majority of the people are aware of it. Both of them look identical and tastes a bit similar. Just the intensity of flavor in mint is quite higher than basil.
However, it won't be a smart decision if you use mint in pizza toppings or even casseroles. You can easily use it in different sauces and innovative dressings. The flavor will be fresh flavor and your mood might get lightened up as a result.
For desserts that include basil, mints always become the first choice for many people. That's because it fits very well with sweet dishes and the taste never gets ruined.
Conclusion
As you have seen, there is a load of substitutes present and it is not that tough for you to pick the right one. You can pick any basil leaf substitute for cuisine.
Experiment with some of them and check which one picks the win.
Enjoy cooking!