If you like corn, in its many interesting and delicious forms, chances are – you are also a big fan of cornbread, a special type of bread made out of cornmeal and some other ingredients.
Whether you like it for its corny taste, it's light texture which feels good on the palate, or the fact that it can be paired up with virtually any other meal, there's nothing like having a piece of freshly made cornbread.
Other than its excellent taste and texture, cornbread can also be a great option for the folks who would like to pair it up with some other meal. Thanks to its simplicity, there are few food items, which wouldn't go well with it, so there aren't any limitations to cornbread-based culinary concoctions.
In this article, we're going to propose to you a couple of interesting cornbread match-ups, so to speak. As you will see, the following list contains both sweet and bitter, dairy and meaty combinations, so there's tips for everyone on what to eat with cornbread.
Right then, onto our top cornbread match-up picks we go!
What to Eat with Cornbread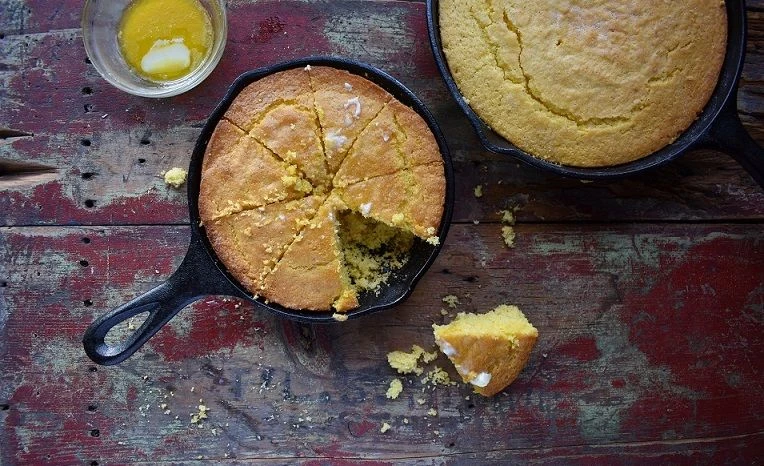 1. Honey
Starting with a sweet combination of one of the most indestructible foods in the world – honey, and one of the most beloved bread types – cornbread.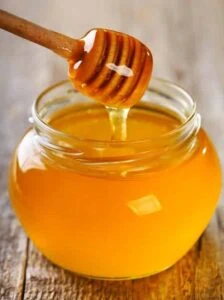 The idea here is quite simple – spread honey over pieces of cornbread and then eat it as a breakfast food. You can then add more stuff into the mixture like milk or some fruits. The beauty of this arrangement is in its simplicity, so you need to be an experienced chef to make it happen quickly and easily.
A perfect sweet solution for a Sunday morning breakfast!
2. Pork
Another great way to start your day is a hearty breakfast with cornbread and some finely roasted pork as the main course.
You can pull off this arrangement in several different ways. For example, you can make some cornbread and then serve some bacon separately, so anyone can take as much of as they please. Some folks may like bacon with cornbread and some may like cornbread and bacon. It all depends on what you put your accent on.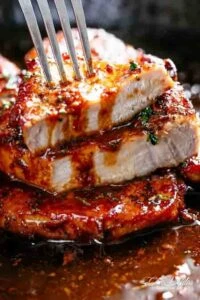 On the other hand, you can also merge the two into one and make cornbread with bits of bacon stuck in it. This way, everyone will get roughly the same amount of both cornbread and bacon.
3. Hot Dogs
There's something about cornbread that makes it perfect for a breakfast sort of environment.
It could be that it's a relatively light meal, which is easy to digest, but it also gives you plenty of energy to start your day. Eh, be that as it may, this suggestion encompasses pairing up cornbread with hot dogs.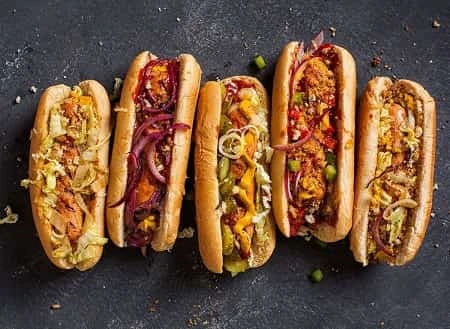 The idea is quite simple. You can either serve them separately, but at the same time, or merge them into one glorious cornbread-based mass! You can, for example, create small cornbread muffins and then stick small pieces of hot dog into them. This arrangement represents sort of a bite-sized cornbread chunk you can eat as a side dish, or as a main meal for breakfast. Or, you can create something completely different with these two ingredients. (Perhaps an elongated cornbread hotdog sandwich?) The possibilities are endless!
4. Cheese
It's not a secret that cheese is one of the biggest multi-tools of the culinary world. Do you want to enhance your pizza? Get a special sort of cheese on top of it and there you have it.
Do you fancy improving your cornmeal with some sort of cheese-based topping? Well, get some cheese on it then! As simple as that.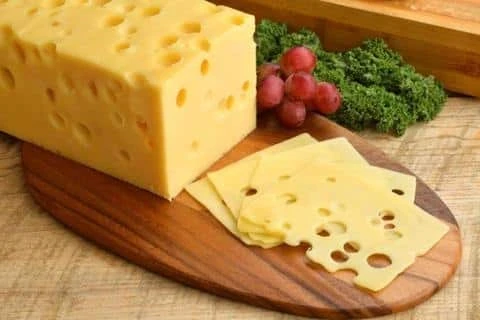 Of course, if you're a gourmand sort of person, it may not be as simple as that. There are as many possibilities in this department as there are kinds of cheese, so whether you have mozzarella, cheddar, or parmigiana, you can put some of it on your cornbread without worrying you've made a mistake.
5. Jalapeños
Indeed, cornbread is a great base for so many culinary combinations because of its soothing neutral taste. You can make the resulting combination sweet, bitter, full of calories (remember that bacon arrangement), or even spicy.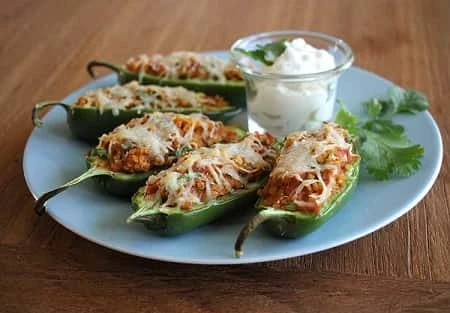 If you're a fan of Indian or Mexican food, all you need to do is get some spicy paprika or, indeed, Jalapeños, and mix them up into the cornbread dough. The resulting mixture will both taste spicy and look spicy, which is great in case you're an avid food photographer, as well as the consumer.
6. Milk
We've mentioned breakfast a couple of times already in this article, but if there's a combination out there that's more suitable for breakfast than a cornbread & milk combo, we'd very much like to hear about it.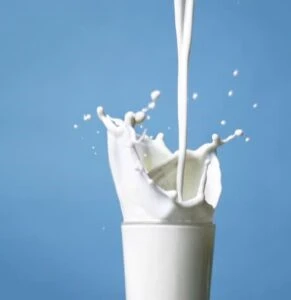 Cornbread and milk meal represents a perfect mixture for a light-on-the-stomach yet energizing start to your day, so if you're sort of short on the ideas of what to make for you and your family, but you have some cornmeal and milk laying around – there's your solution.
The great thing about this recipe is that it doesn't take eons to make and all the ingredients are fairly inexpensive.
7. Barbeque Meat
In case you're looking forward to eating cornbread, but still, miss the rich flavor of bacon, here's a curious suggestion – how about your pair up your cornbread with some freshly roasted barbeque meat?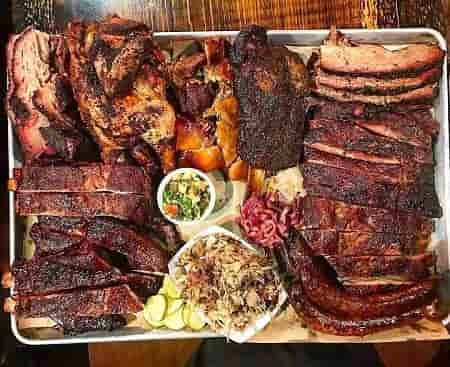 The meat will provide the necessary taste and energy punch, while the cornbread will get you a smooth and soft touch to counteract the barbeque meat.
8. Fried Chicken
Another meat-based cornbread arrangement would be to pair up friend chicken with some cornbread. The resulting combination will give you plenty of energy thanks to the meat, and then a lot of texture thanks to the cornbread.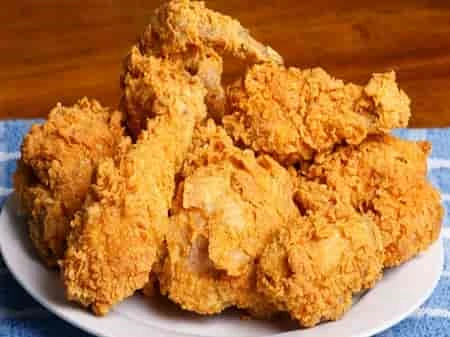 So, it's perhaps not a combination that everyone expected, but certainly, one that can work wonders if you are willing to try it out!
In conclusion, cornbread is a simple but brilliant sort of bread that lends itself to several different combinations. Whether you're having it with meat, milk, honey, or some other food one thing is certain – a well-made cornbread-based meal with both fill your stomach and put a gourmand smile on your face. (Especially if you're a food blogger.)