Although the demand for hot chili peppers is growing at a very fast pace, some people prefer to decrease the heat level on their dishes. In different Mexican cuisine, Serrano pepper is considered as one of the top picks. Not only that, but South Asian people also love to have it on their dishes.
If you want to know about its spice strength, it is within 8,000 - 23,000 SHU in terms of the Scoville Scale. As you can see, this pepper can add that extra heat that you were looking for in the first place.
However, what will happen if you just found out that it is not available in your home as well as the grocery store. In this case, you will need to have a good substitute for it.
Good news! We have got it all covered for you. From the following article, you will find out all the alternatives that will be your light at the end of the tunnel. Read on to find out more.
Editor's Recommendation: Top Serrano Pepper Substitute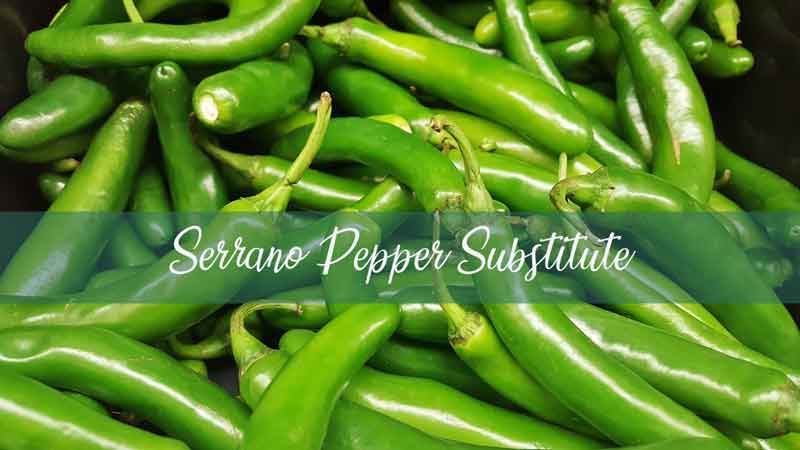 All Substitutes for Serrano Pepper
Here are all the good alternatives that you can use when you don't have Serrano pepper.
1. Habanero
This one is one of the spiciest out of other substitutes. People love to use it in making hot sauces and some other spicy foods. It has an astounding 300,000 - 450,000 SHU. So, you can at least guess the kind of heat level it will provide. They give a fragrance that smells like a flower and it tastes a bit citrusy.
2. Anaheim Pepper
The Scoville heat is 500 - 2,500 SHU and yes, it is very famous in the USA. People who love to have that constant spicy flavor in their taste bud can give it a try. The flavor is quite light so it won't be a problem when you are looking for a substitute.
3. Pasilla Chile
With a heat of around 250 - 3,999 SHU, this one gives good competition with the heat level of Serrano Pepper. You just have to use it in large amounts to get the full result.
4. Poblano Pepper
In order to match it with the Serrano pepper spice level, you have to use it in large quantities. The Scoville heat is 1,000 - 2,000 SHU. They come in green color and are thin in shape. Overall, it is a good option.
5. Jalapeno
If you are interested to maintain that same level of heat like Serrano pepper, you can use jalapeno without any hesitation. Fortunately, it is available in all places and won't be hectic for you to purchase.
The Scoville heat scale is 2,500 - 8,000 SHU, but it is not a problem at all. You can simply increase the amount of jalapeno in your dish and get that spicy kick.
6. Ghost Pepper
You will be surprised to know that its Scoville heat is 800,000 - 1,041,427 SHU. This pepper is famous because it is the first one that broke the record of 1,000,000 SHU limit.
It has taken a spot in the top 10 hottest pepper in the world. In the case of Serrano Pepper substitute, you can use it if you are a heavy spice lover.
7. Cayenne Pepper
When you are going to buy, it will come in a powdered form. It is a great choice when you have to make a quick and spicy dish.
The Scoville heat is 30,000 - 50,000 SHU which is highly remarkable. If you talk about popularity, it is very famous in Cajun dishes, different types of hot sauces, etc.
8. Banana Pepper
They kind of look like a banana with a curvy shape. When you get to taste it with your dish, you will get a sweet and tangy taste.
The Scoville heat is small and it is 0 - 500 SHU. You have to use it in a large amount to match with Serrano peppers spice level.
Serrano Pepper Benefits Video

Serrano Pepper Final Tips
While handling this hot pepper, make sure you use the kitchen faucet for cleaning hands after you are done with everything.
Dishes that include Serrano pepper and sage are quite challenging to make since the latter ingredient is not available that much all the time. In this case, you can use an alternative to sage-like rosemary, thyme, or savory.
A famous dish like 'Gumbo' requires the key ingredient file powder to give that root beer flavor. You can even add Serrano pepper to make it extra spicy. There are lots of substitutes for file powders in case you don't find it available during the time of your cooking. Use arrowroot powder, okra, or cornstarch as an alternative as well.
To store your dish that includes soup, always use soup thermos containers so that the food remains hot all the time. Thus, for roasting purposes, use a turbo oven to get even and fast cooking. You can even save some energy during the process.
Conclusion for Pepper Buyers

Hope you have got some idea about the kind of substitutes that you will need when you won't have Serrano pepper. Pick your ideal one and get started with the cooking.
Best of luck!