For anyone who loves pasta, having an electric pasta maker in your home is the best choice. Being a staple food in many households, it should be fresh and mouthwatering. Freshly homemade pasta is not only healthier but also delicious. An electric pasta maker allows you to effortlessly and quickly prepare perfect pasta within minutes.
Some of these electric pasta makers are automated; therefore, you simply add your ingredients, and everything else is done for you. You can easily prepare angel hair, lasagna, fettuccine, and spaghetti. You can also make round types of pasta like rotelle, penne, rigatoni, and macaroni; the choice is yours on what you love.
Editors' Picks for Electric Pasta Maker
15 Pasta Machine Reviews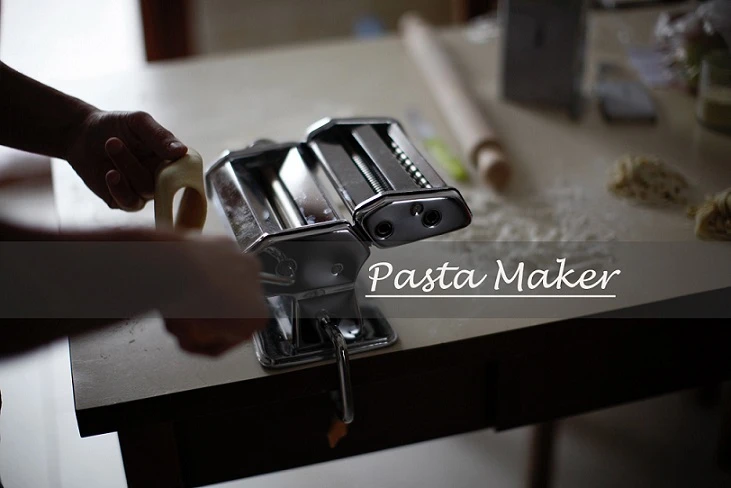 1. Kitchen Aid - 3-Piece Pasta Roller & Cutter Attachment Set
Comes with two cutter attachments - one for spaghetti noodles and other for Fettuccine noodles
Features a special cleaning brush
All the attachments are made out of stainless steel
This package includes a mixer and a pasta roller
The attachments fit all KitchenAid stand mixers
Coming from the world-renown company called KitchenAid, this 3-piece pasta roller and cutter attachment set represents an all-you-need kit for making pasta. What you get here is a mixer, a roller for thinning and flattening the dough you're working with, and then a cutter, too, for making pastas that are ready to go straight into boiling water.
To ensure the highest sanitary as well as durability standards, the folks at KitchenAid made sure that all of the attachments and tools you get in this set that come in contact with the dough are made out of high-quality of stainless steel.
Other than the standard spaghetti cutter, this offer also includes a special cutter for another form of noodles - the Fettuccine kind. These noodles are wider, so there's no other way of making these with a machine other than having this special attachment.
2. Large Philips Kitchen Appliances HR2375/06 Pasta Maker Plus
can be cleaned easily with a dishwasher
Has a storage drawer
Allows you to use an unlimited number of ingredients
It operates automatically
Comes with four shaping discs
This Philips Kitchen Pasta Maker has made it easier to prepare fresh noodles and flavorful pasta at the comfort of your home. It automatically extrudes, kneads, and makes your favorites. All you need to do is put all the ingredients in the machine, and it will do the rest. It is capable of making ½ lb of pasta within 10 minutes. You can use unlimited amounts of ingredients such as flours, herbs, vegetable juices, eggs to make a very delicious and healthy gourmet, colorful, and gluten-free pasta for your friends and family.
Also, it comes with four different shaping discs to make various types of noodles and pasta like lasagna, penne, fettuccine, and spaghetti. Additionally, it comes with a measuring cup, cleaning tool, and a noodle/pasta cutter. You can make healthier noodles and pasta at home as you choose the ingredients yourself. Some of its parts are dishwasher-safe; hence it is easy to clean, dismantle, and set up. With a storage drawer, you can store the cleaning tools and shaping discs comfortably.
3. KitchenAid KSMPSA Pasta Roller Attachment
It's well tested, engineered and designed
Works with all KitchenAid stand mixers
Comes with a storage pocket
The silver KitchenAid pasta roller is well tested, engineered, and designed by KitchenAid. The KitchenAid stand mixer powers this pasta roller, and it works with all the household stand mixers by KitchenAid. You can now stop settling for the pre-packaged pasta as this pasta maker helps in creating fresh and tasty pasta quickly. The three-piece machine allows you to create fresh and authentic pasta easily and quickly from scratch. This KitchenAid set features a fettuccine cutter, spaghetti cutter, and pasta roller.
Also, it comes with a convenient pocket for storing the attachments. This pasta roller can roll pasta sheets of 6 inches and comes with eight thickness adjustments. It has a cleaning brush for removing the dough particles and flour. The machine is constructed using stainless steel material, which allows clean cutting and smooth rolling of the pasta dough.
4. 3-Piece Gvode Pasta Roller
Made of stainless steel material
Features eight thickness settings
Easy and quick to make pasta from the pasta dough
Compatible with all KitchenAid stand mixers
Durable and sturdy
The Gvode pasta roller is constructed using a stainless steel material that enables clean cutting and smooth rolling of the pasta dough. These are made of food-grade materials that ensure fresh food is healthier. The pasta roller is designed to roll 5.5-inch pasta sheets with eight adjustments on thickness to meet the various needs. It allows for making authentic and fresh pasta easily and quickly from scratch. The pasta set contains a fettuccine cutter, spaghetti cutter, pasta roller, and cleaning brush, which makes your work easier. All these cutters enable you to prepare hearty fettuccine noodles and pasta.
This pasta machine is compatible with all KitchenAid household stand mixers, although it doesn't belong to KitchenAid. The rolling shaft is durable and sturdy to use as it offers high power and stability for smoothly and evenly rolling and clean cutting of the pasta dough. The cleaning brush helps you to remove the bits of pasta and flour, but you can as well wipe it with a soft dry cloth.
5. Red Marcato 8334 Atlas 150 Pasta Machine
Compatible with most pasta cutting accessories
Easy to clean
Made of durable and sturdy material
Features three pasta shape discs
Comes with ten years warranty
The Original Marcato's World-Famous 150 pasta maker can roll and cut pasta dough for a traditional tag, fettuccine, and lasagna at home. It's made in Italy using an oxidation coloring and anodized aluminum to make it durable and attractive. The Marcato 8334 set includes an instruction manual, a clamp, hand crank, pasta cutter, and pasta machine. The manufacturer has backed it with a ten years warranty, so you have nothing to worry about while investing in it. It is designed to roll dough sheets to 150mm wide with ten different thickness adjustments to suit all your needs.
Besides, the rolled pasta dough will absorb a lot of delicious sauce and also cook evenly. This also ensures there is consistency in taste, cook time, and texture. You can easily attach this Marcato 8334 Atlas 150 pasta machine to the pasta drive motor as well as any of those twelve pasta cutter accessories. Also, it's easy to clean by wiping it with a dry cloth or brush.
6. Silver Marcato Design Atlas 150 Pasta 8320 Machine
It's made of high-quality material
Easy to connect with other attachments
Comes a ten years backup warranty
Ensures consistent taste, cook time and texture
Quick to clean
With this Original Marcato World-Famous pasta machine, you roll and cut pasta dough into three traditional shapes like tag, fettuccine, and lasagna at home. It is manufactured in Italy using chrome-plated steel. This silver Marcato 8320 set includes an instruction manual, a clamp, hand crank, pasta cutter, and pasta machine. The pasta maker is designed to roll dough sheets up to 150mm wide using ten different thickness settings to ensure there is consistent taste, cook time, and texture.
The pasta machine is attached easily to the pasta drive motor and all the twelve pasta cutting attachments which are separately sold. When the pasta is rolled, it absorbs the delicious sauce and cooks evenly. This Italian manufactured product can be cleaned easily by wiping with a dry cloth or brush after using it. The Marcato 150 pasta machine is also backed with a ten years warranty to ensure you enjoy your pasta without worries. Other materials used on the pasta maker are ABS and Nickel-Plated steel to sturdy and durability.
7. OxGord - Pasta Maker Machine Hand Crank
Stainless steel build
Easy maintenance
Nine different adjustment sizes
Comes with three-blade attachments
Dishwasher safe
For those of you looking for a relatively inexpensive but still effective and easy-to-use pasta-making contraption, this model from OxGord can be just the thing for you. What this thing consists of is a simple body with a pasta cutter that can be adjusted for different sizes of the noodles, and then a simple wooden crank for cutting the strips.
As far as the cutter on this model is concerned, the folks at OxGord made the mechanism so that it can be adjusted to 9 thicknesses. This gives you a wide range of choices so you can go for - from Spaghetti to Fettuccini and other kinds of thick pasta.
To ensure this thing will be able to work for a long time and that it's easy to clean too, the folks at OxGord made it out of stainless steel. So, you can rest assured that this thing won't rust d that it will be a breeze to clean. What's more, this pasta maker is entirely dishwasher safe, so you don't even have to clean it yourself.
8. CucinaPro - Pasta Maker Deluxe Set
Can be used for making spaghetti, fettuccini, lasagna, ravioli, and angel's hair pasta
Comes with several attachments
Made out of high-quality chrome-coated steel
The adjustable thickness of the noodles
Comes with an instruction sheet
Representing a great example of what a well-made old-fashioned pasta maker looks like, this CucinaPro deluxe set will cover all of your pasta-making needs thanks to its ease of use and the variety of different kinds of pasta you can make with this contraption.
To be precise, using this thing, you can make spaghetti, fettuccini, ravioli, lasagna, as well as the so-call angel's hair pasta. The fact that this is possible is thanks to several attachments that this CucinaPro tool comes with.
All of these attachments were made out of chrome-coated steel, which means that this thing won't rust, no matter how much it comes in contact with moisture. ( In fact, the only way chrome-coated steel can rust is if the coating is somehow removed - for example, if you drop this machine to the floor and the chrome gets chipped. Otherwise, there's no rust to worry about with this tool. )
9. Nuvantee - Pasta Maker - Highest Quality Pasta Machine
Elegant design that will fit well into any sort of kitchen décor
The cutter features 9 different settings, so you can come up with all sorts of noodle sizes
Heat-treated gears for improved durability
Made out of chrome-plated and nickel-plated steel
Easy disassembly
As our entry number 7, we've got yet another manual pasta-making machine, this time coming from a company called Nuvantee. This model can be a perfect solution for experienced pasta makers who need a machine for making noodles in a variety of different sizes. To make this happen, the folks at Nuvantee made this contraption so that it allows you to set it at 9 different noodle thicknesses.
In the department of looks as well as durability, this Nuvantee pasta maker would certainly score fairly highly, mostly because it's made out of high-quality chrome and nickel-plated steel. This not only gives it an elegant and refined look but makes sure that it won't ever rust because chrome-plated steel is impervious to moisture.
10. Hamilton Beach - Electric Pasta and Noodle Maker
Can make pasta in 15 minutes or less
Comes with an inbuilt scale
No drying required
4 recipes included in the package
You can make 7 different types of pasta with this thing ( Angel hair, spaghetti, wide noodles, and others )
Features a convenient storage drawer ( for keeping the attachments when not in use )
Being able to make your special kind of delicious pasta in the comfort of your home can significantly up your cooking game, so to speak. Whether you like to stick to good old recipes your nan left you, or fancy experimenting with new ingredients and flavors, owning one of these contraptions will help you make your dream noodles ( or whatever other type of pasta you had in mind ) in no time.
As our entry number one, we've picked this model that comes from the famous Hamilton Beach company. As the manufacturers claim themselves, making pasta with this contraption won't take you more than fifteen minutes. ( This means 15 minutes if you start from scratch. )
As far as the type of noodles and pasta you can make using this contraption, there are seven different attachments you can use. With the help of these, you can make lasagna, spaghetti, fettuccini, Angel hair noodles, as well as penne, and wide noodles. So, no shortage of variety when this machine is in question.
11. Nevku - Pasta Maker Attachment Set
Made out of high-quality stainless steel
The package includes a pasta roller, a fettuccine cutter, and a spaghetti cutter
There is a cleaning brush included in this package
Each attachment features 8 thickness settings
1-year warranty
Even though this entry number two isn't a complete pasta maker per se, we've decided to include it nevertheless because it can be used with pretty much any Kitchen Aid stand mixer. This set includes three different attachments that you can use to make different types of pasta by simply attaching them to the Kitchen Aid mixer you have. ( Of course, you have to have such a mixer in the first place, otherwise buying these won't be of much use. )
These three attachments are made out of a high-quality breed of food-grade stainless steel, so you needn't worry about this starting to rust after you've used them a couple of times. As long as you take good care of them, these can last you a lifetime.
Now, as far as the types of pasta you can make using these attachments, you can count in a spaghetti cutter, a fettuccine cutter, as well as a pasta roller for making wide sheets of pasta. Each of the attachments features 8 different thickness settings, so you can make your pasta as thick as you like it.
12. Newcreativetop - Stainless Steel Manual Noodles Press Machine
Made out of stainless steel ( except for the rocker, which is cast iron )
5 different noodle moulds
The moulds feature different sizes of openings ( so you can make thick or thin noodles )
Fairly easy to clean
As the name of the company implies, using this noodle-pressing machine is quite a creative way to make noodles, as the entire procedure is done completely manually.
Since this contraption is made out of stainless steel, with proper care and regular cleaning after every use, you can rest assured that this thing will last you for years if not decades. As stainless steel doesn't rust, you don't need to worry about moisture getting to it, or this thing rusting any time soon.
That said, the only part of this tool that's not made out of stainless steel would be the rocker, which is made out of cast iron. So, after using this thing, make sure to carefully clean this part and oil it regularly, so that it runs smoothly.
What this package includes is a single pasta-making hand-operated contraption complete with five different attachments you can use to make different shapes of noodles.
13. Shule - Electric Pasta Maker Machine
Made out of high-quality stainless steel ( most of it, anyway )
7 or 9-position dial
2-speed operation
The rollers and cutters made out of anodized aluminum
A 110-V motor
Featuring both an attractive design and some excellent noodle-making properties, this contraption coming from the Shule company can be a great option to make high-quality noodles quickly and efficiently at home.
When it comes to the types of material the folks at Shule used to make this contraption, the main material of choice was stainless steel. Almost the entirety of this thing is made out of this material, except for the rollers and cutters which are made out of anodized aluminum.
There are two speeds at which you can use this machine, and when it comes to the thickness of the pasta itself, there are 7 and 9-position dials you can do this with fairly easily.
As far as the maintenance is concerned, since this thing has an inbuilt motor, you must not use water to clean it after use. Instead, it is recommended you should use a dry cloth or a brush for this purpose.
14. Zacme - Pasta Maker Attachment
Made out of high-quality food-grade stainless steel
This attachment features 8 gears that regulate the thickness of the pasta
Fairly easy to clean
Easy installation
Can make a wide variety of pasta
Featuring 8 different thickness settings, this pasta-shaping attachment from Zacme will give you plenty of room to work within preparing your favorite type of pasta with ease. Similar to the model we featured as our entry number 2 on this list, this model too is merely an attachment and not a fully-functional pasta-maker.
What you need to use this attachment would be a Kitchen Aid stand mixer. This attachment is then, well, attached to the rotating part of this mixer, and you can then add dough to it to create different types of pasta.
The thickness of the pasta that comes out of the other end of this maker can be regulated by a rotating knob that goes from 1 to 8. By managing the thickness of the noodles with this thing, you can make some of the following types of noodles and pasta: spaghetti, tortellini, lasagna, empanada, as well as dumplings, and other pasta varieties.
15. CucinaPro - Cavatelli Maker Machine
Specifically designed to make Cavatelli-type pasta
Easy cleanup ( no water should be used, though )
Comes with a book of recipes
The metal parts on this contraption are made out of stainless steel
Features non-stick rollers for an easier cleanup
While this model won't help you make a wide variety of different kinds of pasta, it will surely help you make some excellent Cavatelli. This interesting-looking worm-like pasta can be served with all kinds of sauces and its shape and size make each piece of this pasta a perfectly-sized morsel.
The way you use this thing is you clamp it down on the side of a table, then add the dough into the dough container and then you can create the cavatelli fairly easily by simply rotating the handle. ( Of course, we should point out that this cavatelli maker is a 100% hand-operated tool. )
After you've used this thing to make the delicious pasta of your choice, you can simply take this thing apart and clean it fairly easily. That said, the way to do it would be to avoid water and use a dry cloth or a brush instead. After you've completed the cleanup, you can simply let this thing sit in the open air for a while, so it can dry up.
When you need to clean this one up after use, all you have to do is disassemble it and then carefully wash its parts with warm water.
Best Pasta Making Machine- Buying Guide
So what are the critical things to look at when buying the best electric pasta maker?
Durability
To rate the durability and performance of an electric pasta maker, you must look into its build and construction, preferably the materials used for manufacture. Electric pasta makers manufactured using stainless steel material are the most preferred compared to the ones constructed using plastic and other materials. Ensure you purchase a model that is produced with high-quality metals or high-grade plastic parts.
Functions
All electric pasta makers have different features and services. Some of the models are only limited to cutting and rolling, while others can perform both kneadings and mixing as well as cutting. Most of the electric pasta makers are capable of carrying out each step required in pasta making.
Weight and Size
You should first consider your kitchen space. The electric machine is usually placed on the tabletop, so you should consider the available space on the countertop. The weight of the device must be checked to ensure the countertop can accommodate it.
Accessories
Several accessories come along with the pasta maker, and these attachments usually determine the performance of your machine. Most of these pasta machines feature some interchangeable discs that help to crease varieties of noodles. Others are used to make biscuits, bagels, and sausages.
Electric Pasta Maker FAQs
Can you wash a pasta maker?
Most of the pasta makers are made of stainless steel material. It's easy to clean, incredibly durable, and rust-resistant. However, this stainless steel material can't be washed or submerged in water unless its manufacturer has indicated it; otherwise, your machine can be damaged. When soaked in water, the pasta machine gets black spots that make it look ugly. Just clean it by wiping with a clean and damp cloth, then after drying, you can polish it.
What setting should my pasta maker be for fettuccine?
The dough for thicker pasta like fettuccine requires thick settings such as two or three. As you know, the settings on the pasta machine get thicker as you go down to the smaller numbers. You can roll the dough to about 3mm thick or as thick as a cotton bed sheet.
How do you clean a rusty pasta maker?
You can remove rust on your pasta maker by sprinkling baking soda on the rusty surfaces of the pasta maker. The baking soda should remain in these areas for about thirty minutes. You can then wet your scrub brush using water and then scrub those rusty surfaces until the rust is completely removed.
How do you store fresh pasta?
For anyone who has enjoyed a homemade pasta, wouldn't go for grocery pasta. With the high-tech pasta makers, what can make you fail to prepare fresh pasta for your family in your kitchen? Storing your fresh pasta depends on how you want to use it. You can put your pasta in the freezer, refrigerate it or dry it.
Conclusion for Electric Pasta Maker Buyers

With a pasta machine, you can comfortably enjoy your fresh pasta from your kitchen. Most of these electric pasta machines are automatic, and they easily help you make your pasta within minutes. You only need to prepare all your ingredients, and the tool does the rest for you. In this case, you can select your ingredients, unlike those pasta found in the stores that you are not even sure if the pasta ingredients used are healthy. However, there are so many products in the market; hence you have to research the electric pasta maker you want before purchasing it. It should meet your requirements. Choosing an electric pasta maker will not be a walk in the park.