A lot of Italian restaurants serve a bunch of pasta dishes with various sauces. The sauces are a solid foundation for these Italian-American cuisines.
There are different types of pasta sauces that you can play around with when pasta time comes around. These sauces may be used as topping for different types of pasta be it spaghetti, macaroni, or linguine.
Types of Pasta Sauces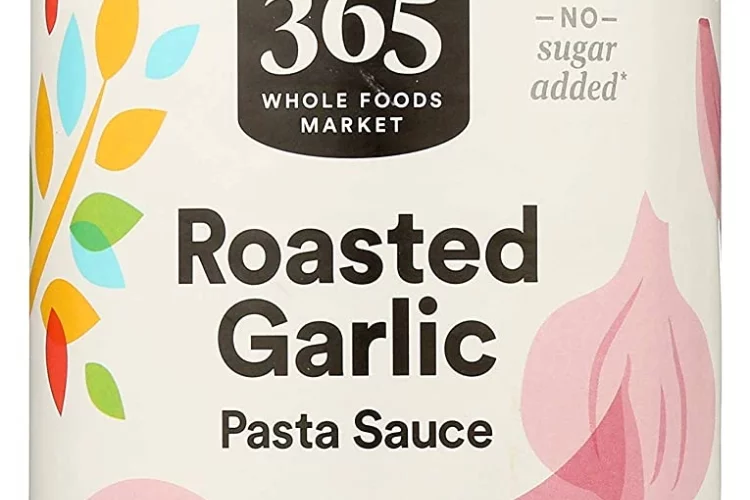 It's good to know about the different pasta sauces and have several recipes ready for when you need to prepare pasta dishes. We'll have a look at the basic pasta sauces and how you can use them to make no-sweat dishes in your kitchen: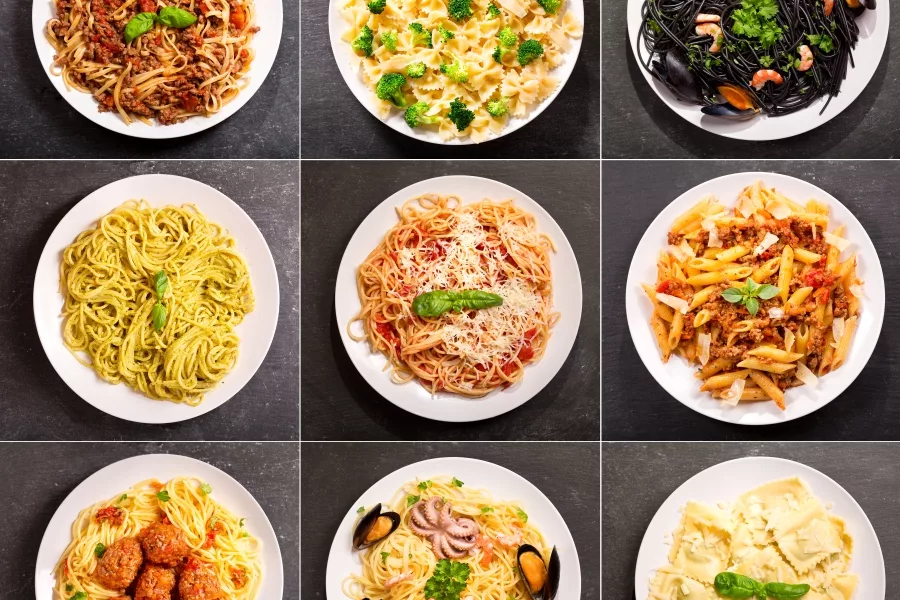 Marinara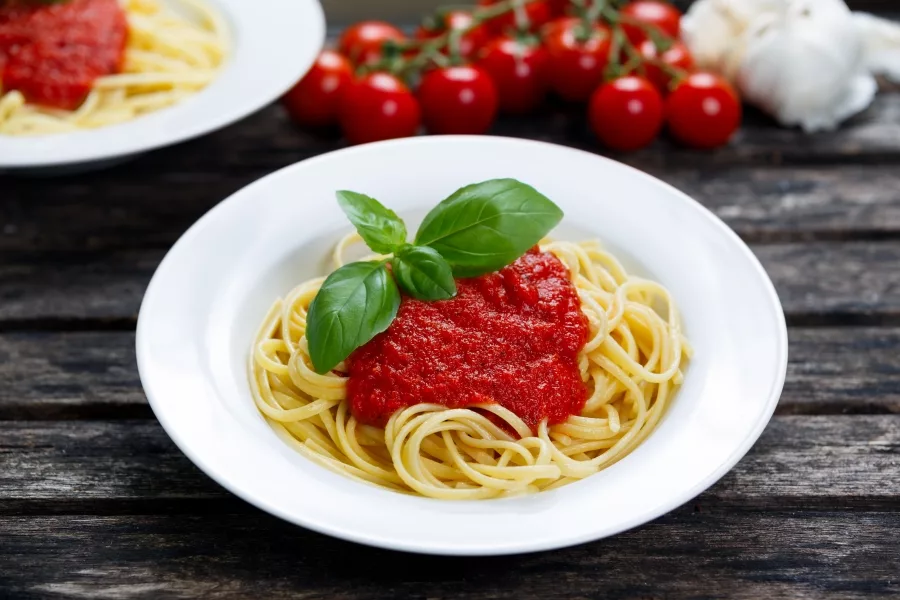 This is one sauce that has been around for a long time and we're pretty sure that it's here to stay. To prepare this simple concoction, you will need a good amount of crushed tomatoes (a can or two will do), plenty of garlic, and fresh herbs. Simmer all these ingredients together for a couple of minutes until they come together in a sauce that leaves your house smelling like a restaurant.
Home-made marinara sauce is just unbeatable; it offers a rich and lively tomato flavor. It will only take you about 25 minutes to prepare and the best part is that you can play around with it to deepen the flavor by adding a dash of red wine.
To create a chunky texture, add chopped onions to the other ingredients and let them simmer together.
Pasta with marinara sauce has immeasurable taste – the flavors are bursting and fresh. With five ingredients only, you will make a pasta sauce that goes effortlessly well with pasta. The sauce nestles inside the pasta so you can get a good chunk of it with every bite.
Marinara may also be used as part of a baked pasta dish such as lasagna, in recipes that call for jarred pasta sauce, or even as a pizza topping.
Ragu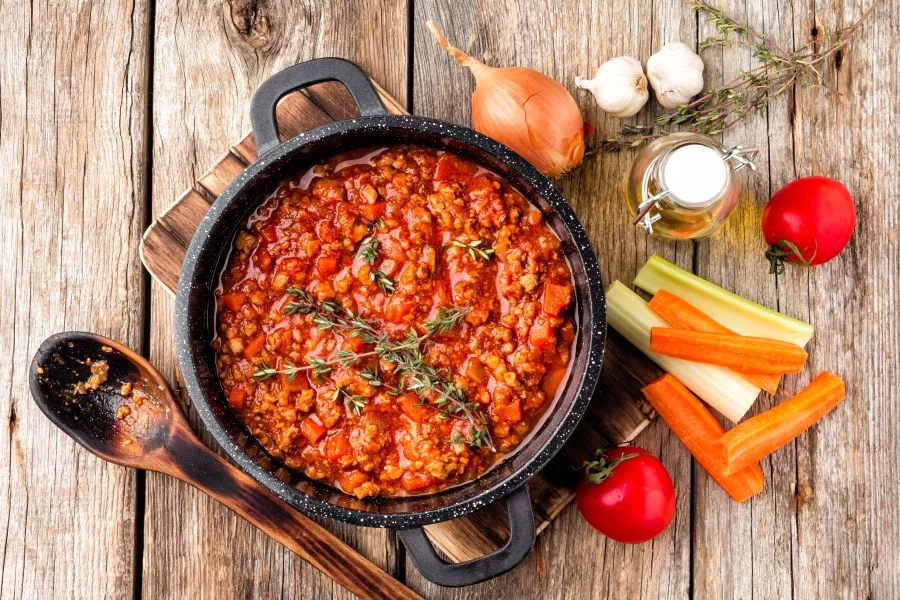 Ragu is a basic sauce among untold volumes of Italian dishes. Adding ground beef to all the goodness of the marinara sauce gives you a rich and versatile ragu sauce. This may be served Bolognese-style with pasta or may be used as a base for lasagna or moussaka.
With ragu, you may either use chopped, ground or minced meat cooked in sautéed vegetables in a liquid. Also, you can use different types of meat including beef, chicken, duck, goose, pork, mutton, etc
Most of the elements in ragu sauce are either minced or pureed including the tomatoes, carrots, celery, and pancetta in beef broth or wine. Add a little milk or heavy cream to it to lighten the color and enrich the flavor. The ingredients are simmered on low heat so that there's enough time for the sauce to be flavoured.
Pasta goes amazingly well with traditional ragu as it doesn't get weighed down by the thick sauce. Before serving, transfer ragu in a large skillet then add pasta and toss it around to coat, on medium heat.
Meatballs and grilled chicken or lamb also go well with ragu.
Pesto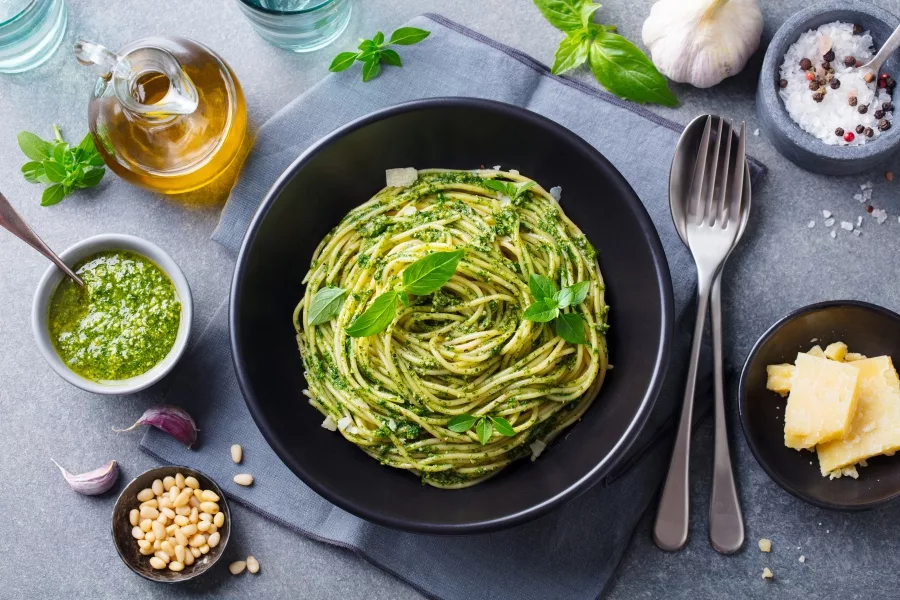 Pesto is traditionally made from basil leaves, garlic, coarse salt, European pine nuts (toasted or not), extra virgin olive oil, and grated parmesan cheese which are the core ingredients. This means that this classic sauce is naturally vegetarian and can be veganized by skipping the cheese and substituting it with a more vegan alternative.
Some people feel that using a lender instead of a food processor gives a smoother sauce. Add a small amount of water into the pesto sauce before adding the pasta to dilute the concentrated sauce and make it adhere to the pasta better.
This bright and fresh pasta sauce may also be used on pizza, sandwiches, potatoes, and chicken salad.
Basil leaves don't store very well so you should use them as soon as you can. Don't forget to rinse them once you remove them from the stem to remove any dirt or bugs.
Brown Butter
This sauce is a fancy way to dress up pasta. It's rich, nutty, decadent, savory, and flavorful you'll be surprised at how the meal will be.
Pulling together the brown butter sauce that cooks in just a couple of minutes is no task. All you need to do to create this magical sauce is to cook butter in a pan with garlic on medium heat for a while, stirring occasionally. Cook until it starts smelling nutty and gets a toasted brownish color.
Brown butter will make any bowl of pasta look and taste luxurious like one of those meals straight off the gourmet TV shows.
There is something indescribably satisfying and soothing about uttered pasta. You may also serve brown butter sauce with mashed potatoes, roasted poultry, pancakes, fried or scrambled eggs, waffles, popcorn, and vegetable salads.
It is okay to pre-make brown butter sauce in advance and then refrigerate it for up to several weeks.
Alfredo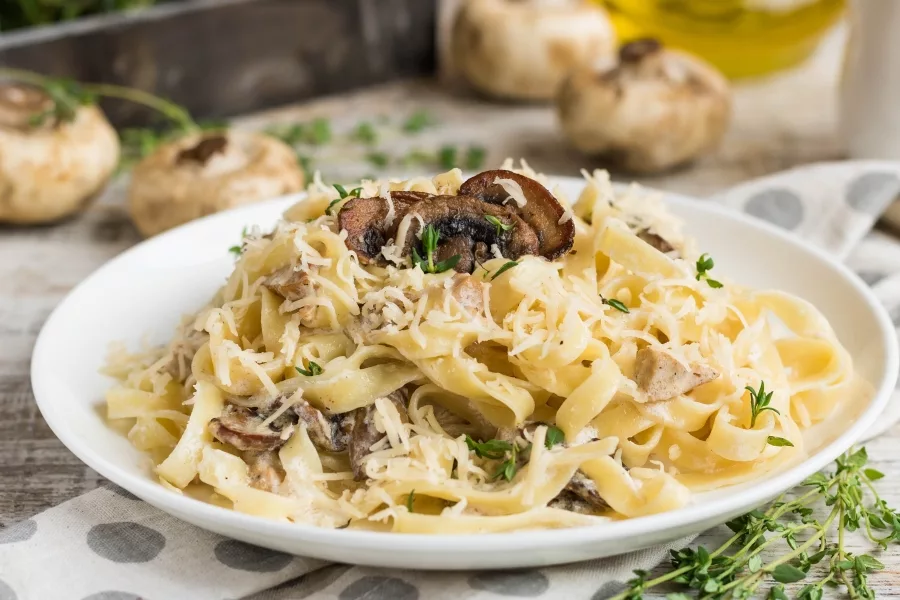 Alfredo is one of life's little luxuries that adds flavor to almost anything you cook it with including pasta. This simple white cream sauce is made from heavy cream, parmesan cheese, and spices. It's okay to add minced garlic, salt, parsley, pepper, and Italian seasoning to make the sauce even tastier. If you don't like how parmesan cheese melts, you can substitute it with Gruyere cheese.
It's almost impossible to ignore the pleasure of this classic cream sauce that can be tossed with any pasta. The cheese in the sauce emulsifies the liquids to form a smooth and rich coating on the pasta.
Simple Bolognese sauce
Everybody needs a basic Bolognese recipe that makes a well-rounded meal out of something as simple as pasta. The best thing about this classic hearty sauce is that it's brimming with flavor. To make this meaty pasta sauce you will need minced meat, tomatoes, onions, basil, parsley, garlic, peppers, carrots, and a small amount of stock. Cook the ingredients gently for about 30 minutes until thickened to your liking.
Bolognese sauce may be served over pasta or layered in lasagna. It can also be used
Mushroom cream sauce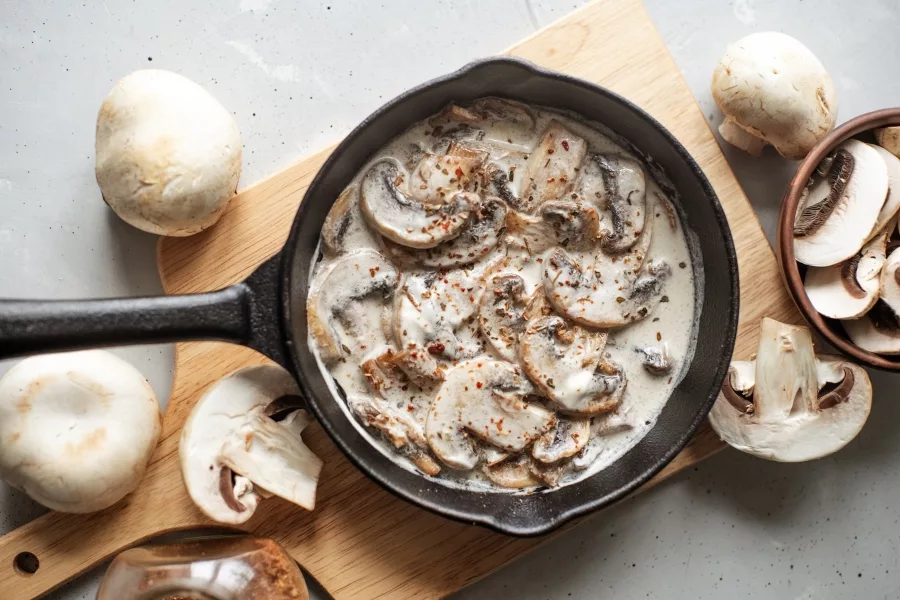 The creamy mushroom pasta sauce speaks for itself. To make this slippery, velvety and rich sauce, cook mushrooms, sage, green onions, and garlic in a pan with olive oil over medium heat. First, sauté the mushrooms until they reduce in size then add the other ingredients.
Pour the pasta into the pan containing the sauce and toss around using tongs before serving while hot.
A mushroom cream sauce comes in handy when nothing else will do. There's just something about this easy-to-make sauce that holds a special place in our hearts and taste buds. Not only is it perfect with pasta but it's also fantastic with grilled steak
Butternut squash sauce with sage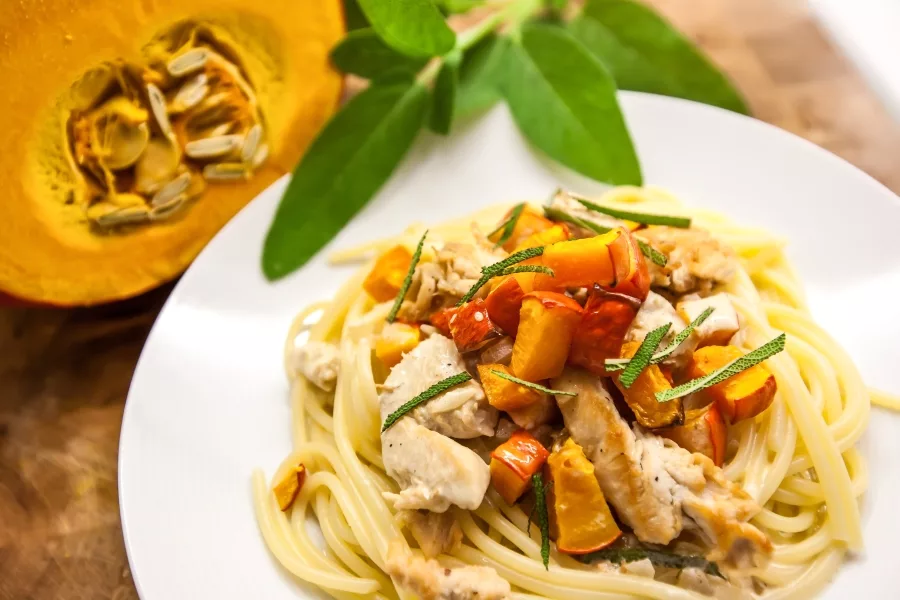 Want everyone to clear their dinner plates on pasta nights? This you ought to try this subtly rich, sweet, and slightly salty sauce that breaks the monotony of pasta at home.
Butternut squash sauce with sage makes pasta somewhat special – especially when topped with chopped chestnuts and fried sage.
This delicious pasta sauce is made with peeled butternut or kabocha squash, olive oil, fresh finely chopped sage, onions, garlic, and pepper. Feel free to change the recipe a little to make it your own.
What Ingredients Can I Add For a More Flavorful Sauce?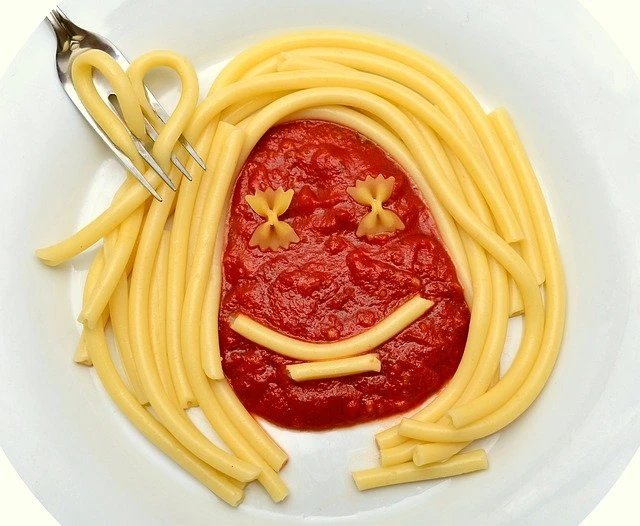 Pasta sauce shouldn't be boring. It's very easy to make the sauce more exciting. There are a couple of ingredients that you can add to a pasta sauce to elevate it and make it better. These are:
Extra virgin olive oil
Cheese, cream, or butter
Red wine
Fresh garlic
Fresh or dried herbs
Ground meat
Hot pepper flakes
The Basics of Making Thick Pasta Sauce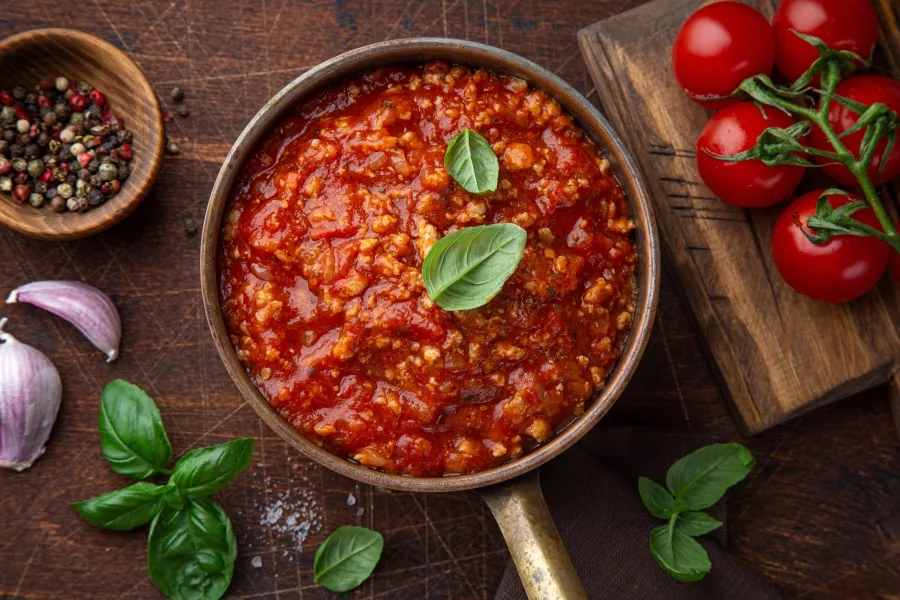 Pasta sauce doesn't need to be complicated for it to be good. A simple combination of the ingredients we mentioned above works wonders to thicken your pasta sauce. Generally, there are several ways to thicken the sauce. You can either
Add tomato paste
Add starch like cornstarch which is flavor neural
Use a roux which is a combination of flour and fat cooked together for a little while
Add mashed potatoes which are also loaded with starch. You'll get thickened sauce with a bit of flavor
Reserve the pasta water ad use if to make the sauce. It's a remarkably powerful thickening agent
Reduce the sauce by either boiling it off over time or adding less liquid to start with. To reduce the liquid more quickly, increase the surface area; try using a wider pan and you'll be shocked how fast the sauce thickens
Conclusion
Once you learn how to make these basic pasta sauces, pasta dishes will e so much fun to make and eat. Also, remember to cook the pasta in the sauce for a couple of minutes before serving to coat it and marry the flavors. After, transfer the pasta and sauce mixture into a warm serving bowl and serve.