If you want to slice like a Ninja in the kitchen, you need an authentic Sabatier knife. Now you might have heard the name, but like anything good in this world, Sabatier knives has been imitated by a lot of cheapo manufacturers trying to use the name for marketing advantage. You have to be careful, just because a blade is marked "Sabatier" doesn't mean its the real deal.
So what exactly is a "Sabatier knife"? First, we have to trace back its roots at the dawn of the 19th century in Thiers, France, where two families named Sabatier made kitchen knives and used their name as a brand and marketing tool. Now you have to understand that back then, copyright and trademarks are barely in existence.
The name, therefore, became a mark of any high quality, fully forged, single piece of steel, riveted handle knife that holds the edge like a Valyrian sword. Today, each brand carrying the Sabatier name will have to contain a second word just to distinguish it from the rest.
Editors' Picks for Sabatier Knives
Modern High-End Sabatier Knives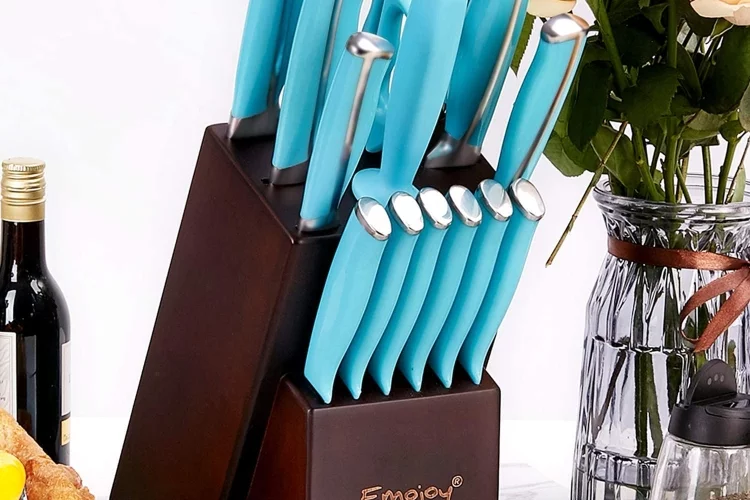 According to experts, some of the oldest and well-established manufacturers are still the makers of high-end Sabatier knives today. In order to make this review helpful to you, I will provide more details regarding these authentic manufacturers.​
K Sabatier : This authentic knife maker has some of the most expensive high-end knives on Amazon. You have to look for the "made in France" and "by Sabatier Aîné & Perrier since 1834" mark in the name to ensure that the item is the real deal.
Deglon Sabatier : The Deglon Sabatier Company of Thiers France has been making Sabatier Deg knives with forged stainless steel blades, round bolster since 1921. The three-riveted thermoplastic handle means that that knife has a full tang and sturdy mounting. This brand is generally more expensive than the K Sabatier even on Amazon.
Stellar Sabatier : Stellar Sabatier knives are made by Horwood Homewares Ltd., the UK manufacturer that started in 1896 in Bristol under license from Rousselon Frères who in turn owned the legendary Mexeur Lion Sabatier. Stellar Sabatier knives are made from Carbon Molybdenum Vanadium steel and are generally cheaper compared to K Sabatier and Deglon Sabatier. It is characterized by three riveted black handles which means that it has a full tang.
Top 10 ​Best Sabatier Knife for Most Cutting Needs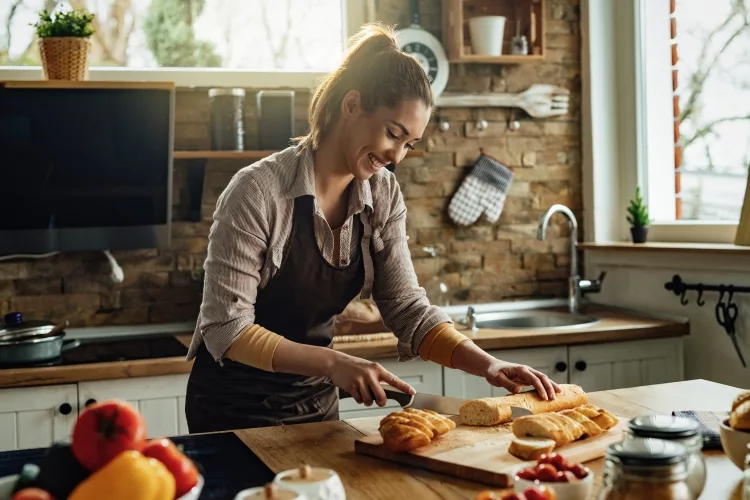 Looking for Sabatier branded knife on Amazon alone is mind-bending to say the least. Since anybody can now use the brand, there are hundreds of mass produced types that bear the name but not the quality. This review does not intend to be exhaustive for this reason. What I decided to do instead is to give you a small sampling of what I consider as the most versatile sizes, useful for most cutting needs.​
1. Sabatier Forged Triple Rivet Knife Block Set
If you are looking for high quality and authentic Sabatier forged knife that can be used for most purposes, the Sabatier Forged Triple Rivet Knife fits the bill. It is forged from a single mass of high carbon stainless steel, tempered and polished crosswise to produce a well-balanced blade that is capable of cutting hard stuff.
This kind of steel is considered soft steel which is perfect because it makes this knife easy to sharpen. But don't let the "soft steel" classification fool you, this knife holds the edge better than any stainless steel counterpart. The 3 rivets hold the Polyoxymethylene (POM) handle to the tang, providing a sturdy blade with awesome cutting power.
Make sure to dry the blade after washing to avoid rust. Don't be surprised if the blade changes color when in use. This is a normal reaction of carbon steel with any of the substances found in what you're cutting out. This blade has great balance which allows you to achieve professional results when you work on food details.
Pros
Authentic "Made in France" Sabatier forged knife
Carries the legacy of the oldest Sabatier factory in Thiers
True carbon steel material
Great feel and balance
Cons
The blade and oxidize and rust
Requires a more maintenance than stainless blade

2. K Sabatier 10 Inch Forged Carbon Steel Chef Knife
If you're looking for more cutting power but same quality as the K Sabatier 4″ paring knife, the K Sabatier 10 Inch Forged Carbon Steel Chef Knife is the perfect replacement. Made from the same Rockwell 54-56 HRC Carbon steel and forging technique, you will find this blade capable when faced with larger cutting situations.
The extra five inches provide weight so that you don't have to rely on your strength to cut something harder, instead, just allow gravity to take care of it. A chef's knife must first of all feel good, and this 10″ knife feels like you're handling an 8″ instead of 10″. It has great balance and it feels like an extension of your hands.
It does not require frequent sharpening because the edge is amazingly sharp. When you do need to sharpen it, it only takes a few minutes, you don't even have to sweat it. Just like any knife made from carbon steel, this knife does require extra care. Make sure to keep it dry after using by wiping it with a clean cloth and it's preferable if you can coat it with a little bit of vegetable oil just to prevent oxidation.
This might sound like a bit of extra work, but if you're the kind who will just dunk your knife in the dishwasher and leave it there overnight, you better buy a stainless steel knife.
Pros
It has all the advantages of the K Sabatier 4″ paring knife
It has exceptional fit, feel and finish
Razor sharp edge
Cons
Just like the K Sabatier 4″ paring knife, it will oxidize and rust
Requires extra care

3. Stellar Sabatier 3.5" Paring Knife
Did I mention dunking your knife in a dishwasher? Well, the Stellar Sabatier 3.5" Paring Knife, since it's made of stainless steel, can withstand just that. If you're looking for the same quality Sabatier knife for multipurpose use but can't promise to take care of it, this is the one you're looking for.
The entire knife is forged from one billet of stainless steel. The POM handle is secured to the full tang by spun solid rivets, giving you a safe and well-balanced blade.
This knife is ideal for a range of jobs that you don't want to use a large knife for. I have this knife for more than two months now and I mainly use it for cutting vegetables and fruits but it's still amazingly sharp. The stainless steel makes this knife ideal for acidic materials because it does not react and changes its taste.
Pros
Unbeatable price
Does not oxidize
Does not change the taste of fruits and vegetable
Does not require extra care
Ideal for a wide range of cutting purposes
Cons
Might be too small for larger cutting needs

4. Stellar Sabatier 5″ / 12cm Serrated Knife
The serrated knife fills a different cutting niche compared to the regular blade. This kind of edge is not suited for chopping, instead, it is used mainly for slicing. The serrated edge is particularly suited for slippery surfaces like oily steak and soft surfaces like bread and pie crust.
The serration enables the blade to grip the surface of the slippery or soft material, cutting through it without damaging its texture. While this type of blade requires less sharpening compared to regular blade, it's also more difficult to sharpen when it gets dull. It usually requires a professional to sharpen it.
If you need a blade that fills this cutting need, the Stellar Sabatier 5″/12cm Serrated Knife is the perfect choice. It is forged from a single billet stainless steel which means that it needs less maintenance. It also does not oxidize making it ideal for acidic food like fruits and some vegetables. Unlike carbon steel, stainless does not react and change the taste of the food.
Pros
Affordable for a blade this size and quality
It requires less maintenance
Does not rust or oxidize
Does not react to food
Cons
Fills only a specific niche
Less versatile compared to straight edged blades

5. Sabatier Olivewood Stainless Steel 8-Inch Chef Knife
If I can only have one knife and one knife only, the Sabatier Olivewood Stainless Steel 8-Inch Chef Knife is the one I'd pick. You know why? For the simple reason that it's so versatile. It's more powerful than a 4-inch paring knife, but it's not as heavy as a 10-inch chef knife. It can easily fill the cutting niche of those two size ranges without feeling awkward in my hands. I can easily cut with precision those fiddly materials like tomatoes but I won't need to reach out for the larger blade when I need to cut large chunks of meat.
True to the Sabatier tradition, this knife is forged from high carbon stainless steel and it features a full tang and true bolster. The handle is made from Olivewood which gives it a classic look and it is held in place by spun solid rivets. The bolster provides a counterweight to this blade making it a well-balanced knife.
Although this blade is made of stainless steel, you can't leave it overnight in the washer because it will damage the wooden handle. You need to hand-wash this knife and dry it immediately.
Pros
Useful for a wide range of food preparation
Made from stainless steel which means it does not react to food
Well-balanced blade
So convenient to use
It does not rust or oxidize
Cons
Requires a little more care for a stainless knife

6. Sabatier Knife Set WithEdgekeeper Pro (12 piece)
It is a kind of knife set that will sharpen the knife itself each time when you pull it out or put it in the block. You don't require to do anything overwhelming to keep these knives sharp. The built-in sharpeners will automatically do it for you. Sabatier knife sets are known for their high quality and well-crafted knives. These high carbon forged stainless steel knives come with a full-length bolster and tang. This specific set is one of the best-forged knives set out there in the market.
The handlebar includes a full metal pommel on it, which allows you to get fine control over the knife while dealing with difficult cuts. You get two chef knives, one is a smaller 5" knife that has kullens. With it, you can have a little bit more control when you have the smaller cutting jobs. Right next, you will have an 8" slicer or carving knife. You cannot think about carving a turkey or a rib toast without using this particular type of knife. For cutting fruits, the package includes a utility knife.
Also, you will get a paring knife for peeling jobs like a pro. The size and sharpness are quite unmatched if you are to compare these with others. This Sabatier knife set has a steak knife, obviously, but it also has extra 5 pieces of it - in case you have some unwanted guests knocking on the door. Having that said, considering its features, sharpness, and build quality, these are the best Sabatier knives set that you can get.
Pros
Automatic built-in knives sharpeners
High-quality, durable stainless steel
Full tang and bolster provide excellent control
Stable and comfortable grip with a metal pommel
Cons
Prone to rust
Thin blades

7. Sabatier Sharpening Edgekeeper Pro (21-Piece)
This particular set of knives includes a boning knife, cleaver, serrated utility, paring knife, and of course, a graphite knife storage block with a built-in sharpener. If a chef's knife is something that you love to use for cutting things, but the size isn't comfortable for your hand's size, the package has a smaller edition of it. When it comes to dealing with smaller cuts, you will have great control over it.
Along with some regular knives, you also get a serrated paring and utility knife, which allows you to get versatile in the kitchen. No matter what your recipe requires you to cut, you will always have the right knife on hand. If making steak is something that became unusually usual to you, this set includes four pairs of steak knives for you.
Yes, you heard that right. The carving fork is also included to help you while you are carving or slicing chicken legs or wings. Shears will be there to make the unpackaging process easier for you-no more unwrapping struggle from now on.
Pros
Built-in sharpener for effortless sharpening
Serrated pair of knives also with the regular ones
Premium finishing with a comfortable grip
Ideal size for small handed persons
Cons
Rusts easily
Some might not like the serrated steak knives

8. Sabatier Forged Triple-Rivet Knife Block Set(15-Piece with Acacia Block)
The idea is to provide all the knives you need in the kitchen. Not as many knives as there are in the market. So, here is another Sabatier knives 15 piece set. Everybody as a cook needs a chef's knife. But what if you get a 5" Classic Japanese Santoku knife too? Yeah, it is great to have a Santoku knife in the kitchen toolkit. Just like a chef's knife, a Santoku knife will give you a beautiful experience of cutting, dicing, or mincing. There is a 4.5" utility knife with a well-edged blade.
Also, you will have a 5.5″ serrated utility knife with it. A small 3.5″ parer knife is the right size for you when it comes to fruits and vegetables. You will also have 4.5″ three pairs of steak knives along with this knife set. The acacia block is something that is beautiful and will add extra elegance to your home or professional kitchen. Sabatier carbon steel knives are made with high carbon stainless steel. Crafted with professional quality, the blades ensure a long-lasting edge.
The difference about this knife set is it comes with an Acacia wood block. It will give you long-lasting durability. Your hands will be surely benefitted in the kitchen because of its perfectly balanced weight distribution for easier control.
Pros
Well balanced while cutting
Good collections of knives
Non-serrated steak knives
Flexible paring knife
Budget-friendly
Cons
Most knives are short, which might be a problem for some
Doesn't feel premium

9. Sabatier Carbon Steel Chef Knife (8 Inch)
Coming to the best french knives, this is mainly a french forged chef knife. As it is a carbon steel knife, not stainless steel, it will need much more care. The forged carbon steel is powerful, hard, and balanced. Chopping, mincing, dicing is better than ever when you have a knife like this in your hand. Your kitchen toolkit might require one of these best Sabatier carbon steel knives. Polyacetal or POM is used for the hand material of this knife. Keeping it clean is easy.
However, the material doesn't absorb water. You must be very careful when it comes to a carbon steel knife. After washing the knife, the remaining water on the blade should be wiped out very well to avoid rust. Because it will rust for sure. The change of the blade's color is quite normal, but the game-changer here is the knife will not lose its edge so fast. It will need more time & usage to lessen its edge, than a stainless steel knife. That's why it is still on the favorite list of some chefs.
Also, the optimal balance and weight control of the knife will allow you to get some professional results in your cooking life.
Pros
Harder edge for a longer time
Suitable to cut almost everything
If it is taken care of, it can last a lifetime
Good balance due to weight factor
Cons
They will get rusty with time
Needs more maintenance

10. Sabatier Triple Rivet Knife Block Set (15 piece)
This knife set will give a pretty modern touch to your kitchen. Of course, it feels better to have this kind of different designs. Marbleized pattern with acrylic handles is great to look at. Sabatier professional knife set is not just about the outlook. These are not just stylish but well-functional too. They have razor-sharp blade edges. It assures you maximum chopping performance every time you use it.
Along with the same 8-inch sized chef knife and slicer, this knife set also includes a 7″ Santoku knife. There is a 5.5-inch serrated utility knife. If you think the serrated or long edge can be a problem for the smaller cuts, don't worry, it also comes with a smaller 4.5-inch regular edged utility knife.
You get a perfect 3.5-inch paring knife with this set. The small handle won't make it difficult for you to use it as the grip feels great on the hand for an extended period of use. Sabatier Forged knives are made with high-quality stainless steel-no need to think about the blade's edge. Taking good care will make your journey with them even longer.
Pros
Marbleized design looks great
Proper control
Sharp edges
Feels premium
Cons
Steak knives are serrated
Handles may break

Final Thoughts for Sabatier Knife Buyers

To be honest, I really had a hard time rating these knives. The quality of Sabatier knives is generally stellar as long as you really have the authentic ones. Most chefs and I included, we would just buy these knives for keep sake because it's kind of irresistible especially when there is a sale.​
But when push comes to shove and if I can only have one knife in my kitchen, I'd pick the Sabatier Olivewood Stainless Steel 8-Inch Chef Knife. The versatility settles the matter for me. It does everything all the other four can do, and it's true to the Sabatier trademark of quality and ease of use.
While stainless does not hold the edge well compared to carbon steel, this knife is amazingly sharp and it doesn't dull too easily. It's easy to sharpen like any stainless knife and the fact that it doesn't change the taste of the food, makes this knife a clear winner. That being said, suppose this knife wasn't created, I'd pick any of the four and would still be equally happy.​
How about you? What's your experience with Sabatier knives? Share your thoughts by dropping a comment or two in the section below.​
Buy on Walmart
Sabatier Stainless Steel Hollow Handle Chef Knife with EdgeKeeper Self-Sharpening Sleeve, - Walmart Link
32 DUMAS 8" French Serrated Edge Bread Knife, Fully Forged, French Stainless Steel, Made - Walmart Link
Sabatier High-Grade Steel 8" Carving Knife Triple-Riveted Walnut Handle - Walmart Link
Amazon Basics 8-Piece Kitchen Steak Knife Set, Black - Walmart Link
Home Hero Steak Knives Set of 8 - Steak Knife Set - Serrated Steak Knives Dishwasher Safe - Walmart Link
Cuisinart C77SS-15PK 15-Piece Stainless Steel Hollow Handle Block Set - Walmart Link
Sabatier Full-Tang Triple Rivet High Carbon Stainless Steel Filet Knife with Olivewood - Walmart Link
Sabatier High Carbon Steel Edgekeeper 5" Santoku Knife with Built-In Sharpener and - Walmart Link
Stellar Sabatier 5" / 12cm Serrated Knife - Walmart Link
Mercer Culinary 7 Piece Carving Knife Set, Black - Walmart Link
Buy on eBay
Sabatier Stainless Steel Hollow Handle Chef Knife with EdgeKeeper Self-Sharpening Sleeve, - eBay Link
32 DUMAS 8" French Serrated Edge Bread Knife, Fully Forged, French Stainless Steel, Made - eBay Link
Sabatier High-Grade Steel 8" Carving Knife Triple-Riveted Walnut Handle - eBay Link
Amazon Basics 8-Piece Kitchen Steak Knife Set, Black - eBay Link
Home Hero Steak Knives Set of 8 - Steak Knife Set - Serrated Steak Knives Dishwasher Safe - eBay Link
Cuisinart C77SS-15PK 15-Piece Stainless Steel Hollow Handle Block Set - eBay Link
Sabatier Full-Tang Triple Rivet High Carbon Stainless Steel Filet Knife with Olivewood - eBay Link
Sabatier High Carbon Steel Edgekeeper 5" Santoku Knife with Built-In Sharpener and - eBay Link
Stellar Sabatier 5" / 12cm Serrated Knife - eBay Link
Mercer Culinary 7 Piece Carving Knife Set, Black - eBay Link