Preparing food represents one of the most delicate and sensitive tasks you can perform in your house. In terms of how careful you need to be, this seemingly simple everyday activity can be put right next to fixing electrical issues, as ingesting food that's been compromised or undercooked, or otherwise spoilt, you run the risk of getting bringing your health and the health of your family members in question.
Now, luckily for anyone who likes to be sure that they're using safe cookware for their everyday cooking tasks, there are much cooking sets out there on the market with high-quality properties.
In this article, we're going showcase to you ten cookware sets that represent crème de la crème of all the sets currently on the market. As you will see, each of these sets is made out of high-quality materials, look good, and there are enough pieces within the set to complete a wide variety of cooking tasks.
Here's the deal.
Top Safest and Healthiest Cookware by Editors
Buyer's Guide To The Safest Cookware For Your Health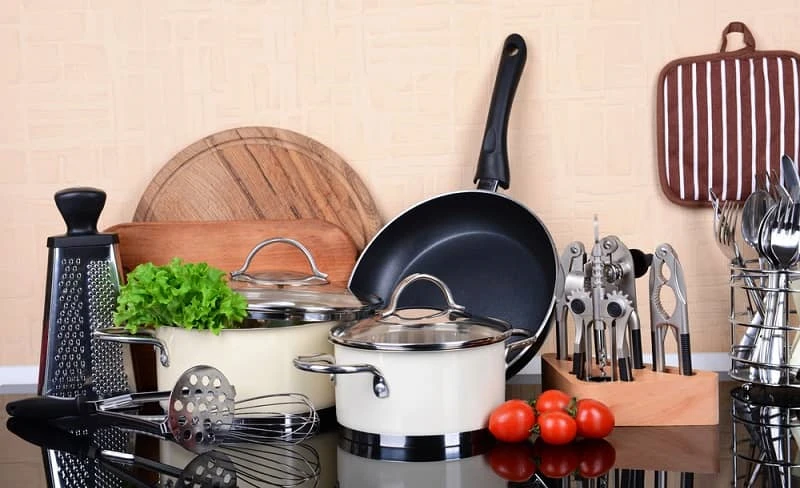 1. Material
Cooking sets and utensils are made out of a wide variety of materials nowadays.
Most often, the manufacturers of these kitchen tools opt for stainless steel, cast iron, ceramics combined with some sort of tough supporting material such as aluminum, as well as various forms of enamel for making the inner surface non-stick.
You can also see various combinations such as aluminum + ceramics for the pan, and then silicone or stainless steel for the handles. Generally speaking, mixtures that contain no lead, cadmium, PFOA, or PFAS tend to be the most popular nowadays.
2. Non-Stick Coating
Whether achieved through coating the basic metal surface of the pot or pan in question with a special sort of enameling or through a layer of ceramics, providing a non-stick surface to a cookware set has been the goal of cookware set manufacturers for a long time now.
The thing is, non-stick surfaces mean cooking is easier as you don't waste any food during the cooking process. Also, clean up after use is much easier if the food doesn't stick to the cooking surface.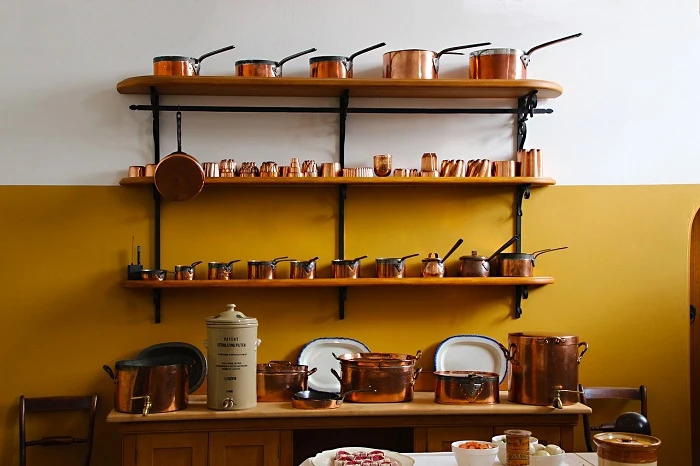 3. Handle Material
While the main cooking surface of pots and pans are generally made out of tough materials or combinations of metal and ceramics, handles are typically made out of materials with poor heat conductivity in order to avoid excessive heating.
So, you can expect to find handles made out of stainless steel, silicone-coated solutions, and other materials that aren't going to be hot to the touch when you take them out of an oven or off of a stovetop.
4. Dishwasher Safety
Even the best pieces of cookware with non-stick surfaces need to be cleaned thoroughly after every use if you meant to use them for a long time.
This is why you need to check whether a piece in a cookware set is dishwasher-friendly or not. If it is, then you can simply chuck it in your dishwasher after use and wash it that way. If it isn't, you'll need to wash it by hand. Of course, if the set is dishwasher-friendly, but the mess is too big, you may need to clean the bigger chunks off of it by hand before placing the item in question in the dishwasher.
5. Warranty
Although the majority of cooking sets don't come with a warranty per se, many of them do, so if you want to buy a set that you will be able to replace the individual pieces of in case they malfunction - get one with a warranty.
To be fair, these sets tend to be more expensive than the regular ones, but if you want quality and that reassurance that a warranty gets you - buying such a set would certainly be money well spent.
Top 10 Best Healthy Cookware which are Safe
1. Calphalon Contemporary Non-stick Set Review
Boasting a stylish appearance and an excellent construction made out of high-quality aluminum, this Calphalon 11-piece set can be a great option for a person in need of a tough and durable cooking set. In order to ensure this thing is tough enough, the folks at Calphalon made sure to anodize the basic aluminum.
An interesting thing about this set is that its durable pieces are completely dishwasher safe, so you won't need to worry about cleaning these by hand. As far as the coating is concerned, it's done in three non-stick coats, so you can both durability and smoothness.
The handles of these pots and pans are made out of stainless steel, which means they won't get as hot as the rest of the set, so you can easily take the piece of cookware you've placed in the oven out of it.
Pros:
Made out of heavy-duty aluminum construction
Completely dishwasher safe
Stainless steel handles
Pans and see-through oven-safe too
Lifetime warranty
Cons:
Some users may not like the appearance
Some folks complained about the quality of the lids

2. Rachel Ray Non-Stick Cookware Set Review
If you're sick and tired of losing half of your omelet each time you prepare breakfast because it stuck the surface of the cooking vessel you are using, this cookware set from Rachel Ray can be a perfect solution for you.
Thanks to its hard-anodized coating, these pots 'n' pans will heat up fairly quickly, which means you won't have to spend as much energy to prepare food in these. Also, what this means is that you'll be able to prepare food way faster than before - a great property for professional chefs or people who just don't like waiting for too long for their meals.
When it comes to maintenance, this set is a breeze to take care of. Since it's completely dishwasher safe, all you need to do to clean the pieces inside of this set thoroughly is chuck them in the dishwasher and turn it on. ( Of course, you may want to pay attention not to damage them in the process. )
Pros:
Comes with a special non-stick surface
Easy-to-hold handles
Oven-safe
Dishwasher-safe
Shatter-resistant glass lids
Cons:
Some users have complained about Teflon coming off on these pots 'n' pans
Some customer complained about certain problems concerning the warranties

3. Anolon Non-Stick Cookware Pots And Pans Review
For all of you who like to see a mixture of retro and modern style in their cooking utensils, this set from Anolon certainly won't disappoint you. What you get is a standard build with retro brownish color that is supported with modern-day touches such as see-through lids and ergonomically-built handles.
As far as the performance of these is in question, the hard-anodized construction will provide you with even heat distribution, ensuring the food you're preparing will be cooked evenly on the whole surface of the pot or the pan you're using.
Moving the pans around is easy, even if the pan is red hot, thanks to the thick and well-shaped ergonomic handles. These are two-riveted for good measure, so you can rest assured that they won't fall off or scorch you in the process of carrying the pan in question.
Pros:
Features durable construction with anodized aluminum
Excellent and even heat distribution
Strong, shatter-resistant glass
Tough, sure-grip handles
Non-stick surface
Cons:
Not recommended to wash these in a dishwasher ( because the finish may start coming off )
Some users reported that some foods do stick to the cooking surface during preparation

4. Green Pan Ceramic Non-Stick Cookware Set Review
Featuring a tough build that is 100% dishwasher-safe, this set coming from a manufacturer called Green Pan comes with a ceramic non-stick coating you can rest assured will be able to survive many a rough cooking session, so to speak.
When it comes to the materials used to build this thing, you can rest assured that no potentially toxic elements have been used in the construction of this thing. To be precise, this thing is completely free of PFAS, lead, cadmium, as well as PFOA, all of which are known to cause potential health risks when they get heated over a certain temperature. ( At which point these start emanating potentially poisonous gases. )
Although hand-washing is recommended in order to be able to get to all the itsy-bitsy grease and other stains, this set is also dishwasher-safe, so if the mess in question seems too tough to tackle by hand-washing, you can first clean it in the dishwasher and then detail it by hand-washing it if needed.
Pros:
Works wonders for searing and browning on a wide variety of cooking surfaces
Dishwasher-safe ( hand-washing recommended )
Ergonomic handle
V-cutout for the handle for less heat transition
Free of PFOA, lead, cadmium, and PFAS
Cons:
The non-stick coating tends to wear off after a while
A tad expensive

5. Le Creuset Signature Enameled Cast Iron Cookware Set Review
If you're looking for a simple and sturdy set that will last you for years to come, this model from Le Creuset can be an excellent solution. The most obvious attractive feature this set comes with would certainly be the colors of the pieces - which are uniform, high-quality, and tough enough to withstand years of use.
As far as the types of the oven are concerned that these pans would work on, you can count in such gas, electric, ceramic, induction, and other sorts of the oven. The durable enamel coating will protect the pot or the pan in question for a long time, so you can use it on any type of oven worry-free, so to speak.
In addition to its tough build, this model also comes with a rather generous lifetime warranty, so you can rest assured that if a piece in this set gets damaged along the way somehow ( through no fault of your own ), you can have the folks at Le Creuset take a look at it and fix it for you.
Pros:
Long-lasting exterior enamel
Sand-color interior
Works on a variety of stoves and ovens
Large handles
Comes with a limited lifetime warranty
Cons:
Some users reported problems with rust
Some users complained that the inner enamel starts chipping after a while

6) Wearever Ceramic Non-Stick Cookware Set Review
Well-rounded both literally and figuratively, this cookware set from Wearever represents a great option for people who need a reliable and high-quality kit of cooking tools they can use for preparing a wide variety of dishes.
The way these pots 'n' pans are made is that the folks at Wearever combined high-quality aluminum base and added a special ceramic coating for even heat distribution. In addition to this quality, ceramics also has excellent durability properties, so you can rest assured that this thing won't be breaking any time soon, even if you cook at high temperatures.
When it comes to the cooking surfaces the pieces of this set can be used on, everything comes into question except for induction stoves. Also, this set comes with a lifetime warranty, so in case anything should go wrong with one or more pieces, you can contact the manufacturer and require the folks there to take a look at the faulty thing.
Pros:
Comes with riveted handles
Durable aluminum base
Excellent heat conductivity and even spread thanks to the additional coating made out of ceramics
Dishwasher-safe
Limited lifetime warranty
Cons:
Cannot be used on induction-type stoves
Some users complained that the non-stick coating started wearing thin after a while

7. GreenLife Soft-Grip Ceramic Cookware Set Review
Comprised of fourteen different cookware items that you can use to prepare all sorts of dishes, this set from GreenLife represents a tough bunch of pots 'n' pans you can count on whether you're a professional cook or a rookie.
One of the biggest problems that can affect cookware negatively would certainly be the tough situation where one or more pieces of this set get overheated. If this happens and the set was made using the technologies that involve lead, cadmium, PFAS, or PFOA, these tend to start emitting potentially dangerous fumes that can not only ruin the dish you were preparing but also present a possible health risk for anyone who eats such a dish.
That said, the folks at Greenlife pride themselves with the fact that during the manufacturing of this set, they did not use any of the aforementioned chemicals or metals. So, you can rest assured that the food you're prepared will not become contaminated with any of these nasty particles, even if you happen to overheat these cooking utensils every once in a while.
Pros:
Comes with excellent non-stick ceramics
None of the pieces in this set contain any PFOA, PFAS, lead, or cadmium
Features fourteen different pieces
Dishwasher-safe
Oven-safe
Cons:
This set cannot be used on induction stoves
Some users reported problems with handles starting to smell of burning plastic if exposed to high temperatures

8. GOTHAM STEEL Hard Anodized Cookware Set Review
With an exterior made out of tough anodized aluminum that as is as hard if not harder than stainless steel, this set from GOTHAM STEEL is both visually appealing and durable enough to withstand years of use. On the inside, the interior of these pots and pans is coated with an extra layer of titanium and ceramics, which ensure both stability of the entire set, and represent excellent heat conductors.
As far as handling the pots and pan in this set is concerned, the folks at GOTHAM STEEL decided to go for stainless steel as their weapon of choice for the handles. Known for its excellent durability properties, stainless steel is also durable enough to work for handles of pieces of cookware. Also, it looks good, so you won't have to worry about these handles ruining the aesthetics of the set.
Maintenance-wise, you can clean each of the pieces of this set by simply washing them in a dishwasher. Of course, if you're dealing with a larger mess, you may need to remove some of the larger food leftovers by hand, and then you can insert the piece in question into the dish-washer.
Pros:
Made out of hard-anodized aluminum
Non-stick surface made out of Gotham steel and ceramics
No oil or butter needed to grease up the cooking surface
Handles made out of stainless steel
The break-resistant glass used for the covers
Cons:
Some users complained that the handles tend to get a tad hot after a while
Some customers reported that pain can start coming off after a while

9. DaTerra Cucina Vesuvio Ceramic-Coated Frying Pan Review
Although this entry is not cookware set per se, it still can be useful for someone who only needs a frying pan to complete their cookware set. Made in Italy, this tough Vesuvio frying pan provides great heat distribution, scratch-resistance, and it's perfectly oven safe in case you want to use it to make something in your oven.
In order to ensure that their pans won't present a health risk for anyone using them, the folks at DeTerra Cucina decided not to use any lead, cadmium, or PTFE. So, even if you overheat one of these pans, you can rest assured that it won't start emitting any harmful gases any time soon.
Other than its excellent durability properties, this model also boasts great looks. The pan itself is designed according to the highest professional standards, and the handle is also high-quality with special addition of a silicone handle.
Pros:
Ceramic coating for better heat transfer and longevity
Lead, PTFE, and cadmium-free
Silicone handles
Oven-safe
1-year warranty
Cons:
Some users reported that after a while food starts sticking to this thing
Some customers complained that this thing doesn't have a flat bottom

10. COOKER KING Ceramic Non-Stick Frying Pans Review
Going for a simple design that can easily fit in any kitchen décor and that is, more importantly, easy to use and clean, these COOKER KING ceramic non-stick frying pans are well-made and durable pieces of cookware that you can use for a variety of cooking tasks.
As far as the interior surface is concerned, this thing is made out of high-quality ceramics, ensuring the food doesn't stick during cooking. In addition to this surface, there's also the outer layer built out of sturdy aluminum which is there to prevent warps due to temperature. This thing works on all stovetops except induction ones, by the way.
If need be, you can use these in your oven, too, so you won't need to transfer food from one container to another if you need to use both the stove and the oven for preparing the same dish. Once you're done with your cooking, you can simply these pans in your dishwasher.
Pros:
Durable ceramic non-stick surface
Tough outer aluminum construction
Dishwasher-safe
Contains no PFOAs, PFAS, or cadmium
Excellent performance
Cons:
Some users complained about thin handles
The edges on this frying pan are a tad thin and sharp to the touch

Frequently Asked Questions On Safest Cookware For Your Health
What is the safest non-toxic cookware?
Ans: As far as cookware safety is concerned, the main thing to pay attention to would be that the set you're using does not contain any of the following chemicals and metals: cadmium, lead, PFOA, and PFAS.
So, pretty much every set that doesn't have these 'ingredients' would be safe to use in cooking and food handling, in general.
What is the healthiest material for pots and pans?
A ns: Generally speaking, the safest materials for cooking utensils would include cast iron, stainless steel, and ceramics made with no addition of potentially poisonous materials such as lead.
Of course, various compound sets made out of an outer aluminum layer and then an inner ceramics layer can also be useful for making pots and pans.
Are old aluminum pans safe?
Ans: Aluminum pans and other pieces of cookware are safe for use in cooking.
That said, untreated pans made out of raw aluminum shouldn't be used for cooking acidic foods, but even those don't represent that much of a risk. Of course, aluminum cookware that's got an extra coating of ceramics or something else may be more efficient for cooking, but if you don't have access to such examples of aluminum cooking tools, even the regular cooking utensils would do.
Which cooking utensil material is best for health?
Ans: As we said above, some of the best materials for making cooking utensils when it comes to how they affect your health would be stainless steel, cast iron, and ceramics.
Compounds of these materials are also useful for this purpose, so if you have a pan that's half aluminum and half ceramics with a stainless steel handle, it will perform as well as one that's made just out of stainless steel, for example.
What is the safest cookware for your health?
Ans: Overall, the best cookware sets in terms of the health implications they can cause would be the sets that don't contain any lead, cadmium, PFOA, or PFAS. These come in all shapes and sizes and contain a varying number of pieces, so whether you go for stainless steel, cast iron, or ceramics, or some mixture of these, you can rest assured you will be buying well-concocted cookware set for yourself and your family.
Conclusion for Safest & Healthiest Cookware Buyers

All in all, if you need a tough cookware set, all you need to do is ensure it doesn't contain any of the aforementioned potentially dangerous chemicals. Other than that, finding the individual pieces such as pots pans with a lid, or ladles, and other tools is a matter of your needs as well as personal preferences. We hope this article helped you find your perfect cookware set and we wish you a merry and stress-free purchase.