If you're like most of the other people in the world, then you enjoy eating a delicious taco from time to time. Well, if we're being honest, there's a good chance that you enjoy eating tacos more often than that, right? Well, if you're the type of person who indulges in Taco Tuesdays on a regular basis, you might want to consider purchasing a flour tortilla press for your home. Having one of the ingenious machines at your disposable will allow you to create your own tortillas right from the comfort of your own home. Say goodbye to store-bought tortillas, and say hello to the taco of your dreams.
What is a Flour Tortilla Press?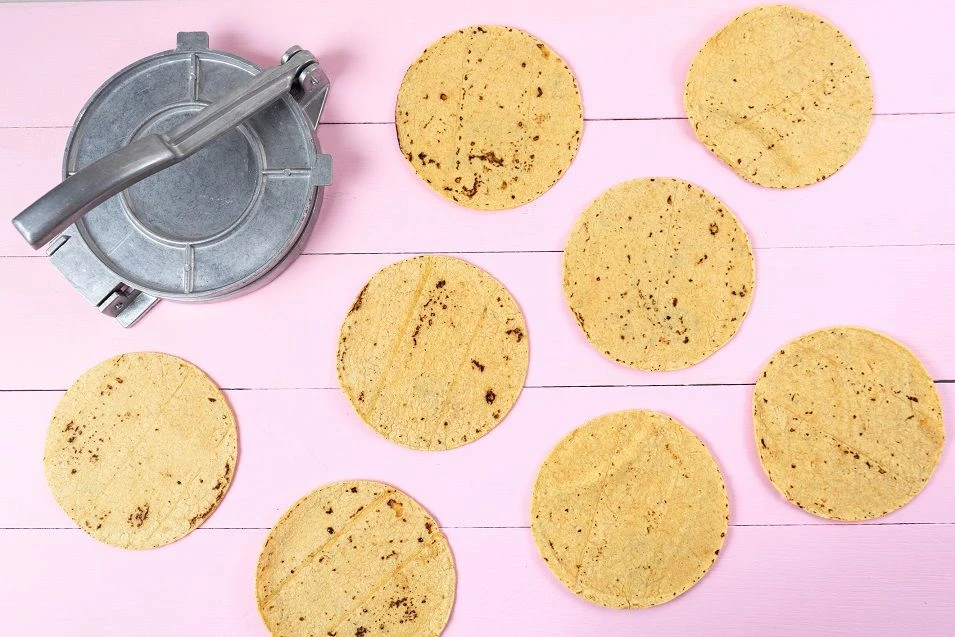 A tortilla press is a simple metal or wooden tool that is used to make flour or corn tortillas. Using just a hoop, handle, and a base, this tool allows you to make your very own tortillas instead of having to buy them from the store every time you want a taco or quesadilla. Tortilla presses come in a variety of shapes, sizes, and colors, and they're available in stores and online. But before you purchase the first tortilla maker that you see, screaming "take my money," take a few moments to read through this buying guide to ensure that you know exactly what you're looking for.
Types of Tortilla Presses
The type of tortilla press you purchase is dependent on the type of material that the press is made out of. There are four main types of tortilla presses:
1. Cast Iron
Cast iron is the most popular material used for tortilla makers. Because of their heavy, bulky design, cast iron tortilla presses tend to make perfectly shaped tortillas with even thickness. The biggest drawback of buying a cast iron tortilla press is the fact that it's so heavy, but don't let that turn you away from buying one. There are lightweight options out there if you decide that you'd like to have a cast iron tortilla press.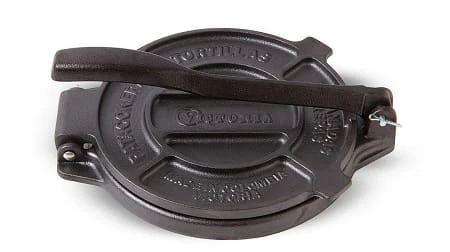 2. Aluminum
It goes without saying that aluminum is well-known for it's sturdy and light-weight nature. This is why aluminum is a widely used material for tortilla presses. Unfortunately, because of how light-weight they are, you need to put more effort into achieving the desired shape of your tortillas. Also, aluminum is typically cheaper than others, so this option is great if you're on a tight budget.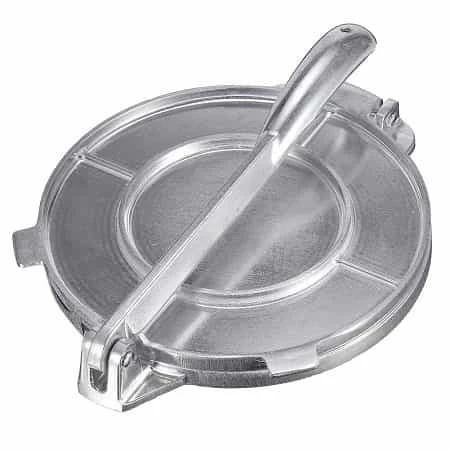 3. Handmade Wooden Tortilla Press
Handmade wooden tortilla presses are typically used by the people of Mexico on a regular basis. Like anything made out of wood, the effectiveness and cost are dependent on the type of wood used to make the tortilla press. Because they're so bulky, wooden tortilla presses might not be the best choice if you're planning on camping or traveling with it.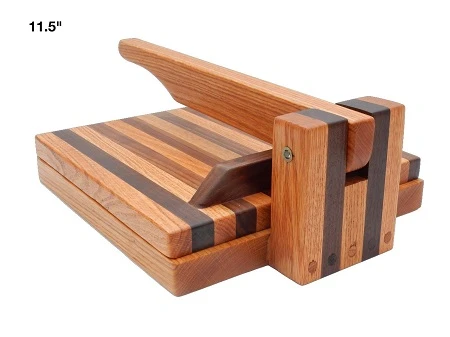 4. Plastic
While plastic tortilla makers are certainly available on the market, they're not usually dependable because of the plastic's lightweight and flimsy attributes. Unless it's unavoidable, you should purchase a tortilla make that will be a bit sturdier and more reliable.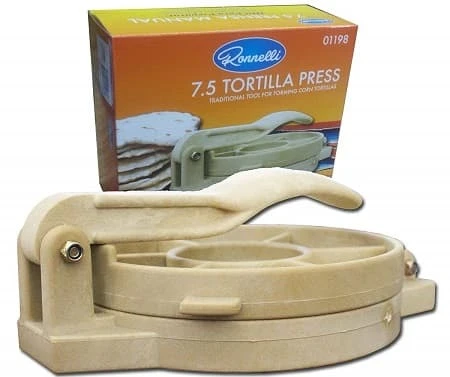 How to Choose the Right Tortilla Maker
Now that you understand the different types of materials used for tortilla makers, let's take some time to talk about the things you should be looking for when buying your own.
1. Size
As you can probably assume, tortilla presses come in a variety of sizes. When choosing a size, you need to think about how much space you have to spare. Tortilla presses are bulky and heavy, so if you don't have a lot of space to provide, then you should go with a smaller, lightweight option. It's also important to keep in mind that the larger the tortilla press is the more expensive it will be, so make sure to keep your finances in mind when buying one for your home.
2. Electric vs. Non-Electric
An electric tortilla press will flatten your dough, and cook it, as well, saving you a lot of time in the long run. A non-electric tortilla maker will only flatten the tortillas, so choosing between the two depends on what you personally need and want.
3. Clean Up
No one wants to spend an hour cleaning up the tortilla maker when their belly is full to the brim with tacos. This is why it's important to find a tortilla maker that doesn't require a whole lot of time and energy when it comes to cleaning up after you're done.
4. Warranty
When it comes to any product that you purchase, you want to see if there's a warranty involved, especially if you're spending quite a bit of money. If you decide that you'd like to have a warranty on your tortilla press, then you might want to consider purchasing one that is made out of cast iron.
As the name suggests, extra features aren't a necessity, but they are nice to have when it comes to convenience.
6. Indicator Light
Found in electric presses, the indicator light lets you know that your tortillas are done being cooked.
There are some tortilla presses that come with extra items like gloves, tongs, a recipe book, etc. Make sure to look at the contents of a product if you'd like to purchase a tortilla press that comes with extra items.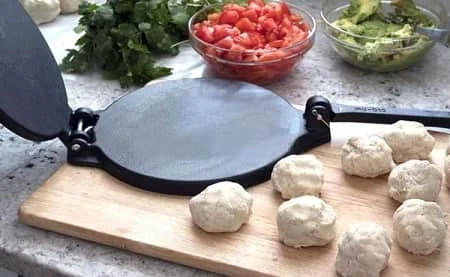 Now that we've discussed what a tortilla press is and what you should know before buying one, it's time to take a few moments to learn how to actually use one.
How to Use Tortilla Machine
1. Get Some Dough
It goes without saying that you need dough to make tortillas, so your first step is to buy ready-made masa dough. You can either purchase some at a local Mexican market, or you can make your own by following a recipe.
2. Wrap with a Plastic Sheet
Even if you've bought a non-stick tortilla press, make sure to line the base of your press with a plastic wrap sheet. This will ensure that the process runs smoothly and your press stays clean.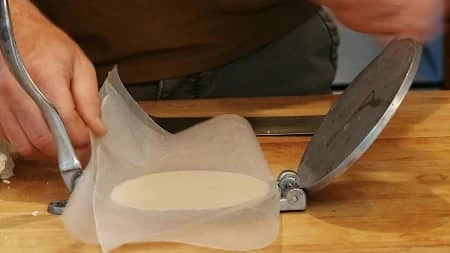 3. Make the Balls
Using the dough you made or purchased in step one, roll the dough into small balls and place them at the center of the press base. Make sure to cover up the dough when it's not being used so that it doesn't dry up.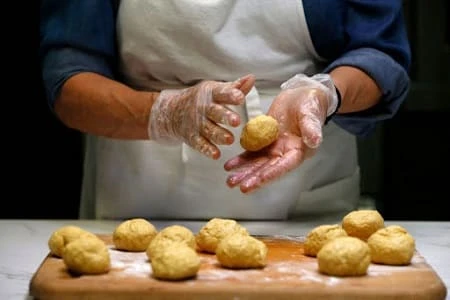 4. Lower the Top Plate
Once your dough ball is on the press, lower down the top plate of the tortilla maker, push the handle down, and then open the press. Once this step has been completed, the plastic wrap should be at the bottom of the tortilla press.
5. Peel Off the Plastic Wrap
Once your tortilla has been perfectly formed, peel away the plastic wrap from the tortilla. Then, put your hand underneath it and flip it over to the other hand to peel away the other piece of plastic.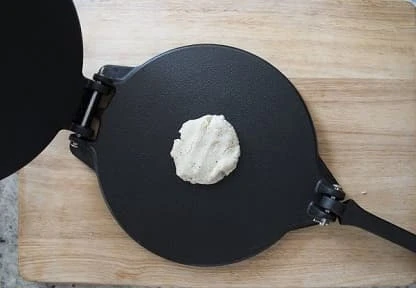 6. Cook the Tortilla
After placing the tortilla on a pre-heated electric griddle, cook it until the edges begin to dry. Flip it over and cook the other side. Cook the tortilla until it starts puffing, which should only take up to two minutes. To ensure even puffing, lightly tap the tortilla with your fingers.
7. All Done!
Your tortilla is done! Remove the tortilla and wrap it with a clean towel or cloth warmer to keep it warm. Repeat these steps until you have all of the tortillas that you need.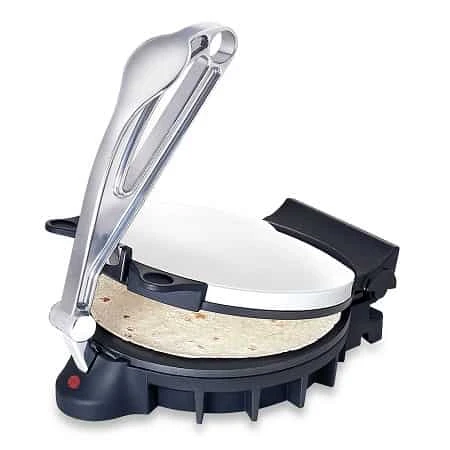 As you can see, there's nothing to making your very own tortillas from home. As long as you follow this simple buying guide, you should have no problem purchasing the perfect tortilla press for your needs!