Looking for a brand new sink to suit all of your needs can be a bit of a challenging task to take on. There are so many different types on the market that it can be extremely confusing to narrow down which model you like the best. One of the all-time favorite sinks of contractors is the undermount kitchen sink for granite countertops.
Undermount sinks are easily installed from underneath the counter, because of this there is no rim to be seen between the countertop in the sink, which is undeniably appealing to homeowners. Keep reading to discover the unbelievably impressive benefits of undermount sinks.
Benefits of Undermount Sinks
Undermount sinks are a selling point for potential homebuyers.
Since you don't need to account for the sink's rim, undermount sinks allow you to have more counter space. They also allow you to truly appreciate the beauty of your countertop.
They come in a variety of colors and designs, so no matter what your theme is, you'll be able to find a sink to match.
Your faucet can be placed anywhere you like when you have an undermount sink.
You're able to wipe the food on your counter straight into the sink without having to worry about anything getting caught on the rim.
Our Favorite Undermount Kitchen Sinks
Top Undermount Kitchen Sinks for Granite Countertops by Editors
Top 10 Best Undermount Kitchen Sinks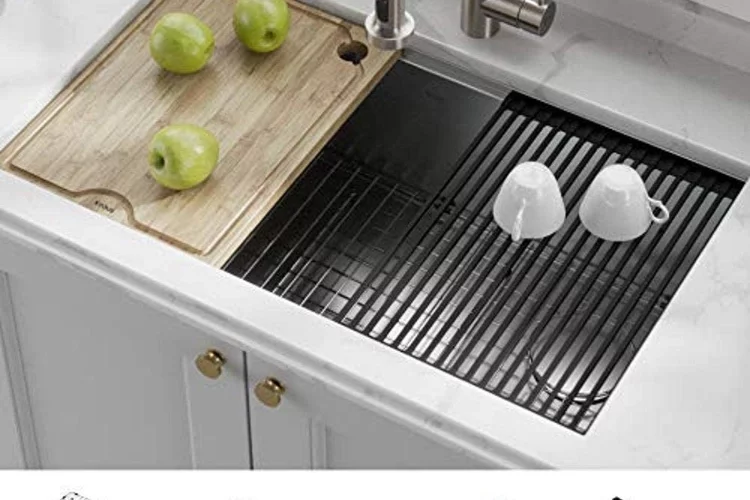 1. KRAUS Standart PRO 30-inch 16 Gauge Kitchen Sink, KHU100-3
If you're looking for an undermount sink that's virtually indestructible, then you're looking in the right place. The KRAUS Standart PRO is made out of dent-resistant T304 TRU16-gauge stainless steel, so you're getting an incredible amount of durability and strength when you purchase this undermount sink. There's no need to worry about spending too much time scrubbing this undermount sink to get it clean, either. The commercial grade satin finish on the KRAUS Standart PRO means it's unbelievably resilient against corrosion and extremely easy to clean. The KRAUS Standart PRO has NoiseDefend™ soundproofing technology with a non-toxic SoundGuard undercoating. In order to ensure that it's pretty much silent, this undermount sink also comes with extra-thick pads that cover over 80% of the sink!
The extra deep basins of the KRAUS Standart PRO make it so you don't need to worry about splashing water everywhere while you're doing your dishes. The KRAUS Standart PRO comes with a bunch of free accessories, too, such as a multi-functional stainless steel dish grid that protects the bottom of the sink from scratches and rust. The sink also comes with a three-piece basket strainer set and a premium KRAUS kitchen towel! You can't get much better than that. Who doesn't like free stuff?
2. Zuhne Modena Undermount Single Bowl 30 x 18 Inch
If you're looking for an undermount sink that will give you a quiet dishwashing experience then you can stop looking right now. The Zuhne Modena Undermount sink is considered one of the quietest sinks on the market. The Zuhne Modena has Noise Defend soundproofing technology. The Zuhne Modena leads the industry with its unbelievable insulation technology, which cancels out the noise of everyday sink use, as well as protect the sink's cabinets from condensation damage. When looking for a reliable sink, you should think about what the professionals would do in your situation. The Zuhne Modena is chosen by architects and builders all over world for their projects that require high-quality equipment.
The Zuhne Modena is made out of top-quality T304 18/10 stainless steel from the world's leaders of steel, Posco. You never have to worry about the steel warping, either, because this sink is made with 25% more steel than any other comparable products! Unlike other sinks, you can drain boiling water, or ice, without having to worry about rust or corrosion! With the lifetime warranty that comes with any Zuhne sink, you don't have to worry about paying more money if anything goes wrong with your sink. Just
3. KRAUS Standart PRO 32-inch 16 Gauge Undermount Single Bowl Stainless Steel Kitchen Sink

You'll never want another undermount sink once you buy the KRAUS Standart PRO KHU100-32. The TRU16 real 16-gauge stainless steel was made to be dent-resistant, so you don't need to be concerned with having to be too gentle with your sink. After all, it's a piece of kitchen equipment, not a baby. You shouldn't have to be extra cautious with something that collects dirty dishes, right? The KRAUS has a commercial grade satin finish on it, so it's extremely easy to clean and resilient against corrosion and rust. Nobody likes having to spend 20 minutes cleaning the sink after using it to make sure that every piece of food goes down the drain the way it's supposed to.
You don't have to worry about that annoyance with this sink. The drainage was designed with channel grooves to ensure that there's never an water just standing still in your sink. And who isn't a fan of free stuff? The KRAUS undermount sink comes complete with a premium Kraus kitchen towel, a multi-functional stainless steel dish grid, and a three basket strainer set! The best part about this sink it its size. You can fit your roasting pans, baking sheets, skillets, and an oversized bowl all in one shot! It doesn't get much better than that.
4. Ruvati RVM4250 Undermount 16 Gauge 30″ Kitchen Single Bowl Sink, Stainless Steel
When you think about quality, you should be thinking about the Ruvati RVM4250 undermount sink. The 16 gauge premium 304 grade stainless steel is nearly impossible to ding up from rough use. One of the best things about the Ruvati RVM4250 undermount sink is its versatility. The rim is brushed and finished to match the inside of the sink, so it can be installed as an undermount sink or a top mount sink, depending on your preference. This sink has a beautiful satin finish, which is long-lasting and unbelievably easy to clean.
There's not one person out there that enjoys the sound of a loud sink. It can be a bit overwhelming when combined with the everyday sounds of your home. The Ruvati RVM4250 undermount sink has unbelievably heavy duty sound guard padding and undercoating, which means a virtually silent dishwashing experience for you. The drain opening for this sink is compatible with just about any sized garbage disposal, so there's no need to purchase a new one if you decide to purchase the Ruvati RVM4250. This sink comes with a limited lifetime warranty, but that's not all. It also comes with a free basket strainer and a rinse grid!
5. Kraus KBU24 32 inch Undermount 60/40 Double Bowl 16 gauge Stainless Steel Kitchen Sink
If you want a top of the line undermount sink that has an amazing price to go along with it, then you can stop your search right here. The Kraus KBU24 undermount sink was designed with quality and durability in mind. This sink was constructed with only the best premium T-304 stainless steel material. This sink is practically dent-resistant, as well as scratch and stain-resistant. There's nothing worse than red spaghetti sauce stains tarnishing your sink. You don't need to worry about that unsightly mess anymore.
The non-porous surface of the Kraus KBU24 makes it resistant to corrosion, so you don't have to worry about having to replace your sink in three years because it's entirely corroded. Also, the limited lifetime warranty will cover any damages to your sink, such as rust and corrosion. The Kraus KBU24 has a commercial grade satin finish that is extremely easy to clean, which allows you to spend your time doing things you enjoy rather than scrubbing your sink before bed every night. The best part about this sink is the NoiseDefend soundproofing technology. The days of having to yell over the sound of running water are over. Now you can wash the dishes in peace, while having your favorite music playing in the background!
6. Ruvati RVM4300 Undermount 16 Gauge 32″ Kitchen Sink Double Bowl, Stainless Steel
If you like having the classic look in your kitchen, then this undermount sink would be the perfect match for you. The large, deep bowls have rounded corners that are not only functional, but they give it a nice classic appeal that would impress just about anyone that walks into your home. The rim of the Ruvati RVM4300 is brushed and finished to match the inside of the sink, so it can be used as an undermount sink or a top mount sink, depending on the countertop you have. That's what you call versatility at its finest!
The heavy duty padding and undercoating give this sink an extra layer of soundproofing technology, as well as provide a layer of defense against scratches and dings caused by everyday dishwashing use. If you're going to spend money on something that you're going to be using every single day, you should make sure that it's made of high quality materials. The Ruvati RVM4300 is made with 16 gauge premium 304 grade stainless steel and has an amazing satin finish that makes cleaning it as easy as can be. The Ruvati RVM4300 also comes with rinse guards and two basket strainers. You really can't deny what a great deal this is!
7. Ruvati RVM4350 Undermount 32″ Low Divide 16 Gauge Kitchen Sink Double Bowl
Washing dishes has never been an easier task than with the Ruvati RVM4350 undermount 32″ low divide 16 gauge double bowl kitchen sink. This sink has an extremely unique design. The divider in between the bowls is three inches lower than normal sinks. This allows you to have extra clearance when transferring dishes from one side of the sink to the other, especially when you're working with your big turkey pan or your large griddles that you use for Sunday breakfast of eggs and bacon.
The Ruvati RVM4350 is made with 16 gauge T-304 grade stainless steel, which is actually 12.5% thicker than 18 gauge stainless steel, which is great if you're concerned about nicking the bottom of the sink with your dishes. You also don't ever need to worry about having to replace this sink because of rusting or discoloration. This Ruvati undermount sink is essentially one of the most silent sinks on the market. It has heavy duty soundguard padding and undercoating that are sure to give you an extremely quiet dishwashing experience every single time. This sink also comes with plenty of extras, such as a set of two rinse grids and two basket strainers! Good luck finding a better sink than this one!
8. Ruvati RVH8300 Undermount Ledge 16 Gauge 32″ Kitchen Sink Single Bowl
The Ruvati RVH8300 was made with chefs in mind. The workstation design of the sink is perfect for those of you that enjoy getting busy in the kitchen. The overhanging lip on the front and the back of the sink act as a track for sliding in the fantastic built-in accessories. Speaking of accessories, this sink comes with a solid wood cutting board, a dish-drying roll-up rajc, and a stainless steel colander. The Ruvati RVH8300 is made out of 16 gauge premium T-304 grade stainless steel that will absolutely never rust or stain. The brushed finish will hide any kind of scratches that your sink might get, and it will look great with any kind of kitchen appliances that you have.
The designers of the Ruvati RVH8300 understand that most people don't want sound to be drowned out by the noise of running water, so they included heavy duty sound guard undercoating and a thick rubber padding that is sure to minimize any sound coming from your sink, as well reduce the amount of condensation that builds up on your countertop. The sloped-bottom design of this sink has grooves in it that allows all of the water to completely drain from the sink.
9. VAPSINT Commercial 30 Inch 18 Gauge Undermount Single Bowl Stainless Steel Kitchen Sinks

The VAPSINT kitchen sink was constructed with only the highest quality premium grade T-304 stainless steel. Unwanted noise can be a huge problem for larger sinks, but not with the VAPSINT commercial sink. This sink is sound insulated with 3mm thick rubber dampening pads and a stone guard undercoating, making one of the quietest sinks out there. Have you been trying to find a sink that would match up with your garbage disposal system, but you seem to not have the best of luck finding one? Well, stop looking right here. The standard 3-½" drain opening on the VAPSINT commercial sink is meant to fit most common garbage disposal systems.
The premium grade satin finish of this sink will ensure that your sink stays clear of any kind of scratching. One of the best features of this sink is the added dish rack. All you need to do is unroll it over your sink in order to get more room for your dishes, or you could even use it to wash your fruit and vegetables. Honestly, what more could you possibly want in a sink? Except for maybe one that puts your dishes away for you once their dry, but we're light years away from that.
10. 3218A 18-Gauge Undermount Equal Double Bowl Stainless Steel Kitchen Sink
Stop searching for an undermount sink for your home right now! The 3218A sink was made for you! This sink was made with the highest quality of 304-grade cold rolled stainless steel that you can find. In fact, this sink is made out of 18% chromium, which allows the brushed-satin finish to repair much quicker than comparable products, so you don't need to worry too much about water marks or scratches tarnishing the beautiful stainless steel of this sink. There's no need to deny it.
Everyone knows that the tinny sound that the running water makes when it hits the bottom of the sink can be extremely annoying. The sound dampening pads applied to the underside of this sink muffle any noise coming out of it, including the sound of dropping silverware. Did you recently install new countertops? Are you a bit concerned about the amount of condensation that comes from the sink damaging your countertops? Well, stop worrying. The exterior of the 3218A sink is sprayed with a specially formulated anti-condensation compound, so there's no build up of water causing harm to your beautiful new countertops. If you ever have any kind of trouble with this sink, contact the manufacturer for their lifetime warranty included with this sink!
How to Choose Undermount Kitchen Sinks
Sinks are necessary in any kitchen. That much everybody knows. But what are undermount kitchen sinks? How are they different or similar to standard kitchen sinks?
Are they better? Worse?
Find out in this guide to undermount kitchen sinks.
Undermount kitchen sinks: A buyer's guide
Like with standard kitchen sinks, there are a lot more to undermount kitchen sinks than a device that catches water that comes out of a faucet.
There is no sense in putting in a brand new undermount kitchen sink or replacing your standard kitchen sink with one without knowing what to consider.
If you install an undermount kitchen sink for one or two lofty reasons that do not address its function as well as its aesthetics, there is a good chance that you have selected an undermount kitchen sink that is not completely optimal.
This means that the undermount kitchen sink that you selected may not last in the long term.
When you select an undermount kitchen sink, you need to do so with the intent that you will be able to use it for a very long time. You should also be interested in having it look impressive and in-style for a very long time as well.
Size
Let's start with the most obvious.
Just like with standard kitchen sinks, size is definitely a factor to consider when selecting an undermount kitchen sink. The optimal size for your undermount kitchen sink is almost completely dependent on how big your kitchen is, how big your counter is, and what you intend to use the sink for.
Don't forget that it does take a decent amount of counter space to get any kitchen sink put in, undermount or not. This is likely the very first thing that you should account for.
Although undermount kitchen sinks do clear up a little bit of counter space, you should still understand how much of the counter you are taking up when you get an undermount kitchen sink put in.
However, your undermount kitchen sink should be large enough to fit more than one pot or pan. There is nothing more frustrating than possessing a kitchen sink that does not fit enough cookware or other kitchen and cooking related materials.
From this, you need to choose a size that you believe will be optimal in the long term. Refuse the temptation to choose the smallest or largest kitchen sink.
Gauge/steel thickness
Most undermount kitchen sinks are made of steel. This protects it from the impact of everything that is dropped into it. There are varying degrees of how thick this steel is, and this can affect what can happen to your sink over time.
The lower the gauge levels of the steel, the thicker the steel is. From this, many argue that the thicker the steel is, the more optimized the kitchen sink will be in terms of function. Although the logical decision is to choose sinks with a steel gauge of 18 or lower, this may not always be the case.
There are instances where 18 or lower gauge of steel thickness may not be optimal for an undermount kitchen sink. For example, you need to have a certain budget just to possess an undermount kitchen sink with a very thick steel layer.
Also, you'll need to be aware that kitchen sinks that have lower steel gauges will also be extremely loud when things are dropped in them.
These are two precautions that you should take when analyzing what kind of gauge level steel you want for your undermount kitchen sink.
Heat resistance
If you are the type who cooks constantly, you'll want to pursue an undermount kitchen sink that can resist heat. Heat resistant undermount kitchen sinks not only maintain a clean look, but also last long. However, this does not need you shouldn't clean and maintain heat resistant undermount kitchen sinks.
Hot pots, pans, and other kitchen tools can still cause markings on a reinforced and resistant undermount kitchen sink. This means you will still want to clean up after yourself after letting all of these hot kitchen tools come in contact even with a heat resistant kitchen sink.
Noise control/sound pads
Sinks can get loud when kitchen tools, silverware, plates and bowls are dropped onto them. Something that can prevent this are sound pads and insulating foam. If you are using your undermount kitchen sink a lot, you'll want some way to prevent it from making noise.
Be aware, however, that these devices do cost extra and also count as additional features to any given undermount kitchen sink.
Undermount kitchen sinks do operate similarly to standard kitchen sinks. But they do possess a number of benefits in comparison.
Benefits of undermount kitchen sinks
The first thing that you need to know is that undermount kitchen sinks have the exact same function as standard kitchen sinks:
They are both appliances that manage your water use and funnel it through a drain so that you can cook, clean, and do anything else that involves water in the kitchen.
In its function, undermount kitchen sinks do the exact same thing that standard kitchen sinks do.
There are only a couple of real differences between the two, and these differences favor undermount kitchen sinks over their standard counterparts.
Standard sinks get directly attached over the edges of counters. They are mounted over the counter and often look very plain because of this.
Different than standard sinks, undermount sinks are, of course, mounted underneath the selected counter. This will make the counter that borders the sink look much better than it would if it contained a standard sink.
Another thing that separates undermount kitchen sinks from their counterparts is the fact that you can place its faucet anywhere. Faucets are usually installed alongside standard kitchen sinks, but they are installed separately when they have an undermount design.
From this, it appears that undermount kitchen sinks are optimal compared to their standard counterparts.
However, standard kitchen sinks do possess two advantages over their standard counterparts. First, they are much easier to find and more common. And second, they are much easier to install.
Installing undermount kitchen sinks is a different process than installing standard kitchen sinks, and it can take some getting used to.
Frequently asked questions
Which is better: Undermount sinks or drop-in sinks?
A: The answer to this question is directly related to how you want the sink to look relative to how everything else in the kitchen looks. Sinks all serve virtually the exact same function whether they are undermount, drop-in, or overmount. The difference between undermount sinks and drop-in sinks is that undermount sinks do not contain a surrounding border around your counter. The lack of this surrounding border can make an undermount sink look a bit more impressive.
Is an undermount sink better than an overmount sink?
Undermount sinks may look impressive, but they are slightly less functional than their overmount counterparts. One of the better features of an overmount sink is that they are oftentimes installed similar to a three-compartment sink in most restaurants, where the sink unit does a little more than connect to brackets on a counter. This is optimal in its function, but they do not look as impressive as an undermount sink. One is not better than the other, they are both optimal for different situations.
How is an undermount sink attached?
A: Undermount sinks are attached similarly to a drop in sink, but there is only one difference: They use supports and brackets. The only difference is that with undermount sinks, the brackets that hold them together are centered underneath the counter. With drop-in sinks, the brackets are located a little closer to the counter that attaches the sink. Attaching an undermount sink is not any more or less difficult than other sinks, just different.
What adhesive is used for an undermount sink?
A: Undermount sinks use the same kinds of adhesive that other sinks use - Caulk. Caulk does two things: First, it holds everything involved in the sink together perfectly and for a very long time. Do not forget that sinks deal with water, and water can break certain things down. Caulk prevents the shelves and brackets that hold up a sink from breaking down. Caulk also creates watertight sealing that will prevent leaks.
How much does it cost to install an undermount sink?
There are two "phases" of the installation process of an undermount sink. First, there is the cost of the sink itself. This varies, but it has an average cost of $285. Then there are plumbing labor costs, if they are necessary. Again, this varies from location to location, but the average of this is right around $400. In some situations, plumbing labor may not be necessary, especially if you are able to take the time and energy to do the research involved in the plumbing labor yourself.
How to install undermount kitchen sinks
Installing an undermount sink can be a bit tricky if you've never done it before, but with these simple instructions you'll be able to install your sink in absolutely no time. After installing kitchen sinks, you may want to buy water softner for your house. Free Range LA helps you choosing this.
There is a much different process to installing undermount kitchen sinks than their standard counterparts.
It is not more difficult to install undermount kitchen sinks, just different.
An undermount kitchen sink still uses the same kind of parts that standard kitchen sinks use: Supports, brackets, and shelves are all things that are used by both types of sinks.
The only difference is how the components are employed and applied.
Installing the supports is the very first thing you should be doing when installing undermount kitchen sinks. You can do this using three types of sink supports: Commercial brackets, a custom wood frame, and a custom plywood shelf.
Of these three, commercial brackets are the most optimal and least complicated for an undermount kitchen sink. The other two methods are generally utilized when you are installing a standard kitchen sink.
The supports create the frame, which should then be caulked together after setting the sink onto the support frame.
The final thing you need to do is install the adjacent countertops over the sink. This should sandwich it between the countertop and cabinet frame.
The only real difference between standard sinks and undermount sinks is that an undermount sink does not extend over the counter the way that standard sinks do.
This is why it is much easier to install it by connecting it to commercial brackets than by using frames. Frames almost rely on the kitchen sink having an overmount border.
The final part of the installation process of an undermount kitchen sink is caulking. Caulk must be applied to any given sink no matter how it is mounted, and it needs to be applied to flange of the sink.
Hopefully, after reading these reviews you've found the undermount sink that you've been looking for. If not, keep doing your research. An undermount sink is a great investment and they look absolutely amazing. If you have a difficult time installing your undermount sink, don't worry. There are professionals out there that are completely qualified to install your sink for you! Just always remember to measure twice, so you only have to cut once. There's not really any room for error when it comes to cutting the hole in your countertop. You don't want to have to spend more money because you ended up with a hole that was way too big, do you?
Buy on Walmart
ZUHNE Drop In Kitchen, Bar and RV Stainless Steel Sink (33x22 Single Bowl) - Walmart Link
Kraus KHU100-30 Kitchen Sink, 30 Inch, Stainless Steel - Walmart Link
BLANCO, Anthracite 440149 PRECIS SILGRANIT Super Single Undermount Kitchen Sink, 32" X 19" - Walmart Link
Ruvati 32-inch Workstation Ledge Tight Radius Undermount 16 Gauge Kitchen Sink Single - Walmart Link
KRAUS Standart PRO 33-inch 16 Gauge Undermount 60/40 Double Bowl Stainless Steel Kitchen - Walmart Link
ZUHNE Modena Undermount Kitchen Sink Set, 16-Gauge Stainless Steel (30-Inch Single Bowl) - Walmart Link
Ruvati 32-inch Undermount 16 Gauge Tight Radius Kitchen Sink Stainless Steel Single Bowl - Walmart Link
Kraus Standard PRO 33-Inch 16 Gauge Undermount 60/40 Double Bowl Stainless Steel Kitchen - Walmart Link
BLANCO, Anthracite 441094 DIAMOND SILGRANIT Super Single Drop-In or Undermount Kitchen - Walmart Link
Kraus KBU24 32 inch Undermount 60/40 Double Bowl 16 gauge Stainless Steel Kitchen Sink - Walmart Link
Ruvati 30-inch Undermount 16 Gauge Stainless Steel Kitchen Sink Single Bowl - RVM4250 - Walmart Link
Kitchen Sink, MENSARJOR 32'' x 19'' Undermount Single Bowl 16 Gauge Stainless Steel - Walmart Link
Ruvati RVH8350 33-inch Workstation Ledge 50/50 Double Bowl Undermount 16 Gauge Stainless - Walmart Link
Kraus KWU110-30 Kore Kitchen Single Bowl, 30 Inch, 30"- Workstation Sink - Walmart Link
HOUZER M-200U MIDNITE Quartztone Series Granite Undermount 50/50 Double Bowl Kitchen - Walmart Link
Elkay Quartz Classic ELGRU13322BK0 Black Single Bowl Undermount Sink - Walmart Link
Swanstone QZ03322LS.077 Granite 1-Hole Dual Mount Single-Bowl Kitchen Sink, 33-in L X - Walmart Link
Buy on eBay
ZUHNE Drop In Kitchen, Bar and RV Stainless Steel Sink (33x22 Single Bowl) - eBay Link
Kraus KHU100-30 Kitchen Sink, 30 Inch, Stainless Steel - eBay Link
BLANCO, Anthracite 440149 PRECIS SILGRANIT Super Single Undermount Kitchen Sink, 32" X 19" - eBay Link
Ruvati 32-inch Workstation Ledge Tight Radius Undermount 16 Gauge Kitchen Sink Single - eBay Link
KRAUS Standart PRO 33-inch 16 Gauge Undermount 60/40 Double Bowl Stainless Steel Kitchen - eBay Link
ZUHNE Modena Undermount Kitchen Sink Set, 16-Gauge Stainless Steel (30-Inch Single Bowl) - eBay Link
Ruvati 32-inch Undermount 16 Gauge Tight Radius Kitchen Sink Stainless Steel Single Bowl - eBay Link
Kraus Standard PRO 33-Inch 16 Gauge Undermount 60/40 Double Bowl Stainless Steel Kitchen - eBay Link
BLANCO, Anthracite 441094 DIAMOND SILGRANIT Super Single Drop-In or Undermount Kitchen - eBay Link
Kraus KBU24 32 inch Undermount 60/40 Double Bowl 16 gauge Stainless Steel Kitchen Sink - eBay Link
Ruvati 30-inch Undermount 16 Gauge Stainless Steel Kitchen Sink Single Bowl - RVM4250 - eBay Link
Kitchen Sink, MENSARJOR 32'' x 19'' Undermount Single Bowl 16 Gauge Stainless Steel - eBay Link
Ruvati RVH8350 33-inch Workstation Ledge 50/50 Double Bowl Undermount 16 Gauge Stainless - eBay Link
Kraus KWU110-30 Kore Kitchen Single Bowl, 30 Inch, 30"- Workstation Sink - eBay Link
HOUZER M-200U MIDNITE Quartztone Series Granite Undermount 50/50 Double Bowl Kitchen - eBay Link
Elkay Quartz Classic ELGRU13322BK0 Black Single Bowl Undermount Sink - eBay Link
Swanstone QZ03322LS.077 Granite 1-Hole Dual Mount Single-Bowl Kitchen Sink, 33-in L X - eBay Link