Have you ever purchased and installed a water heater for your home or office? If you answered "yes," then you may have also caught on to the popularity of tankless water heaters that have overtaken the traditional water heater market.
You may also have known of the tankless water heater's many advantages over the conventional tank water heater. If your answer was "no," then you have a lot of catching up to do! You are missing out on the tankless water heater revolution!
No longer should you settle for the chunky, space-hogging, basement occupying water heater of the past.
Step into the world of the tankless water heater where hot water is on demand - meaning long, leisurely showers (even during the biting winter), fabulous savings on water heating, energy, and electricity costs, and convenience.
In this tankless water heater review, you are introduced to ten of the best tankless water heaters that we recommend for your consideration. Depending on your home situation and water heating needs, you may find the right water heater that suits you.
Top Best Electric Tankless Water Heaters by Editors' Picks
Before we dive in, here are a few things you must consider when buying your tankless water heater.
Things to Consider: Best Electric Tankless Water Heater
Flow Rate - As with all tankless water heaters that deliver hot water on demand, the flow rate is critical to their performance. The flow rate is the amount of water that the tankless water heater can heat up at any time. So, a low flow rate limits the amount of hot water you can enjoy from your unit. You can tell instantly whether your tankless water heater is suffering from a low flow rate when you step into the shower, and a blast of lukewarm or cold water hits you in those first seconds. For the best results, select a tankless water heater that can heat between 2 to 5 gallons (around 8 - 19 liters) of water per minute. This way you won't run out of hot water.
The Fuel Type - Choosing the best fuel type when considering the set up for your tankless water heater is a vital decision if you are concerned about costs and efficiency. Options typically considered are electricity, propane, and natural gas. The fuel you choose depends on your estimated annual expenses (can you afford this?) and whether the particular fuel option is available in your location. If all types of fuel are available in your area, you would need to consider the fuel cost and whether the tankless water heater you are considering will function efficiently on such fuel. Your best bet in this situation is to research your options carefully before making a final decision.
Energy efficiency - How efficiently your new tankless water heater will use energy is another consideration when choosing your water heater. Of course, saving on energy usage and cost is a crucial factor when you change from the traditional water heater to the tankless variety. Carefully compare the energy factor (EF) ratings of each brand or type of tankless water heater. Although at first the energy savings you experience with a new tankless water heater may be impressive, over time and as your family's hot water needs increase, your savings might not be so significant. That said, it is still a useful exercise to check on the heater's energy ratings when choosing the best tankless water heater for you.
Top 10 Best Electric Tankless Water Heater Reviews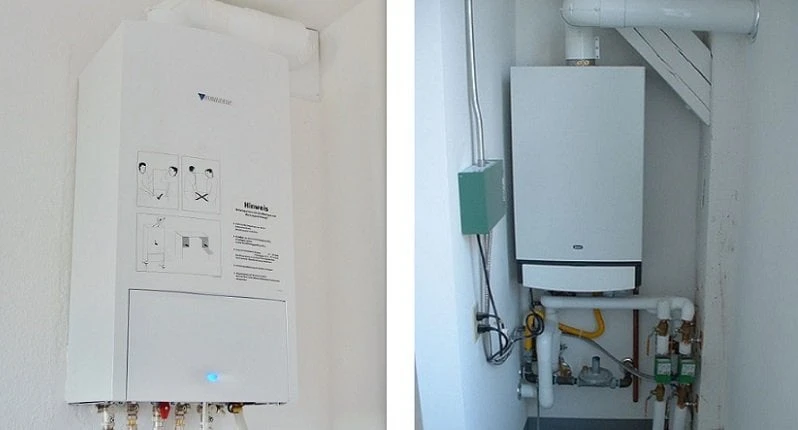 1. EcoSmart ECO 27 Reviews - Electric Tankless Water Heater
Let's start with the EcoSmart ECO 27 Electric Tankless Water Heater. This heater is among the larger tankless heaters available on the market that also features self-modulating technology. The EcoSmart tankless heater works best in countries where the temperature of incoming water can drop to below 37°F or 2.8°C. Taking early morning or winter showers aren't much fun without a reliable water heater. With the ECO 27 that heats almost 3 gallons or 11.4 liters per minute you can take leisurely showers. Even with two showers running at once you are still getting hot water!
If you live in warmer areas, expect better performance from the ECO 27. It heats twice as much water per minute! Enjoy longer showers, get the dishes and laundry done, and do other activities without running out of hot water. Set the temperature to what you desire with your digital temperature control - anywhere from 80°F (27°C) - 140°F (60°C). Another benefit of using the ECO 27 tankless water heater is the tremendous savings to your water heating cost. The sleek and compact ECO 27 tankless water heater also saves you precious floor space as well. Not to mention the advantage of the ECO 27's self-modulating technology that allows for incredible energy savings, as the heater uses only the amount of heat required. Goodbye traditional water heater!
Pros
Enjoy significant savings on your water heating and energy costs - up to 50%
Easily control the temperature with the digital temperature control
A durable and efficient water heater that is also easy to maintain
Very compact wall mounted design saves storage and floor space
Cons
You must consider your home conditions and hot water needs to avoid buying the wrong model.
2. Rheem RTEX 13 Reviews - 240V Heating Chamber Water Heater
Rheem is known for producing professional quality water heaters, and this Rheem 240v Heating Chamber RTEX-13 Residential Tankless Water Heater is no exception. Expect a continuous flow of hot water whenever you need it for one or multiple users. Enjoy the convenience of reliable hot water flow for your showers, laundry, and other household uses. Never run out of hot water again!
Also, notice that your water temperature stays the same although you have been running it for a while. A tremendous benefit of using the Rheem tankless water heater is the incredible cost savings you achieve. Say goodbye to high water heating bills - save up to 30% every month. Furthermore, you can install the Rheem by yourself - it's that easy. Otherwise, if you prefer, get a professional to install it for you.
Pros
Very energy efficient and you can save tremendously on your water heating costs
Easily adjust your temperature settings with the digital temperature control that also has an LED display
Durable heating elements - Copper
Simple installation whether on your own or by a professional
Cons
Ensure that your water's flow rate is not too fast for your Rheem water heater as you might not achieve the best performance.
3. Bosch Tankless Water Heater Reviews - Eliminate Time for Hot Water
Your solution to high water heating costs and cold morning showers is the Bosch Electric Tankless Water Heater. Not only do you save costs using the tankless water heater, but you also won't run out of hot water the moment you need it. As a sleek unit, the Bosch tankless water heater provides your whole house with hot water for showers, laundry, and other purposes. You can, of course, choose where and for what purpose you install your Bosch Electric Tankless Water Heater. This versatile water heater can also be installed either indoors or outdoors.
You can also rely on the flow sensor that is built in this unit for a stable output temperature no matter how the heater is being used. The Bosch has the capability of delivering hot water for up to three purposes at the same time. That's great flexibility for a tankless water heater unit! Whether you are using the Bosch tankless water heater at your home or office, consider this a significant investment that will last more than 20 years.
Pros
Very convenient to provide heated water especially for small home or office spaces
Installation is quick and easy
The Bosch tankless water heater allows constant temperature that you can also control
Quite efficient in providing hot water on demand
Easy to maintain
Cons
At constant temperature and without a temperature limiter, this water heater might scald you if you have set the temperature too high the first time.
4. Thermoflow Tankless Water Heater Reviews - 12kW Instant Hot Water Heater
Maybe you live in an apartment and need a smart tankless water heater that works automatically to keep your water heated. Then say hello to the Thermoflow Elex 12 Tankless Water Heater which is your solution explicitly designed for apartments. You'll also appreciate the smart features of this tankless water heater that works on demand without wasting energy. As you will notice, the Thermoflow Elex works well in a high demand environment where multiple users demand hot water at the same time.
With a flow rate that can reach a maximum of 2.88 gallons or 10.9 liters per minute you can expect a high volume of hot water for those long, lazy showers. Then again, the Thermoflow Elex is also a smart choice for areas where the temperature of incoming water drops to 57℉ or 13.9℃. Equipped with an exclusive Electric Temperature Control (ETC) the Thermoflow Elex makes sure you are provided with consistent temperature even if water flows go up or down. It is also conveniently equipped with a backlit LCD and touch activated screen so you can set your desired water temp between 32℉ (0℃) and 140℉ (60℃). It is easy to install the shoe-box sized Thermoflow water heater, and it is also an excellent cost saver - giving you up to 50% savings on your water heating bills.
Pros
Provides hot water on demand, no need to pre-heat water to use
Designed with heating elements that are made of durable stainless steel that does not corrode easily
Control the temperature of your water with the self-modulating temperature control technology - set temperatures from 32°F up to 140°F.
Easy to install on your own or with professional help
Cons
The water inlet and outlet are located at the back of the heater unit so you would need to use spacers and buy elbows when hooking up your water lines
When installing the electrics pay attention to the type of electrical wires required as the provided cut-out may not be adequate for the number and kind of electrical wires needed.
5. Rheem Tankless Water Heater Reviews - RTGH-95DVLN 9.5 GPM Indoor Water Heater
Here's another excellent water heating product with the Rheem name that you can trust. The Rheem RTGH-95DVLN is just what you need for hot water on demand. As a product that meets and exceeds the standards for water heaters, the Rheem offers great experiences whether you are taking showers or doing the dishes or laundry at home.
For best results confirm exactly what your water heating needs are and your home's plumbing, natural gas, or electrical specs before you select your Rheem product. Also, verify that any parts you also need are available with the unit or whether you need to purchase them separately. That said, you will certainly enjoy the convenience of long warm showers at any time you want.
Pros
Equipped with a stainless steel condensing heat exchanger for greater energy efficiency
Control your energy usage with the intelligent electronic controls that increase your heating efficiency and ensures safety
Easy to install and maintain
Also, this water heater is easy to use.
Cons
May fail if not properly installed.
6. Rinnai Water Heater Review - RUC98iN Ultra Series Natural Gas Tankless Water Heater
Perhaps your water heating needs can be covered by the Rinnai RUC98iN Ultra Series of natural gas tankless water heater. You will immediately notice that this water heater is very efficient thanks to its condensing technology. Another noticeable benefit is the dramatic reduction in your water heating costs once you start using the Rinnai.
It is also quite easy and straightforward to install your Rinnai natural gas tankless water heater for residential or commercial uses. But if you prefer, you can call your professional installer for help. It also helps to read carefully the instruction manual provided. A useful check also is the gas supply line to ensure that it is running at the correct pressure. Your local gas company will help you with this. For best results also, you may need to buy a condensate neutralizer kit to prevent damage to your drainage pipe.
Pros
This small compact water heater saves space
Offers a PVC or Concentric option for venting
The Rinnai is a quiet unit that does not disturb anyone
Can be installed indoors
Safe for use in any area as it does not emit gases or fumes like Nitrogen Oxide
Enjoy tremendous savings in electricity costs by switching to this natural gas tankless water heater
Cons
You may experience a slight increase in the time taken to heat water as well as a small drop in water pressure at first.
7. Stiebel Eltron Tempra 24 Plus Review - Whole House Tankless Electric Water Heater
Another trusted name in tankless water heaters is Stiebel. This brand is known for high-quality products and the Stiebel Eltron Tempra 24 Plus Electric Tankless Water Heater is no exception. Regarded as one of the most technologically advanced tankless heaters currently on the market, Stiebel Eltron Tempra provides continuous hot water on demand. It's good that Stiebel has upgraded the Tempra series to provide better water heating experiences for its customers.
The upgrade of the Tempra series now allows for advanced flow control, high-performance electronics, a single flow sensor that is easier to use, and a cover with hinges that allows quick access by users. Enjoy the advantage of lower electricity bills and energy savings of up to 20% that you won't get with a traditional tanked water heater. Furthermore, the Stiebel Eltron Tempra occupies far less space than the conventional water heater and is easier to install.
Pros
The Stiebel water heater is well built for durability
It is easy to install and maintain - professional installation is, however, recommended
Control the temperature with the digital temperature control
Does not require venting
The Stiebel water heater runs silently, so it is not disturbing to others
Fits anywhere, so you have many options as to where to install your water heater
Cons
8. Takagi T-KJr2-IN-NG Indoor Tankless Water Heater
No doubt you would rather the advantages of using a tankless water heater in your home or office. Here is the Takagi T-KJr2 Indoor Tankless Water Heater that you can choose as well. Specially made for indoor installation, this natural gas-powered water heater is cost-efficient. It is also friendly to the environment, and you will experience significant savings in your energy usage and water heating costs.
The Takagi T-KJr2 is the smallest design of the line of water heater products, and it is ideal for installation in small apartments and other light residential purposes. Although this water heater is quite tiny, it has a big capacity for heating up to six gallons or 22.7 liters per minute. Expect perfectly heated water from your Takagi unit from start to finish. Ensure that you get a reliable professional installer to install your unit. If you insist on DIY, then read the instruction manuals carefully before attempting to install or maintain your Takagi tankless water heater.
Pros
Reliable and consistent temperature functions
Small and easy to install
Cost effective - enjoy significant savings in electricity costs and energy usage
Cons
Needs a 4" stainless steel venting system to be installed for best results.
9. Stiebel Eltron Tempra 15 Plus Electric Tankless Whole House Water Heater
You won't be disappointed with the Stiebel Eltron Tempra 15 Plus Electric Tankless Water Heater in your home. With the ability to control the temperature and water flow rate using advanced control technologies, you are guaranteed a constant flow of hot water any time you demand it. The good news is that Stiebel has upgraded its entire Tempra line of water heaters to provide the best service to its customers.
Depend on this reliable water heater to keep everyone in our home happy whenever they go for showers or do other activities that require hot water. The Stiebel Eltron Tempra 15 is capable of handling more than one demands for hot water at the same time. You can easily install the Tempra water heater, and it is also cheaper to do since you don't need to connect outside vents.
Pros
Stiebel does not need outside vents installed
Control your temperature easily with the digital temperature control system
Very reliable unit - trust it to keep going for a while without breaking down
This water heater runs silently in the background
Its compact and sleek design allows you to install this water heater anywhere in the home you desire
Enjoy savings on your water heating bill of up to 20%.
Cons
10. Titan Tankless Water Heater Reviews - SCR2 N-120 Electric Water Heater
Finally, there is the Titan SCR2 N-120 Electric Tankless Water Heater which is designed to produce hot water whenever it is demanded. The Titan, however, works best in areas where the incoming water temperature is higher than 65° F or 18.3 °C. That said, you'll love the ease with which you can set up and use this compact unit. Expect a high performance even if your home contains more than one standard bathroom.
It is essential to check the recommended settings for the Titan model as if not you may experience some disappointments like inconsistent hot water supply. If your incoming water temperature is lower than recommended, inconsistent hot water is likely to happen. In any event, the correct installation of the Titan SCR2 N-120 Electric Tankless Water Heater will make its performance more reliable and efficient.
Pros
The Titan tankless water heater saves valuable space in your home or office
With the Titan tankless water heater, you can get a consistent supply of hot water for the entire home (best if you live in warmer areas)
Save on water heating and electricity costs with the installation of this convenient tankless water heater
Cons
If not properly installed the Titan tankless water heater unit might not work efficiently.
Conclusion
So, you have decided to go ahead and buy a new tankless water heater or replace the water heater tank in your basement. That's the right thing to do if you need to increase the amount and duration of hot water supply to your home. Now you can enjoy longer more comfortable showers and do more things in the house without dreading the inevitable hot water cut off. The recommended tankless water heaters provided here should make it easier for you to settle on the tankless water heater you want to buy. As long as the final choice fits your needs, go ahead and enjoy.