Sometimes, food tastes better when it's mashed, milled, or otherwise destroyed before consumption.
Think about it.

A raw carrot may seem like a good meal for Bugs Bunny or a WWII pilot, but for ordinary folk, it just tastes boring and bland. (Unless you're recovering from a gut bacteria deficiency. In that case, a carrot will taste like ice cream. Word!)
The thing is, most vegetables and other crunchable and 'destructible' foods tend to taste better when combined with fat, meat, or some other form of the main ingredient. Think stews, broths, and steak-oriented dishes. The vegetables are there only to provide support, rather than take the spotlight, really.
In this article, we'll talk about one of the best inventions the culinary world has ever graced us with - the good ole food mill! These simple, often mechanical, contraptions can squeeze and smash any vegetable with ease. After you've used one of these, all that's left will be some pulp and some vegetable juice - both of which you can use in cooking.
Anyway, in order to help you pick the best possible food mill model for your needs, we've assembled a list of 10 products coming from the very best brands in the culinary world! Each of the products you're about to see is a top tier piece of kitchen machinery, so whichever you decide to go for, you won't make a mistake, really.
Before we start, though, let's first review some consideration factors you might want to look into before you close in on your product of choice. These can come in handy especially if you're inexperienced with these sorts of products, so pay close attention, folks!
Top Best Food Mill 2022 by Editors' Picks
Guide To Buy Best Food Mill For Tomatoes, Applesauce, Berries And Many More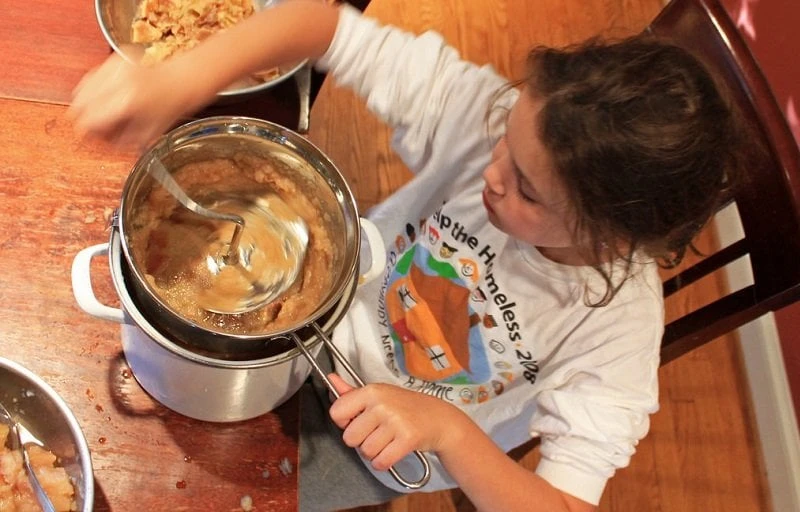 1. Bowl Size
While the size of the food mill's bowl might seem like a bit of a redundant category to take into consideration, wait just yet. It's not as simple as it looks.
The thing is, a food mill is not a storage container, so you can't really fill it up to the top and expect it to run smoothly. In fact, most food mills can be filled up to the half in order to ensure the resulting pulp and puree won't spill over and create a mess on your table.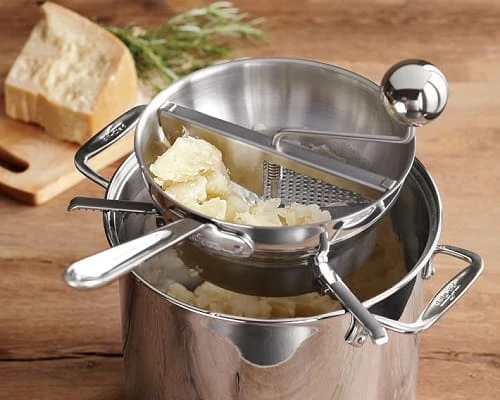 Overall, 2 to 2 and a half quarts should be enough for a home cooking arrangement. If you're a professional cook who needs a bigger pureeing contraption, you might want to look elsewhere for a bigger food mill.
2. What's It Made Of
When it comes to the material food mills tend to be made out of, the one that surely takes the cake as the most prominent one would be stainless steel.
Often used in the manufacturing of many a spoon, ladle, or a pot, this specialized breed of steel possesses excellent durability, reliability, and overall attractiveness properties, so you can rest assured that buying a product made out of this material will mean you'll have it for years, maybe decades even. (Heck, stainless steel is also used in surgeries!)
The other option in the department of food mills materials would be plastic. Note, of course, that when it is used for this purpose, plastic is never put to perform the role of a grinder or some other sort of sensitive area. Rather, it's used on the periphery of the tool - typically for the handle.
3. Changeable Grinding Discs
Grinding, in itself, is a pretty straightforward process, really which you can not do with a professional blender.
You stick the veggies in the hole, close the lid, and turn the handle clockwise over and over until the contents of the bowl are reduced to a fine puree.
As simple as this is, there is still some nuance to this illustrious cooking process. Namely, the grinding steel itself comes in various shapes, so the resulting puree or a mash will correspond in its viscosity to the pattern in question.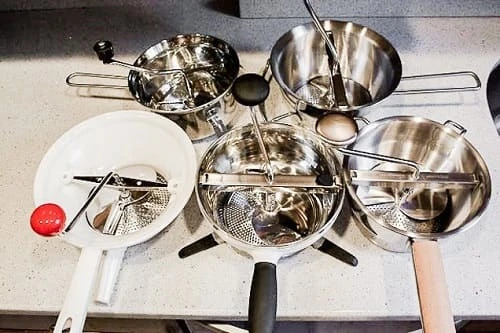 For example, a grinder with smaller holes and with a bigger number of them, naturally, will get you a smoother, finely-ground puree. A grinder with bigger holes which are few and far between will, on the other hand, get you a roughly-ground, chunkier puree.
So, when buying a food grinder, you might want to look into this closely, so that you can have more options when it comes to the level of finesse you can have while preparing food.
4. Maintenance
Food mills are notoriously difficult to clean. In fact, any sort of kitchen product with plenty of small holes in it where food can get stuck can be a nightmarish piece of work to clean.
Now, the deal with food mills is the following. Mercifully enough, most of the models currently on the market actually are dishwasher safe, meaning you can safely chuck them in your dishwasher and have them cleaned thoroughly.
On the other hand, the dishwasher may not be able to get through to all the wee bits of food stuck in the grinder, so you'd probably be better off if you just hand-washed this part.
Top 10 Best Food Mills Reviews
1. OXO Good Grips Food Mill Review
Made out of high-quality stainless steel, this OXO Good Grips food mill is a simple and sturdy kitchen utensil that will grind through and positively demolish any vegetable unfortunate enough to fall into its bowl. The design itself hasn't really changed much ever since this contraption was first invented, but the folks at OXO did put in some effort toward modernizing it.
So, what you're left is a kitchen tool that still works based on the same age-old principle, but which also looks modern enough not to spoil the appearance of your up-to-date kitchen. ( If you have a retro-looking kitchen - no worries, the design of this model is evergreen, so to speak. It will fit right in, for sure. )
In order to ensure you're a wee bowl of torture for the veggies doesn't move while you're working on your up-and-coming puree, the folks at OXO installed three non-slip legs. So as long as you're working surface is not literally drenched in water or oil, you're good to go.
Pros:
High-quality stainless steel
3 grinding discs - coarse, medium, and fine
3 non-slip legs
Foldable legs for convenient storage
3-quart capacity
Cons:
There's too much room between the blades and the bowl (for some users)
The stability legs are not long enough to rest the mill on top of a large pot

2. Rösle Food Mill Review | Passetout With 2 Discs
If you're on a lookout for a simple-to-use, food-grinding contraption, look no further than this food mill from Rösle. What you get is a simple, pot- looking utensil with a large handle over it. The procedure to use it is as follows: 1) Chuck the vegetables into the bowl, 2) Turn the handle until the vegetables turn into a pulp! As simple as that.
Although you can't see them from the outside, there are actually three supportive legs built in beneath the 'hood' of this device. This means that you won't really have to worry about this product sliding on its merry way in case your kitchen surface is slippery.
One of the most irritating food mill-related problems that this Rösle product manages to address perfectly would be the space between the bowl and the blades of the grinder. This is a touchy area because if there's too much room, you won't be able to use it properly. If there's to little room, you won't be able to use it at all. (It would just get stuck all the time.) So, the folks at Rösle have managed to strike the optimal balance for this sensitive distance! Quite a feat, indeed!
Pros:
Comes with 3 hidden supportive legs
Made out of stainless steel
No welding seams
Optimal spacing between the blade and the grinder
Comes with two grinding discs
Lifetime warranty
Cons:
A bit expensive
A tad heavy

3. GEFU FLOTTE LOTTE Food Mill Review
Hate the annoying tendency of fruits and vegetables to get stuck within the walls of a food mill? Do you feel irritated when you have to take out perfectly edible parts of apple or tomato and throw them away just because you didn't see them stuck in the food mill on time?
Well, the GEFU's FLOTTE LOTTE offers a solution for both of these problems! (It is actually just one problem, but still!) Thanks to the unique inbuilt vertical plate, you can rest assured that this contraption will be able to easily NOT get pieces of food stuck in its structure. More pulp to work with after the grinding's done - less mess to deal with when the wash-up comes around! What's not to love?
Speaking of the devil, the maintenance with this FLOTTE LOTTE food mill is a piece of cake. Since the manufacturers designated it as 'dishwasher safe', you can simply throw it into your dishwasher and then wait out until the miraculous machine does its magic.
Pros:
Comes with two interchangeable perforated discs
All parts are made out of stainless steel
Dishwasher safe
Removable parts
Pulp-saving vertical plate
Cons:
Attaching the grinder to the base can be a bit touchy
Comes with only two discs

4. Winco Stainless Steel Vegetable Mill Review
Offering three different grinding discs for ensuring your puree will be perfect every time, the Winco stainless steel vegetable mill is a good-looking and versatile kitchen utensil perfect for making all sorts of purees, sauces, and baby food.
The volume of this model is 2 quarts - more than enough to satisfy the needs of a home cook. The process of using this contraption is quite simple. Place cooked veggies into the bowl and then turn the handle. What this will do is first apply downward pressure on the food, scrape it around, and thus quickly turn it into a smooth fine pulp.
If you want a coarser sort of pulp, you can always use the disc with bigger holes, of course.
Pros:
Comes with three grinding discs
Made out of stainless steel
The mechanism retains seeds, fibers, and skins
Fairly light and compact
Sturdy construction
Cons:
There's a gap between the blades and the bowl
No support on the bottom ( can't place it over a pot )

5. RSVP Classic Rotary Food Mill Review
Need to quickly disintegrate a bunch of pears 'n' apples but not sure how to go about that delicate task? Perhaps a hammer can be the way to go? Or just stomp the lot until it's pulp? Weeell, as fun as both of these solutions, seems the best way to smash some fruits and veggies into oblivion would be to chuck them into a classic rotary food mill with stainless steel interchangeable discs!
Out of all the products on this list, this RSVP International is probably the lightest one, as its bowl is made almost entirely out of plastic. The other key parts such as the grinding discs, the handle and the other thingy that goes to the bottom of it all are made out of stainless steel, of course.
Pros:
Can be used to create baby food, purees, and sauces
Lightweight construction
Dishwasher safe
BPA-free
Comes with three interchangeable discs
Cons:
Doesn't have a sweep bar
It can be tough to assemble (according to some users)

6. Weston Stainless Steel Food Mill Review
It mashes food. It creates havoc in the bowl. It roughhouses the vegetable and punishes the fruit! Is it a fruit? Ehrm… we meant - Is it a bird? Is it a plane? No! - It's Superm…. It's actually Weston, the kitchen utensil-building company.
In its arsenal of sheer destruction and grinding prowess, this Weston stainless steel food mill incorporates three different grinding discs - one of 2mm, one of 3mm, and the last one 8mm. The corresponding descriptions say - fine, medium, and coarse, of course.
As elaborate as it looks, this amicable kitchen utensil is actually a breeze to clean. All you need to do is remove some of the larger pieces of 'undigested' pulp, or however on Earth you call that vile residue, and then chuck the rest in your dishwasher! You'll have a perfectly clean food mill ready for use as soon as the machine finishes up the cleaning process.
Pros:
Made out of stainless steel
Comes with three different grinding attachments
Roughly 2-quart capacity
Dishwasher safe
Solid quality for the price
Built to last
Cons:
It doesn't come with supportive legs
A bit tough to assemble

7. Cuisipro Food Mill Review
Interchangeable discs - check. Large, attractive-looking rotund knob for turning the thing that, erm, needs to be turned - check. 25-year warranty - check! That's right, folks. At Cuisipro, they're selling the sort of products that will survive a nuclear disaster and then take the radioactive remnants of a carrot, or a scorched potato and the squash them into a fine pulp.
The great thing about using this kitchen utensil is that it comes with non-slip handles which can definitely come in handy in case you venture to carry this food mill around. Since the contents of the bowl, as well as the work environment surrounding it both, tend to be pretty damp, these handles can really save the day in case you have a case of clumsy hands that day.
Pros:
Non-slip handles
Made out of stainless steel
A large knob that's easy to turn
A hefty 25-year warranty
Cons:
Quite heavy
No bottom stability legs

8. Kuchenprofi Food Mill Review
Featuring not 2, not 3, but 4 grinding discs of varying sizes and no doubt utmost brilliance, the Kuchenprofi stainless steel vegetable mill is a high-quality product of German ingenuity. It allows you to quickly and easily create a soothing puree from a bunch of raw fruits.
Without a doubt the most prominent selling point of this contraption would be the fact that it comes with 4 different grinding blades. The sizes of the holes you can see in these blades are as follows: 1,3mm, 2,5mm, 3mm, and 5mm. As you can see, whether you need your puree extra fine - for baby food, for example, or you fancy preparing a gourmet meal consisting of a bunch of coarsely-ground mash, this Kuchenprofi mill will do the trick.
Pros:
Features a perforated bottom
4 different grinding discs
Made out of high-quality stainless steel
Easy-to-turn hand crank
Dishwasher safe
Cons:
Leaves a layer of residue
No supporting legs

9. Granite Ware Deluxe Food Mill Review
Whether you need something smashed, made into a pulp, or simply squashed, this Granite Ware deluxe food mill can be an excellent solution for you. All you need to do really is to fill it up with the fruits 'n' veggies of your choice and turn the crank a couple of times. The resulting pulp will be ready for sauces, baby food, you name it!
One of the most interesting design features that make this product different is the fact that it can fit perfectly onto stock pots, bowls, and other pieces of cutlery you might need it for. This way, you can make pulp in it and then directly pour the content of the bowl into the stew you're cooking, for example.
Also, this product is completely dishwasher-safe, so there's no need to worry about annoying maintenance. Simply placing this product along with the plates, spoons, and forks will do the trick just fine.
Pros:
Comes with 3 separate stainless steel grinding discs
Can be placed directly onto different bowls and mixing pots
Dishwasher safe
Sturdy construction
A great starter food mill
Cons:
Tough to get apart
Fairly heavy

10. Mirro Foley Food Mill Reviews
Rocking the appearance of an ordinary cooking pot with a gearbox lever sticking out of it, this food mill from Mirro can be a great budget solution for a home cook. While it may not be much too look at, it can still do the job if all you need is a bare-bones version of a pureeing process.
Basically, the deal is the following: stick the vegetables or fruits inside it and then just turn the handle over and over and hope for the best. Again, sophistication may not be the biggest strength of this product, but for the sort of price it's sold for, it can still do a pretty good job, actually.
Pros:
Stainless steel construction
Sturdy build
An OK beginner solution
2-Quart Volume
Cons:
Some users have reported that it lets out the weird black liquid into the mixture
No grinding discs

All things considered, mashing together a bunch of unsuspecting tomatoes with the intent of turning them into a finely-ground mass is a culinary delight in and of its own. To make this happen, bringing forth a mighty food mill is an absolute must, there's no doubt about it! We hope you found this article helpful and wish you all the best with your food mill purchase!
Buy on Walmart
Weston Electric Food Mill with 3 Stainless Steel Discs 1.75 Quart Capacity, White - Walmart Link
OXO Good Grips Food Mill - Walmart Link
Mirro 50024 Foley Stainless Steel Healthy Food Mill Cookware, 2-Quart, Silver - - Walmart Link
Cuisipro Deluxe Food Mill - Walmart Link
Weston Stainless Steel Food Mill, 2 Quart Capacity, 3 Milling Discs, Dishwasher Safe - Walmart Link
Granite Ware Stainless Steel Deluxe Food Mill, 2-Quart - Walmart Link
Rösle Food Mill/Passetout with 2 Disks - Walmart Link
Stainless Steel Food Mill FLOTTE LOTTE by GEFU - Walmart Link
WINWARE Stainless Steel Vegetable Mill, 2 Quart -- 1 set. - Walmart Link
ALDKitchen Grain Mill | Swing Type Grinder for Spices, Herbs, Roots | Commercial Use | - Walmart Link
green sprouts Fresh Baby Food Mill | Easily purees food for baby | Seperates seeds & - Walmart Link
Cuisinart Stainless food mill, Silver - Walmart Link
Küchenprofi K0966002820 Professional Stainless Steel Food Mill Silver, Large - Walmart Link
Norpro, Silver Multi-Purpose Food Mill, Stainless Steel, 2.2 qt - Walmart Link
Winco Stainless Steel Food Mill with 5 Graters, 5-Quart - Walmart Link
VICTORIO VKP250 Food Strainer and Sauce Maker and VICTORIO VKP250-5 Four-Piece Accessory - Walmart Link
Buy on eBay
Weston Electric Food Mill with 3 Stainless Steel Discs 1.75 Quart Capacity, White - eBay Link
OXO Good Grips Food Mill - eBay Link
Mirro 50024 Foley Stainless Steel Healthy Food Mill Cookware, 2-Quart, Silver - - eBay Link
Cuisipro Deluxe Food Mill - eBay Link
Weston Stainless Steel Food Mill, 2 Quart Capacity, 3 Milling Discs, Dishwasher Safe - eBay Link
Granite Ware Stainless Steel Deluxe Food Mill, 2-Quart - eBay Link
Rösle Food Mill/Passetout with 2 Disks - eBay Link
Stainless Steel Food Mill FLOTTE LOTTE by GEFU - eBay Link
WINWARE Stainless Steel Vegetable Mill, 2 Quart -- 1 set. - eBay Link
ALDKitchen Grain Mill | Swing Type Grinder for Spices, Herbs, Roots | Commercial Use | - eBay Link
green sprouts Fresh Baby Food Mill | Easily purees food for baby | Seperates seeds & - eBay Link
Cuisinart Stainless food mill, Silver - eBay Link
Küchenprofi K0966002820 Professional Stainless Steel Food Mill Silver, Large - eBay Link
Norpro, Silver Multi-Purpose Food Mill, Stainless Steel, 2.2 qt - eBay Link
Winco Stainless Steel Food Mill with 5 Graters, 5-Quart - eBay Link
VICTORIO VKP250 Food Strainer and Sauce Maker and VICTORIO VKP250-5 Four-Piece Accessory - eBay Link