For most hunters, there are only a few pieces of gear that are supremely important out in the field. One piece that you will never find a true hunter without is his trusty knife. Whether it's there to finish off a wounded target or to skin your prey, a good knife is practically indispensable on the hunt. Today I'll be talking about the best fixed blade knives, as well as show you what to look for so you can bring the best with you on your next outing.
Editor's Recommendation: Best Fixed Blade Hunting Knives
Why are Fixed Blade Knives So Popular?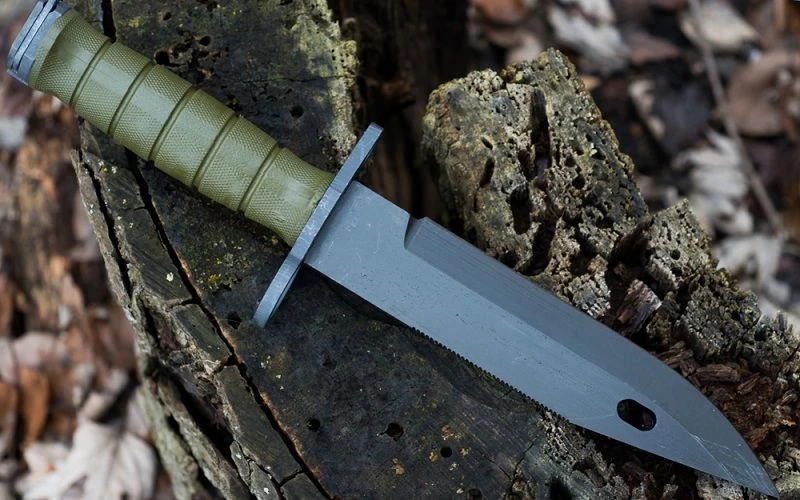 When talking about hunting knives, there are two primary types: fixed and folding. While a folding knife can be beneficial in a pinch, nothing compares to a fixed blade. If you're a serious hunter, then you cannot go out into the field with subpar equipment, and a fixed blade knife is simply the best. Why? Namely, because it is stronger, can withstand much more abuse, and will last for much longer than a folding knife. I know hunters who have used the same knife for decades, passing it down through generations. You just can't get that same quality with a folder.
How to Choose the Best Fixed Blade Hunting Knife
If you've never compared knives before, you may think that it's a pretty straightforward process. However, there is a lot more to choosing the right knife than you know. Here are the top considerations to look at when making your decision.
Blade Style
The most important aspect of your knife is the style of the blade. Avid hunters will go out with multiple knives, each one designed for a specific purpose. When it comes to hunting knives in particular, these are the most common styles from which to choose.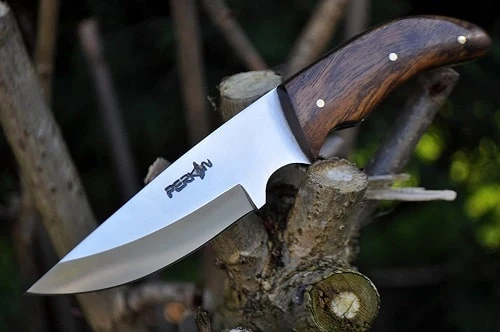 Clip Point : this is the style of knife that most people think of when they picture a hunting knife. The spine (back) is straight but then curves upwards to make a fine point at the tip. The belly (cutting edge) is long and sharp. Clip point knives are best for piercing, cutting, and sometimes skinning.​
​Drop Point : this knife has a curved spine and a long, sharp, belly. The spine curves downward to make a point, but this style is more used for cutting, skinning, and multi-purpose use.​
Sheepsfoot : if you want a knife that is best suited for skinning, a sheepsfoot is a great way to go. The spine of this knife curves down all the way to the belly, so there isn't a defined point at the tip. Instead, the back is designed for you to push with your finger to get more control while cutting.​
​ Spear Point: sometimes, your prey needs a final stab to end its misery. If stabbing is all you're after, then a spear point is the way to go. This knife resembles a dagger since it has two sharp, curved edges and is made for piercing.​
​Straight Edge: this knife is similar to a drop point, but the spine is perfectly straight instead of curved. These models are suited for cutting, chopping, and skinning.​
​Gut Hook: if you are serious about skinning your prey, then a gut hook knife is the best way to go. This style has a long, sharp belly, but at the tip, it has a hook with a blade in the craw so you can make your primary incision to your prey. Simply make a cut and then drag the hook until you reach the end. The hook style will help prevent accidental piercing of guts and other undesirables.
​Handle
​In addition to the blade itself, the handle of your knife can be just as important. There are three things to consider when choosing a handle:
​Texture: if your handle is smooth, then you run the risk of it slipping while you're working. Especially if you expect a lot of blood, you may be best with a textured handle for better grip.​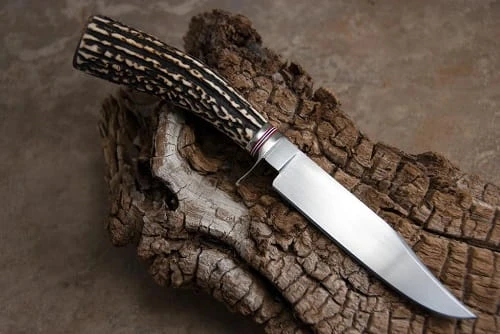 ​Contouring: many handles are either straight or curved, but some knives have contouring to match your fingers. This shape will help you keep a stranglehold on the knife while you work.​
​Material: comfort is another big factor when choosing a handle, and many of them are made of wood, plastic, or some sort of composite material. Personally, I love a smooth wood handle, but other materials can be more durable under extreme conditions.
​Steel
​Once you've decided on the shape of the blade, you need to know what it's made of. Three types of steel are used in hunting knives.
​Stainless: I would highly suggest getting stainless steel since it requires less maintenance and will last a lot longer than other metals.​
​Carbon: if the price of the knife is a factor, then you may have to settle for high-carbon steel. This material is usually the cheapest, but it's not weatherproof and can rust over time.​
​Carbon Stainless: if you want the durability of stainless and the raw power of carbon and don't mind the price, then carbon stainless steel knives are the best of the best.
​Length
​If you're buying a knife online, it can be hard to gauge how big it is, especially compared to your hand. I would recommend feeling different size knives in person so you can get a sense of the length and weight of the piece before making your decision. The right length can be crucial. Too long and you risk cutting something you shouldn't. Too short, and you have to work harder to get the job done.
Recommended 8 Best Fixed Blade Hunting Knife Reviews
1. Buck 192BR Vanguard Fixed Blade Knife Review
Even though Benchmade is one of my top brands for hunting gear, I would have to say that Buck Knives is an even better company, due to the commitment to excellence shown in all of the brand's materials. In this case, the 192BR Vanguard is a shining example of Buck's quality and performance, making it one of the best knives on this list.
The Vanguard has a drop point style blade, making it ideal for almost any situation you may encounter in the field. The blade is four inches long and made of high-quality 420HC steel, which will last for years with minimal maintenance required.
What sets the Vanguard apart from the other knives on this list is the beautiful attention to detail. The handle is made of pristine walnut and comes with a shining brass butt which is sure to make you the envy of all the other hunters. I mentioned before that I love a wood handle, and walnut is one of my favorite woods, so this is definitely a top pick. What I also like about the handle is that the top brass fitting comes with a finger guard so you can work without any risk of cutting.
To complement the Vanguard's quality furnishings is a genuine leather sheath, a limited lifetime warranty, and the guarantee that this knife is made in the US.
Highlighted Features
Drop point style blade
​Four-inch blade
​420HC Steel
​Polished walnut handle w/ brass butt
​Weighs 6.3 oz
​Brass guard to protect while skinning
​Genuine leather fitted sheath
​Limited lifetime warranty
Made in the USA

2. Spyderco FB09GP2 Hunting Fixed Blade Knives Review
Next, we have the Spyderco FB09GP2 Hunting Knife. One thing that I don't necessarily like about Spyderco is the naming system for its gear, but regardless of the name the FB09GP2 is still a quality piece of hunting equipment.
Unlike the other knives on this list, the Spyderco knife has a unique, tanto-style blade design. Tanto blades are specifically made for piercing and absorbing impact, so this knife can be ideal for finishing your kill or punching holes into wood. The spine is thick, and the belly is thin, so you can steady the knife with your finger and get precise cuts every time. Overall, this knife is best suited for piercing, stabbing, and cutting. I would not recommend it for skinning, however.
The blade itself is made of CTS BD1 stainless steel, so it will require minimal maintenance and care, and it should be resistant to rust. To match the quality of the blade, the handle is made of G-10 textured material, so you can cut, stab, and slice without worrying about losing your grip or having the knife slip in your hand. The handle is also contoured to fit your fingers, so you have complete control.
Highlighted Features
Tanto style blade
CTS BD1 Stainless Steel
​G-10 scales on handle
​Contoured handle
​Skeleton full tang blade
​Boltaron Sheath

3. BlizeTec Survival Fixed Blade Knife Review
If you're more of a survivalist than a hunter, then the BlizeTec Survival Knife is the ideal option for you. In addition to the knife itself, you get several other components that can help you stay comfortable if you spend the night out in the wild.
The blade on this knife is a drop point, so it's perfect for almost any situation. The blade is also made of high-quality 420A stainless steel, so you won't have to worry about rust or any extra maintenance. Overall, this knife should be able to tackle most jobs out in the field. To help you along as well, there is a serrated portion along the spine so you can cut through tough material such as bone if necessary.
Along with the knife itself, this unit comes with a LED flashlight and a flint to help you get a fire started in the wilderness. The flashlight comes with a battery, and the flint is rated to spark up to 12,000 times. Depending on how well you can build a fire, that can translate into a lot of campfires.
Finally, this knife set comes with a limited lifetime warranty.
Highlighted Features
Drop point style blade
420A stainless steel
​Serrated edge on spine
​Four-inch blade
​8.5-inch overall length
​Limited lifetime warranty
​Contoured Pakkawood handle
​Extras included
​LED Flashlight (battery included)
Fire starter flint (12,000 strikes)

4. Schrade Frontier Full Tang Drop Point Fixed Blade Knife Review
Finally, we come to another survival knife, the Schrade Frontier. Much like the BlizeTec knife, this model is designed for multi-purpose use, not just for hunting.
The blade on the Frontier is a drop point style, and it's made of powder coated 1095 high carbon steel. That means that this knife will last with minimal maintenance, although you do have to watch out for rusting. The blade is also five inches long, making it ideal for many different jobs and duties.
To help you out in the wild, the Frontier comes with a sturdy black nylon sheath and a Ferro rod inside the textured TPE handle. When it comes to starting a fire, nothing compares to a Ferro rod, so you're sure to be warming yourself in no time. Additionally, this knife comes with a sharpener so you can keep it in pristine shape all the time.
Highlighted Features
Drop point style blade
Powder coated 1095 High Carbon Steel
​Five-inch blade
​Textured TPE Handle​
5.3-inch handle
10.5-inch overall length
​Black nylon sheath
​Ferro rod included
Knife Sharpener included

5. Ka-Bar Becker BK2 Companion Fixed Blade Knife Review
This hunting knife has more than just one attribute to consider and that is its looks. It comes with a 5.5 inch blade and it's crafted from 1095 cro-van steel.The full length of the knife from the handle to the blade is 10.5 inches while the blade is a drop point with a 20 degrees edge angle. The handle is usually made of Grivory material which has made it a favorite and admiration of many. This knife is also one of the most reviewed in the market.
Although this hunting knifes' sheath is usually a glass filled it still has the ability to deliver however many avid hunters still consider this a limitation and would wish for a high grade sheath. When it comes to weight the knife weighs 1.5 pound which is quite high but it makes up for this on its good quality blade which allows for long term use. It also comes equipped with lanyard holes which are an interesting addition to the fine crafting of this hunting knife.
Another limitation on this knifes part comes in form of the limited offer on the warranty. Although for many this may actually look like a valid reason to turn away potential buyers. The opposite is actually the truth because the ruggedness Ka-Bar Becker BK2 Companion Fixed Blade Knife simply makes it irresistible. With the blade coming in at a comfortable ¼ inch thick and the total weight of the knife being nearly 2lbs this is a surety that the knife can withstand time.
On purchase the knife's blade is razor sharp and you can test this by cutting through flesh or fillet with amazing results. In the opinion of most hunters this knife is a beauty and can be relied upon to deliver the best when it comes to hunting trips. This makes it a wonderful choice for most hunters and the best on the list of hunting knives.

6. ESEE Knives LSP Laser Strike Fixed Blade Knife Review
Among the list of hunting knifes considered the best in the market none actually has the same features like this one. It completely stands out in everything ranging from its fixed blade which has a total length 10 inches and a 1095 high carbon steel blade measuring 4.75 inches. When it comes to the handle this knife contains one of the most sophisticated handles made of Micarta. The sheath which is considered tough is made from Kydex a factor that raises controversies among many hunters.
When deeply analyzed everything on this knife simply translates to quality starting from the way it is packaged down to its specially skeletonized 1095 make and a black power finish. Looking at is clean and magnificent blade you will probably be carried away by the jumping on the lower spine and the unforgettable index coil on the front. You can also be allowed to remove the gray Macarta as a result of the washer piece included in its make. As for the Kydex sheath it has a sheath tensioner, paracord lanyard with a lock and it's usually multi featured with ambidextrous clip plate.
With included features like the handles Kydex sheath this knife is able to satisfy most hunters' preference the more traditional leather case. Another feature that makes the ESEE Knives LSP Laser Strike Fixed Blade Knife with Canvas Micarta stand out is its blade made of carbon material that ensures it maintains its sharpness for extended periods. This hunting knife also has the traditional hunting knife aura especially when it comes to its casing. Any avid hunter will tell you that this knife is worth every cent because of the immeasurable quality put in its crafting.
This knife is a top tier hunting knife and a favorite for many but more excitement comes from its warranty which is par with Bucks and can be transferred. The reason why this knife is recommended by many hunters is because it's long lasting, with a thick blade and can be used on any hunting expedition. It is has also been identified as one of the best hunting knives on the hunting knives list.

7. Schrade 165OT Old Timer Knife Review
This hunting knife has a total length of 9 ½ inches and weighs 9.6 ounces making it somehow heavy. It's price is extremely affordable and it is even considered the most cheapest on the list provided.However this does not limit its quality. Schrade 165OT Old Timer Fixed Blade comes with a fixed high carbon stainless steel blade. The package includes a leather sheath which allows the blade to be hidden away easily. It also comes with a limited lifetime warranty and has been recognized as an avid hunting ground performer.
Schrade 165OT Old Timer Fixed Blade has earned admiration and respect from many hunters despite many associating it with the highly acclaimed Schrade. However this is simply an unlucky comparison considering this knife has been known to deliver. This knife's handle can be used by both large handed users as well as small handed users however it greatly favors the large handed ones. The knife's blade comes razor sharp which can easily be maintained by fine tuning and proper care. This blade is suitable for roles like general hunting, slicing and even skinning.
Schrade 165OT Old Timer Fixed Blade handle includes scales in its structure but they are of somehow of low quality considering they are made of standard nylon. It is no hidden fact that the knife is not a beauty but this it make up for with affordability. This however should make this knife a must have as there are no price limitations to be scared of.

8. Benchmade Saddle Mountain Skinner Fixed Blade Hunting Knife Review
First on our list is the Benchmade Saddle Mountain Skinner. Benchmade is a company with a long history of making quality knives, and the Saddle Mountain Skinner is no exception. What I like about this knife is that it knows exactly what it needs to be, and does the job admirably.
As the name would suggest, this knife is designed for one thing: skinning. This is actually a modified clip point style blade with a gut hook at the tip for better control. The blade is made of CPM-S30V steel and is four inches long, making it ideal for most kills. The width of the blade is also super thin so that you can cut through almost anything with ease.
The handle is made of beautiful Dymondwood, which not only looks divine but can withstand almost any weather and repels moisture naturally. Overall, the handle can take whatever you dish out and keep on trucking. With the handle, the overall length of this knife is almost nine inches.
Finally, this knife comes with a leather sheath that also has a belt loop so you can keep the blade close to you at all times.
Highlighted Features
Gut Hook style blade
​CPM-S30V Steel
​Four-inch blade
​.14-inch thick
​8.7-inch overall length
​Dymondwood handle
Leather Sheath with belt loop

Fixed or Folding Hunting Knives
Hunting knifes blades come in two different variation and they include the folding variation or the fixed stationary variation. Fixed blades were a favorite of the old school hunters but not for the modern hunters who prefer the folding blades because it can be easily be hidden or carried in the pocket. however when it comes to durability the fixed blade always win due to the fact that it is less mechanized which makes it less likely to break.
The same is the case for maintenance especially cleaning is concerned.fixed blades always come prepared on purchased to handle even the most grueling hunting ground tasks considering they are usually razor sharp which can be maintained with ease. It also comes with a leather sheath which usually helps ensure you are protected not just for prestige in carrying the knife.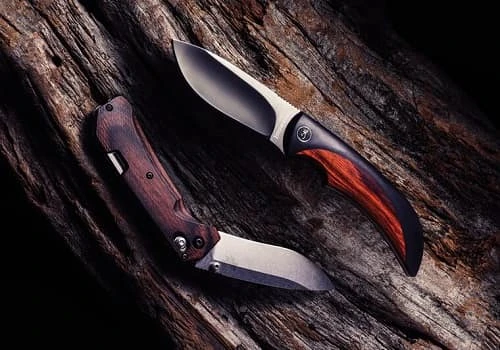 When it comes to folding blades safety is one of its great advantages over fixed blades and it is more versatile to use. It is also easy to conceal than fixed blade and can also be easily deployed on the hunting field for everyday requirement. The greatest limitation s when it comes to folding knifes is their durability and maintenance as they are less durable and hard to clean unlike fixed blades. They are also not favored to handle heavy tasks for long and you are luckily to use your warranty with folding hunting knives than with fixed blade hunting knives.
Final Verdict for Hunting Knife Buyers

When it comes to picking the best hunting knife, I can never narrow it down to just one. The biggest reason for that is that I usually bring two or three knives with me, so I know the importance of having multiple blades for different jobs. That being said, my top picks from this list would easily be the Buck Vanguard for overall use, the Benchmade Skinner for, well, skinning, and the Schrade Frontier for survival situations, since it has the extras you need for the outdoors safely stored in the handle.
​No matter what, though, whichever knife you choose is sure to be high-quality and beyond satisfactory. Happy hunting!
Buy on Walmart
Kershaw Skyline (1760), Lightweight Pocketknife, Manual Open 3.1" High-Performance - Walmart Link
CASE XX WR Pocket Knife Navy Blue Bone Copperlock Item #7064 - (61549L SS) - Length - Walmart Link
Kershaw Knockout Pocket Knife (1870); Stonewashed 3.25" 14C28N Sandvik Steel Blade, - Walmart Link
Diamond Machine Technology (DMT) 8-in. DuoSharp Double-Sided Diamond Whetstone Bench - Walmart Link
3M Auto Wet Or Dry Sandpaper 3 2/3 in x 9 in, 1000, 1500, 2000, 2500 Assorted Grit Pack, - Walmart Link
TechDiamondTools Diamond Polishing Compound Polishing Paste 8,000 Grit 0-2 Microns for - Walmart Link
Buck Knives 119 Special Pro Fixed Blade Hunting Knife, 6" S35VN Stainless Steel Blade, - Walmart Link
Buck Knives 119 Special Fixed Blade Knife with Leather Sheath - Black Handle - Walmart Link
Argali Serac Knife Hunting Tool - Walmart Link
Buck Knives 102 Woodsman Fixed Blade Knife - Walmart Link
Buck Knives 102 Woodsman Pro Fixed Blade Hunting Knife, 4" S35VN Stainless Steel Blade, - Walmart Link
Buck Knives 105 Pathfinder Fixed Blade Knife with Leather Sheath - Walmart Link
Buck Knives 0103BKS Buck Skinner 4" Extra Wide - Walmart Link
GERBER StrongArm Fixed Blade Knife with Fine Edge - Coyote Brown - Walmart Link
Kershaw Clash Pocket Knife, Black Serrated (1605CKTST); 3.1" Stainless Steel Blade with - Walmart Link
MTech USA Xtreme MX-8054 Fixed Blade Tactical Knife, Black Tanto Blade, Black G10 Handle, - Walmart Link
SOG Seal Pup Elite Tactical Fixed Blade- Survival and Hunting Knife with Sheath, 4.75 - Walmart Link
Victorinox Swiss Army Hunter Pro Pocket Knife, Orange with Olive Nylon Pouch, - Walmart Link
Outdoor Edge 3.5" RazorLite EDC - Replaceable Blade Folding Knife with Pocket Clip and - Walmart Link
Buy on eBay
Kershaw Skyline (1760), Lightweight Pocketknife, Manual Open 3.1" High-Performance - eBay Link
CASE XX WR Pocket Knife Navy Blue Bone Copperlock Item #7064 - (61549L SS) - Length - eBay Link
Kershaw Knockout Pocket Knife (1870); Stonewashed 3.25" 14C28N Sandvik Steel Blade, - eBay Link
Diamond Machine Technology (DMT) 8-in. DuoSharp Double-Sided Diamond Whetstone Bench - eBay Link
3M Auto Wet Or Dry Sandpaper 3 2/3 in x 9 in, 1000, 1500, 2000, 2500 Assorted Grit Pack, - eBay Link
TechDiamondTools Diamond Polishing Compound Polishing Paste 8,000 Grit 0-2 Microns for - eBay Link
Buck Knives 119 Special Pro Fixed Blade Hunting Knife, 6" S35VN Stainless Steel Blade, - eBay Link
Buck Knives 119 Special Fixed Blade Knife with Leather Sheath - Black Handle - eBay Link
Argali Serac Knife Hunting Tool - eBay Link
Buck Knives 102 Woodsman Fixed Blade Knife - eBay Link
Buck Knives 102 Woodsman Pro Fixed Blade Hunting Knife, 4" S35VN Stainless Steel Blade, - eBay Link
Buck Knives 105 Pathfinder Fixed Blade Knife with Leather Sheath - eBay Link
Buck Knives 0103BKS Buck Skinner 4" Extra Wide - eBay Link
GERBER StrongArm Fixed Blade Knife with Fine Edge - Coyote Brown - eBay Link
Kershaw Clash Pocket Knife, Black Serrated (1605CKTST); 3.1" Stainless Steel Blade with - eBay Link
MTech USA Xtreme MX-8054 Fixed Blade Tactical Knife, Black Tanto Blade, Black G10 Handle, - eBay Link
SOG Seal Pup Elite Tactical Fixed Blade- Survival and Hunting Knife with Sheath, 4.75 - eBay Link
Victorinox Swiss Army Hunter Pro Pocket Knife, Orange with Olive Nylon Pouch, - eBay Link
Outdoor Edge 3.5" RazorLite EDC - Replaceable Blade Folding Knife with Pocket Clip and - eBay Link