Time sure flies when you're raising up the next generation of vegans. My daughter is now 9 months old, and I haven't found a lot of time to experiment in the kitchen. We've been eating lots of pasta, stir-fries and other simple dishes since the baby was born. I'm all for the super quick and easy type recipes right now 🙂

Which brings me to the bread machine — we cashed in our credit card reward points on a T Fal Balanced Living bread machine. When we first got it, I was worried I might have to work a lot of veganizing magic to use any recipes that came with the machine. Much to my surprise (and delight), almost all of the recipes were already vegan, including a sweet bread recipe. I promptly used it as a jumping off point to making cinnamon raisin bread in the bread machine. This bread is wonderfully moist, fluffy, delicious and cinnamon-y — perfect for autumn!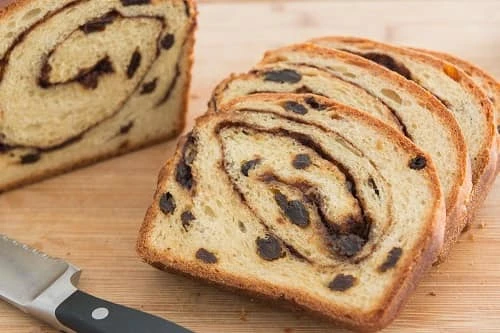 Update: I forgot to mention that I prefer to weigh flour for the best results when baking bread and have updated the flour amount to also include a weight measure. Also, when working with yeast breads, you should be extra careful in measuring flour and liquid ingredients. You need the right flour to water ratio to get a great loaf. This might require seasonal adjustments too due to changing humidity levels (i.e. use less flour in winter, more in summer.) For more information and tips on bread machine baking, check out the tips at King Arthur Flour.
Cinnamon Raisin Bread Recipe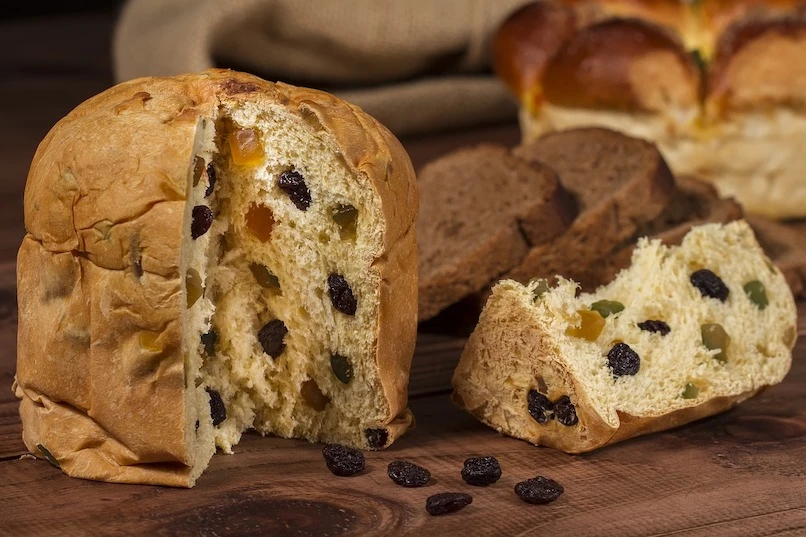 Makes one 1.5 lb. loaf

Ingredients
1 cup + 2 tablespoons water
2 tablespoons canola or other neutral-tasting oil
1 teaspoon non-iodized salt
1/4 cup light brown sugar
1 teaspoon vanilla extract
3 teaspoons cinnamon
3 cups (13.5 oz) bread flour
1 teaspoon instant yeast (you can probably substitute quick-rise yeast)
3/4 cup raisins
Directions
Add the water, oil, salt, sugar, vanilla extract, cinnamon and bread flour to the bread machine pan, in that order. Sprinkle the yeast over the top or add to the yeast dispenser if your machine has one. (Note: Depending on the brand of your bread machine, you may need to add the ingredients in a different order, such as the dry ingredients first, etc.)
Choose the sweet bread cycle, 1.5 lb. loaf setting and medium crust browning. If your machine doesn't have a sweet bread setting, try using something as similar as possible, such as a "white bread" setting. Press start.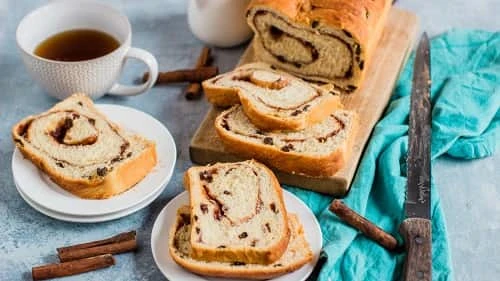 Add the raisins during the second kneading cycle. Many bread machines will beep to let you know when to add extra ingredients, such as dried fruit and nuts. If your machine does not, you may need to look up the table of cycles for your machine or watch it carefully to see when to add the raisins.
Once the bread is done cooking, remove it from the loaf pan and cool on a wire rack. Let the bread cool completely (if you can stand it!) before slicing. I tend to cheat a bit and slice it while it's still warm, because let's face it, nothing beats a slice of fresh warm bread!