There are few more meats on the grill that are more satisfying than ribs.
When cooked properly on a grill, you'll get an experience from ribs that you simply cannot get from other meats.
You'll obviously need a rib rack in order to properly cook and prepare ribs to perfection.
While the concept of the rib rack appears simple enough, there are certain things that you need to look for in rib racks to make sure that they can cook and prepare your ribs effectively.
You can rely on the following rib racks to ensure that your ribs come out as good as you can make them come out on the grill.
Editors' Picks: Best Rib Racks
5 Best Rib Racks Reviews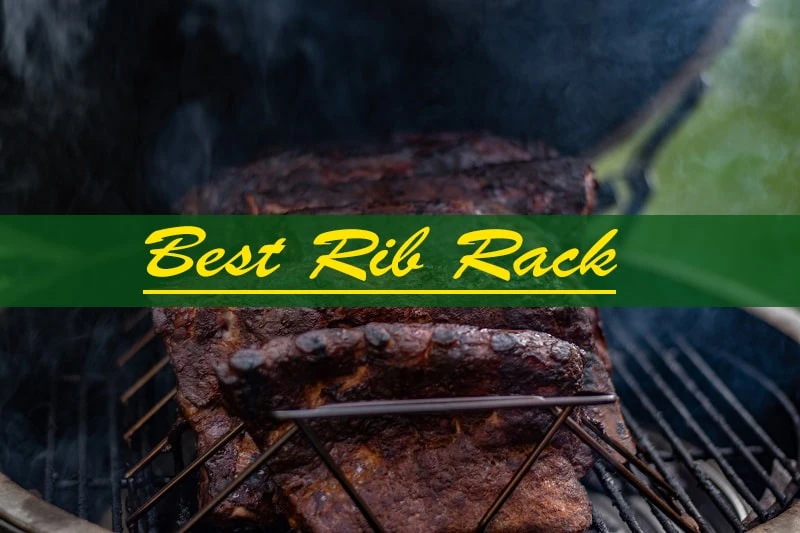 1. Porcelain coated steel roasting stand by Sorbus
One quality of rib racks that are at a premium is the ability for the rib rack in question to fit more than one grill. Most rib racks can only fit 1 or 2 different grills and this strongly affects how versatile they are.
You'll be able to use Sorbus' rib rack on nearly any given grill you happen to encounter. Not only can it fit the majority of outdoor grills, it can also fit some ovens and even smokers. This makes it a rib rack that you'll want if you know you're going to travel and encounter grills and other cooking devices other than the one you use.
Sorbus' rib rack has a simple design, and from that comes some drawbacks. First, it isn't durable at all. While it might hold on for a few cooking sessions, it'll risk breaking from all the heat after a while. Being made of porcelain, the paint from it also has a tendency to come off if it encounters incredibly high temperatures.
2. Multi rib rack by Weber
One of the biggest issues that surround a lot of rib racks is that they are often cheaply made. Some of them are even made of porcelain, where the paint can actually come off of it while you cook with them, contaminating your meat. Some of them can also break after too many cooking sessions.
These issues don't exist when you use Weber's multi rib rack. Being made of stainless steel, it is durable, dishwasher safe, and you won't need to worry about any paint dripping off of it while cooking. You'll want Weber's rib rack if you are looking for a rib rack that will stand the test of time and resist any temperature your grill puts out.
The only thing you'll need to watch for with Weber's rib rack is that it can only fit Weber brand grills. Only being able to fit Weber's 200 and 2000 series of grills, you do not have a lot of options with it. Weber's rib rack is designed for the home only. Don't bother taking it anywhere.
Anybody who owns a grill that measures longer than 18 inches knows how frustrating it can be to cook ribs on these kinds of grills. Most of the time, you'll need to use two different rib racks because of the limited length of most rib racks.
Soligt has solved all of this with their extra long rib rack. Being designed for grills that are bigger than 18 inches, you won't need to cut longer ribs in half and use multiple racks again. Its stainless steel finish doesn't rust or burn off either, making it much better than any other rib rack that isn't made of stainless steel.
You can only fit three ribs on Soligt's rack, and this may not be enough if you intend to cook a lot of ribs. With most rib racks being able to fit as many as twice this amount, you just might need an extra one if you need to prepare more ribs.
4. Non stick standing rib rack for grilling and barbecue by Mountain Grillers
Most rib racks can crowd a grill, causing anybody who doesn't want ribs to wait in frustration while those who requested ribs get their ribs ahead of everybody else. This is one of the biggest reasons why many shy away from making ribs at a barbecue; they know that ribs can hold things up.
This is no longer an issue with Mountain Grillers' rib rack. Containing an upright type of design, you'll be able to use it without crowding the grill, allowing you to prepare other food items. This makes Mountain Grillers' rib rack perfect for social gatherings where you know you'll need to cook more than just ribs. You can also use it in smokers and traditional ovens, making it versatile.
Being only 12 inches long and with the slots being a little tighter than most, size is not a strong suit of Mountain Grillers' rib rack. It will not cook whole ribs and while the all-round airflow is nice, this also means it might take a little longer for your ribs to cook.
5. Extended rib rack for smoking and grilling by Sparkit
There are a couple of things that are at a premium when it comes to smoking ribs on the grill. The first thing is protection. Grills can reach very intense temperatures and the possibility of burning yourself while cooking is high. The overall size of the rack you are using is another major concern.
Sparkit addresses both of these issues with their rib rack. It comes with a glove that will protect you while you are cooking and it is a little wider, taller, and longer than other rib racks that are designed for cooking short boned ribs. This makes it a little easier to use Sparkit's rack ideal for cooking short boned ribs.
You're going to need a longer rib rack for ribs that use long bones, however. Even baby back ribs will stand taller than Sparkit's rack. Prepare yourself if you have decided to use all five slots on the rack as well, since the crowding will cause them to require more time to cook.
Rib Racks: A Buying Guide
The concept of the rib rack is simple: It's a device that you put your ribs on as you grill them.
However, just like there are different grills for every situation, there are also different rib racks for every situation.
Consider the following things before you decide to own a rib rack.
How long are the ribs you want to prepare?
This is the first consideration and it is probably the most important.
Most rib racks can fit baby back ribs, which are typically 12 or so inches long.
You'll need to take some time to find a rib rack that can hold longer ribs if you do decide to cook longer ribs.
This may seem obvious, but there are plenty who get a rib rack sight unseen then they find themselves needing a much longer one.
Do you intend to travel with your rib racks?
Some rib racks can only fit on certain grills.
Some are more versatile, being able to fit on dozens of grills.
One thing that you need to understand is that racks that are able to fit on different kinds of grills might not contain the kind of quality that those that are exclusive to particular grills.
How many are you cooking for?
This is more of a consideration for a grill itself rather than a rib rack, but it is just as relevant for rib racks.
While most rib racks contain 5 slots for ribs, some racks have less slots but are more effective at cooking ribs than those that contain 5 slots.
Cooking ribs in all 5 slots can be tricky as they can stick together if they aren't organized properly.
Will you be grilling other things alongside ribs?
Rib racks can take up a lot of space in a grill, and this is especially true if you own a small grill.
This can prevent you from cooking other items on the grill and it will hold things up if you are cooking for others who want things other than ribs.
Make sure you possess a rib rack that doesn't crowd a grill if you are grilling other things alongside them. You'll save a lot of time this way.
How to Cook Beef Short Ribs in the Oven Quickly
Beef short ribs are best cooked on the grill.
This brings out their flavor and it also takes the least amount of time.
However, sometimes you do not have the luxury of possessing a grill for beef short ribs and you may need to use an oven.
Cooking beef short ribs in an oven is notorious for taking a very long time.
However, there is a way to do this a little faster than expected. It takes some work, but it is worth it.
The first thing you need to do is to separate some of the ribs. When ribs are together and placed in an oven, it will take longer for them to cook.
While you do not need to separate all of them, you definitely need to make sure that the ribs are not clustered together too much.
Aim to leave six or so ribs on a rack at most if you want to cook them in an oven and want them to cook quickly.
Marinade your ribs when they are about halfway finished. While it is a common practice to marinade your ribs right away when they are on the grill, doing this right out of the gate when you put them in the oven will take them a little longer to cook than you might want to.
Although it makes sense to think that preheating the oven at higher temperatures will result in faster cooking times, this is not correct.
What you want to do is gradually increase the temperature until you marinade, then decrease the temperature after you marinade your ribs.
For example, you could preheat your oven to 350 degrees, wait for your ribs to be relatively cooked, marinade them, increase the temperature to 450, then lower the temperature after a few minutes to make sure they do not burn or overcook in other ways.
This is how to cook short ribs in the oven and not take all day doing it.
Rib Rack Frequently Asked Questions
xx Do rib racks work well?
A: Rib racks work well provided you do a number of things. First, you need to use it in a proper grill. If your grill is crowded and your rib rack isn't designed to be placed in a crowded grill, it will not work as well as it could. You may also encounter some sacrifices in quality if you fill all the slots of your rib rack on a rack that works better if it isn't completely full.
xx Should I use a rib rack to smoke ribs?
A: Cooking ribs in a smoker is a lot more active in its undertaking than cooking ribs in a grill that doesn't utilize smoke in that you need to turn them a bit more. While you can use a rib rack in a smoker, you will need to have cracker jack timing when turning them to ensure that they are cooked on both sides properly.
xx How do you make a homemade rib rack?
A: Because the concept of a rib rack is simple, it is also possible to make them yourself. Something you need to know is that there are multiple dimensions to a rib rack. You need to know how long you want the rack to be and how much space you want in between each rib you want to stay on it, among other things. Other than that, putting it together is a matter of simple construction.
xxHow long does it take to cook short ribs in an oven at 350?
A: The purpose for cooking ribs under such a low temperature is to ensure that the sauce has marinated firmly. Cooking short ribs in an oven at 350 degrees will take a very long time but it does result in ribs that are extremely flavorful. At 350 degrees, you should expect your short ribs to cook in roughly an hour, depending on how many ribs are on the rack.
xxHow long does it take to cook beef ribs in an oven at 450?
A: Cooking beef ribs in an oven is usually done when you need to cook a lot of ribs very quickly. This might be done at the expense of flavor, but this is negligible as this reduction in flavor is largely negligible. As far as how long this takes, it all depends on how many ribs you want to cook and if they are all attached or trimmed. If the ribs are trimmed and there are not many of them, it could take as short as a half hour. If there are a lot of ribs and they are not trimmed, expect it to take roughly an hour.
Conclusion for Rib Rack Buyers

Rib racks are a very useful tool for when you need to cook ribs in any given grill or smoker.
Even though it is possible to cook ribs in a grill on their own, doing this can take a lot more effort than you want it to take.
While you might think it is necessary to flip your ribs on the grill around constantly, you will not need to do this when you possess a rib rack.
Nearly all rib racks are designed to surround the ribs you place on them with heat when you place the rack itself on the grill, doing all the work for you.
Take some time to explore what rib racks can do for you. You'll be amazed at the kind of work they can do for you.