How to Make Pizza at Home in Oven 2023
by Rick Goldman
Do you want to know how to make pizza at home in an oven? I still remember the day my brother bought an oven for home use. And do you know what exactly was my first goal to make in that oven? Of course, pizza!! Why? Because I love pizza so much! That delicious extra cheesy toppings of chicken or meat, and capsicum – how can anyone not crave that! Pizza lovers can never have enough of it. So, this article is for those crazy pizza fans who have ovens at home and do not fear getting their hand's dirty making pizzas. Besides learning how to make pizza at home in an oven, you will also get information about the followings: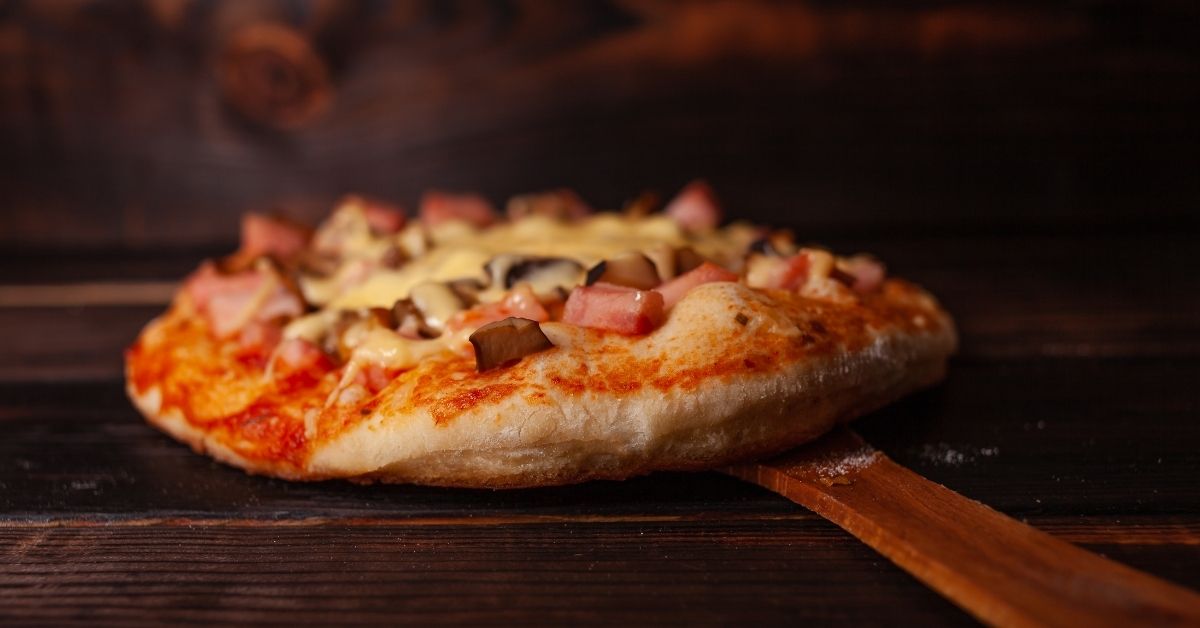 How to Make Pizza at Home in Oven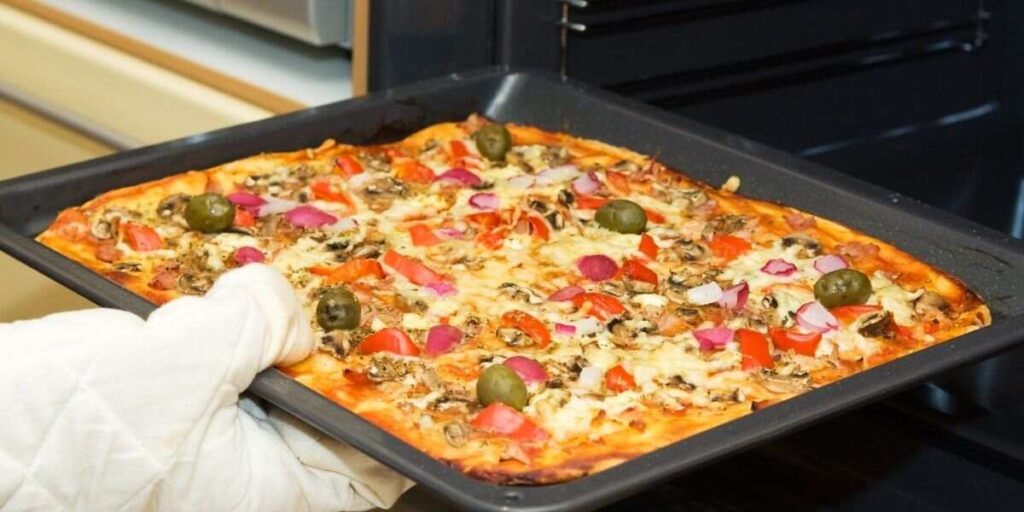 Time
Usually, it takes around 2 hours to prepare a pizza at home.
Cook a pizza at home, it takes about 30-40 minutes.
Expected Result
We can expect to make two ten-inch pizzas from this preparation.
Note on Dough
To make dough for pizza you have to carefully select completely drive active yeast. You have to check the expiration date on the package during your purchase. Always look for products with the longest expiration period. If the package is too old, yeasts inside could be dead and will not work at all. We will need flour, anyone would do. I would suggest using all-purpose flour. You can also use bread flour. Bread flour is high in gluten and the crust you make with bread flour will give you a highly crispy crust. Measuring cups vary in size and shape. Therefore, the only way to keep the measurement in the recipe correct is to use a kitchen measurement scale and weigh the amount in grams.
Ingredients
For Dough
One and a half cups of warm water of 115 degrees Fahrenheit (355 ml).
Dry active yeast – two and a quarter teaspoon.
Bread flour or all-purpose flour – 490 grams.
Olive or vegetable oil – two tablespoons (if you are using fire pizza making, oven do not use this).
Salt- two teaspoons.
Sugar- one teaspoon.
For Pizza
Vegetable or olive oil(extra virgin).
Smooth tomato sauce or pureed.
Grated cheese – mozzarella.
Soft and fresh cheese – mozzarella, small shapes.
Grated cheese- fontina.
Grated cheese- parmesan.
Crumbled cheese- feta.
Raw and thin-sliced mushrooms or sauteed.
Sliced thinly – bell peppers (remove seed and stem).
Pepperoncini – Italian and sliced thinly.
Sausages cooked and cut into thin slices.
Olives baked – sliced.
Basil – fresh and chopped.
Arugula – baby, toss it in olive oil, you need to add them to pizza after you bring it out of the oven.
Pepperoni- sliced thinly.
Pesto.
Caramelized or raw onions – sliced thinly.
Cured and smoked chicken breast fillet – sliced thinly.
Process
Making of the Dough
Proof the yeast
Put warm water in the bowl of a mixer and slowly sprinkle your yeast on the water. Wait for 5 minutes. If the yeast does not dissolve after five minutes, then stir. Active yeast either bloom or foam. If you are not using active but instant yeast, then you can omit this process and mix the instant to the flour.
Make and knead the pizza dough
Now add flour.
Season with salt and sugar.
Add the oil.
Start mixture and mixing speed should below. Mix for a minute. For this stage use paddle attachment.
Remove the paddle attachment and attach a hook for dough.
Set mixture to low-medium speed. Now knead the dough for 10 minutes.
If there is no mixture, use your hand. Clean and wash properly then knead by hand.
Dough should not be too moist. If so, then dab and roll the dough in flour. It should be a little sticky.
Let the dough rise
Rub the inside part of a bowl with olive oil.
Place the dough in the bowl and turn the dough around. This way the dough will be evenly coated with oil.
Now you have to decide on the duration for dough to rise. If you rise it slowly over a duration of 24 hours you will get a dough with an amazing flavor. But a quick rise of one and a half hours will make the dough good enough for you to work on it.
During the raising duration wrap the bowl of dough wrapped.
If you want a quick rise you have to keep the dough at 85 degrees Fahrenheit for 1.5 hours.
If you keep dough at room temperature for eight hours, you will get a medium rise.
If you keep the dough in a cold place like a freezer for at least twenty-four hours you will get the best and the slowest rise.
For a better flavor and the best crust, slowest rise is the best.
When you have finished raising the dough, you can keep it in the freezer to use later on. Put the unused dough on a plate or bowl covered with flour. Then keep inside the freezer for another twenty minutes. Next, put the unused dough inside a freezer bag and remove all the air from it and then zip it and then put it back in the freezer. You can keep it there for a maximum of three years. To reuse the frozen dough, you need to thaw it first within the freezer and then keep it the room temperature for half an hour.
Preparing the Pias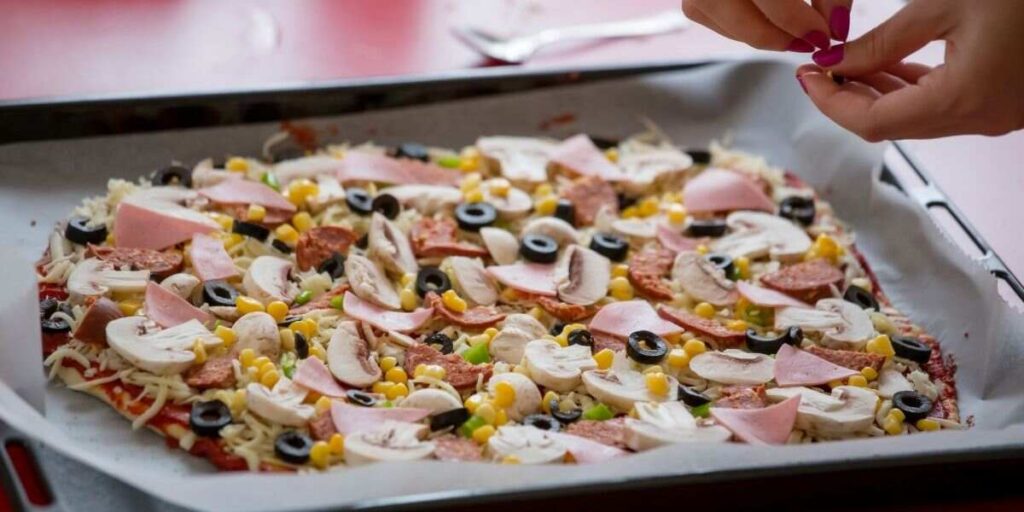 Preheat the plate or pan for pizza making.
Place the pan on the middle rack in the oven and preheat at 475 degrees Fahrenheit for half an hour. But if you can do it for an hour. You have to use an oven-proof pan or plate.
Dough Division
Uncover the dough.
Hands- dusted dry in flour.
Deflate the dough by pushing with both hands. Make into two halves.
Place two doughs in two different bowls, cover with plastic wrap and let them sit for around 15 minutes. But you can wait 2 hours.
Topping Preparation
Topping is like seasoning. Just enough to make you satisfied but not so much that the crust does not become crispy.
One-third of a cup each – tomato sauce and the cheese and this amount is enough for both pizzas.
Making of the Pizza base
Working one ball of dough at a time, take one ball of dough and flatten it with your hands on a lightly floured work surface.
Motion from hand gesture should be from in to out.
Use fingers and press down the dough to make half an inch thick flat dough.
Stretch the dough till it does not stretch anymore.
Wait for a few minutes and try to stretch again till the diameter is twelve inches. Do not stretch so much that holes appear. If there is a hole then pinch the hole to close it.
Using the palm makes the dough flat enough.
Make dents on the surface of the base so that it does not bubble. Wait for another 15 minutes.
For the second dough please follow all the steps here one by one.
Scatter cornmeal all over the pan or plate where the pizza base will sit. This helps move the pizza around.
On the base, cover it with sauce nicely. Scatter the toppings.
Put the pizza in the oven.
Pizza Baking
Now, bake the pizza one by one at 475 degrees Fahrenheit. Do this till the crust becomes brown and the color of the pizza becomes golden. Bake for about 15 minutes.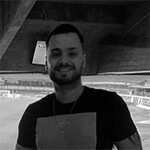 About Rick Goldman
Rick Goldman's grandpa was a captain of a California coast cruise. This afforded Rick the luxury of traveling to exciting places along the Pacific Coast as a young boy. He got to try different, exotic foods on these journeys - something he really enjoys blogging about from his grandpa's beautiful garden home today.
---
Leave a Reply