We love our burgers – fresh and home-cooked. It is not too difficult to make burgers. You just have to get the readymade frozen patties from the market and you are all set for a cooking session. Today, We will present how to cook frozen burgers on the stove. If you are attempting to cook burgers that means you will actually cook the patty of the burger. You can also make the patties yourself and be creative. Cooking burgers on the stove comes after that. We are not going to use the oven. We will use fire to prepare our patties.
Frozen Burger Patties on Stove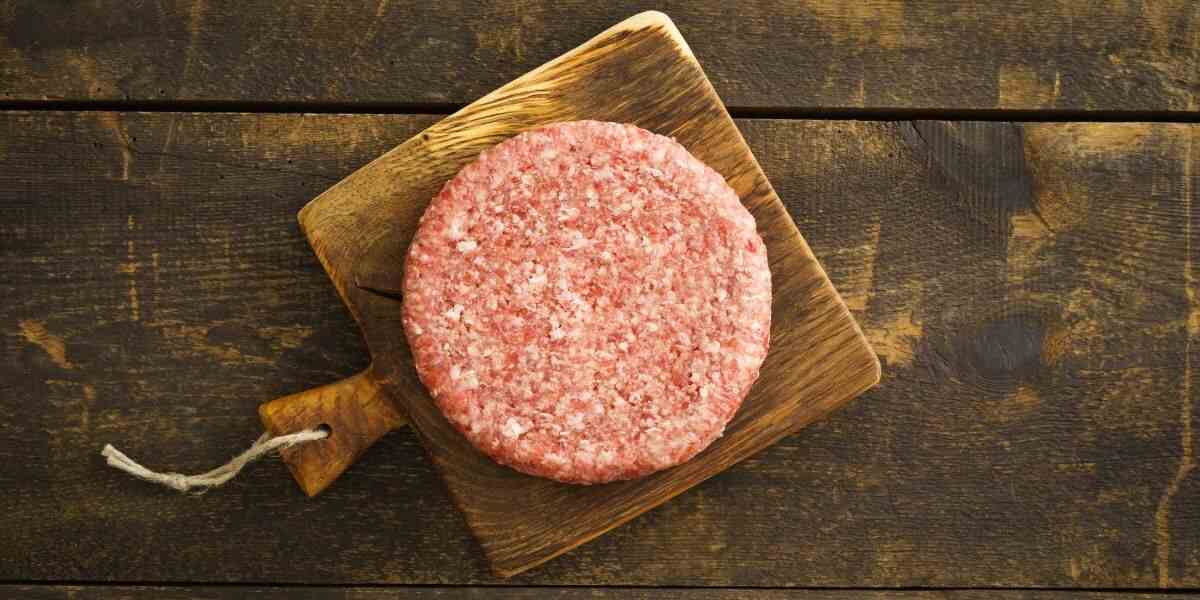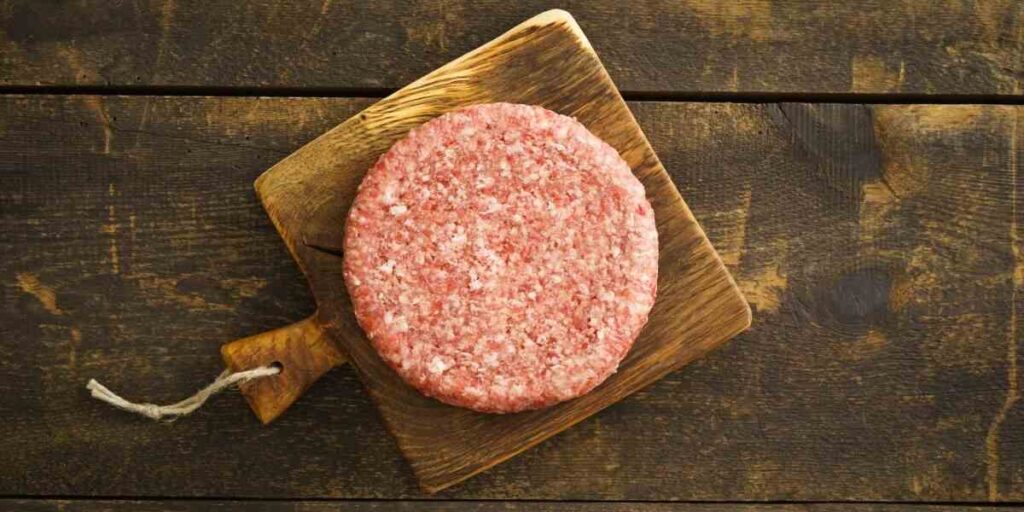 Ingredients
Frozen patties for burger – 1 pound.
Oil.
Salt.
Pepper.
Lettuce.
Tomato.
Cucumber.
Mayonnaise.
Sliced black olives.
Sweet chili sauce.
Burger buns.
Time for Preparation
5 minutes
Cooking Duration
15 minutes
Instructions
Bring out the patties from the package.
Use a spatula to separate the patties. Let them thaw.
When the thawing process is complete, season the patties with ground pepper powder and salt. You need to season both sides of the patties.
Set your stove at medium-high heat. Cast iron grill pan goes on the stove. Let it heat for a few minutes. Put oil on the pan and wait to heat the oil.
When the oil is hot, place the patties on top of the pan. Keep enough space for patties so you can turn sides easily. You need to properly cook each side for at least 5 minutes and then turn. Keep turning sides. You see that crust is forming on the patties. It should take about 13-16 minutes. Remove the patties and place the buns to heat them on the grilling pan.
Now slice the bun in the middle sideways and put patty with your lettuce, tomato slices, sliced black olives, cucumber slices, and mayonnaise as garnish. Cover the filling with the other half of the bun. Serve.
Stovetop Frozen Burgers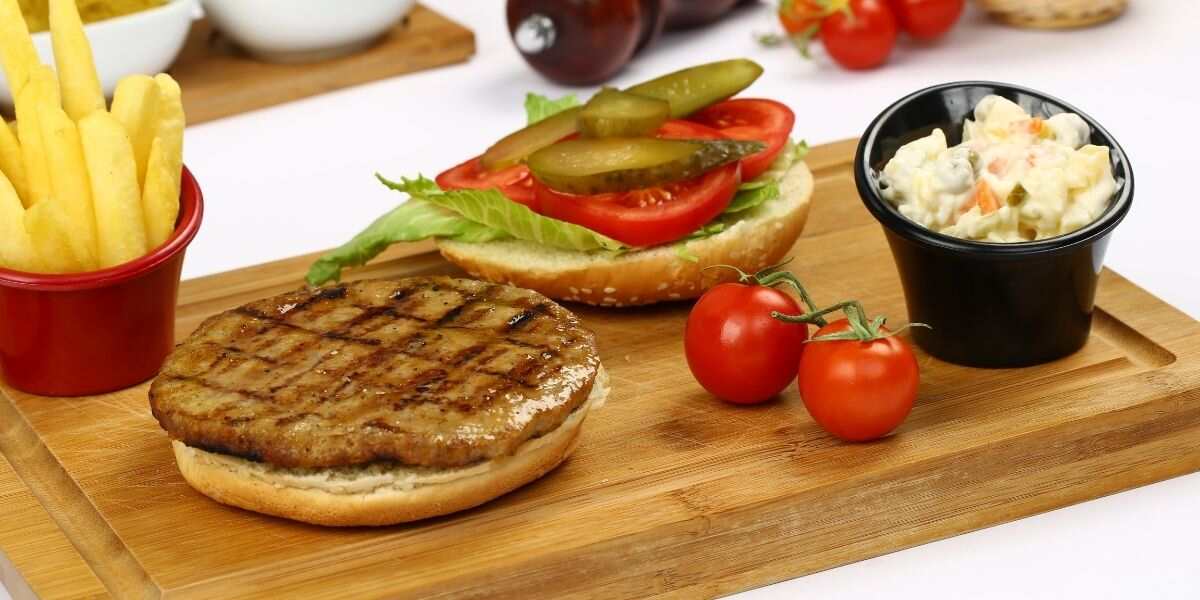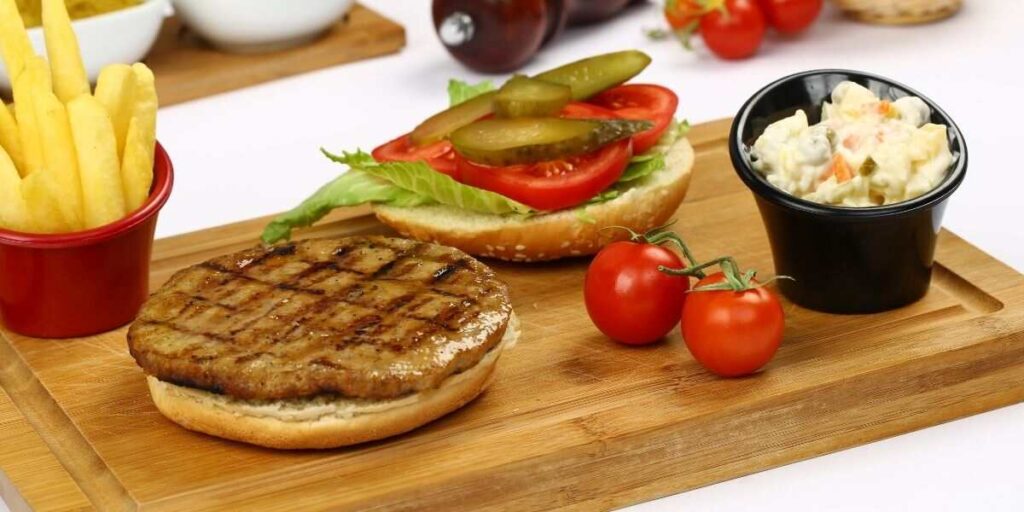 How about having a piping hot burger right at your home! And how about you yourself make them!! Get your stove burning and get your favorite cast iron skillet, become the chef of your dream.
Tips for Stovetop Burgers
The main trick behind a delicious burger is to make your patties delicious. To do that there are three things you must do: get top quality minced meat, season it with your special spices and cook it at the correct temperature. Then there is also the part of salad and other fillings. If you can follow the process correctly, you will be able to have the world's most delicious burger in no-times right at your home. Remember seasoning spice and cooking at the correct temperature is the main trick.
Ingredients
1 pound of 80% lean beef – minced or ground.
Salt.
1 beaten Egg.
Pepper.
Mustard paste.
Lettuce.
Tomato.
Cucumber.
Mayonnaise.
Cheddar Cheese.
Sliced black olives.
Sweet chili sauce.
Toasted burger buns.
Instructions
Get your meat in a bowl. Season with salt, pepper, mustard paste, beaten egg. Mix thoroughly and slowly.
Divide the meat into as many portions as you need. But keep it to 4-5 portions.
Create patties from the portions. Shape the patties with your hand. The patties should not be too thin and flat. The thickness should be at least an inch.
Preheat a cast-iron skillet on the stove at high heat. When the skillet is hot enough turn heat to medium and place the patties on the skillet. Do not populate the skillet too much. Place as many patties as you can leaving enough space to easily turn them over during the cooking process.
Let the patties sear nicely and become brown in color on both sides. It is important to fry them at 160 degrees Fahrenheit to kill the bacteria properly.
To add cheese, turn off the stove. Place cheese on top of the patties and then cover the skillet with a lid. The radiant heat will let the cheese melt.
Serve with buns with patties on top with salad and other condiments.
Frozen Burger in a Skillet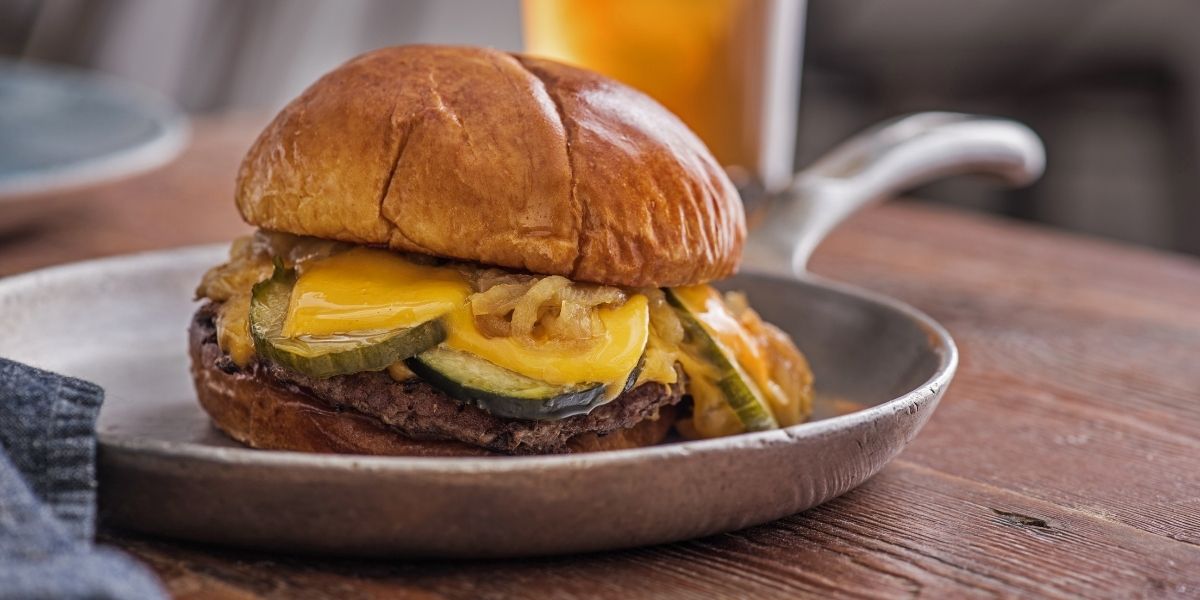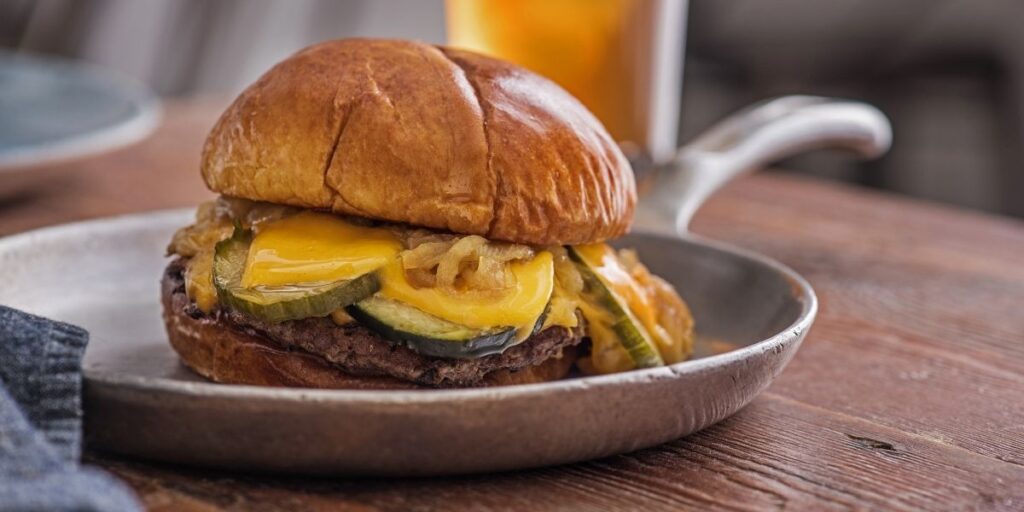 Although fresh is always the best, we cannot make burger patties from freshly garnered ingredients all the time. Our everyday life is full of hustle and bustle. That is why having a freshly cooked meal is almost impossible or difficult. So, what do we do then? We buy frozen patties for our quick-cook burgers. Besides, regularly going to the market is not possible if we are not restaurant owners ourselves. In that case, we definitely have to visit the market. Using frozen patties helps you save valuable time. The time to set up the oven and preheat it can be cut short by using a grilling skillet. In brief, heat the skillet, put some oil, place the patties, cook and turn side and then cook again, and after cooking is done place it on the bun and garnish and season it and serve, that's it!
Frozen Hamburger Patties
Wait, what!!! You are in a pinch? Suddenly guests / friends / family members are paying you a visit and you have nothing but some frozen burger patties in the freezer? What do you do? You won't have time to thaw them??
Is that it? Is that your concern? Don't worry, let me give you some information! You can cook your frozen burger patties directly on the stove. No need to thaw and then do the rest. Just get them out of the freezer and fry them on your frying pan and serve.
Why Use Frozen Patties?
Because they are life savers when you are in a hurry. All you need is a pan and some seasoning with salt and pepper and a stove. It does not take too long to cook yourself a snack or a breakfast, or something for your sudden guests. Just fry the patties at 160 degrees Fahrenheit and serve with toasted buns. That is all you need.
Frying the Frozen Burger
No fuss at all! Get the patties out on a plate. Season them lightly with pepper and salt. Rub the seasoning on both the sides.
Heat your pan at 160 degrees Fahrenheit. Place the patties and cook each side until browned and seared.
Toast buns. Get some fresh lettuce or tomatoes or olive slices if you have some.
Layer the burger like this: toast bun as the base, lettuce, patty, tomato and olive slices, other half of the bun as the closing lid. And serve.
Conclusion
See this is what we call lifesavers. What if your kids have come back from school or play and are seriously hungry and cannot wait for lunch or supper? Quickly cook frozen burgers on the stove and you can keep them quiet for a few more hours until your meal is prepared.