at I love about cooking is that it comes with a ton of opportunities one can create. One ingredient I use for my dishes would be cornmeal, as it brings out a distinct flavor and interesting texture that makes my recipes more unique.
But there are times where I run out of it and can't get out of the kitchen. Instead of scrapping your recipe or omitting cornmeal, you can find a good cornmeal substitute that will still retain the flavor and consistency of your dishes. It's that easy!
Wondering what they are? Learn more about the best cornmeal substitutes and other facts on how to use these ingredients here!
What Is Cornmeal?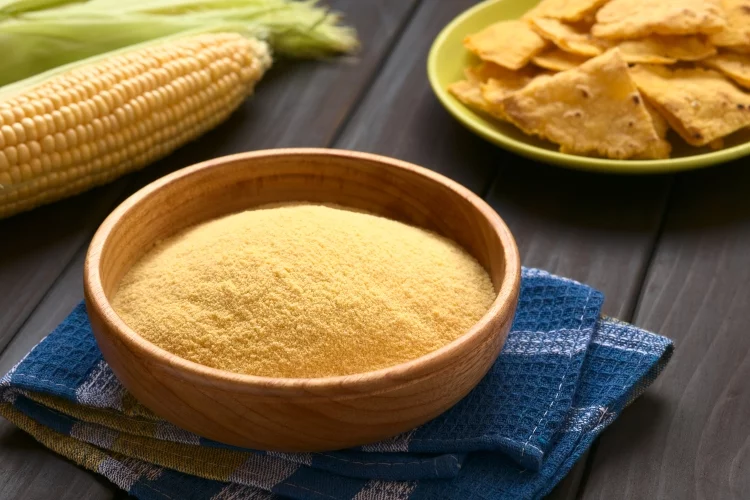 Some people may have just heard of cornmeal before, while others have already used it in many exotic dishes. This type of meal (coarse flour) is made out of dried maize corn, a staple food that can come in a variety of consistencies except for a very fine texture compared to wheat flour.
It's called corn flour in the United States, while in other places, it's boiled version is called polenta in Italy or mamalyga in Ukraine. If the maize was soaked in the alkaline solution and then made into fine cornmeal, then it is called masa and ideal for making tortillas and tamales.
There are many types of cornmeal to choose from, depending on its color, flavor, and type of corn it was made from. Blue cornmeal has a sweeter flavor, steel-ground yellow cornmeal is commonly used in the United States. White cornmeal is popular in Africa and Southern America for cornbread, and Stone-ground cornmeal has more flavor and nutrition.
You can use cornmeal to make various dishes, from porridge, grits, forms of bread, or even desserts and doughs! With its outstanding amount of fiber and other nutrients, it's ideal to have with your meal for a healthier dish.
The Cornmeal Substitute List
Here are the following cornmeal substitutes you can find at home if ever you've got no cornmeal in the grocery stores or run out in the kitchen:
Corn Grits
Because cornmeal doesn't have the absolute fine consistency, then using grits is an ideal substitute. Regarding using corn, you'll have the similar flavor and texture, whether you're cooking or baking with cornmeal.

But because corn grits are coarser than cornmeal, I recommend you to use lesser corn grits and see how it will work with your mixture, especially when making liquid-based recipes like soup or sauces.
If you want to use an equal proportion or corn grits, then grind it before applying it to your recipe. You can use either regular or hominy grits for your recipe.
Polenta
Yes, polenta may be another name for cornmeal in certain areas, though they are different, as this one is more powdered and finer in consistency. But what's great is that you have a lot of varieties to choose from when talking about textures, since you can choose between coarse to fine, depending on what you want in your dish.

Use the right amount of polenta depending on what you prefer in your dish, either adding the equal amount needed or a bit more (or less). But using a same amount of polenta will work perfectly as well, no matter the dish you choose to make with it.
And just like what I mentioned earlier, it's best to use less polenta if the recipe is liquid-based.
Cornflour or Polenta Flour
Again, cornflour is different from cornmeal because of its finer consistency. So if you need something to sprinkle on bread pans when making your favorite pastries, then these are two substitutes that go well.
You can also use corn flour in many dishes that require cornmeal but expect it not to have the crunchy texture. Also, if you are baking, the result would be lighter and less dense, but the best substitute when making cornbread.

You can also use corn flour in many dishes that require cornmeal but expect it not to have the crunchy texture. Also, if you are baking, the result would be lighter and less dense, but the best substitute when making cornbread.
If you're looking for an alternative that needs more of the cornmeal flavor and doesn't mind a slightly different texture, corn or polenta flour is the way to go.
While any flour works in substituting cornmeal, you will need to look at what dish you're making first. It will alter the taste and texture, though it won't destroy the results (speaking for baked goods here!). If you are baking and need cornmeal, only add the equal amount of flour that was asked for. I would recommend you to use either wheat, nut, or ground oat flour for a better consistency.
I recommend this substitution for those who are baking.
Because cornmeal has a coarser consistency than flour and results in a unique texture, then you can replace it with ingredients that have equally rough textures, such as semolina, ground oats, or breadcrumbs.
BUT, this is for people who want to focus more on the texture rather than the flavor (but don't worry, as that doesn't mean your dishes will have destroyed flavor, just a little different than what you expect). Crushed tortilla chips MAY work as well, again, depending on the type of recipe you're doing.
Polenta
These substitutions are best for cooking or for people that are allergic to corn or cornmeal. Use an equal amount of any of this substitution.

Take note that if you do not have the particular type of cornbread asked for (which I mentioned before), don't worry. You can still use the other forms of cornmeal if you have them available. But take note that it will have a slightly different flavor, especially when using or replacing the sweet blue cornmeal.
Now that you're familiar with the cornmeal substitute list, here are some tips you can follow to have an easier time in using and storing any of these ingredients:
Remember that all substitutions will have altered taste or consistency. While you can use the exact measurement asked for, it all boils down to experimentation and preference. Add a little bit more if you feel like it is too fine, or add less for a denser result. It's all up to you!
When cooking liquid-based products, I recommend you to use alternatives with finer consistency for it to blend quickly or prevent it from becoming too thick.
Be sure to store ANY form of cornmeal substitute (or even cornmeal itself!) in an airtight container. Put it in a cool and dark place, like your cabinet. They will last for about half a year or so, depending on how properly your store it.
If you're thinking about more recipes to bake or cook with cornmeal and its substitutes, you can add it as a coating to your favorite food for frying. It works well for any meat and vegetables for a crisper taste.
Need something sweeter? Instead of the usual cornbread, you can try pancakes, with have more texture and a mix of savory and sweet flavors.
When it comes to cooking in a pinch, you won't need to go all the way to the grocery or scrap the whole dish if you run out of cornmeal. With a good cornmeal substitute, you won't need to worry about hassling yourself anymore, since any of these ingredients can be found at home and still keep your dish tasting the same.
I hope that this cornmeal substitute list helped you become more knowledgeable on what you need to know regarding cornmeal and what you can do to have the best meal without the worry of losing the taste and consistency. So don't wait any longer and try any of these substitutes out.
If you have any questions or would like to share your tips and experiences when using a cornmeal substitute, then comment down below. I would love to hear what you have to think.