When feeling trapped in our day-to-day activities, stress and worries never seem to go away. Sometimes, we take a trip down memory lane and remember all the happy, peaceful times we had and wish we lived them again. Funfairs, pony rides and that fluffy cotton candy that was spinning in the bowl just for us. After what seemed like an infinite wait, the kind lady handed us the much-awaited heavenly sweet and the taste was just incredible. Year after year, we kept returning to experience its simple but uniquely charming flavors.
The sure thing is even children today love cotton candy and, we have to admit, adults are not against it either. Therefore, we felt the need to gather and evaluate 5 most popular cotton candy machines, in order for you to make a documented choice. We've compared technical details such as motor power or weight, but we took the design in considerations well. We know that your childhood sweet treat deserves only the best options, so you can enjoy the most qualitative results.
Editors' Picks: Commercial Cotton Candy Machines
Top 5 Best Commercial Cotton Candy Machine Reviews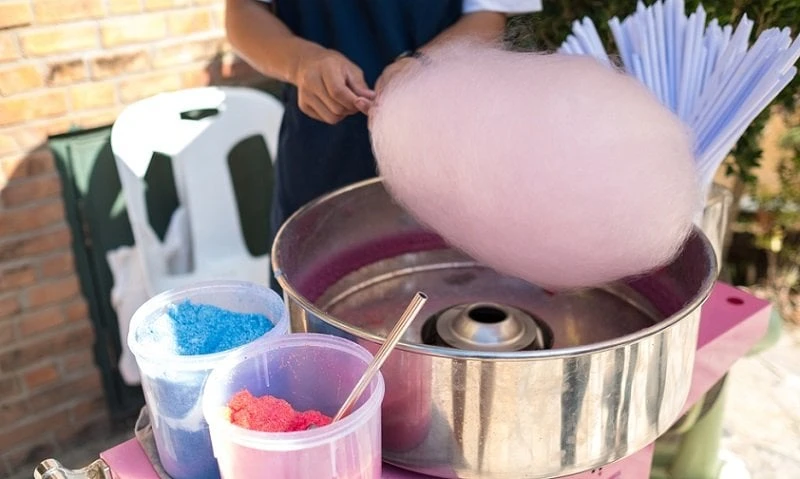 1. Cotton Candy Express Machine Reviews - CC1000-S Cotton Candy Machine
To begin with, the Cotton Candy Express is a small and easy to use machine. The accessories are what makes this cotton candy machine truly unique. No doubt, when it can be ordered with either 3, 5 or no flavors, at slightly different prices. It also comes with 50 paper cones and is easy to transport and manipulate, due to its light weight. If you're looking for a party starter package, you came to the right place. Imagine you can have your favorite desert in so many shapes and different flavors!
On one hand, due to its small size and affordable price, the Cotton Candy Express gained popularity, especially among families nationwide. On the other hand, you must wait for at least 10 minutes before using it. Moreover, practice may be required, especially if you are trying it for the first time. They say a good thing is worth waiting for, so a delicious cotton candy might just be the case.

2. Olde Midway Cotton Candy Machine Reviews - Commercial Quality Cotton Candy Machine
The stainless-steel kettle and the elegant cart make this cotton candy machine stand out. A big advantage is its efficiency, as you can make as much as 1 cotton candy every 30 seconds. You just have to wait 3-4 minutes for it to warm-up. Convenient are also the power switch and heat controller on the front panel, as well as the extra fuses and belts it comes with. Rest assured, high performance comes with a price, when compared to other smaller and less powerful machines.
Though easy to clean and quiet, its large dimensions take up a lot of space. The temperature control isn't great either, as it might overheat and produce smoke. Sometimes, sugar gets stuck in corners but as it is easy to clean, this is not a major inconvenience. All in all, The Olde Midway Cotton Candy Machine is a solid device with a high-power motor. When efficiency is key, this machine is the answer. A step forward in technology improvement, when compared to similar products.

3. VIVO Electric Cotton Candy Machine Reviews - Pink Electric Commercial Cotton Candy Machine
The VIVO Cotton Candy Machine stands its ground in terms of quality. The all metal construction dressed in violet pink and stainless-steel bowl draw your attention instantly. Up to 3 silk soft cotton candies are ready within a minute. Safety comes as a plus; the machine is grounded and has a power switch that doesn't turn on unless the bowl is installed. The 5 minutes waiting time for warming up is not bad either.
On the downsides list, we mention the large size of the drum, which makes it a bit more heavy. It also works only when connected to a specific voltage. However, the VIVO is designed for all users and is easy to setup and clean. Moreover, it has a switch that keeps a constant temperature inside the bowl. Unquestionably, the VIVO Candy Machine is a good investment if you are searching for a qualitative and fast cotton candy maker.

4. The Candery Cotton Candy Machine Commercial Grade Candy Floss Maker
A similar design to the previously presented Vivo Machine, the Candery Cotton Candy Machine is also easy to assemble and disassemble. Parts are easy to clean as well. When you're searching for a quiet, portable and lightweight solution for your cotton candy cravings, look no further. The never-fail motor and the heat and wattage meter are impressive nonetheless. See how much energy you're using in real time!
Not so many drawbacks for this product. The large size and not coming with supplies can be considered by potential buyers. From where we see it, that is pretty much it.
No surprise this product is on top of our favorites, when it makes up to 6 cotton candies per minute. Qualities such as lightweight and compact design makes it easy for you to take it anywhere. Straightforward quality, competitive price and fastest speed are promises the Candery Cotton Candy Machine offers and delivers.

5. Nostalgia Cotton Candy Machine Reviews - PCM305 Vintage Cotton Candy Maker
A budget-friendly solution for cotton candy fans has arrived. It carries a very suggestive name, Nostalgia Vintage. Indeed, it has the nicest design so far, resembling the carnival vendor carts of the early 1900s. Nostalgia is the most affordable option, compared to the other machines presented. Installed suction cup feet for stability, easy to use and clean. The very light weight is also a plus.
On the downsides list we can include the lack of stability and, therefore, the noise it leads to. The tiny cotton candy machine takes a good 15 minutes to heat up. Similarly, preparing 1 serving takes 3 to 5 minutes. When having children around waiting for yummy cotton candy treats, this choice might be time consuming.
Therefore, the purchase of Nostalgia depends entirely on your criteria. This machine is perfect for those who truly want to revive the childhood spirit, when carnivals were much awaited and greatly appreciated. It also does have simple settings and easy to use instructions. Suited for small families, not recommended for parties with a large number of guests
Buying a cotton candy machine is a fun and exciting process. However, that doesn't make it less time consuming. We noticed that while the ease of use is not a problem, lower price usually means decreased efficiency. Preferences for a certain machine might differ, depending on the intended purpose of your purchase. If you throw a lot of parties for your children, then you might consider a more powerful machine. For personal use, you can choose what shade of pink is most appealing.
We truly hope the options presented help you take the right decision for you and your family. Enjoy your sweet moments together!
Buy on Walmart
VIVO Pink Electric Commercial Cotton Candy Machine, Candy Floss Maker CANDY-V001 - Walmart Link
Cotton Candy Express 6006 Fun Pack | Kit Features Cherry, Blue Raspberry & Grape Floss - Walmart Link
Nostalgia PCM805RETRORED Retro Hard & Sugar Free Cotton Candy Maker, Red - Walmart Link
6304 Great Northern Popcorn Commercial Cotton Candy Machine Floss Maker With Cart - Walmart Link
Olde Midway Commercial Quality Cotton Candy Machine Cart and Electric Candy Floss Maker - - Walmart Link
Chef Buddy Cotton Candy Machine - Walmart Link
Funtime FT1000CCK-P Cotton Candy Machine, Regular, Pink - Walmart Link
6303 Great Northern Popcorn Commercial Quality Cotton Candy Machine and Electric Candy - Walmart Link
Funtime Cotton Candy Machine, 20.5 x 20.5 x 19.5, Pink - Walmart Link
Buy on eBay
VIVO Pink Electric Commercial Cotton Candy Machine, Candy Floss Maker CANDY-V001 - eBay Link
Cotton Candy Express 6006 Fun Pack | Kit Features Cherry, Blue Raspberry & Grape Floss - eBay Link
Nostalgia PCM805RETRORED Retro Hard & Sugar Free Cotton Candy Maker, Red - eBay Link
6304 Great Northern Popcorn Commercial Cotton Candy Machine Floss Maker With Cart - eBay Link
Olde Midway Commercial Quality Cotton Candy Machine Cart and Electric Candy Floss Maker - - eBay Link
Chef Buddy Cotton Candy Machine - eBay Link
Funtime FT1000CCK-P Cotton Candy Machine, Regular, Pink - eBay Link
6303 Great Northern Popcorn Commercial Quality Cotton Candy Machine and Electric Candy - eBay Link
Funtime Cotton Candy Machine, 20.5 x 20.5 x 19.5, Pink - eBay Link