Introduction
French fries or potato fries are among the most popular side dishes that go very well with almost every fast-food item – burger, noodles, chicken fries, and many more. Therefore, we should also talk about how to make French fries. But there is another issue to consider. This is the age of healthy food and diet. As a result, deep-fried potato or regular French Fries are not considered healthy. But we love them. So, is there any other way around that oil? Yes, there is. We will talk about how to make French fries in the oven without oil. With a bit of effort, we can cook up a very nice crunchy snack or side dish. So, let us see how to make French fries in the oven without oil. Keep in mind that this is a homemade French Fries recipe.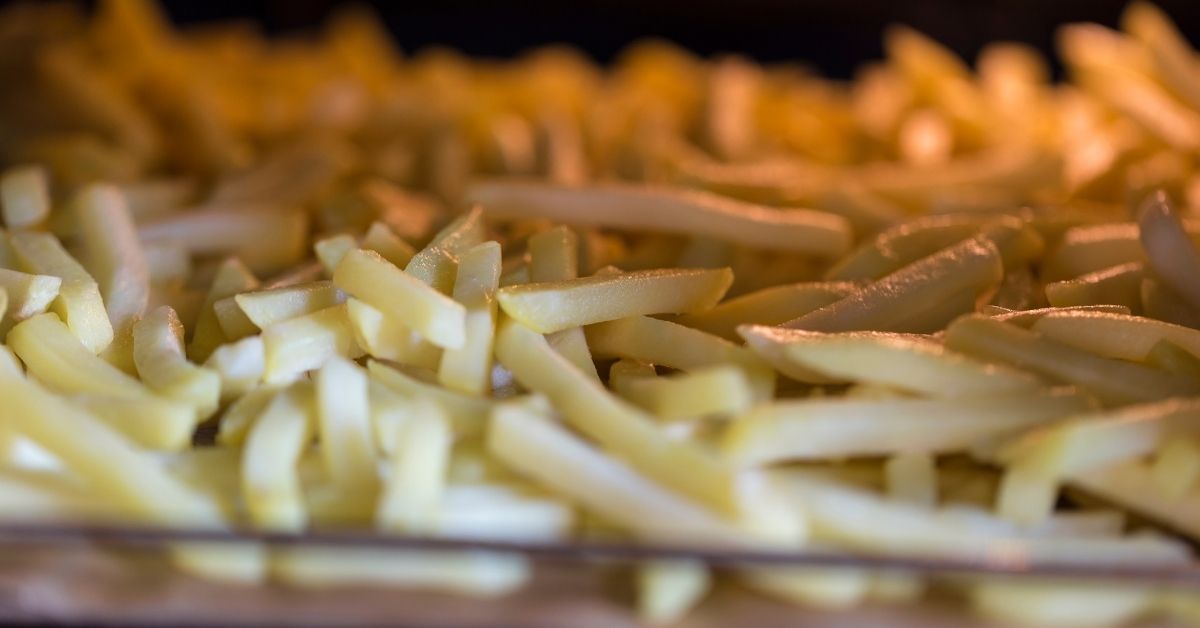 Will French Fries Taste Good without Oil?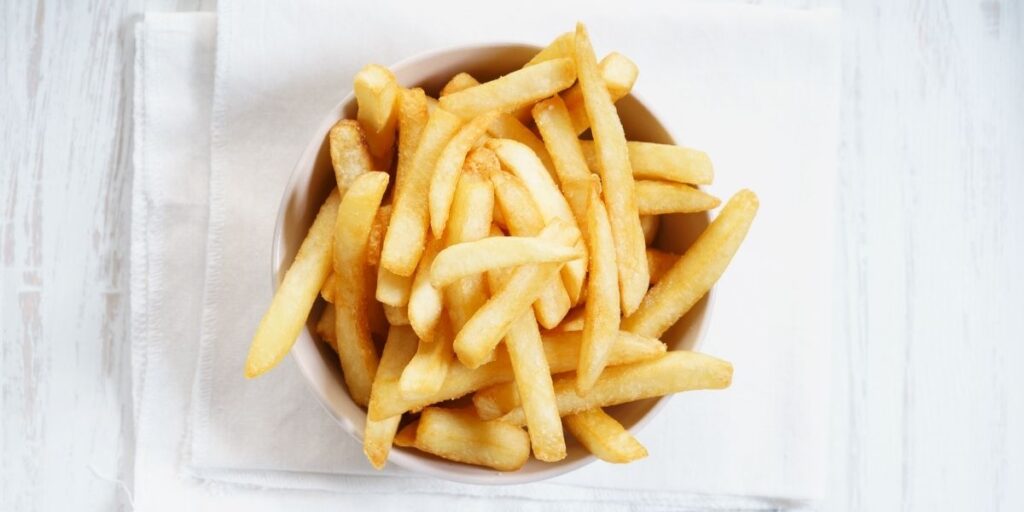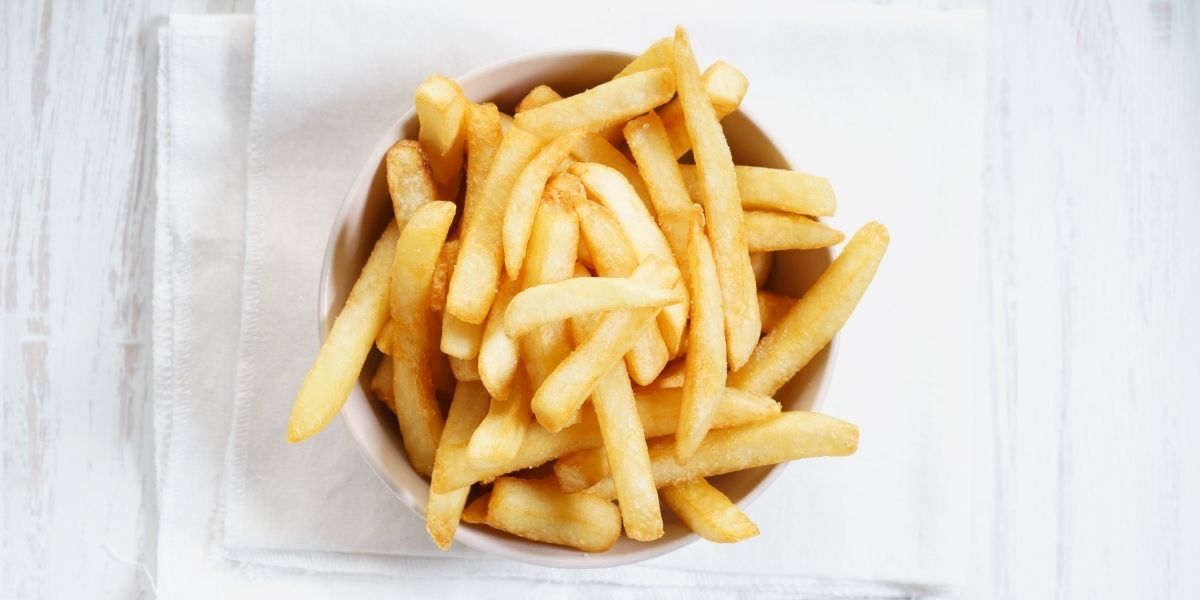 From time unknown, French Fries have been deep-fried in oil. This method is not healthy, but it does taste so good! Mouthwatering taste, crispy, crunchy, and hot. Yes, you have to eat it while hot. Now, if we are thinking about cooking it without oil, one question comes to our mind. Will it taste good? Of course, it would! It will taste even better without too much fat. Although we have to spray a bit of oil over the potatoes before we bake them, it is necessary. Dipping and spraying are two different things. You deep fry potatoes; they will become soggy after a while.
On the other hand, when you bake them without oil, the extra moisture slowly goes away, and the potatoes become super crispy and crunchy from the inside out. Therefore, we can say with confidence that oven-fried French Fries are better than deep-fried French Fries. They are less messy and oily; and healthier if they are baked in the oven.
Perfect Oven Baked Fries
This is the most basic of all French Fries. First read, then try at home.
Ingredients
2 to 4 large potatoes.
Salt.
Red chili powder.
Pepper.
Instruction
You can have peeled or scrubbed potatoes for your French Fries. Wash them with a scrubber or wash them and then peel them properly.
Now, you can decide what the size of your potato wedges will be. Then start cutting them. Be careful about the knife and your fingers while cutting the potatoes.
Take a bowl and put the potato wedges in. Now, properly season them with salt and red chili powder. Toss them well so that each of the wedges is properly seasoned.
Preheat your oven at 425 Fahrenheit.
Take a tray for baking, place an aluminum foil on the tray, and then place the wedges on the foil.
Bake the potatoes for 40 minutes till it turns golden brown.
NOTES
For a good outcome, use Russet potatoes.
Using aluminum foil or a silicone mat is unnecessary, but it will help you get a good color.
For a different kind of result, you can also soak the potato wedges in water for one or two hours.
Crispy Baked French Fries Without Oil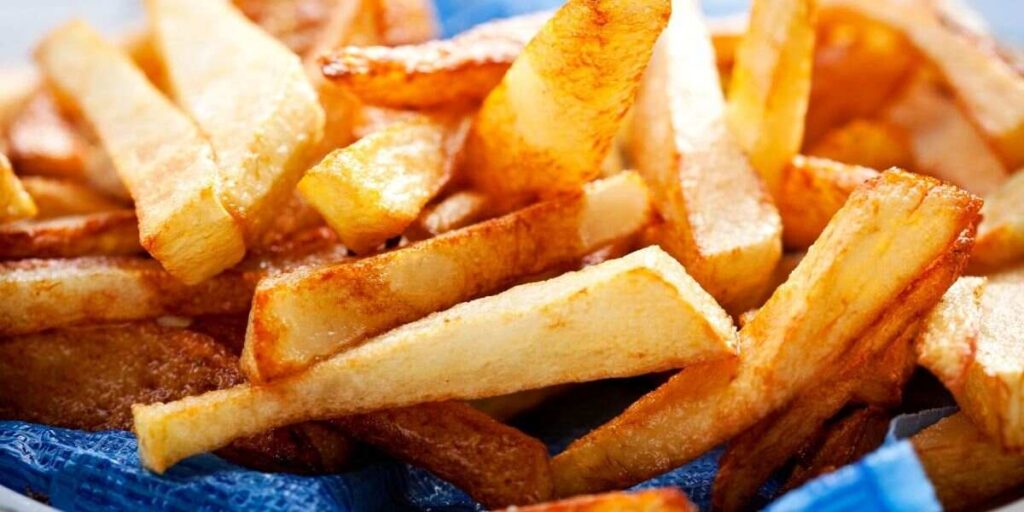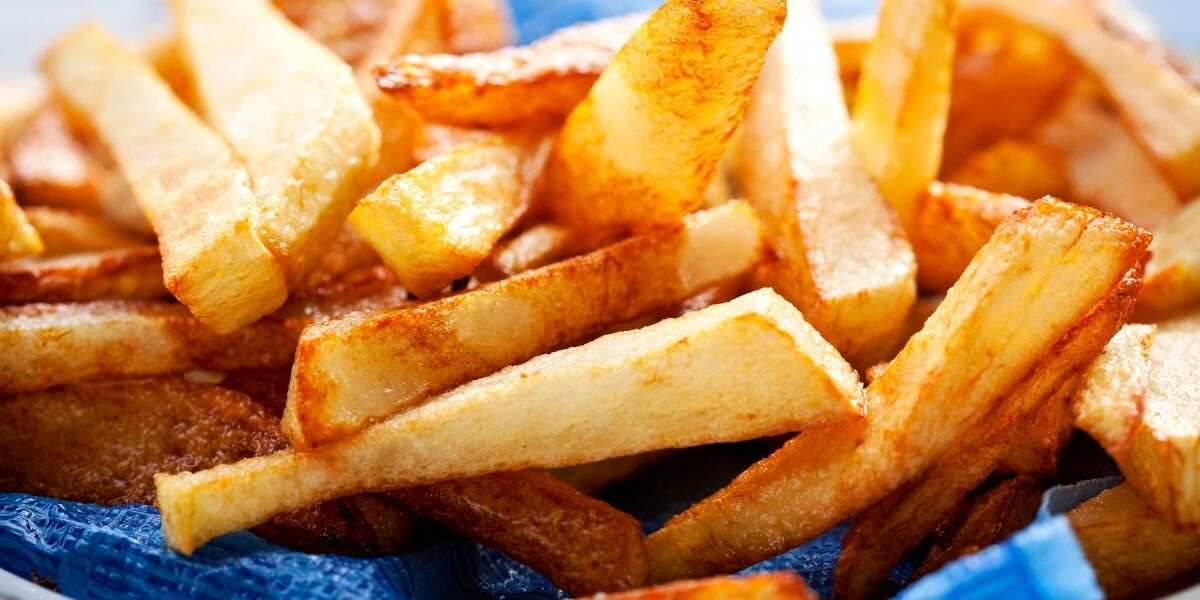 There is a reason why I am recommending this recipe to you. This recipe will make the potatoes crispy, but the inside will be soft. This recipe is completely oil-free and lets your potatoes be perfectly seasoned. The recipe is friendly and free of gluten. It can be prepared in thirty minutes. In this recipe, we will soak our potato wedges in ice-cold water for ten minutes.
Preparation Time 15 minutes
Cooking Time 30 minutes
Ingredients
2 to 4 large russet potatoes
Salt.
Ground Pepper.
Garlic.
Chili powder.
Ice water.
Instructions
Preheat the oven at 475 degrees Fahrenheit.
On a baking tray, put an aluminum foil.
Wash your potatoes, peel them or scrub them, wash them again and soak in very cold water.
Drain after 15 minutes. Dry them.
Take a bowl and put the potatoes inside, and season them with salt, pepper, and red chili powder.
Now put inside the oven and cook for 30 minutes and when the color is golden brown, serve with side dishes.
Crispy Oven Baked Fat Free French Fries
Preparation Time 5 mins
Cooking Time 25 mins
This recipe is for baking potatoes without using fat in the oven to make them crispy and delicious. This is the best French Fry recipe. This is accepted as the main course in American cuisine. The recipe serves four people.
Ingredients
8 medium-sized potatoes.
1 tablespoon of flour.
1 tablespoon of garlic powder.
1 teaspoon of onion powder
1 teaspoon of paprika
1 teaspoon chili powder
Salt.
Pepper.
Instructions
Wash your potatoes and scrub or peel them. Wash them again. Soak in icy cold water.
Get a water boiling pot. Fill with water and put salt to taste, and bring to boil. Now, put the potatoes and cook the potatoes for 4 minutes. This way, the potatoes will be salted properly.
Oven preheated at 425 degrees Fahrenheit. Get an oven tray and lay a sheet of aluminum foil or silicon sheet.
Drain the potatoes and keep the potatoes in the pot. Now season all over and mix with hand properly so that seasoning reaches everywhere.
Now, place the potatoes on the tray nicely and evenly. Now, bake for 25 minutes and serve while hot.
Homemade Baked Oil-Free French Fries with Garlic & Oregano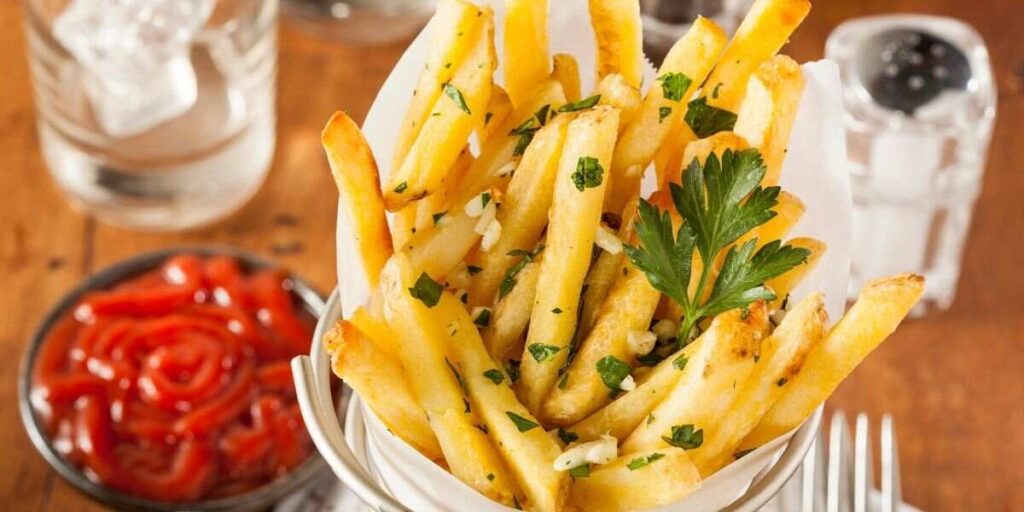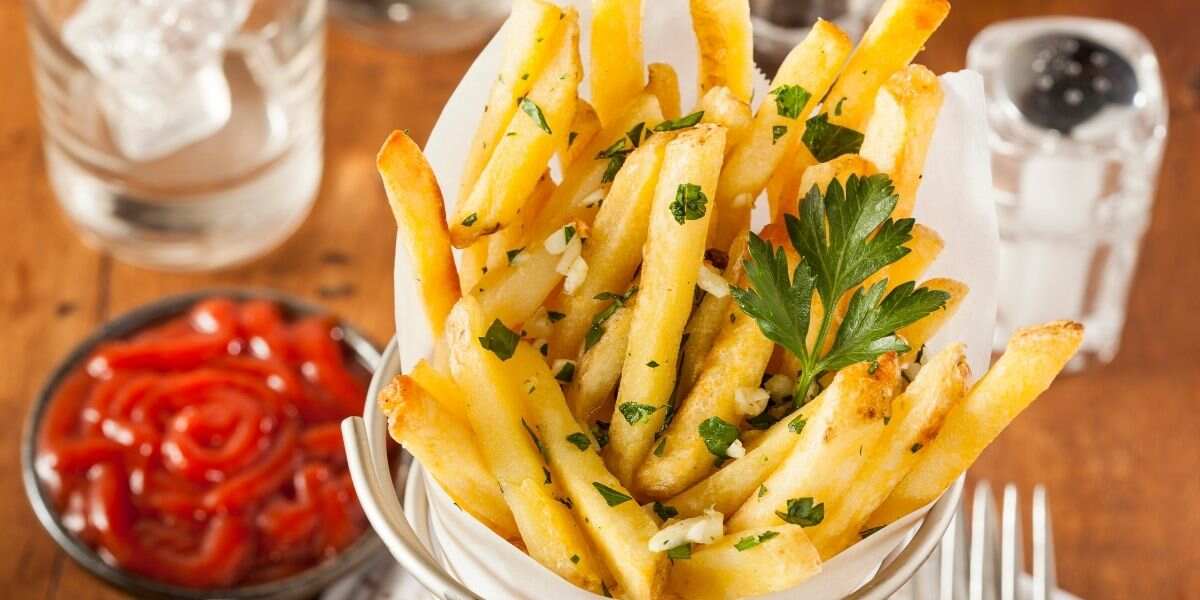 These are awesome French fries. You cannot resist this at all. This recipe is completely free of gluten and fat. It is healthy, vegan, crunchy, and crispy. In this recipe, you get to use garlic powder and oregano to bring out another different kind of flavor. There is no limit to how many seasonings you can use! You can make it smoky too! Just try every combination out. All people love this. You can also add extra flavor by adding the favorite sauce on the side. You can make your version of mayonnaise mixed with chili, tomato, or tamarind sauce. Practically everything that tastes good will go with it.
Ingredients
1.50 pounds potatoes – yellow.
1 tablespoon powder of garlic.
1 tablespoon oregano – dried
1 teaspoon powder of onion.
black pepper – freshly cracked.
salt to taste.
Instruction
Oven should be preheated at 425 degrees Fahrenheit.
Wash, peel or scrub and then wash them again. Remove the
Wash the potatoes, removing any eyes or bad spots.
Get a mixing bowl and put all the potatoes there. Add all of the seasonings that you have chosen and then mix with hand. Mix properly. If any potato wedges are sticking, separate them. All of the pieces of potatoes must be coated with seasoning properly.
Put the potato wedges on the tray, put them inside the oven, and cook for 35 minutes.
Spread the potato wedges on a lined baking sheet and place them in the oven.
Conclusion
These French Fries without oil are really tasty. Hope you can make them and try them out at your home. Have a nice meal!!