Weber grills are well known for their solid construction, smart design and generous warranties. If you are craving for some smoky grilling fun, then finding out the suitable Weber grill is exactly what that could meet your appetite.
But, do you find the updated versions pricey enough? Well, then there is a solution for you from Weber, as they recycle their old grills and offer you refurbished ones within an affordable price range.
So, to make things easier for you, we have come up with the 9 best refurbished weber grills reviews so that you can find out your one easily.
Top Refurbished Weber Grills by Editors' Picks
Best Refurbished Weber Grills Review
1. Weber 51010001 Q1200 Liquid Propane Grill
The very first pick in our list is a liquid propane grill from Weber that is basically a 2014 restyled version with Q 1200 instead of Q 120. It's a great sturdy grill that provides you a sleek stylish look along with great performance.
In its hardware items, you will discover sturdy rear and front cradles, bigger grip handles along with controlling knobs, ergonomically designed side handles and fold out tables on the side which are larger enough to give you ultimate cooking fun with long lasting experience.
Talking about the build quality, it's made of cast aluminum body and lid and cast iron which are porcelain enameled. Though the build material suggests that it would be a heavier package but surprisingly it's a lightweight one, ensuring portability with ease.
Coming with a stainless steel burner, it can heat almost 189 SQ inch of area by producing 8500 BTU heat every hour. If you want to have a great cooking experience then replacing one of its grates with Q 1000 series griddle would be the best decision for this refurbished grill.
If you want to cook small chicken roasts or birds, then the tall lid is there to accommodate. The large thermometer is there to help you check the inside temperature while cooking.
Due to its electric ignition you can start it very easily where the burner valve system allows you to have infinite control over it.
Whether you want to have a delicious breakfast, lunch or dinner party, this liquid propane grill is there to grill your burgers, steaks, barbeque, chops, hot dogs and much more.
Pros
Cast aluminum body provides durability
Comes with stainless steel burner for long lasting experience
Can heat up to 189 SQ inch of area with 8500 BTU
Easy electric ignition start
Cons
Not ideal for higher altitudes
Sometimes the heat escapes when the lid is open

2. Weber Jumbo Joe Charcoal Grill 18 Inch
If you are not a fan of gas grills, then welcome our next pick from Weber, which is a charcoal grill. This Jumbo Joe is almost a perfect solution for preparing a quick meal for any weekend getaway. Due to its compact size and lightweight feature, you can take it anywhere you want and cook your desired food with ease.
To allow you to have a safe and non-toxic cooking experience, the bowl and lids are coated with porcelain enamel. It doesn't even peel or rust and also helps the bowl to retain the produced heat.
Coming with heavy gauge steel, the charcoal grates won't disappoint you regarding its durability. You will also discover the tuck and carry lid lock works like a lid holder as it gets doubled to avoid lid's placement on the ground.
Worried about the temperature controlling system? Well, this portable package comes with dampers that help you to monitor and control the inner temperature of the grill. It can even hold eight burgers which are made with Weber burger press.
Moreover, this ready to go grill comes with an aluminum ash catcher so that you can easily remove the ash once you are done cooking.
Whether you are going to have a beach party or family picnic, take this portable charcoal grill with you for ultimate cooking fun and delicious meals.
Pros
Lightweight makes it easily portable, you can take it anywhere you want
Comes with porcelain enameled feature
Tuck and carry lid lock
Dampers help you to control the inside temperature
Cons
The lid is not tall enough to cook much food
Hard to adjust the bottom vent due to its smaller size

3. Weber Original Kettle Premium Charcoal Grill
Are you looking for some bigger grilling options to meet your friends and family needs? Then, say hello to our next pick from Weber, which is 22 inch in size and can hold up to 13 burgers made with burger press.
This kettle like charcoal grill is full of upgraded features to make your cooking experience like a breeze. Coming with a porcelain enameled bowl and lid, it ensures to retain the heat and give you rust and peele free experience for years.
Do you want to move your charcoal grill here and there in your backyard for cooking needs? If yes, then the durable wheels are there for this very purpose and they also help to withstand the attached elements.
Talking about the ease of use, it's pretty easy to arrange the charcoal on its fuel grate due to its hinged system. You don't even need to open the lid to control the temperature inside, you can do that easily just by adjusting the dampers.
For a convenient cooking experience, there comes an angled lid hook that helps to hang the lid on the side of your grill so that you don't have to place it on the ground. They have also added a heat shield to prevent the lid from excessive heat.
Worried about cleaning hassles? Worry no more, as its one touch cleaning setup allows you to clean the charcoal debris and ash with ease with its ash catcher.
Moreover, you can even hang necessary grilling tools on its hooks for easy access whenever you want them to use. You can invest your bucks for this compact grilling buddy without a doubt.
Pros
Porcelain enameled bowl and lid
One touch cleaning system
Easy temperature adjustment through dampers
Comes with heat shields
Cons
Not easy to assemble
Build quality is not satisfactory compared to its price

4. Weber Spirit II E-310 3-Burner Liquid Propane Grill
The next we have a liquid propane grill that comes with a GS4 grilling system to give you ultimate cooking fun. GS4 grilling system means a perfect combination of powerful burners, infinite ignition, grease management and glamorizer bars. These components are there to ensure an easy and reliable grilling experience to you.
Talking about the space, this big boy can offer you 529 square inches of big space for cooking where you can use 3 burners. Again, with the help of fuel gauge, the main burners can heat up to 30000 BTU every hour so that you can cook a big meal comfortably within a short amount of time.
This Weber grill comes with an open cart design where you can hang six different tools on its six hooks. You will also discover two large wheels for easy movement of your grill in the backyard. To keep your burgers, bun or toasts warm, they have featured warming racks as well.
The cooking grates are made of cast iron and even porcelain enameled to make sure you have a great grilling experience for years. If you want to cook delicate shrimp or fish type foods, then the thin side of the grate is ideal for this very purpose. On the other hand, the thick part helps you to enhance the flavor of your food.
If you want to have extra room and space while preparing your meal, then you can easily fold down the side tables for this very reason. To let you know how much fuel is left in your LP gas tank, there comes an easy to read fuel gauge too.
Pros
Can heat up to 30000 BTU per hour
Comes with GS4 grilling system
Cast iron made cooking grates, porcelain enameled
Warming rack keeps your food warm
Cons
The grill bars are not of standard quality
Not that easy to assemble

5. Weber 14501001 Master-Touch 22 Inch Charcoal Grill
Coming back with another charcoal grill from Weber, this time it's a 22 inch package where things are quite similar to the number 3 option of our list with some noticeable exceptions.
The specialty of this product is, it gives you expanded grilling possibilities to give you diversity in taste. The hinged grates help you to add charcoal while cooking and it's quite easy to organize charcoal for indirect or direct grilling.
You can also replace the circular grate insert with poultry roaster, pizza stone, griddle or any form of BBQ System inserts. So in this way, you are allowed to expand your cooking experiment on foods that not many other grills can even offer.
This steel made grill can hold up to 13 burgers, which are made with burger press. It can cover up to 443 square inches of cooking area so that you can cook a family meal without even a worry. The lid can be placed conveniently on the side when needed, so you don't have to place it on the ground.
To save your food from being overcooked or undercooked, there comes a default lid thermometer through which you can see the inside temperature on its display. As well as, you can easily control the temperature by adjusting the dampers. The heat shields protect your lid handle from excessive heat and thus ensures safe cooking.
This master touch Weber grill comes with a convenient cleaning system. Get rid of charcoal ash and debris easily by using the removable ash catcher.
Pros
Comes with expanded cooking possibilities
One touch cleaning system
Heat control with precision
Convenient placement of the lid
Cons
Grates don't fit well against the sides
The build quality is not strong enough compared to other options

6. Weber Genesis II S-335 3-Burner Liquid Propane Grill
To give you a perfectly grilled meal, here comes our next pick from Weber, Genesis II S-335. It's a premium package, which is made of solid stainless steel to provide you high end heat retention along with long lasting experience.
This LP grill is equipped with a GS4 special grilling system for high performance output. Each and every component of this system is designed in a unique way that it ensures top class grilling satisfaction with ease.
Having sear marks on your grilled meat, is a sign of cooking satisfaction. Genesis II S-335 offers you a sear station that originates an intense level of heating for quick sear marks. With the infinite control of its burner valves, you can simmer barbecue sauce and veggies by using the side burner.
This big brother from Weber series can cover up to 669 square inches of area in total while grilling your favorite dishes. To keep your cooked food warm, there comes a warming rack which is almost 156 square inches in size.
You will discover enclosed storage space on the grill cabinet to store all of your essential grilling tools and accessories. The grates can also be folded down for easy storage when they are not used.
For a convenient experience, you can keep your seasonings, platters and other tools within your arm's reach on the given side tables. Moreover, you can also hang necessary cooking tools on the hooks for accessing them easily whenever you need.
If you are a tech enthusiast, then you will definitely love using the iGrill 3 app, as it will show you the on-going temperature on your phone while grilling.
Pros
Made of stainless steel, ensures premium build quality
Big enough to cook a whole friends or family party
Comes with GS4 grilling system
Easy temperature monitoring system through mobile app
Cons
Overpriced compared to its quality
Packed with some useless, unnecessary features

7. Weber Spirit E-310 Liquid Propane Gas Grill
Entertain your family or small crowd of friends with this LP gas grill from Weber, which is an ideal choice to bring diversity in your taste. Spirit E-310 comes with cast iron grilling grates which are porcelain enameled, ensuring best experience regarding taste and durability.
Not only the grates, but also the lid and the flavorizer bars are porcelain enameled too. That means you can enjoy scratch, rust and peele free heavy duty service for years due to this coating. The side tables are made of stainless steel so that you don't have to worry about the build quality at all.
For your ultimate convenience and ease of use, the ignition system is designed to have an electronic crossover system. Moreover, the burner valves are there to give you infinite control while operating the grill.
Talking about the grilling space, it can cover up to 529 square inches of area for heating up to 32000 BTU per hour. This stat is enough to understand, it's almost a big grill to cook a large family meal.
Worried about placing necessary tools and cooking accessories? Well, the side tables are there to take this burden, as you can easily keep ingredients, trays on them. There are 6 hooks to hang your stuff comfortably so that you find them within arm's reach whenever you need them.
To monitor the temperature inside of the grill, there comes a built in lid thermometer. You can cook your favorite form of burger, steaks, nachos, luscious cake and even chocolate fondue perfectly in this compact spirit grill.
Pros
Porcelain enameled lid, grates and flavorizer bars
The ignition system comes with electronic crossover
Can heat up to 32000 BTU per hour
Side tables and hooks help to place necessary tools and accessorie
Cons
The grates are bit difficult to clean
The heating capacity is not up to the mark

8. Weber Go-Anywhere Charcoal Grill
From the name, you can easily assume it's a portable charcoal grill that you can carry with you wherever you go. If you have to spend most of your time somewhere else other than your home, then this ready to go grill can bring home like a grilling taste anytime you want.
To make it portable, they have added lid locks with it and it weighs only 6.59 kg. This is the only grill that is designed in a rectangular shape that makes it a perfect for most cars' back side.
Though it's a smaller version of Weber grill, it comes with durable cast iron porcelain enameled build material. You don't have to worry about rust or peel, rather your grill will ensure retaining heat while grilling. Moreover, the cooking grates are made of long lasting plated steel for durable experience.
This compact package can hold six Weber pressed burgers and can cover up to 160 square inches of cooking area. It's enough to feed a single buddy or 2 individuals at most with this portable grill in the middle of a long road trip.
How to control the inside temperature in this little boy? Well, there are dampers through which you can easily control the heat inside of your grill. To ease your grilling experience, there comes plated steel legs and built in hangers so that you can keep the lid just by the side of your grill that will prevent wind from hitting the grill.
Once you are done grilling, it's quite easy to clean the steel grates for the next round all of a sudden.
Pros
Lightweight grill makes it easily portable
Comes with porcelain enameled cast iron material
Grates are made of steel, easy to clean after every use
Dampers are there to control the inside temperature
Cons
Not suitable for a big meal
Lacks enough safety concern

9. Weber Smokey Joe 14-Inch Portable Grill
So, we have come down to the last pick of our best weber grills list and we are ending it with another portable option. Smokey Joe is a small 14 inch grill that is lightweight to carry so that you can take it anywhere you want. This grilling on the go package can hold 5 burgers at most which are made with Weber press.
Like most other options, this one is also equipped with porcelain enameled bowls and lid. This coating helps to retain heat and it doesn't bring rust or peel to it. To place it on the ground perfectly, there comes 3 legs which are made of aluminum. Even the ash catcher is made of aluminum to give you a durable experience for long.
Want to have a great taste of grilled steak or meat? Put some charcoal into it and add the meat on the plated steel grilling grate and taste the magic after a while. Aluminum vents help to control the air flow and a nylon handle protects your hands from being harmed by excessive heat.
There are so many other options which are not easy to assemble and clean. This one from Weber is quite the opposite, as it comes with an easy assembly and cleaning system. You can use the dampers to monitor the inside temperature of the grill while cooking with ease.
Make it your travel partner while you hang out with friends or go on a road trip. It's a comfortable choice to cook chops, steaks, chicken or even vegetables on the go.
Pros
Lightweight, easy to carry
Porcelain enameled coating for long lasting service
Easily assembled setup
Comes with easy cleaning system
Cons
Needs frequent monitoring that make it tiresome
Doesn't come with side handles

Refurbished Weber Grills Buying Guide
Before you hit the market to buy a suitable Weber grill for your grilling needs, there are some key considerable factors that you must focus on.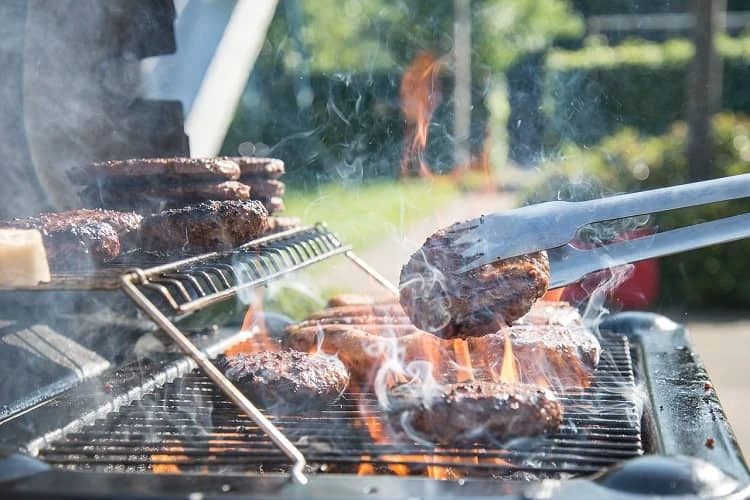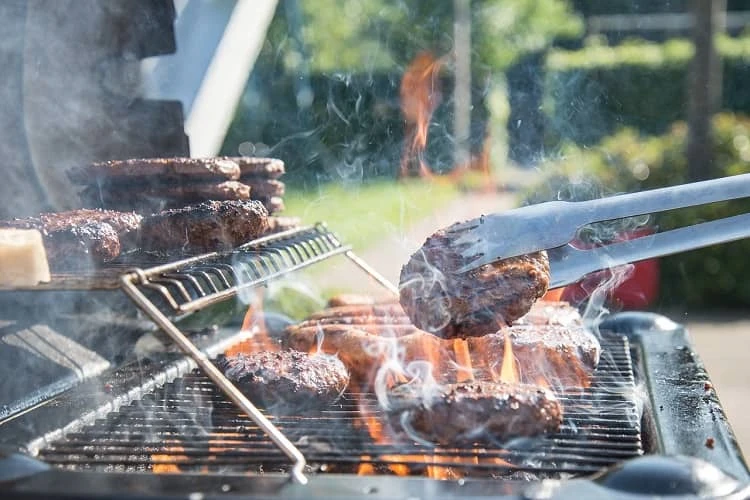 Type of Grill
There are basically two types of Weber grills- charcoal grills and liquid propane gas grills. First of all, you need to fix which type you are willing to buy.
If you want smoky, rich flavor in a slow paced grill, then buying a charcoal grill would be a great choice. As well as, charcoal grills are mostly smaller in size and their lightweight features allow you to take them out wherever you go.
On the other hand, if you are looking for something more durable and want to cook a large family or friends' meal, then gas grills are better to pick.
Cooking System
Once you have decided the type, the very next thing that matters a lot is the cooking system of your grill. If it's a charcoal one, then it's great to have heavy duty, sturdy, plated steel grilling and charcoal grates.
On the contrary, gas grills should have extra burners for greater heat control. Whether it's a charcoal grill or gas one, all must have an easy cleaning system. Ash collection system should be convenient enough for you to always make it ready for the next go.
The best signs of a great cooking system is creating flavored smoke, removing flare ups and quick flashing of the drippings.
Build Quality
Weber is well known for its generous warranties up to 10 years. So, it's easy to assume that they don't compromise when it comes to construction quality. If you want to check the strength of the product, then just shake it a bit. A durable and solid option will feel sturdy and solid when you do so.
On the other hand, a poorly built grill will feel flimsy or loose and even wiggle unevenly. The components will get rusty and fall apart quickly. So, you need to make sure that your desired grill is strongly built.
Assembly
A lot of users complain about the difficult assembly system of their grill. If a grill needs to be assembled, investing hours, then it doesn't worth the money. It's always better to buy the one that eliminates the assembly time and not that complex to do so.
Warranty and Service
A grill is not something you buy every second year. Before purchasing one, make sure it comes with a generous warranty and the customer service is satisfactory.
Weber Grill vs Char Broil
Weber and Char Broil both do manufacture grills but when it comes to products quality, durability and price, they differ a lot.
Weber is well known for manufacturing comparatively expensive, durable and efficient grills. On the other hand, Char Broil is mostly dedicated to offering budget friendly grills for those who can't afford pricey ones.
Weber doesn't only make gas grills but also they manufacture charcoal grills. Though their products are pricey enough, they offer 10 years of warranty with most of their products. They come up with grills that are simple and basic in their features for those who want to just start their grilling journey.
If someone needs high quality and premium grills with super extensive features, then their advanced models are there to meet such needs. People with experience and much expectation won't be disappointed with the premium models of Weber as they are providing such products for decades after decades with trust.
Char Broil is a well-known brand for those who look for grilling fun within a limited budget. They make different types of grills and smokers for their customers. But as you know, 'the lesser the price, the lesser the quality'.
When you buy a gas grill from Char Broil, you need to keep in mind that it's not going to last long more than a few seasons. Don't expect to last it for 8-10 years like Weber ones. As they offer you budget friendly grills, you won't find much interesting features in their products.
So, if you have a tight budget and you don't have a problem accepting less durable experience then Char Broil would be at least a decent investment in this regard. But, if you don't want to compromise with the quality and durability, then spending some extra bucks would be a great investment of your money.
Final Words for Weber Grill Buyers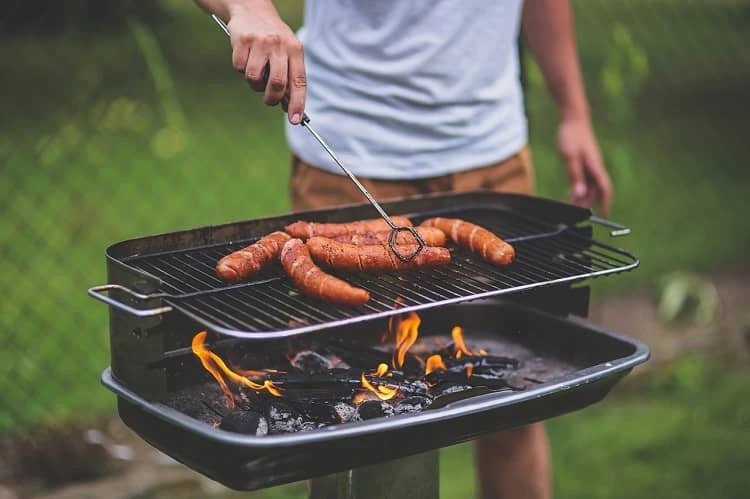 After a boring and tiresome week, when you are urging for some weekend grilling fun, Weber grills are there to bring some good taste in your mouth. Refurbished Weber grills mean they will be comparatively cheaper and environment friendly as they had to go through the recycling process.
We hope this review about the 9 best refurbished weber grills will help you decide the right pick for you to enjoy the ultimate grilling fun.