Lodge make two types of cast iron dutch ovens: porcelain enamel dutch ovens that are designed to be used in a kitchen, and camp dutch ovens designed to be used outdoors on a camp fire. We look at both on this page.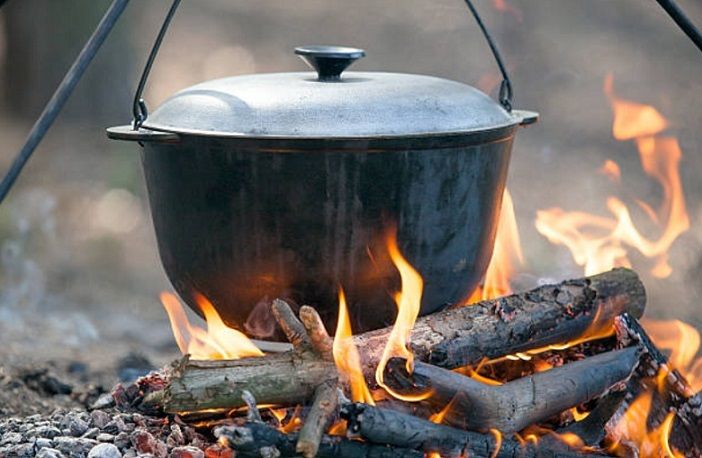 Lodge Porcelain Enamel Dutch Ovens
The enamel dutch ovens, like the one in the picture left, are made of cast iron, and then enamelled with two coats, both inside and outside. The first coat of enamel is black (and the rim of the base pan shows the black enamel at the edges), and then the outer coat of enamel is in primary colors (red, blue, green), while the inside of the oven is enamelled in cream.
They are heavy duty, being cast iron, and come with two enamelled handles to help you lift the oven easily. These enamelled dutch ovens (or casserole dishes as they are sometimes called) are safe in the oven to 400F, and also safe in the fridge and freezer and can also be used for stove top cooking. Because they are designed for kitchen cooking, do not use them on open flames outside.
The enamel is stain resistant and easy to clean (they recommend hand washing), and you can make all manner of dishes in them (stews, casseroles, soups and so on).
The Lodge enamel dutch ovens are made in China (unlike their camp dutch ovens – see below). They come in a number of different sizes from 3 quarts to 7.5 quarts, and have a limited lifetime warranty.
Lodge Camp Dutch Ovens
The Lodge camping dutch oven is the classic old-fashioned cast iron pot used on camping trips for outdoor cooking. It comes with a wire loop handle (the bail) that you can use to hang the cooking pot over a camp fire, or to lift it away from heated coals.
The lid is recessed, which means you can heap hot coals on top of it, to help it to cook faster. It also has three small tripod feet, so you can stand it on a small fire too. The point of the legs is that you can slide heated coals under the lodge oven using a shovel, to keep it hot.
Is it any good? Yes! You can cook a simple but delicious meal in one of these. For campers, this is the best camp dutch oven you can get. (Note that though you can cook acidic food like tomatoes in your cast iron lodge oven – unlike aluminum, cast-iron can take it – the acid eats away at the seasoning that protects the pot- so my recommendation is to leave the acidic foods at home and use the enamelled pot (see top of the page) to cook them in your kitchen).
It comes pre seasoned, so you can use it out of the box, and to maintain all you need to do is rub it with olive oil after you have hand washed and dried it. Even if you don't go camping, cooking outdoors on a patio in a dutch oven makes a nice alternative to barbecues.