Meat in and of itself doesn't really taste good. Regardless of kind, it will not give you that juicy goodness unless infused with delicious marinade. If you're only dealing with thin meat, it's easy to just marinade the outer portion and be done with it. But what if you're dealing with thicker slices?
For large chunks of meat, professional chefs rely on the best meat injector. This is the secret to reaching those hard to reach parts with marinade goodness. Without it, the meat will remain bland. So if you're planning to bake, grill, rotisserie an entire chicken or a huge slab of meat, make sure to infuse it your best marinade using the best meat injector.
Our Favorite Meat Injector
Top Meat Injectors by Editors' Picks
My Top 7 Meat Injector Picks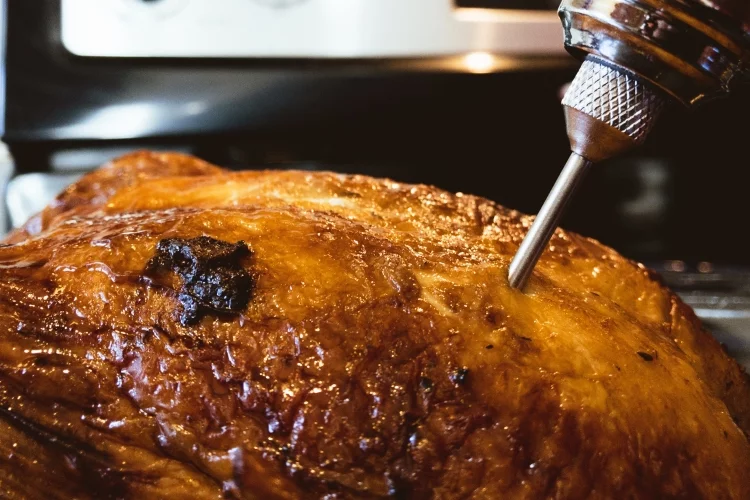 With all of the above taken into consideration, here are my top 7 meat injector picks. This list will make it easier for you to decide and wade out all the brands of meat injectors that are not as effective in infusing flavor to your meat.
1. Chop's Power Injector System 1/2 Gallon
Although I warned about over killing the meat with your marinade, the Chop's Power Injector System 1/2 Gallon is the perfect choice if you own a restaurant or a caterer who is looking at huge preparations.
This will help a lot in your meat preparation because you don't have to refill it often.It features a half gallon food-safe jug, a hose and an injector head with four closed tip needles. The flow of infusion is controlled through the trigger. Since it uses a 14-gauge needle, it can have undissolved particles like pepper and garlic.
It also comes with protective covers so that the needles are not exposed. If you don't want to use the other needles, like when you're just making a small preparation, it also comes with three plug screws to cover the unused ones. If you need to use plastic needles, it also comes with 2 plastic need adapters.
Pros
Large capacity, no need to refill constantly
Four needles working at the same time
Highly controllable infusion flow
Can be used with one needle for smaller preps
Cons
2. SpitJack Magnum
When the need to force a good amount of marinade into the meat arises, you can't go wrong with SpitJack Magnum. This injector makes it so easy, you don't need a great amount of strength to infuse the deeper parts of the meat with marinade goodness.
Thanks to its pistol-style handle and smooth spring mechanism, you won't experience muscle strain and soreness even after a huge meat prepping. Added to that, the grip is also coated with rubber for additional comfort.
This injector come with 4 commercial grade needles at different gauges and it has 2-ounce capacity which you can easily adjust through a dial. When the need arises, all you need to do is interchange the needle to fit the texture of the marinade.
Pros
It now comes with 3 custom cleaning brushes
Made in the USA
Comes with 1-year guarantee on parts and services
Cons
The capacity is too small for huge preparation
3. Grill Beast 304 Stainless Steel Meat Injector Kit
Made from food-grade stainless steel, the Grill Beast 304 Stainless Steel Meat Injector Kit looks great out of the packaging. It comes with two types of needles that you can interchange depending on your needs. It also comes with a recipe e-book that is replete with ideas on how to make your food extra delectable.
Despite the fact that this injector is so affordable, it comes with 100% money back guarantee and lifetime warranty. This tells me that this is the injector for repeated use.
Because it's so affordable and small enough to store anywhere, it's actually good to have a lot of this gadget in your kitchen for a variety of tasks, not just meat injection. With its 2-ounce capacity, you can use it to infuse fillings to strawberries or fill small cakes with ganache.
Pros
Made from 304 food-grade stainless steel
Versatile, it comes with 3 needles for various marinade textures
The 3-ring plunger is a simple but effective design
Cons
The plunger is not as durable as the rest of the injector materials
4. Premiala Awesome Meat Injector
Another injector that is easy to love is the Premiala Awesome Meat Injector. It's sleek but effective design coupled with the fact that it is made from 304 stainless steel makes it ideal for meat usage.It comes with 3 needles of different gauges but the widest seems too wide for my tastes. But if you will use it for thickly textured marinade solutions, it is the perfect size.
The plunger follows the true and tested design of using 3 rings for efficiency and convenience. It also comes with an extra silicon o-ring as replacement and it is backed with solid warranty.
Although this is common among meat injectors these days, it comes with an e-book which serves as a guide for its operation and a bunch of other recipes to get you started with you infusion journey.
Pros
Comes with 3 needles for thick and thin marinades
Made from food-grade stainless to ensure safety and hygiene
Covered by lifetime guarantee from manufacturer
Cons
The larger needle is too large
The plunger is too stiff to operate
5. Bayou Classic 5011
For an affordable yet reliable home solution to meat infusion, the Bayou Classic 5011 won't disappoint. It is suitable for culinary experts who want a cheap meat injector to grab when the situation calls for it. It will be a handy staple to use when you need to extend your stay at the kitchen.For the newbie, this is also a nice affordable tool to have especially when you don't have too much money to spare on an injector.
The 2-ounce capacity is perfect for this type of purpose. It comes with two needles, a liquid marinade and a mince marinade needle, which is a bit limiting but for a handy device, this is sufficient.
Make sure to insert the nozzle past the piercing to ensure that the marinade is absorbed by the meat. If not, the marinade will just bleed out of the meat.
Pros
Easy to clean
Comes with extra washers
Needles are sharp enough for any meat type
Cons
Two needles can be limiting
6. Mercier Steel Injector
Another handy 2-ounce meat injector option is the Mercier Steel Injector. Deeply infusing chicken, brisket, goose, pork, turkey, lamb, and duck is easy because this meat injector is so easy to fill. The needles are sharp puncturing the toughest meat is like child's play.
Made from 304 stainless steel, you can be sure that handling food is safe and hygienic. The 2 ounces is just the right barrel capacity for home use and even for more precise professional marinating purposes. It will prevent you from getting to excited with your infusion.
This meat injector is designed for easy disassembly and cleaning. It is also dishwasher safe, you don't have to sweat it out when cleaning the thing.
What is more amazing is that the manufacturer offers a full refund in case you are dissatisfied with their product and there is no time limit for return.
Pros
The needles come in 3 different gauges
It can accommodate fine solids
The 3-ring plunger is proven efficient
Cons
Plunger is stiff to use and did not improve over time
7. Luxe Grill Stainless Steel Meat Injector Kit
For a really simple, really affordable yet efficient meat injector, you can't go wrong with Luxe Grill Stainless Steel Meat Injector Kit. It is suitable for the minimalist cook who just wants something simple that works all the time.
This is one of the cheapest meat injectors in the market today and if you just want something you can use without spending too much, this is the one I'd recommend. It doesn't come with any accessory, but it's no nonsense approach is its strength.
The way this thing is made will tell you right out of the bat that this is a quality injector. It comes with two needles while others come with three, but it is suitable for a wide range of marinades.
Pros
This injector is obviously made to last
Easy to clean
Comes with a lifetime money back guarantee
Cons
The Benefits of Injecting Meat
If you want to deliver flavor at the surface of the meat, you can either rub, mop, brine or marinate it. But if you want to go deeper, there is no going around a meat injector. The good news is, this simple gadget opens up new possibilities: you can infuse syrup into ice-cream, jam into donuts, or melted butter into squash.
Also known as enhancing in professional circles, injecting is the surefire way to deliver flavor into the deepest parts of the meat. This is also the fastest delivery system-no more waiting for hours to allow flavors and spices to penetrate the meat.
You also don't need to worry about putting too much salt. You have tasted your marinade before injecting so you already how it taste like. You don't have to worry about running out of refrigerator space or if you lack huge containers-all of this can be done in the last minute. Here are more benefits of a meat injector
Allows the flavor to penetrate the meat
The idea behind marinating is that the longer the meat stays in the solution, the deeper it penetrates the meat. Unfortunately, that is not always the case and there are times that the marinade solution does not even penetrate the center of the meat.
With the use of a meat injector, your solution gets where you want it to go. All you need to do is trust the needle to the portion of the meat where you want your marinade solution and it stays there.
Regulates the moisture of the meat
One of the trickiest part of cooking, particularly broiling and roasting, is moisture retention. Several methods and hacks have been put forward by cooks and chefs throughout the centuries like bagging the meat or basting just so that moisture doesn't escape. The meat injector puts moisture where you want it to be and this has been a lifesaver for meat that easily dries out.
Convenient and effective alternative to marinating
There is no rocket science behind this. All you need to do is inject the flavor or moisture where you want it. You don't need to waste your time waiting for the marinade to penetrate your meat. With a meat injector, you save time and even the sauce that you use will be used efficiently because none of it will be wasted.
Versatile and works with food other than meet
The limit to its use is just your creativity. A lot of those who bought meat injectors use it to infuse flavor to impossible to reach areas of the food. Injecting wine in fruits is easy, as well as injecting fudge into cakes. The possibilities are endless, all you need to do is let your mind work
How to Choose the Meat Injector
While there are a lot f competing brands out there, you can choose your injector not based on their popularity but on their features. You can maximize its use based on these factors:
CAPACITY OF THE CONTAINER
SIZE OF THE NEEDLE
EASE OF CLEANING
The typical tendency is to pick injectors with larger capacity because we normally believe that bigger is always better. But this is not necessarily the case of an injector. If you would normally cook smaller chunks of meat, choose a smaller injector to avoid over killing the meat with flavor.
If you frequently deal with larger meat cuts, this is where a large capacity injector comes in. This will prevent you from constantly refilling and you get to finish your work faster.
Final Thoughts for Meat Injector Buyers

The clear winner for me in this review is the Chop's Power Injector System 1/2 Gallon. While I warned about getting too excited with infusing your meat, the injector comes with enough safeguards against that. You can limit the amount of marinade per infusion, you can also replace the needles with just one if you need to.
But if you need something big for bigger preparation, this is the meat injector that you will turn to. The half gallon is just the right capacity if you don't want to keep on refilling your injector.
If you're not ready for a bigger investment but wants something that just works, the Luxe Grill Stainless Steel Meat Injector Kit is the perfect option. Its no-nonsense approach just works, and in spite of the fact that it doesn't come with accessories, this injector is sufficient for a majority of home use.
Do you have a meat injector? We would like to hear from you so don't hesitate to share your comment in the section below.
Buy on Walmart
The SpitJack Magnum Meat Injector Gun - Complete Kit with Case - Walmart Link
J&B Goods Professional Automatic BBQ Meat Marinade Injector Gun Kit with Case, 2 oz Large - Walmart Link
UikieGo 2oz Heavy duty 304 Stainless Steel Meat Marinade Injector Include User Manual - Walmart Link
Chop's Power Meat Injector System 1/2 Gallon - Walmart Link
Norpro Deluxe Stainless Steel Baster with Injector and Cleaning Brush - Walmart Link
Ofargo Plastic Marinade Injector Syringe with Screw-on Meat Needle for BBQ Grill, 1-oz, - Walmart Link
OXO Good Grips Flavor Injector for Meat & Poultry - Walmart Link
JY COOKMENT Meat Injector Syringe 2-oz Marinade Flavor Barrel 304 Stainless Steel with 3 - Walmart Link
Cave Tools 2.3-oz Stainless Steel Meat Tenderizer Injection Syringe Kit with 3 Precision - Walmart Link
Buy on eBay
The SpitJack Magnum Meat Injector Gun - Complete Kit with Case - eBay Link
J&B Goods Professional Automatic BBQ Meat Marinade Injector Gun Kit with Case, 2 oz Large - eBay Link
UikieGo 2oz Heavy duty 304 Stainless Steel Meat Marinade Injector Include User Manual - eBay Link
Chop's Power Meat Injector System 1/2 Gallon - eBay Link
Norpro Deluxe Stainless Steel Baster with Injector and Cleaning Brush - eBay Link
Ofargo Plastic Marinade Injector Syringe with Screw-on Meat Needle for BBQ Grill, 1-oz, - eBay Link
OXO Good Grips Flavor Injector for Meat & Poultry - eBay Link
JY COOKMENT Meat Injector Syringe 2-oz Marinade Flavor Barrel 304 Stainless Steel with 3 - eBay Link
Cave Tools 2.3-oz Stainless Steel Meat Tenderizer Injection Syringe Kit with 3 Precision - eBay Link