The crape making tool has an optimal size to make it easier in use. Thanks to the grip holding and controlling the tool is very simple. You don't need any force to spread crape batter, so using crape spreading tool is comfortable and pleasurable.
So if you adore pancakes you should make your private and professional crape tool kit - start from crape spreading tool.
Editors' Picks for Crepe Makers
Now you can easily cook the perfect paper-thin crepe in your own kitchen without the mess, right from the first try. Simply plug in the crepe machine in an outlet, let the cooking surface heat up, add a thin layer of batter and watch it cook in seconds.
Two Basic Types of Electric Crepe Pan or Crepe Griddle

The electric crepe maker, also known as electric crepe pan or crepe griddle, comes in two basic types: the DIP, FLIP AND COOK STYLE and the SKILLET STYLE.
Dip, Flip and Cook Style
This style is ideal for the home cook. The unit needs to be light weight and smaller in size for ease of use so these makers usually make crepes 7.5" in diameter. They are less powerful and some models are cordless but the convenience and the even cooking make up for the size. The user dips the the hot non stick cooking surface in the batter mix and a thin layer of batter sticks to the cooking surface. Then just flip it over and peel off the crepe after it is done cooking.
Skillet Style
The skillet style crepe machine is often larger (12" to 15" in diameter) and requires the use of a spreader to evenly distribute the batter over the cooking surface and a turner tool or spatula to flip the crepe. The crepe spreader tool requires a bit of getting used to but once mastered you will be able to create those paper-thin crepes that you crave for. Another benefit of the skillet style crepe griddle is that it offers more power to cook crepes in quicker cooking times. Depending on the model, the cooking surface can be cast iron, stainless steel or non stick die cast aluminum. For the professional crepe machines you have the option of either gas powered or electric.
Top 10 Best Crepe Maker Reviews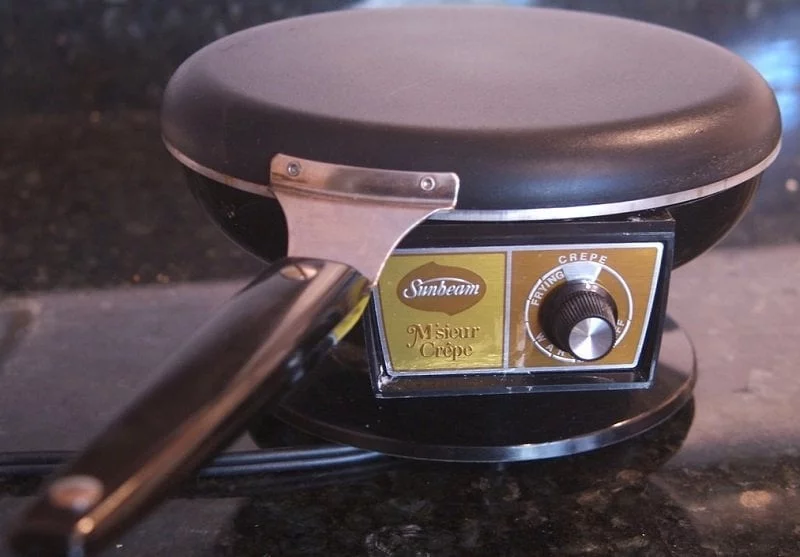 1. Cuisinart Chef's Classic Hard-Anodized Crepe Pan Review
The problem with most crepe pans that claim that they utilize non-stick technology is that oftentimes, the technology does not hold up. This is especially true the longer and longer the pan gets used. After only using it a few times, you'll find yourself needing to use cooking spray and this can be troublesome.
What sets Cuisinart's pan apart from others that claim that they have non-stick technology is that the interior is made of quantanium. Quantanium is a material that separates the molecules of substances that stick when heated intensely. Other non-stick surfaces just loosen them.
Another thing that makes Cuisinart's pan apart from others is the fact that although the handle is made of stainless steel, it will not heat up, making it much safer to pick up after cooking. While most other crepe pan handles are hot to the touch even with an oven mitt, Cuisinart's is not like this. If you wear an oven mitt when picking it up, you will not feel any heat at all.
Although Cuisinart's pan can withstand temperatures up to 500 degrees, it will not withstand any temperatures hotter than that. This means if you are looking for a crepe pan that is compatible with an inductor, you'll need to look elsewhere.
Pros
Nonporous and hard wearing
Sturdy stainless steel handle is cool to touch while cooking
Tapered rim for mess free pouring
Easy to clean quantanium interior with titanium coating
Oven safe up to 500° F
Cons

2. CucinaPro Crepe Maker Review
One of the best things about kitchen appliances, tools, and utensils is that technology is always making things much more convenient. While it is still very common to set a pan over an oven burner to cook things, the advent of electric pans are fast becoming a replacement for this.
CucinaPro's pan is reflective of this, as it is indeed an electric pan. Making something delicate such as a crepe or a blintz can be difficult with a traditional pan. CucinaPro's pan makes this much easier. It is also possible to fry meat or eggs with CucinaPro's electric pan. Even simple pastries such as pancakes can be made with CucinaPro's pan, as it also acts as a griddle.
If you need to spread something, CucinaPro's pan has you covered, as it also contains a spreader. This is useful in case you do not have a spreader or have lost one.
Cleaning CucinaPro's electric pan is not easy. While it is possible to wipe it clean, it will often take a lot more effort to wipe the pan clean. This is because things can stick to the pan. There are some non-stick elements to CucinaPro's pan, but they are not as strong as other traditional non-stick frying pans.