For all of us kitchen samurais, there is no favorite katana other than the butcher's knife. While we don't actually wield a real sword-that would be cumbersome in the when slicing meat-the good old butcher knife is a must have and without it, you are almost useless.
The butcher knife looks like a scimitar and it's designed to hack on thick meat because it's heavy and wouldn't require a lot of strength for it to penetrate. The curved end of the blade allows you to cut with slicing motion allowing for more precise meat sculpture.
Good quality butcher knife is made of carbon steel because it holds the edge better than stainless. But stainless also have the advantage of being clean and easy to sharpen. It doesn't discolor the meat or any ingredient you're cutting.
Those who are looking for quality blades would opt for forged steel rather than stamped because it tends to be stronger and sturdier, giving you the confidence that it won't break when cutting through bones and cartilage.
Top Butcher Knives by Editors
What to Look For in a Butcher Knife?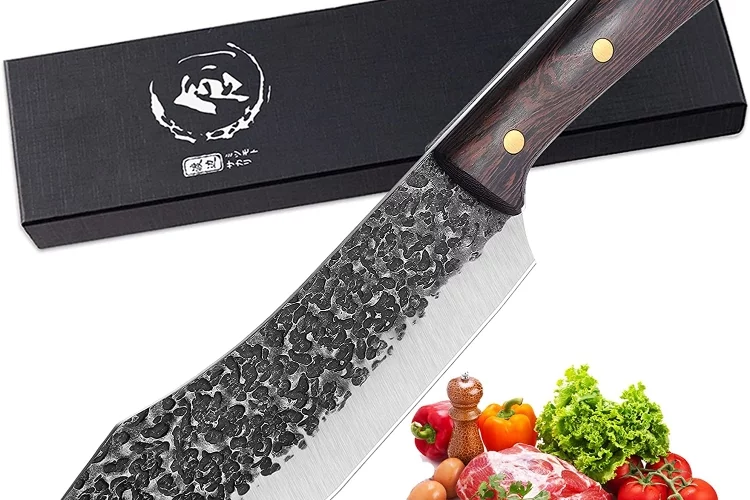 Before you take one to the counter, make sure you inspect it properly. With so many brands claiming to be of good quality, it's easy to pick the wrong one and regret the decision later. Here are some things to look at.
Material
Different manufacturers use different materials in making their knives. This is true not only for a butcher knife, but also with all other blades out there in the market. The best blades are made of steel and there are basically three types of steel that they use:
420HC-This is your garden variety stainless steel knife. It can serve all cutting purposes but it's not the strongest of blades. It doesn't corrode and it's easy to clean and sharpen.
440C-This is stronger than 420HC and this is also a common material used to make knives. Just like the 420HC, this can also serve most cutting purposes and it won't corrode. Due to its hardness, this is a bit difficult to sharpen but it also holds the edge better than 420HC.
VG-10-This is what top quality butcher knives are made of. It holds the edge longer, it doesn't corrode and it doesn't shy away even if you cut through bones and cartilage.
Handle
There are three materials used for knife handles: steel, wood and plastic.
Steel-Due to its weight, it provides better balance and stability. It's also clean because bacteria can't propagate on steel. The only caveat about steel is that it's not as comfortable to use compared to wood and plastic.
Wood-This material has been used for centuries as knife handle and it's comfortable to use. There however a couple of caveats that health professionals warn us about wood as knife handle. First, it's a good breeding ground for bacteria which can potentially cause health problems. Second, wood rots particularly if it's contentiously wet. It's therefore not as strong as steel and plastic.
Plastic-It has gained popularity nowadays because it's abundant and highly advantageous for most purposes. It's light, comfortable to use and would last for long periods of time. On top of that, it's easy to clean and it doesn't rot making it an unsuitable breeding ground for bacteria.
Blade
There are two types of kitchen knife blades: stamped and forged. For most purposes, the stamped knives would do the task. It's cheaper because it's easier to manufacture. Forged knives, on the other hand, are a little bit more expensive and for a good reason.
First, it's stronger and more suitable for cutting through harder materials like bones because it has larger and heavier blades. It has a bolster which allows for better balance and handling. If you're looking for better blades, forged steel is the better choice.
Edge Retention
Edge retention is how long a knife can stay sharp after extended period of use and abuse. This is the area which carbon steel blades reign supreme. If you don't want to sharpen your knife often, you better opt for carbon steel.
Rust Resistance
Most quality butcher knives are rust resistance so I will not belabor this point. I just want to emphasize that carbon steel is still the king when it comes to corrosion resistance.
Slip Resistance
Most plastic handles are designed to be slip resistant because it can be molded into whatever design. Some even have contoured designs that allow for better grip. Wood handles are naturally porous making it the most slip resistant of all the handle materials. Steel is at a disadvantage here because it tends to be slippery particularly when your hands are greasy.
Comfort
Closely related to slip resistance is the comfort of the grip. Well designed grips would seem to make the knife an extension of your hands. It just fits. This is important because if you're making huge food preparation, you will be holding the knife for an extended period.
If it doesn't provide optimum handling comfort, you could end up having blisters before you finish your work.
Hardness vs flexibility
Blades are either hard or flexible. If you're just starting out in your journey as a chef, it's good to opt for a harder blade because it's easy to control. On the other hand, if you're past the newbie stage, you better opt for the more flexible blades because it allows for sophistication with your cuts.
Be careful though, it can be a bit difficult to control and overly flexible blades can potentially injure its wielder.
Top 10 Butchers Knife Reviews
With all these features in mind, let's take a look at the best butcher knives in the market today. My choices came after hours and hours of using these knives in my own kitchen and I believe these are really quality knives.
1. Dalstrong Boning Knife: The Shogun Series
When it comes to cutting power, the Dalstrong Boning Knife is on top of my list. It sports a handle that is made from ultra-premium G-10 military grade materials and its immune to moisture, heat and cold. The blade itself is made from VG-10 forged carbon steel which holds the edge like Valyrian sword. It boasts a 62+ hardness based on the Rockwell standard and 66 layers of carbon steel repeatedly folded for exceptional hardness and durability.
The knife has a bolster that provides perfect balance and a tapered blade perfect for de-boning, skinning, filleting, trimming and cutting your meats close to the bones.
The thing that made me so confident about this knife is that the manufacturer gives it 100% money back guarantee and a lifetime warranty against defect.
Pros
Made of carbon steel
Rated 62+ hardness based on Rockwell standard
VG-10 steel which holds the edge really well
G-10 handle is really sturdy
Cons
Six inches is a bit short for really huge preparations
The one I got needs a little refinement at the tip

2. Victorinox 10-Inch Curved Breaking Knife
The name Victorinox is almost synonymous with stainless steel and its reputation is really beyond question. From the original makers of the Swiss Army Knife, the Victorinox 10-Inch Curved Breaking Knife is the best choice for most butchering work. From the name itself, this breaking knife is used to break down large chunks of meat into smaller cuts and pieces.
The blade is made from ice tempered high-carbon stainless steel which guarantees edge retention and rust resistance. This knife is made by stamping on cold-rolled steel and it doesn't have a bolster typical of stamped knives. And like all other Victorinox made knives, this comes with lifetime warranty against manufacturer's defect.
Pros
Made from carbon steel ensuring hardness and edge retention
Made with Victorinox quality
Long enough for most cutting needs
Lifetime warranty
Cons
The blade tends to be too hard
Too light for a balanced blade but typical for stamped knives

3. Mad Cow Cutlery JERO TR 6″ Stiff Curved Boning Knife
If you want to get a lot done with minimal effort, the Mad Cow Cutlery JERO TR 6″ Stiff Curved Boning Knife is what you're looking for. Guaranteed to hold the edge, its made from high-carbon German stainless steel, popular among German knife manufacturers. This knife is designed to give you the most enjoyable butchering experience.
The handle is made from solid polymer and a thick rubberized layer for better grip. You can expect this stay in your hands even when it's wet or greasy.
This knife is hand sharpened to ensure are really sharp edge and laser tested to ensure its sharp out of the box.
Pros
Made from strong German carbon steel
Hand sharpened and laser tested
Reliable grip
Cons
Needs a little refinement at the point
Requires constant sharpening

4. Sani-Safe S112-6-PCP 6″ White Butcher Knife
The Sani-Safe S112-6-PCP 6″ White Butcher Knife is designed to be safe and sanitary and can stand high and low temperature. It is razor sharp out of the box and rigid enough to slice through chickens and other meat but this is not designed to be used for huge food preparation.
It has a non-slip handle and a protective bolster making this the safest of all the knives reviewed here. It is also inexpensive and I believe it is more suited as a beginner's knife.
But don't let its beginner-friendliness fool you, this knife is designed to last and it will serve you well in the long haul.
Pros
Rigid blade made from carbon steel
Most sanitary blade reviewed
Beginner friendly
Cons
Too short for larger food preparation
Requires constant sharpening

5. Ontario Knife 7111 Old Hickory Butcher Knife
The simplicity of the Ontario Knife 7111 Old Hickory Butcher Knife is just mind blowing. But don't let the minimalist design get in the way for you to take it to the counter, this knife has a strong heritage of performance, value and affordability.
Sporting a 10-inch cutting edge, the Ontario Knife 7111 Old Hickory Butcher Knife is made of high-quality materials and can stand the toughest demand of any butcher.
The blade is made from 1095 carbon steel, tempered and made to hold the edge for a long time. This knife will not bog you down with constant sharpening.
The wooden hickory handle which is attached to the tang with two rivets gives it a classic look. Avoid wetting the handle as it will become a breeding ground for bacteria.
Pros
Really sharp edge
Huge and sturdy blade for all you cutting needs
Useful even for making thin cuts
Highly affordable
Cons
Too long for some small cutting needs
Wooden handle can be a breeding ground for bacteria
Needs a little cleaning due to corrosion

6. Rada Cutlery R109 Old Fashioned Butcher Knife
If you're looking for an old fashioned butcher's knife, the Rada Cutlery R109 Old Fashioned Butcher Knife is what you're looking for. Made from T420 high carbon steel, the edge is hand-sharpened allowing for more precise sharpness. It is also hollow grounded which results in a concave shape at the edge, making it easy to maintain.
This knife tends to be lightweight which may not be good for cutting harder surfaces like bones. Made with aluminum handle and thin blade, this is more designed for people with smaller hands and smaller cutting needs. The handle has a satin finish and has a finger guard to protect your hand from accidental slipping.
If you are looking for a light, safe and good looking knife, this one is for you.
Pros
Suitable for smaller cutting needs like dicing and splitting meat
Suitable also for cutting fruits and vegetables
Very sharp concave blade
Elegant and durable
Best value for its price
Cons
A little bit flimsy for huge preparations
Aluminum handle gets slippery when wet and greasy
Best only for light meat cutting

7. Dexter-Russell S112-10PCP 10″ Butcher Knife
For a clean cutting edge that can cut through meat without ragged edges, the Dexter-Russell S112-10PCP 10″ Butcher Knife is the best choice. For cutting large meat into smaller and thinner pieces, this is the knife that you'd want to have.
With its 58-lbs weight, you don't need to add extra strength just to cut through hard surfaces because gravity will do the trick for you.
With a plastic handle material, you can expect a clean and bacteria-free blade. It can be a bit slippery though, so you have to handle it with care. The handle is also a little too thick and if you have smaller hands, you can have a hard time controlling this blade.
Pros
Stainless steel and plastic handle makes for a very sanitary knife
Ideal for large meat preparations
Really sharp and holds the edge longer
Very strong knife
Cons
More expensive than knives of the same quality
The handle is slippery and a bit too large

8. DALSTRONG Butcher's Breaking Cimitar Knife
If you consider yourself to be a chef, whether in your home or in a professional setting, then you know the importance of having an exceptional set of knives at your disposal. This incredibly impressive Cimitar Knife from Dalstrong is the type of knife that just about anybody would be proud to house in their arsenal. The curved blade design of this knife was meant to create leverage, and to allow the chef to make complete cuts with just a single motion.
This knife includes rock hollow divots that are intended to minimize adhesion to prevent food from getting stuck onto the knife and to reduce friction for a more comfortable cutting experience for the chef. The handle, which is made out of black pakkawood imported from Spain, is ergonomically designed and can be used by a left-handed or right-handed person.
A BPA free PerfectFit Knife Guard is included with this knife to protect the blade from getting damaged. Before you receive this knife, which was engineered to perfection at 56+ Rockwell hardness, it will be hand polished with a satin finish and carefully tapered to improve its' hardness and flexibility. If you're looking for a reliable knife to add to your collection, then make sure to add this knife to your shopping list!
Pros
Lightweight
Well balanced
Great for slicing meat
Cons
May rust
Steel tang sticks up above the handle just a bit

9. CUTCO Petite Carver Knife #1729
It goes without saying that CUTCO knows what they're doing when it comes to producing high quality knives. In fact, even people who don't particularly care about the knives they use know all about CUTCO'S reliable products. With that being said, if you're looking for a carving knife to add to your collection. This undeniably impressive carving knife has a 7-inch blade, making it the perfect knife to slice through chicken, steak or ham. Of course, it can be used to slice through fruits and vegetables like eggplant and cantaloupe with ease.
This knife is made out of Cutco's patented DD edge and it has a Thermo-Resin handle, as well. It goes without saying that it can be quite difficult to find a reliable knife. You could spend an arm and a leg on a knife set only to find out that it chips, rusts, and breaks within six months of owning it.
Luckily, you don't have to worry about that with Cutco products, so if you're looking for a dependable knife, this knife might just be the best choice for you.
Pros
Lightweight
Long-lasting
Reliable
Cons
A bit on the expensive side
May be too lightweight for some

10. Brandobay 12-inch Straight Butcher Knife
Finding a reliable knife that will actually last for some time can be a bit of a challenge for some, especially if you don't have a whole lot of money to spend. Luckily, this 12-inch Straight Butcher Knife from Brandobay is absolutely perfect for cutting fruits, meats, and veggies, and it won't break the wallet for you to buy it, either. The blade on this knife is unbelievably sharp and it comes with a contoured solid handle, which measures approximately 12 inches from blade to handle. This knife is made out of stainless steel, and it barely ever needs to be sharpened.
For easy cleaning, the black handle on this knife has been sealed around the blade so you don't have to worry about anything getting stuck and needing to be scraped from the inside of the handle. If you're looking for a knife that will deliver sharp cuts and incredible performance, then this 12-Inch Straight Butcher Knife from Brandbay would be a perfect choice for you to make!
Pros
Lightweight
Constructed out of high quality stainless steel
Dishwasher safe
Cons
May need to be sharpened often, depending on how it's being used
Blade need to be sharpened upon arrival
Handle may be too lightweight for some

What are the Different Types of Knives?
It goes without saying that there are several different types of knives out there that can be used for a variety of different reasons. If you're the type of person who has a drawer full of knives at home, but you don't know what any of them are, then now is a good time to understand the knives you have and what kind of knives you need. Let's take a few moments to talk about the different knives available and what you can use them for.
1. The Chef's Knife
This knife is what many people would consider the most important knife in a chef's arsenal. This type of knife typically has a broad blade that is tapered upward to a point, which allows it to rock back and forth for quick use. They're typically 6 to 12 inches long, and can be forged or stamped. Chef's knives can be used for just about any task that a chef has on his or her plate.
2. The Utility Knife
This knife is a smaller version for the chef's knife, and it can come straight or serrated. This type of knife typically come with a scalloped edge, making it capable of doing all types of cutting.
3. The Santoku Knife
The Santoku knife is typically shorter and thinner than a chef's knife, but thanks to the flat blade, it doesn't rock on the cutting board. They're sometimes made with a hollow edge, allowing them to cut through meat and other sticky materials with precision. This knife can do just about anything in the kitchen, so it's a great addition to a chef's arsenal.
4. The Boning Knife
As you can probably guess, the boning knife is used for separating meat from bone, making fish filet, and cutting up different kinds of meat. Typically three to eight inches, the boning knife is also a great tool for cutting up veggies. The blades vary in width and they can be flexi, semi-flexi, or stiff.
5. The Bread Knife
The name says it all when it comes to what this knife is used for. A bread knife can be used for cutting bread, pastries, and sometimes even meat. Because these knives are used to cut huge chunks of meat, the blades are usually 7 to 10 inches long and have serrated teeth.
6. The Cleaver
The cleaver is usually the heaviest knife that you'll see in a chef's kitchen. It will typically have a thick spine and an extremely strong blade. Because of this, cleavers are used to cut through hard vegetables, bones and meat in a chopping motion.
7. The Paring Knife
If you're the type of person who enjoys adding garnishes to your plates of food, then you most likely have a paring knife at home. These knives typically have blades that are three to four inches long with a very pointy tip. They can be used for cutting and peeling fruits and vegetables, as well as, trimming excess fat off of meat.
FAQ Section on Butcher Knife
1. What is a Butcher Knife Used For?
The butcher knife is used throughout the entire world as the most efficient meat processing knife. Because of the hefty blade size, a butcher knife is perfect for splitting, cutting, and stripping meat. There are several different variations of the butcher knife, including the chef's knife, the carving knife, and the cleaver.
2. Are Expensive Knives Better?
When it comes to the cost of knives you have to take quality into consideration. You pay a bit more for it, but a high quality knife will be made out of a higher quality steel and the handle may be made out of a higher quality material, as well. When you pay more money for a knife, you should also expect the comfortability to be better, as well.
3. What are the Most Important Knives to Have?
There are three knives that every chef, professional or amateur, should have in their kitchen: a chef's knife, a paring knife, and a serrated knife. Together, these knives can tackle any job that you might have to get done. If you don't have all of them, or don't have the money right off to buy all of them, then the chef's knife is the most important knife for you to have.
Final Thoughts for Butcher Knife Buyers

Even with the advent of electric knives, there is still room for the traditional butcher knife in our kitchens. These knives allow for the ragged cutting and hacking for large meat that other knives would shy away from. These have been proven and tested by butchers through the centuries and will not go away even with the advancement of technology.
For this review, my clear choice is the Dalstrong Boning Knife: The Shogun Series. The VG-10 forged steel is the deal breaker for me because it really holds the edge longer than any of the blades I've tested here. The bolster provides a good balance making the knife like an extension of my hands.
The handle is made from military grade materials ensuring that it won't break or provide a breeding ground for bacteria. The fact that it's rated at 62+ under Rockwell Standard gives me the confidence that I'm holding a strong and sturdy knife that will now shy away from bones.
I wished the Victorinox 10-Inch Curved Breaking Knife was forged steel but it wasn't. I love its quality and the attention to detail that this legendary manufacturer placed on their product is just awesome. If you don't mind that it's not forged steel, this is also a good choice.
Do you have other suggestions for a butcher knife? Have you tried using any of the knives I've reviewed? Why not share your thoughts in the comment section below?
Buy on Walmart
Victorinox Fibrox Pro 10-Inch Curved Cimeter Knife - Walmart Link
Victorinox Fibrox Pro Curved Boning Knife with Flexible Blade 6" - Walmart Link
DALSTRONG Butcher Breaking Cimitar Knife - 10" - Gladiator Series - Forged German - Walmart Link
Masahiro Santoku Knife - 7 inch - Walmart Link
Victorinox 8-Inch Curved Breaking Knife with Rosewood Handle - Walmart Link
Global GF-27-7 inch, 16cm Heavyweight Butcher's Knife, 7 inch, Stainles Steel - Walmart Link
Wusthof Pro Cimeter Knife, 10-Inch - Walmart Link
Rada Cutlery Old Fashioned Butcher Knife - Stainless Steel Blade With Stainless Steel - Walmart Link
UltraSource Butcher Knife, 10" - Walmart Link
Dexter-Russell Butcher Knife, 10 Inch, Silver - Walmart Link
Ontario Knife Old Hickory Butcher Knife, 10-Inch Blade - Walmart Link
Victorinox Fibrox Pro 12-Inch Straight Edge Butcher Knife - Walmart Link
Update International (KGE-11) 11" Forged Butcher Knife - Walmart Link
Buy on eBay
Victorinox Fibrox Pro 10-Inch Curved Cimeter Knife - eBay Link
Victorinox Fibrox Pro Curved Boning Knife with Flexible Blade 6" - eBay Link
DALSTRONG Butcher Breaking Cimitar Knife - 10" - Gladiator Series - Forged German - eBay Link
Masahiro Santoku Knife - 7 inch - eBay Link
Victorinox 8-Inch Curved Breaking Knife with Rosewood Handle - eBay Link
Global GF-27-7 inch, 16cm Heavyweight Butcher's Knife, 7 inch, Stainles Steel - eBay Link
Wusthof Pro Cimeter Knife, 10-Inch - eBay Link
Rada Cutlery Old Fashioned Butcher Knife - Stainless Steel Blade With Stainless Steel - eBay Link
UltraSource Butcher Knife, 10" - eBay Link
Dexter-Russell Butcher Knife, 10 Inch, Silver - eBay Link
Ontario Knife Old Hickory Butcher Knife, 10-Inch Blade - eBay Link
Victorinox Fibrox Pro 12-Inch Straight Edge Butcher Knife - eBay Link
Update International (KGE-11) 11" Forged Butcher Knife - eBay Link