For most of you who live in small apartments and homes, purchasing a bulkier purifier might seem to be an overkill. So, today I'm going to introduce you to this particular air purifier from GermGuardian which is perfectly apt for smaller living spaces. But don't let the words 'made for medium spaces' mislead you because this product has some great features to its name. So let's look at some of the features that make this product a bestseller.
GermGuardian Air Purifier Features Round-up
1. Works Quietly
Believe me when I say that this air purifier works quietly, because it truly does!
It has three fan speed settings and when it is set at low it really makes you doubt whether the purifier is working. It also doesn't create much noise when it is set at medium fan speed. Although you won't need, but in case you turn on the high fan speed this purifier tends to it a slight buzzing sound. Also. I haven't noticed any vibrations, even at a high-speed setting.

Tip : If you feel that this purifier is getting louder even at low fan speeds, replace the filter and this to make it quiter again.
2. Multiple Filtration Systems
This air purifier uses a three-stage air purification system to deliver cleaner and pollutant free air. What this means is that the dirty air has to pass through three filters which effectively remove all kinds of pollutants and odors. Let's see how this is done.
Activated Carbon Pre-filter

In the first is a filtration, the pre-filter captures all the bigger sized particles like dust, pet hair, lint etc. This filter is made up of a large number of pores in which these larger sized particles are captured. An additional benefit with Carbon filter is that it also effectively removes all the bad odors like tobacco smell and other such nasty odors..you get the drift?

True HEPA Filter

In the stage of purification, the has to pass through a true HEPA filter, where close to 99.99% of all airborne particles are filtered. Typically the HEPA filter is capable of capturing particles which are as small as 0.30 microns. In layman terms, this filter captures mold, pollen grains, pet dander and small mites.

UltraViolet Filtration

After going through the first two stages, the partially clean air is now exposed to UV-C lights. These ultraviolet rays make sure that all the viruses and disease-causing bacteria in the air are eliminated completely.

Also, the Titanium dioxide (TiO2) which is activated by the UV-C rays, removes any bad orders that might have been missed during the initial filtration.
It has a Clean Air Delivery Rating of 100+ for each of pollen, dust and smoke.
3. Energy Efficient
This product is certified to be energy efficient and meets all the guidelines set by the certification agencies. It consumes lesser power to deliver cleaner air when compared to other purifiers in this range.
4. Filter Replacement Indicators
This air cleaner is equipped with filter replacement led lights which let you know when the filters or UV-C bulb need to be replaced. This is a handy feature which can be seen in all leading purifier products these days. So, practically you don't need to remember or note down when was the last time you replace the air filters.
5. Easy Maintenance
The Germguardian AC4825 is easy to maintain. All you need to do is remove the Carbon pre-filter and use a vacuum to clean it. This removes all the pollutants, pet hair, dust and other such particles of bigger size. I do this once every month and this makes sure that it filters the air effectively and thus also increases the filter life. Also, make sure you wipe off any dust and hair on the purifier vent with a dry cloth.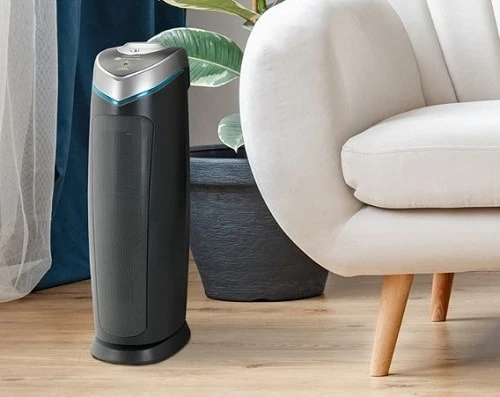 My Final Verdict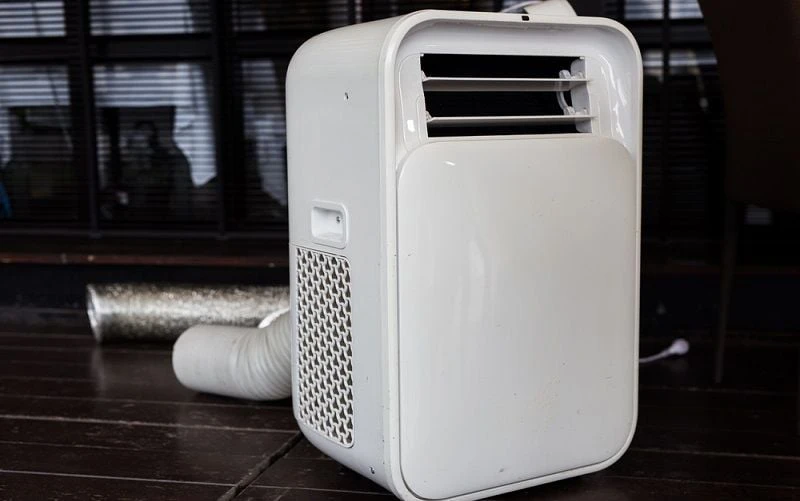 Features like triple air purification process, Ultra Violet filtration and easy maintenance make this the best mid-range air purifier. While I have noticed slight plastic smell during the first week or so which eventually disappeared. This doesn't make it look bad.I would say that this is the best air cleaner if you are looking for a low priced options with good features.